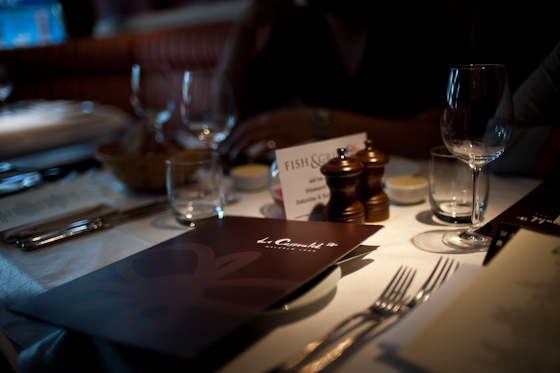 I was half expecting a svelte Audrey Tautou to jump out from behind the red satin curtains and amaze us all with a bout of song and dance, such was the fantasy filled spectacle that Le Cassoulet exuded, oh and we're in South Croydon for this one.
Le Cassoulet is the 2nd restaurant of the Malcolm John brand whose CV includes stints as head chef of St Quentin and for Blue Bird Members' club. His first restaurant – Le Vacherin in Chiswick – is well regarded. This is only my 2nd trip to Croydon, this time also gastro-related and with my now regular dining buddies, Supercharz (who recommended this place to us) , FoodbyMark and Tehbus. This is a really dressed up brasserie, you could feel it from the moment enter the restaurant. I honestly felt like I was in the South of France.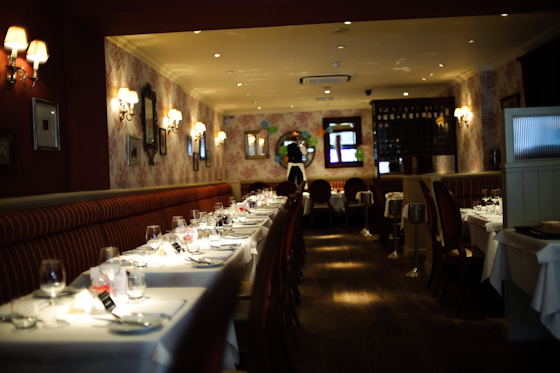 So the attraction were their £20 lunch menus, we were just here yesterday for a lazy Sunday lunch. I hadn't had breakfast yet (just a slice of ham and a cup of coffee) so I was really looking forward to a big meal. Also today was the maiden FM2 trio shootout, yes that's me, Charz and Mark, three mechanical film cameras and London. Oh snap. We each order something different in the spirit of sampling as much as we can, so instead of talking through the choices, we can actually talk about them.
Ladies first, Charz kicks things off with Escargots de Bourgogne.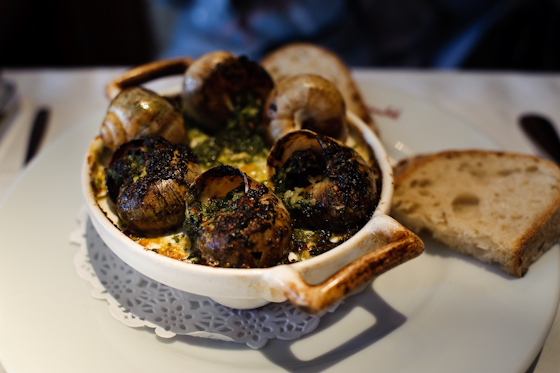 I forgot to steal a bite of this, so couldn't comment, but I did hear Charz murmur that it was underseasoned.
Next: Chicken liver parfait, toasted brioche – the dish which has brought us here.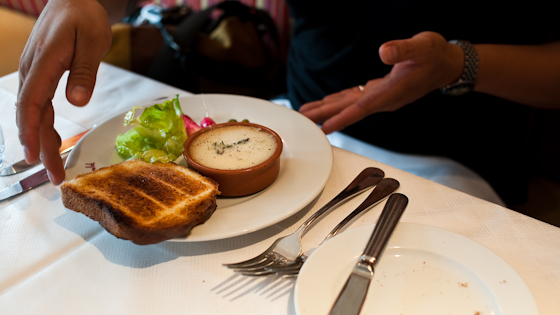 Charz couldn't stop cheating on her snails as she kept stealing glances of Mark's parfait. Of course, I just had to reach across the table, break a piece of the brioche and dip it into the luxury spread. And boy, was it luxurious. It was whippy and smooth, mellow instead of being big in flavour – which was a welcoming change – and I remember it being sort of flowery. Mmm, yummy.
Euwen chose to go classic with the Soupe a L'Oignon Gratinee.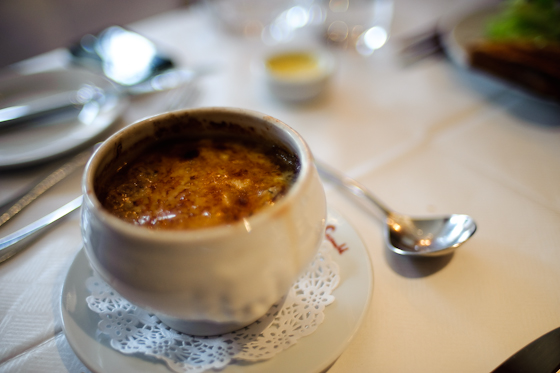 I'm beginning to see a pattern emerge now, like the mellow parfait, this onion soup was on the brothy side, instead of being heavy and cheesy. Euwen noted that he preferred the crouton to be more 'croutony' as it was pulling a dissolving act the longer it swam in the soup.
I would liked to have ordered the onion soup – one of my favourites – but instead I went with the Marinated Cornish Mackerel, Jersey Royal & Capers.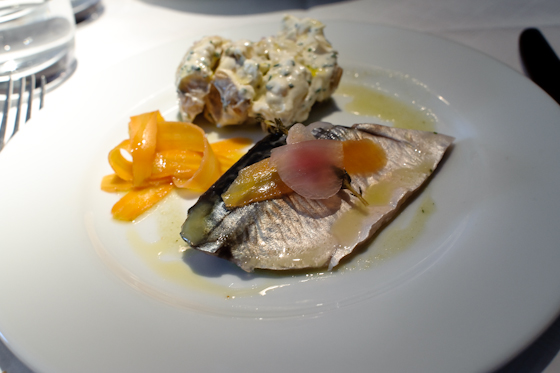 The fish was nice, a citrus infused marinate erasing the fishiness and a texture like a smoked fish, or perhaps even raw. Silky, slithery, sashimi-like I thought it needed a bit of salt though.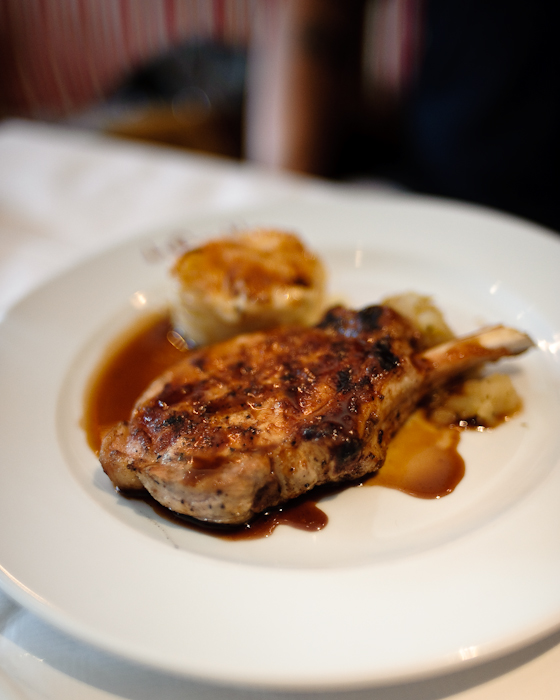 Ok so those were the starters, overall everything looked charmingly edible and around the table, we were full of smiles. I have to mention that this restaurant really feels comfortable. I noted the unpolished wooden flooring, like a nod to the old days, as well as French swing music playing in the background. We were so totally in holiday mode, even the taxi driver decided to take us for a 'ride' by driving us right to the end of the street (No. 600 something, Seldon Road whispered the driver) where the restaurant is located (Le cassoulet is 18 Seldon Road). Only when he reached the end and did a U-turn did he tell us that we didn't tell him which number on the street.
Main courses, firstly Mark's choice of Old Spot Pork Cutlet, Apple Chutney & Dauphinoise. The pork was well-done, just a little dry, mildly seasoned, and with an equally mid apple chutney, wasn't anything special though as my one bite didn't really leave me wanting more.
Euwen ordered the Rabbit Pie with Mushrooms and Baby Carrots.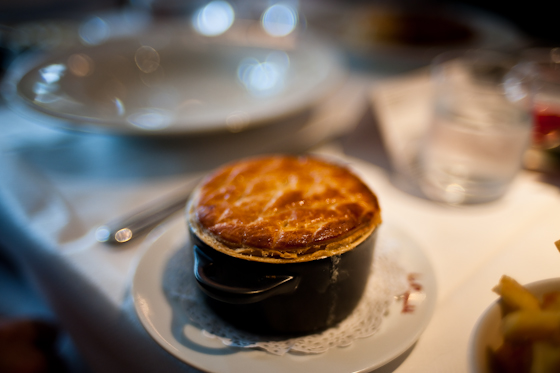 Ah, now this was pretty good. A fragrant and creamy stew and a crispy crust – this dish had beautiful flavours, the mash that was served with this dish was stodge heaven. Stodge heaven was amplified when we dipped chips into the mash. Very good stuff indeed.
A £12 supplement (for two) accompanied me and Charz's order of the 28 day aged chateaubriand…..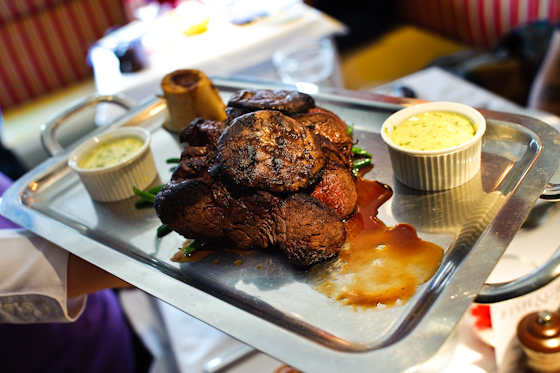 What a sight right? With the steaks on a silver platter on one hand, the waitress meticulously placed the elements of each dish, one by one, with her free hand.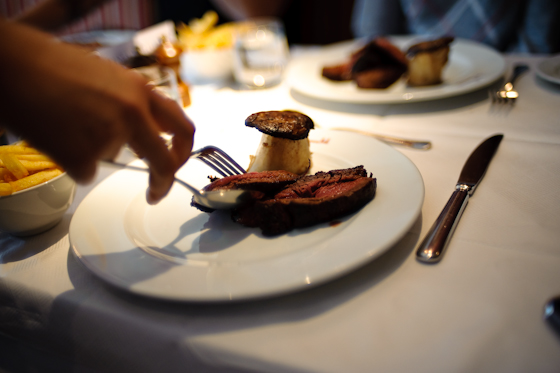 First the marrow, then the mushroom, followed by three slices of perfectly cooked medium rare fillet, beans and then finally the béarnaise.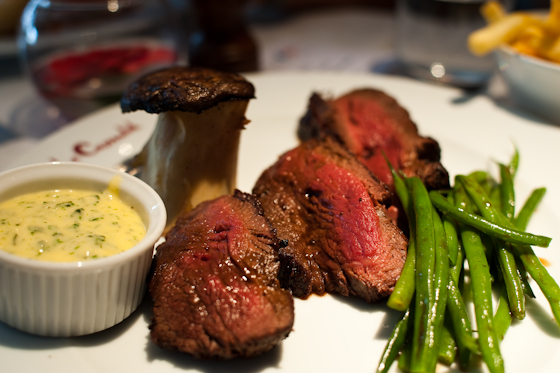 Voila: and here's what it looks like – Le Cassoulet's Chateaubriand. The buttery meat melted in my mouth but it were the very French side dishes that made this taste as good as it looked. The béarnaise was ever so light, with abit of the fatty marrow – each mouthful, a jubilant celebration of the truly bovine that might well excite François-René de Chateaubriand ; France in a dish.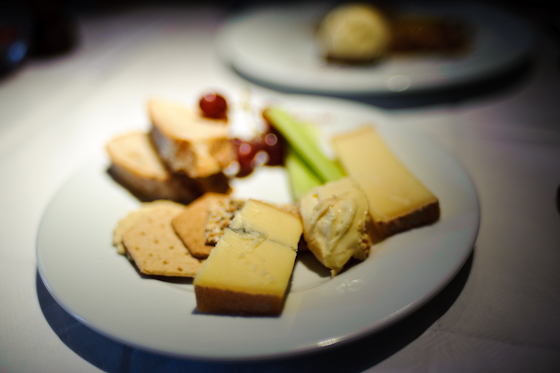 I was delighted to see the cheese selection among the desserts – at no surcharge – and I of course chose to indulge myself. My selection of three cheese included two personal favourites, namely the Morbier (ash centre, deep flavoured semi-soft) and the Comte (sweet, nutty semi-hard) as well as a luxuriously runny Epoisses. Accompanied by baguette, biscuits and slices of celery, it was an excellent curtain call to a brilliant meal.
Unbelievable value and exquisite dishes. Alright, I did find a few faults with the meal though, particularly with the seasoning. Where French dishes are normally too rich and too buttery, Le Cassoulet's dishes were just a tad bland in comparison, but that is just me being a skeptic. Overall, I think Le Cassoulet is a great restaurant, it was worth making the trip to Croydon. I think a visit to its sister restaurant – Le Vacherin is in order, especially when it's only a twenty minute tube journey from my house.
PS: The light was really good inside the restaurant, and I took lots of photographs, so if you can't get enough food porn, then check out this series here titled: "The beauty of French Gastronomy". Enjoy.
The Gist of It
Le Cassoulet official site
£20 for 3 course Lunch ; £40 ala carte Dinner
18 Selsdon Road
South Croydon
CR2 6PA
Tel: 020 8633 1818
Like this blog? Why not subscribe to the email newsletter ; alternatively you can subcribe to the RSS feed.