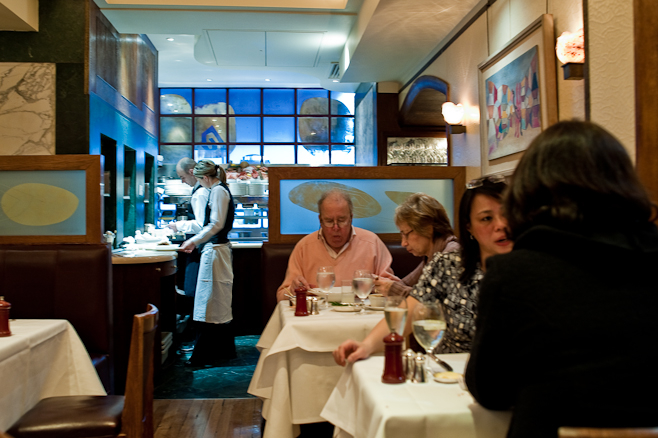 There is money behind J Sheekey. The ultimate owner, Richard Caring bought the Caprice galaxy of restaurants, amongst other things for a cool £30m in 2005 with a view to transform it into a superbrand of luxury eateries. This very group also includes some old time establishments such as Le Caprice and the Ivy which at some point in history represented the pinnacle of fine dining and celeb watching in London. Observers (Camilla Long for the Times) had already noted his master plan to turn this group of highly polished establishments into a synchronised design for the discerning taste master and occasional Londoner. Whatever the case, the high production values behind J Sheekey and it's sister restaurants (both in London and elsewhere) must be working. A swift google search will bring up at least a handful of glowing remarks on this historic restaurant which has been serving fish to the public from the same site since the late 1800s. As recently as late 2008, Sheekey had expanded their premises to include an all wood, all shiny brass Oyster bar next to it's dining room, though it is interesting to read up on reports which claim that Josef Sheekey, a local fishmonger and the original owner, had started his eponymous brand as an oyster bar anyway.
J Sheekey had been high on my to-eat list not because I bought into Caring's idea of the ideal social life; instead I was intrigued with a colleague of mine who had incessantly recommended this restaurant to me on my birthday, for each of the three years I've worked with him. He celebrates all his special occasions at J Sheekey. What amazing customer loyalty, surely Caring must either be practising voodoo or that management are realising his money with shocking consistency. I tend to believe it is the former. As one can appreciate, this fish restaurant caters to immeasurable flavours from the deep, including your oysters and lobsters as well as eggs topped with sevruga – oh so modestly priced at £75 a go. Carnivores are not forgetten of course, a princely choice of chicken, rump of lamb and rib eye steak round out the fish heavy menu.
Alright, alright I admit. I turned up on a Sunday with no intention of splashing on the eggs benedict royale. Rather it was meant to be a swift meal with a fellow taste champion after a hard slog at the mass photographers' gathering in January. I was saving up for my eventual trip to Taiwan and so the weekend lunch menu priced at £25.50 made all too much sense.
Starters, Pan fried duck eggs, mushrooms, toasted brioche.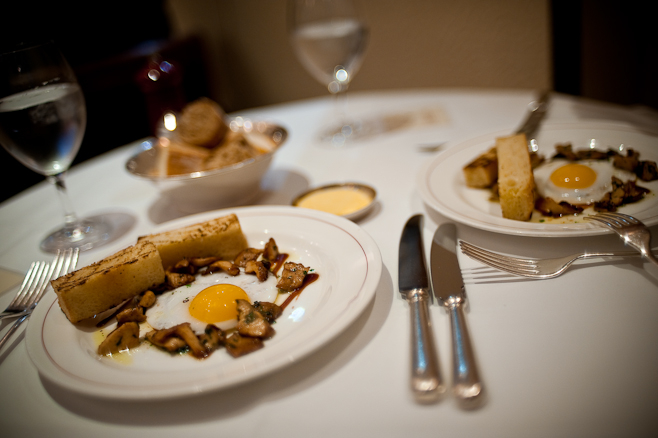 So starters were breakfast on a warm plate. Served with toasted mushrooms and toasted brioche, which was a thick bread airy and full of holes, and which carried a mild charness to its crunchy bite. Ah then my tastebuds failed me: either the eggs were garnished with some sort of zest flavoured ketchup; or it was probably the juices from the hedgehog mushrooms seeping into the vinegar and olive oil. Either way, it tasted good. Simplicity that married up nicely – the charred toast with the milky yolk and the toasty mushrooms. yummy.
Mains – Cornish Pollock.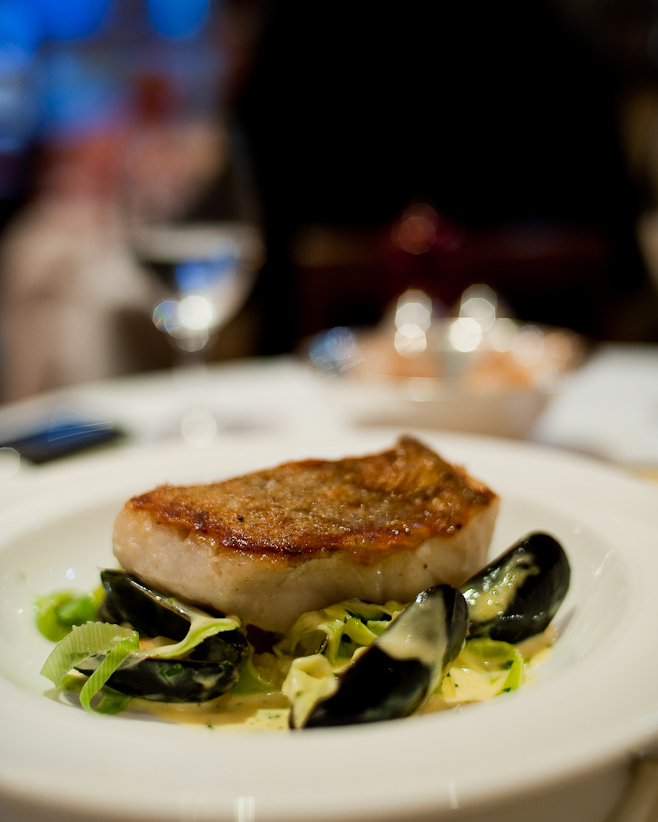 I usually prefer fish to be cooked just ever so slightly under. It means that the fish is still flaky and yet manage a consistent spring in its texture. And I judged this Pollock to be cooked to those parameters, just the way I like it. It was well salted, which brought out all the fleshy flavour, and the fish flaked off with the slightest prick of the fork. The cream sauce, dense, carried a mild flavour, with a mellow fragrance of leek and saffron. Accompanied by juicy river exe mussels and a coarsely tussled mash, the dish was another exemplary example of refined simplicity.
Finally, dessert : Orange treacle tart.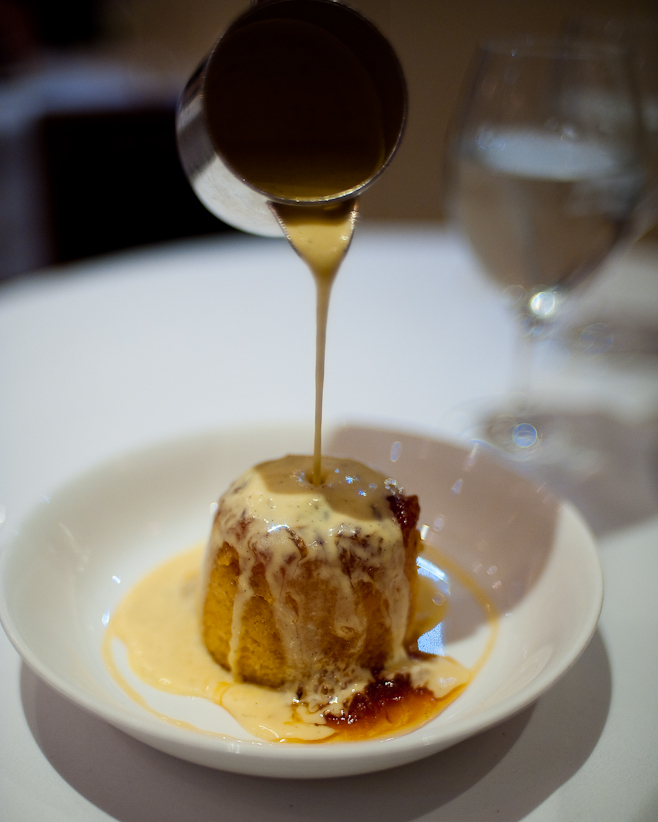 Up to this point, I had been singing the praises, when the pudding appeared before us, I was positively on my feet. It filled our side of the room with regal aromas. The waiter left us with a jug of custard and pouring the golden juice onto the orange sponge was strangely satisfying. The tart was very warm, distinctly light and dizzyingly sweet. Successful execution once again.
You know what, I thought my meal at J Sheekey was consistent. Every dish was clinical, every dish was beautifully cooked and everything about the place highly produced but here's the beauty – in and amongst all that world beating elegance, it felt gregarious, almost as if I was dining in Josef Sheekey's original and very humble (if ever it was) oyster bar. In the end, I cannot say that I would celebrate every special occasion at J Sheekey, but on evidence, this is a place I would pay serious attention to, and quite possibly visit again and give their seafood a closer look. I realise I hadn't spoken about the decor yet, well like the food, it is refined, it glistens with a noble and largely old world charm – wood, cream curtains and flawless white tablecloths. If this is the way Richard Caring decides I should eat, then I'm signing up to the Club at Ivy.
More photographs on my flickr account here.
Links to other reviews : Gourmet Chick, Boo in London, Londonelicious
The Gist of It
J Sheekey Official Site £25.50 weekend lunch menu
28-31 Saint Martin's Court
London WC2N 4AL
020 7240 2565
Did you enjoy reading this post? Why not subscribe to my feed updates for free. Alternatively, You can subscribe via email.