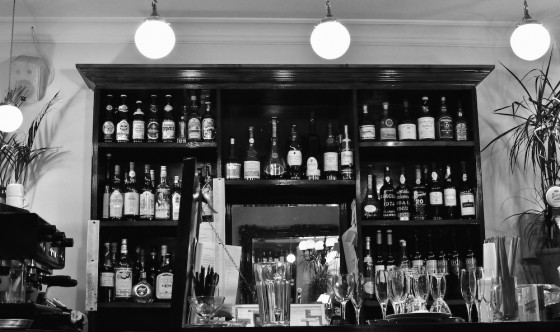 Oh gosh, yet another long bus journey into the unknown, this time, into the heart of Southwest London. After a weekend hiatus, I found myself in this little known Austrian café for a charity dinner.
Oh and I paid for this one, just in case you were wondering.
You all know Paula right? She chips in with the wine recommendations for my fortnightly newsletter, and she had organised a charity dinner at café strudel for Classic FM. Nice things have been said about this place, and at £45 for three courses, it was the appropriate opportunity – and excuse – to go out of my way to try this place. It is a 25 minutes bus ride from Hammersmith (bus 33).
I'll start by saying that the décor is very charming. I didn't bring enough lenses to capture a wide angle shot, but it felt like I was sitting in a 19th century Austrian caff ( if indeed they had cafes way back when ) , I remember the brass chandeliers, brass framed mirrors, all the white table cloths and brass coloured wooden chairs and thumping feet on wooden floorboards, the incandescent lights gave the restaurant a throwback shimmering quality, and for a moment, I completely believed that I was having a Germanic supper.
Naked Turtle.
I'll admit, I always feel uncomfortable sitting on a table with strangers, I never really know how to break the ice and I think I say 'OK' too much, oh how I dread the empty silence when the conversation goes flat.
Gulp, yeah, so what's for dinner?
Thankfully, I was sat on a table with four lovely ladies, who knew the local area well. They had pointed out a great little place I need to get myself down to called 'The Naked Turtle', a restaurant with that sort of name surely has to be visited!
And so, it came time to raise our glasses, oh here's the everyman punter in me, ordering a huge pint mug/half stein worth of Whitbeer (yeargh!) while the rest of the restaurant raised their much more distinguished champagne flutes. It raised a few eyebrows ( I love it everytime I get the 'Hah, you have much to learn youngling' look), I do know my etiquette, but hey, sometimes, it feels nice to just do what you feel is right.
Ahhh… damn that's good beer. Dinner time.
And we eat.
I had a quick look at the menu and this 'review' won't quite be representative of the actual food. For one, the price of a three course dinner sneaks it at the £22 – £30 range, instead of £45, and the full ala carte was not present in the charity dinner selection. The exclusion of some very interesting sounding dishes such as Ox Tongue Carpaccio; Chilled cucumber and vodka soup; "Himmel und Erde" Rosti, which describes a pan-fried rib eye with paprika as well as monkfish with grapefruit sauce. Oh yummy, yummy. The most expensive main course is £17.50; and I'll have to come back to Café Strudel for a proper feasting…. If I can find the will to get on that bus again that is.
Right then, so it's a special menu for a charity dinner. Starters: Chicken liver parfait, with rhubarb chutney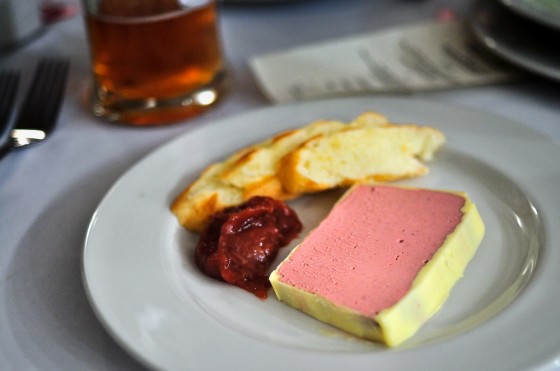 Oh my gosh, the pate is luxurious. It is naturally smooth, and it carried a big bodied texture that was akin to a chunk of butter, or like really good olive oil reformed into a block of melting goodness. The mature flavours ran rampant and I was really enjoying the rich, smooth butteriness of the dish, simply divine, and a cut above 'normal' pate. On its own, the intensity is completely overkill; so much so that even the tang of the acidic rhubarb compote could hardly dent the robustness of the parfait. Spreading over brioche helped things along, and I think you need to be a fan of pate and appreciate big (and sometimes overpowering) flavours to enjoy this one, and in that respect I really enjoy it, it tasted valid, genuine and like something that was properly made in a kitchen somewhere in Auld Europe.
But if you're into subtle flavours, this one will be much too much.
For Mains: Pan Fried Chicken Supreme, fine green beans, rosemary & garlic roast new potatoes, sour cherries & Jus Gras.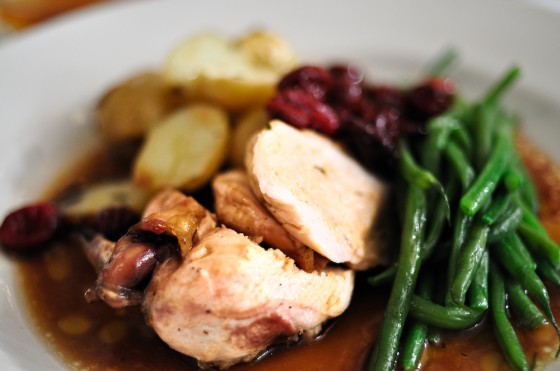 Quite a windy description of what was roast chicken and potatoes. Not that I have anything against chicken, but I try to avoid ordering chicken when I'm out 'reviewing' because well, chicken mostly, tastes like chicken. But since the other choice was stuffed bell pepper, ah, there was no other choice. Right then, I was looking for smoothness, softness, rich roast qualities and juiciness, and also a fragrant quality from the chicken; all good poultry should tick all these boxes. And I am glad to say that this particular dish ticked most of it. Let me start with the sour cherries, the fruity acidity lifted the entire palatte from the doldrums and it was accompanied by fragrant hits of vanilla. I appreciated the roastness of the chicken and it was indeed quite juicy. Not as smooth and soft as I would have liked it to be, and the chicken itself tasted no better than what mum can achieve in her electric oven (I kid you not, that thing really is electric). That's not to say it wasn't good, it was good – warm and hearty it did the job. A well cooked dish of roast chicken, with a berry flavoured gravy.
Worth a return
Unfortunately, the dinner ran into the middle of the night, and I had my apfelstrudel to takeaway as I was running the risk of missing the last bus to take me to the last train of the night. I had the strudel the next morning, and surprisingly, it still tasted quite robust.
Yes, on the limited preview from this charity dinner alone, I'm convinced that cafe strudel is actually a pretty able local eatery, and I suspect that I would really enjoy this place if it were closer to Kensington than Brentford. Perhaps a compliment to the restaurant is the fact that I am eager to return to the restaurant for a full dinner service.
But not before I come to a truce with the bus service.
The Gist of It
Cafe Strudel official site
429 Upper Richmond Rd SW14 7
(020) 8487 9800
£25 to £30 for three courses ; this charity dinner was £45 for three courses
Verdict: Not bad at all, if you live in the area, I think you probably already know its a great local eatery, serving very able Austrian food. 
Like this blog? Why not subscribe to the email newsletter ; alternatively you can subcribe to the RSS feed.