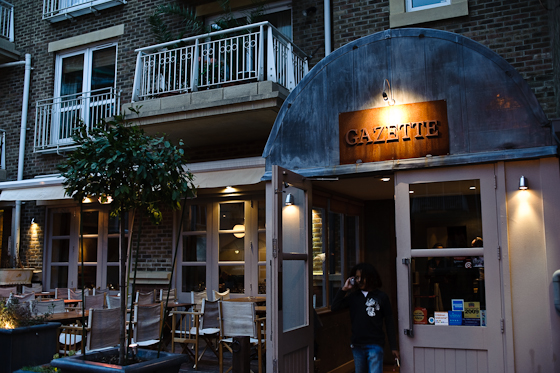 In between my kitchen waltz (see Part I), I was alternating with the parallel of events at the front of house, and of course, the two are completely different worlds altogether. I had arrived early at 5.30 pm when most of the staff were only just starting up. I stood at the front door, nervously waiting to be greeted by the owner. I hear the clacking of heavy leather shoes coming down the stairs behind me, before the man extends his hand.
"I'm Walter, welcome to Gazette."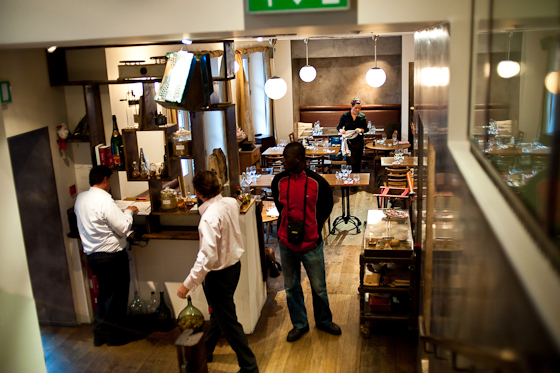 My immediate impression of this place is that of a charming neighbourhood brasserie. In fact, the restaurant is based on the ground floor of a block of connected purpose built flats. At 5.30pm, there are a few patrons in the restaurant tucking away swifties. The co-owner of the venture is Walter Lecocq who greets many of the patrons inside. As I arrived, he sat down for a quick chat to briefly talk about the restaurant and his background…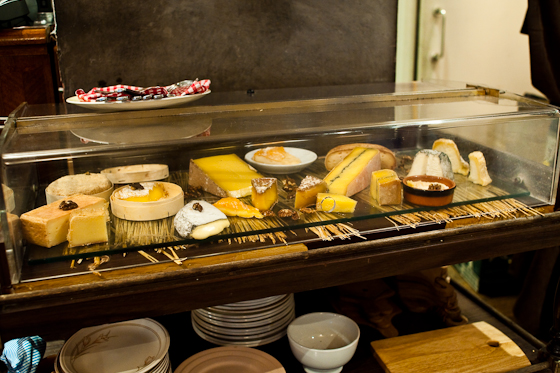 ….while my eyes were drawn toward the cheese trolley…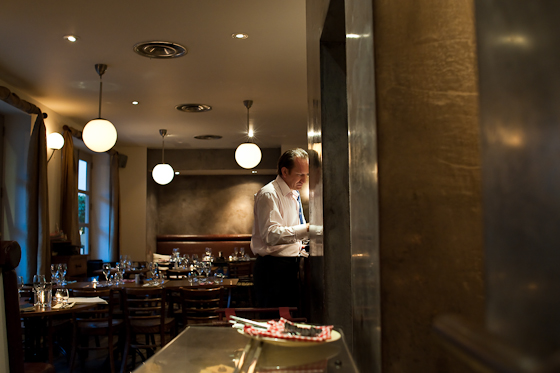 Here we see Walter in a quiet moment before the evening service begins. He is mainly responsible for front of house, while Chef Pascal takes care of the Kitchen. Both men have good looking CVs, Pascal had previous been involved with Le Meridien and worked with Michel Rostang (2 Michelin Man), and Walter had spent a few years within Gordon Ramsay and Richard Corrigans' respective empires. I have a brief but pleasant chat with Walter, and before long I got to work with the camera.
Here's the restaurant manager who works in tandem with Walter to keep service flowing along. The control tower, the phone keeps going off. The books were looking good that night – A Saturday – completely packed out, those phoning in were put on a waiting list, in case anyone drops out. Looks like its going to be a busy night.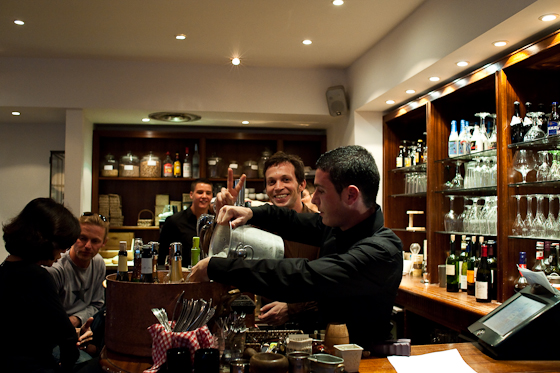 Just like the Kitchen, the staff at front of house had found my camera to be a light hearted presence, smiles all round.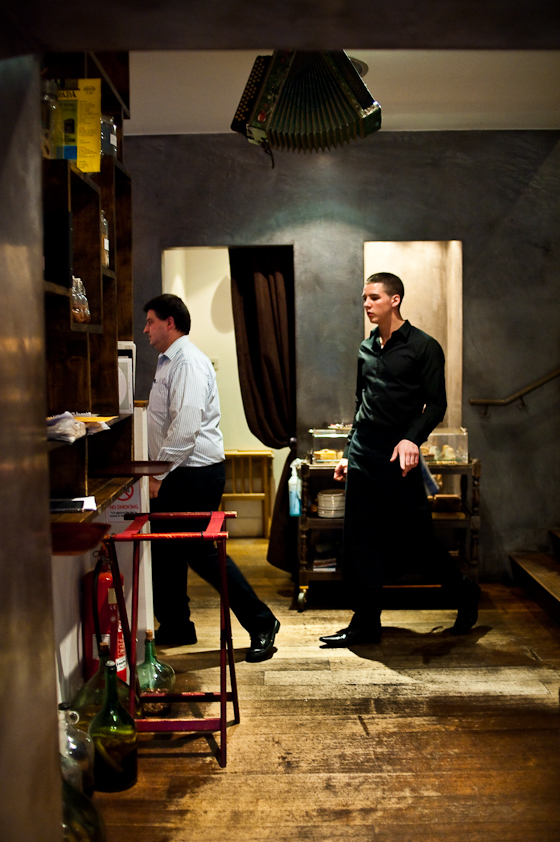 I like this shot. Notice the accordian on the ceiling, I shot about 12 frames until got one of the movement which the waiters perform when they are on duty.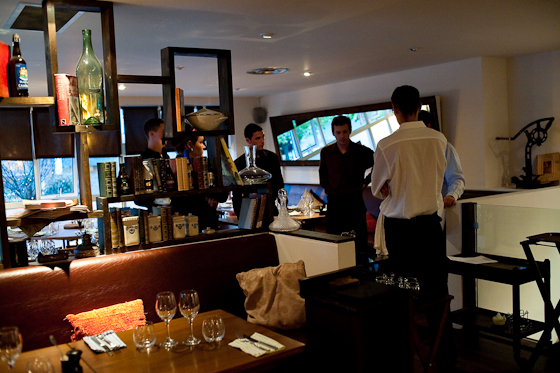 As the day slowly turned to night, so the staff started gathering themselves, to get ready for the evening ahead. Here we are just joining them for their team briefing.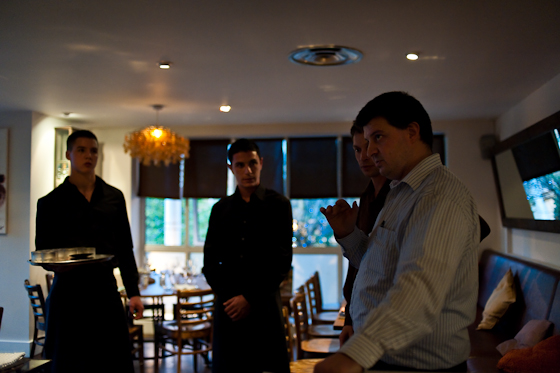 The softly spoken restaurant manager becomes a calm force in the group, giving an inspirational mini speech to basically remind staff that its all about making sure that the customer feels 110% comfortable. Being among the numbers, I felt drawn into the spirit of the team – just being around these chaps, you could feel that they were commited to their job and they really wanted to give it their all. I enjoyed this moment.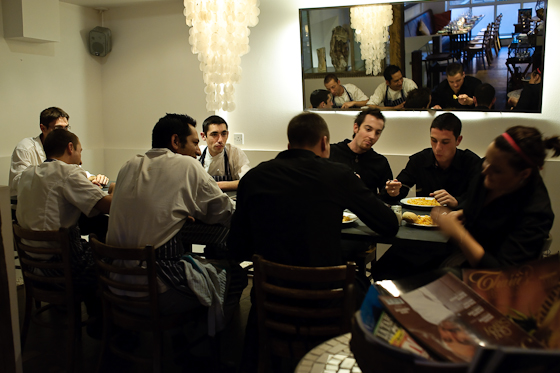 I've always been curious about when staff break bread. I know some places (in fact I've worked in some places) where they don't eat until 9pm when things die down. I also used to clean the bar and was taught how to make cocktails at midnight. Anyway, at Gazette, front of house and kitchen staff came together for their meal right after their team briefing. I didn't want to interrupt their time, but it was really nice to see such a strong team spirit. They joked, they laughed and they probably thought I was odd. I work in teams myself and I can only appreciate when the spirit runs high, the sum of the parts when a team is functioning at peak, can really lead to something special.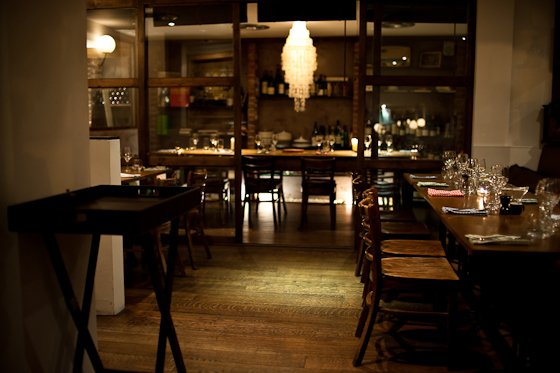 Now is probably a good time to start wandering around and admire the decor. Spread over two floors, the centerpiece is this long family dining room tucked into the corner, sort of a semi-private room of sorts, its very cosy.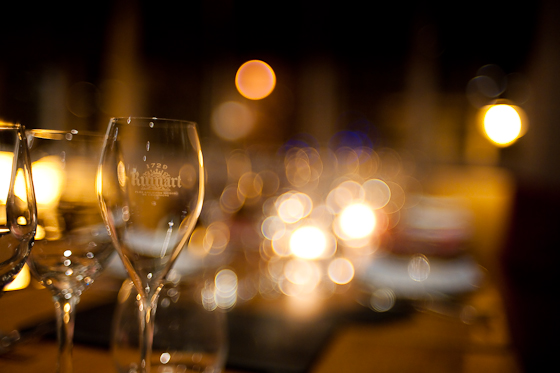 Night time is here! Time to light the candles and let the bokeh magic out of the bag….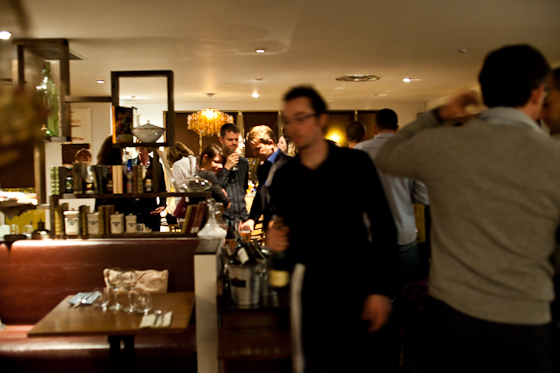 It was amazing how quickly the restaurant filled up. At 7pm it was still relatively quiet, but half an hour later, we're packed to the brim. The house is now jumping.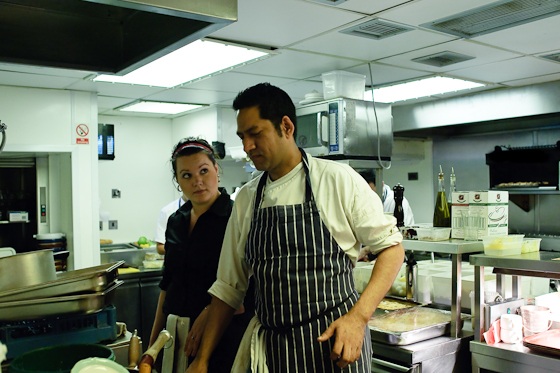 Of course, we have to sneak a cameo from the kitchen. The hazy ambiance outside, a total contrast to the engine room churning out the food. I had observed close cooperation between the waiters and the chefs.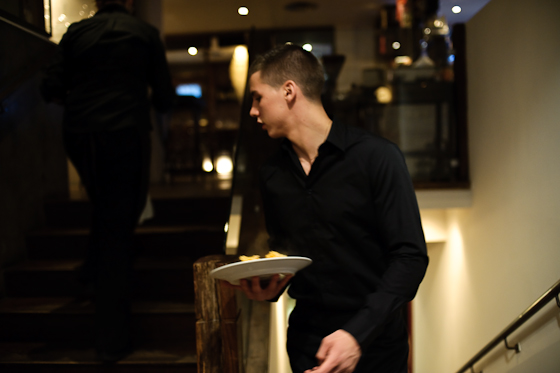 Food is starting to fly out of the kitchen now, and it parallels the events which took place during part I. At this point in time, the restaurant was getting so busy, I felt it was the right time for me to slowly back away.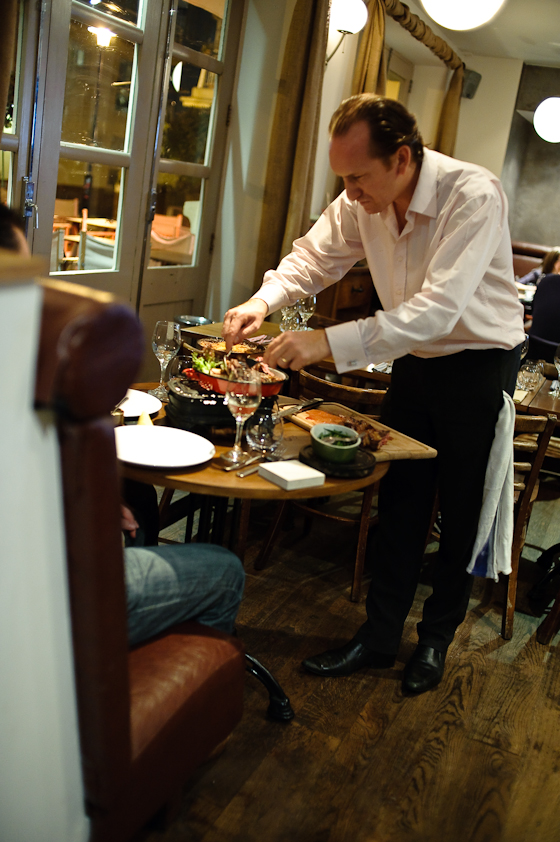 Remember that massive chunk of steak from Part I? Well, here we rejoin Walter serving it up to a couple. I like the fact that he is concentrated in his carving, but more importantly he looks happy with the bustle.
Walter tells me that Pascal and himself wanted to build a restaurant that was closely connected to its neighbourhood. It's patrons were the the people who lived in the area, and having a close relationship with his customers was something he valued. I admire that, I think of my local and I love it because I feel right at home at The Prince Regent, and with Gazette, it certainly had a warm buzzy feeling. Walter also said that the restaurant is like a mechanism, and this mechanism needs to get into its rhythm in order for it to work. Sometimes, this mechanism gets thrown out of whack, and it gets a little chaotic, but it adjusts and when it does, the mechanism gets back into the rhythm again. I was so glad to have watched part of that mechanism at work, when the rhythm was in full swing, it was marvellous.
And so I think it's appropriate for me to leave you with a photograph of the face of Gazette, more than anything this series is to highlight the men and women behind what keeps an establishment churning. I declined to eat anything for this personal project because I didn't want to miss a beat with the photographs, I wanted to fully capture the essence of the restaurant and I hope that this snap-shot has done just that. As always, I hope you've enjoyed this photo-essay as much as I've had the pleasure of preparing it, and hopefully there will many more kitchen adventures like this to come in the future.
(Read Part I here)
Restaurant reviewing continues on Monday..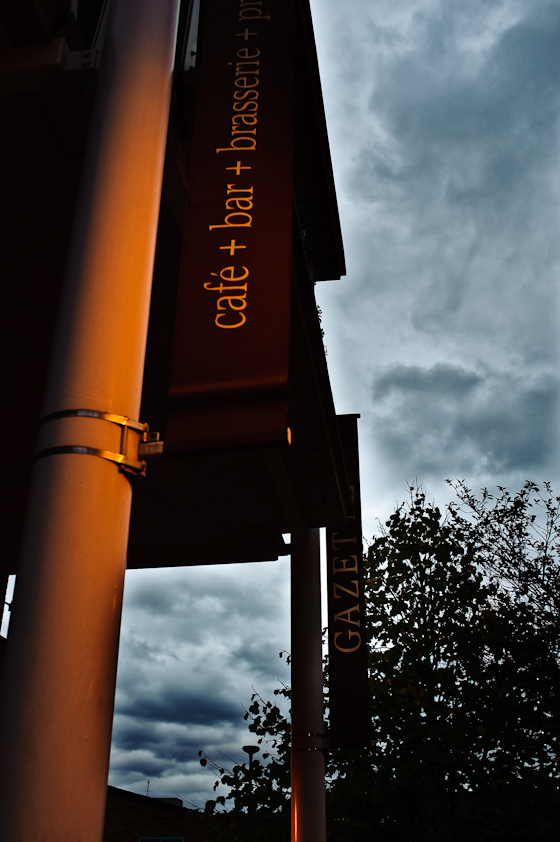 Did you enjoy reading this post? Why not subscribe to my feed updates for free. Alternatively, You can subscribe via email.