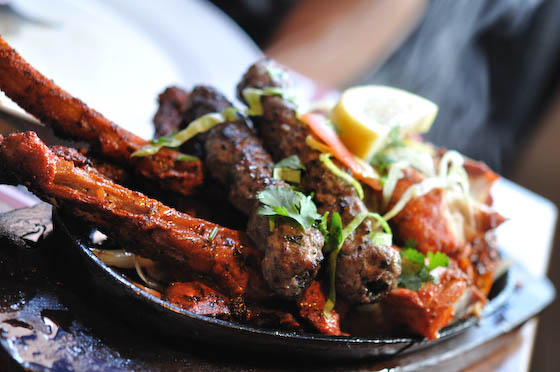 Tayyabs official site
83-89 Fieldgate St. E1 1JU 020 7247 6400
£15pp, BYO (!)
I did it, I finally did it. I went to Tayyabs for the very first time and you already know what my response is going to be like, in fact, you've read all the other all too positive reviews floating about. Drop whatever you were doing and prepare to suspend your imagination for just five minutes as LondonEater brings you, the much hyped, the much talked about, the one and only London foodie institution: Tayyabs.
Don't you remember, You told me?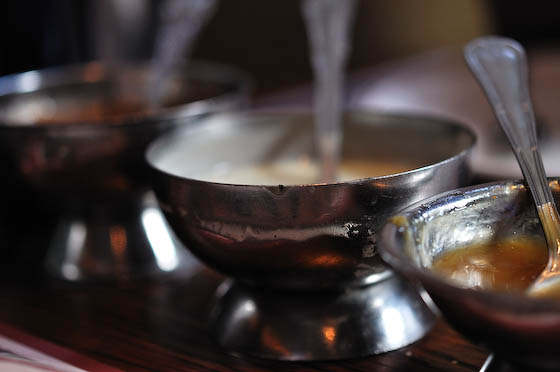 Based in Whitechapel, serving Pakistani style cuisine since 1974; Tayyabs is an overwhelming superstar, much loved by critics and worshipped by legions of hungry Londoners. Its hard not to get caught up with the whirlwind fandom that surrounds Tayyabs and a quick experiment to test that is to tell twitter you're going to Tayyabs and just sit back and wait for the dish recommendations to roll in. Yes the mere mention of Tayyabs elicits the kind of response normally reserved for the likes of say, Beck's pecks.
(Bad analogy, I know.)
The foodie in me was an ecstatic jackrabbit when it finally came time to eat here; the objective critic in me is ever so wary. Then again, eight million Londoners can't be wrong.
The first time, ever I saw your face.
Lets play guess which song lyric, I nicked the sub headers from. Seriously we are playing that game.
I visited on a Saturday and I was lucky to have made reservations because the restaurant was packed to the brim. And this was 7pm. The queue meandered from one end of the restaurant to the other. I counted roughly 50 people standing in line, mostly in puppy-dog mode although they stared at the food with dangerous intent. Even more amazing were the hoards of people dunking their bottles, awaiting their turn. If I was a passerby, I could have easily mistaken Tayyabs for a Depeche Mode comeback gig – such is the spectacle.
Righto, lets get on with the eating.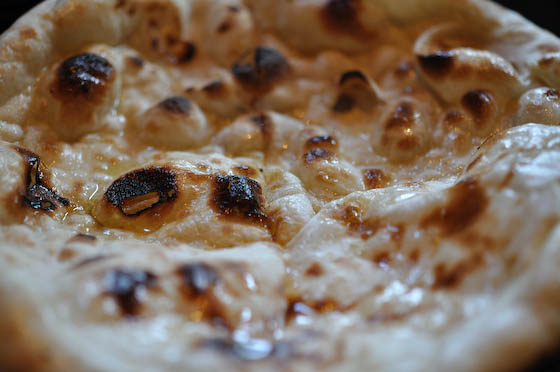 First things first, order the Mix Grill. You will not see this on the menu, but as it implies; the mix grill is an assorment of tikkas from the starters section. Separate orders of the Lamp Chop, Sheesh Kebab, Fish and Chicken Tikka, epically served on a piping hot plate.
Still sizzling with visible rising steam, the entire dish was a magnificently exciting sight to behold. One which I couldn't help but gasp as it came to the table. I went straight in with the lamb chops first…… wow. It's amazing. You can taste the charcoal! The smoke, the sizzle, wonderfully infused within the meat. Perfectly spiced, tingly and yet its not too hot, or overcharred as I didn't feel like my throat was on fire. It was surprisingly balanced. There were distinguishable citrus hits and the coriander helped to even things out further. To sum up this dish: Vibrant.
Similarly, the chicken and fish tikka were succulent, juicy with beautiful charcoal sensations, although my favourite were the seekh kebabs. The mince was seeped in intense herby spiciness – with a large concentrated saltiness and interesting dark chocolate flavours – it was certainly one of the best grilled minces I've ever had.
A great mix of tikkas; the meats were perfectly grilled. There was amazing depth of flavours, welcomingly balanced whilst maintaining a high intensity. A spicy punch without the burning. For every hint of chilli, there was a dash of citrus.
Next up, one from the main dishes section: Karahi Chicken. The waiter informed me that it was a special on the night. Hmm.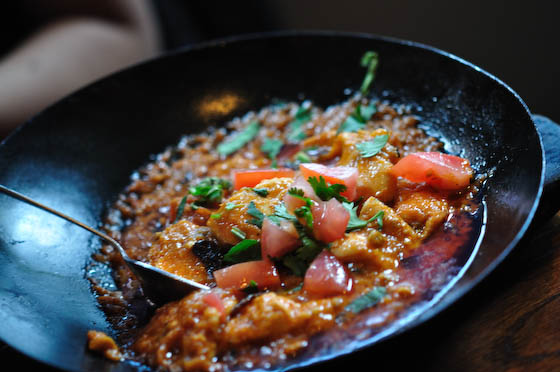 I was slightly sceptical of the visibly oily dish at first, but I quickly forgot all my fears as I experienced a right explosion of flavours. Rich cherry tomatoes criss-crossing with the citrus and coriander, it opened up my appetite. The chicken was tender and moist, the only criticism being that the sauce was not consistent enough to soak my nan bread. I can still smell the aromatic spices, sweetened tomatoes, effervescent.
I am driving, 85 and.
I was amazed with the speed at which food flew out of the kitchen. Even with the restaurant being overcrowded, service was still personable and you know what, I've never met a bunch of waiters who were as cool headed as the Tayyabs lot, I suppose they're used to the action. Ten minutes from ordering to piping hot plate up – that must be some kind of record.
Karahi Bindi (Okra)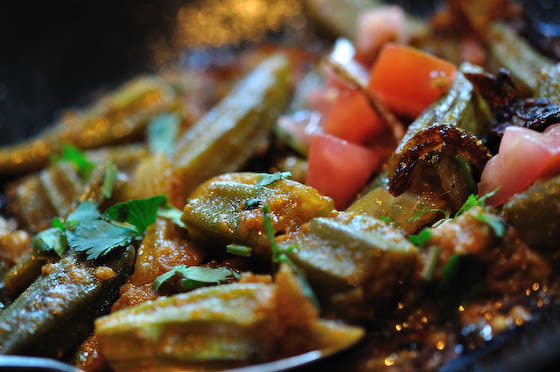 Ladyfingers.
As much as I enjoyed the tikka, I thought the Okra was the best dish of the night. It was abit more unique from the decidedly perfectly grilled meats and I didnt quite know if they were going to get the ladyfingers right or not, what with the slimy characteristics. This foundation of flavours were in the similar vein to the chicken with the interplay of citrus-tomato-spice, here's where it really takes off: the unique characteristic of the Okra. It wasn't much too sticky, it was delicate and had just the slightest crunch, and the distinctively fresh flavour of the okra, coupled with the bursting okra seeds, left me never wanting to stop eating.
Although we've come, to the end of the road.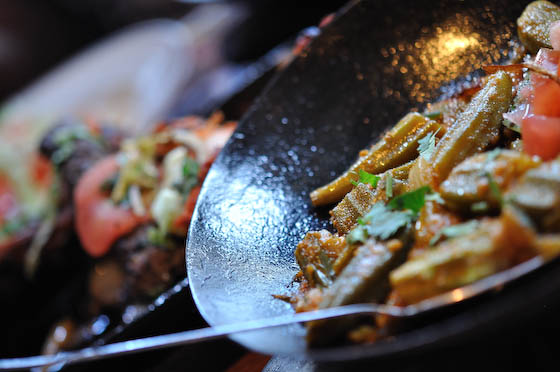 Everything came to £32. I was so overstuffed to the bone, we had to doggie bag the leftover chicken and okra, which you will be glad to hear, has been made into a curry infused risotto.
Yes, Tayyabs is very good indeed. It is perfect for large groups and you will all expect to be wowed by an exceptionally large range of spice infused flavours. I think the chefs have mastered the art of balancing flavours and they have indeed honed their epic high wire act. How they can manage to pull in so much vibrance in the spicy end of things, whilst maintaing a neutrality with the citrus is beyond my young palatte. As for the tikka – it is charred to perfection. Realistically, it's abit of curry and naan bread – how could it go wrong? Few go too far wrong, but even fewer get it so right.
It is often thought that the most common dishes are also the hardest ones to cook because everybody already has preconceptions of what it should taste like and this idea can arguably be applied to Tayyabs: I walked in thinking I knew what Curry and Tikka should taste like, but Tayyabs has redefined my view of Indian/Pakistani cuisine.
And as if that weren't enough, we bumped into Susan the delightful Word of Mouth editor, a pleasant surprise indeed. What a day, what a meal, what a restaurant. May Tayyabs continue to prosper as The London Foodie Institution.
The Gist of It.
Tayyabs official site
83-89 Fieldgate St. E1 1JU 020 7247 6400
£15pp, BYO (!)
Verdict: The best Pakistani restaurant in London period.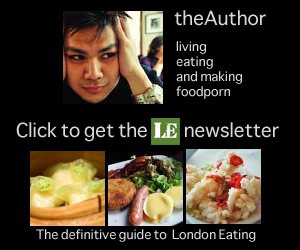 Did you enjoy reading this post? Why not subscribe to my feed updates for free. Alternatively, You can subscribe via email.