Bentley's official site
11-15 Swallow Street, London, W1B 4DGT +44 (0)20 7734 4756
Six oysters plus glass £9.95
How long does it take to shuck open twelve oysters? Forty-five minutes at Bentley's – maybe there's mythical preparatory work involved, but I was completely baffled on this visit. Note, this is not a review.
Service, absent.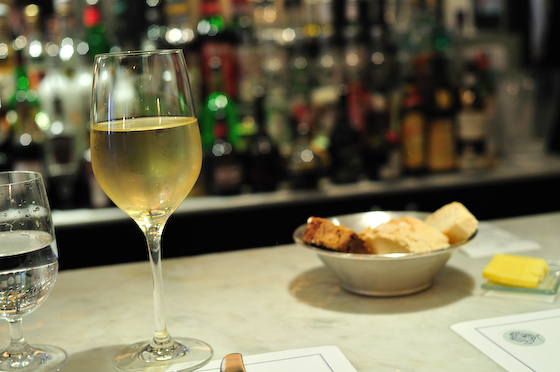 Let me introduce you to bartender Tim.
Tim looks like an intelligent and strapping young master, except he's a lot more interested in chatting with the offshore bank accountant who is sitting at the far end of the bar from me, than actually serving me.
"18 pence per share, FTSE 100 company, I'm not kidding" says Timmyboy.
"eh?" I was thinking more along the lines of £10 half dozen oysters and a glass of wine. Turns out he's not talking to me, even though he chose to pop a wine bottle in my face and shout across the bar (but to my face) to the silver hair gentlemen who can't seem to stop announcing to the room that he is in fact, an offshore bank accountant.
Ok let's try that again. Five minutes of trying to establish eye contact with Mr Stockbroker behind the bar later…
"Hi there, can I get your oysters please?" says me.
"Garble garble garble…. 18pence, went up to 36p last month, I kid you not." says Tim.
Me: "Oysters, please"
Him: "Right. Oysters. That's it?"
Me: "What else do you recommend?"
Tim: "Garble garble. I think it's up to 59p last I checked."
Me: "…."
Then, he walks toward the gentlemen and reaches his perfectly cropped head toward the man's ear, as if he was whispering sweet nothings to Diane Kruger. I attempt to re-establish eye contact with Timilicious, perusing time-honoured headbobbing techniques until our eyes snap in contact with one another and he finally walks toward me. (this is a short bar, no more than 3 meters in length)
Him: "Yes, what can I get you?"
Me: "The half dozen plus a glass of white, what wine would you recommend?"
Him: "Its all good."
Before I had the chance to point to something on the winelist, Mr offshore bank accountant decides to announce to the world that he's leaving. No surprise, Tim leaves me hanging and rushes to his highness to usher him out the door. He cannot hide his enthusiasm and stretches his hand out and introduces himself "Tim! I'm here all week next week, come back again and we'll chat more."
Gosh, what excellent service, now why didn't I become an offshore bank accountant I wonder.
From start to finish, its about half an hour, and only then did he bother to pour us our glasses of wine.
Him: "This is Spanish, O.K.?"
And he disappears into the next room, never to be seen again. I was so glad when the manageress tapped on me to let me know there was a table in the outside area, I ran out.
Did I mention a £2 cover charge plus 12.5% (non) service?
Appalling.
Seriously, how long?
By the time they brought out our glasses of white which were still sitting on the bar, the cool crispness had become a warm vinegar. Another five minutes pass, I had to gently remind them to bring out our bread, to which the waiter replied: "Oh, we knew that. We were just heating up new ones, just in case it went stale"
Ha.ha.ha.
Forty five minutes into this sitting, our oysters finally appear.
Ok. So here's the good thing, the oysters were excellent. In fact, they were so good, they might possibly have been the best I've ever eaten in London, so far. They were mineral and refreshing, the texture was so creamy that one need not have to hold his breathe to eat them. There werent any strong aftertastes or offensive fishiness.
A squige of lemon here, a splash of shallots vinegar there; Sizzling acidity which went down so smooth, I was inclined to believe that these oysters had true aphrodisiac powers. Oh yummy. Similarly, the bread was top notch – the brown ones appear to be a kind of oat bread, with a sweetish floury flavour and chocolatey aroma.
Right then, slurp, slurp, slurp. That's twelve oysters and two glasses done. 4pm, time to go. I walked in at 3. The bill takes, oh just about 20 minutes to get to me. And we find that they've charged an additional £6 for non-existent cherry clams. Very creative, we send it back. Another 15 minutes later, the real bill reappears. Finally.
Maybe next time, not. 
In the end, we refused the 'discretionary' 12.5%, this was the first time I've ever done this, as I really felt it was undeserved. Service was dismissive and disrespectful. What was suppose to be a quick oyster slurping session on a sunny Sunday afternoon, turned into abit of a nightmare. There was still the mandatory £2 cover charge per person – that's four quid, for what? Dodgy stock putting advice from a wannabe broker? Wrong side of the bar and wrong profession altogether.
18p per share anyone?
Carelessness I can forgive, especially if the staff are indeed trying and if the food is up to scratch. Yes, the Bentley's £10 deal for 6 delicious oysters and a glass of pretty able bodied wine is indeed a very good deal. So much so, I'd go as far as to say that they were worth the 45 minute wait. But having to endure the most egotistical of arrogant barman (I complain about poor bartending, because I've worked behind bars before) ever to grace restaurant bars; utterly infuriating.
Perhaps this was just bad luck, an off day and maybe you guys have had better visits, I would really like to believe that, hence the non-review.
If you are reading this Mr Corrigan, I respect you and your work, but seriously take a deeper look into the front of house at Bentley's.