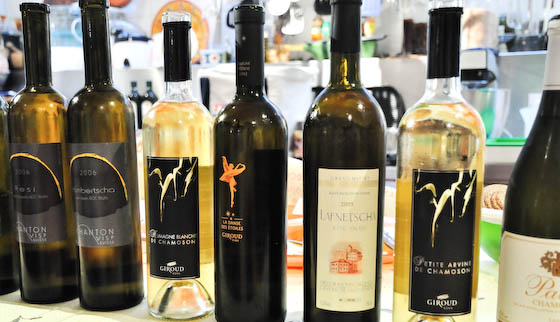 Swiss wines are really rare. Only about 2% of all Swiss wines made are ever exported and its quite likely that one may not even find them in major restaurants in Geneva. So when I read about an exclusive Swiss wine tasting in London, I really had to sample it for myself. Forty quid, a dozen bottles and in the company of the great Neville Blech.
We now take a detour from restaurant hopping to finding that drink, in the city of Smoke.
A tutored tasting.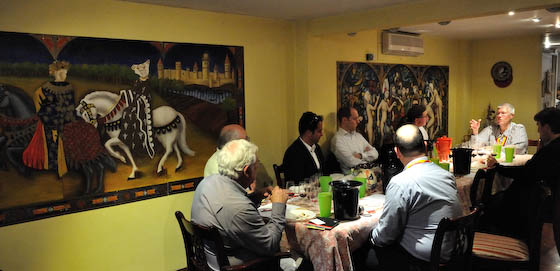 The session was hosted by Paula Sindberg of Ultimate Wines. We gathered at Bacchus and Commus , owned by Neville & Sonia (Sonia was the first woman to win a Michelin Star!), and as one would expect, slightly nervous exchanges to start which quickly greased with all the welcoming company, I met some pretty cool wine lovers.
A few (Paula included) wore silver looking medallions and I was informed that they were part of The Wine Century Club – people who've tasted more than 100 grape varietals. There are 590 members and you can read about them here . Any wine lover can join in the fun and seriously some of the nicest bunch of people about, they really do have a passion for wine!
Swiss, Gwass.
I must admit I was a little overwhelmed with all the Swiss varietal names as these truly were wines I'd never heard of. We started with the whites, eight bottles in all. Thankfully this was a tutored session; Paula broke into Gandalf mode with the story telling, and it was nice to be assimilating new information. Paula also prepped tasting sheets for us and there were some info packs for us to take away as well.
Educational and I get to drink too.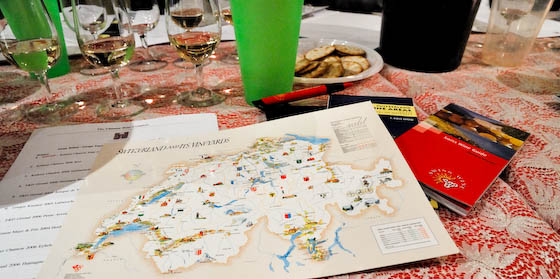 Right, so on to the tasting then. If you've never been to one, it's quite an experience. Depending on who's running the event, its usually quite informal (just don't be greedy when pouring, well…) We were each given four empty wine glasses. As the session began, the bottles were passed round in order and it was up to myself to keep track of what I was drinking. There's a jug of water to clean the palette, and a sputum if one should so need one…. in hindsight, I should really try to spit more than I swallow.
The whites came in two 'waves'. The first glass was an aperitif and the next three bottles were noticeably light bodied whites. Out of these four, the 2006 Kellerei Chanton Himbertscha stood out for me, with a slightly peppery taste and bubblegum flavours, in addition to lots of citrusy fruits on the palate. Bright, young and acidic! I had to double check that I wasn't drinking something from Germany.
The latter four were still quite an easy drinking style, although they had a more significant mouthfeel. These wines exhibited a more viscous body and they were larger on the palette with honey sweet flavours. By far, my favourite on the night was the F&D Giroud 2005 Amignede Vetroz "La Danse des Eoitles". The bright wine carried a clean sugary sweetness in the finish which made it quite a joy, I just couldnt stop drinking it, and a truly memorable dance of the night, indeed.
On the whole, the Swiss whites were generally light bodied and the crispier cleanliness was very welcoming. Perhaps my palette is still young, I prefer the fruity dry whites – unoaked where possible – as opposed to the dense and buttery, and I quite enjoyed Swiss Whites.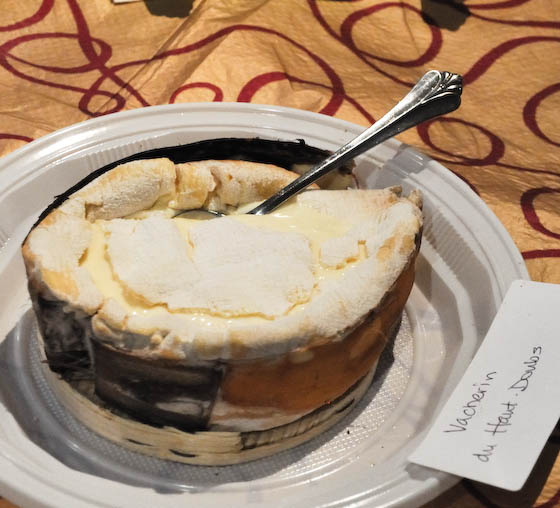 Intermission for the eater
Vacherin cheese, you gotta be careful with this one. To my mind, its one of the best cheeses ever made, creamy, runny and really stunning. Its so good, its almost worth the price of entry alone. I guess that's the upshot of wine tastings is the spread of cheese; in addition to the vacherin, there were a separate selection that included some swiss and blue.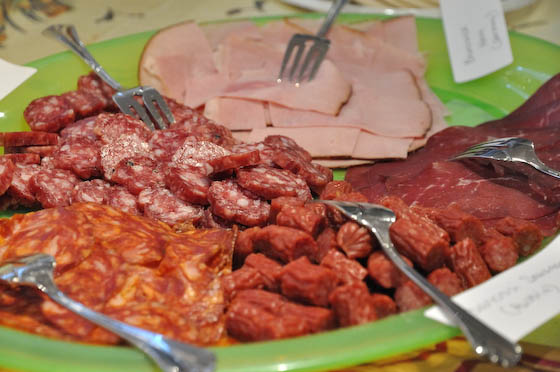 Of course, cheese weren't the only nibbles; Paula laid on a pretty impressive spread including dried apricots, plums, olives, oat biscuits and my favourite – a charcuterie board with iberico bellota, breasaola, and saucisson.
Moving back to the tasting and now on to the reds, I was pretty tipsy at this point. I hadn't had dinner yet, swallowed far too much and I'm counting on the nibbles to fill me up.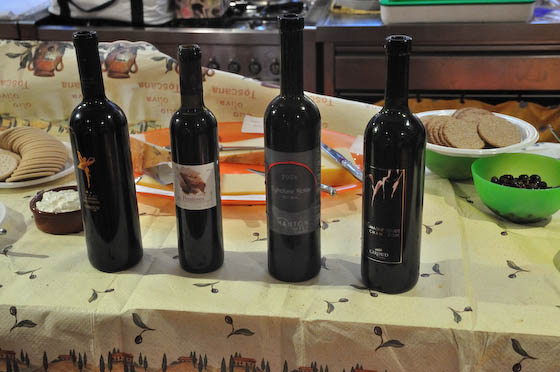 The last four bottles were reds. We started with a light and almost syrupy Kellerei Chanton 2006 Eyholzer Rooter. There are jammy fruits on the palette, and it really reminded me of a fresh and young Beaujolias, personally not a bad thing, but perhpas not for everybody Im sure. The next bottle, F&D Giroud 2006 Humagne Rouge de Chamason, was again, quite light, creamy and vanilla on the nose, and its almost like a young Beaujolias or even a Pinot. The 2004 Gamaret Futs de Chene was quite hollow in the centre, and was quite soily, while the last bottle the Giroud 2005 Cornalin de Chamoson, also a "La Danse des Etoiles" was the best red of the night for me – smooth and silky with a spicy jammy finish.
On the whole, the Swiss reds were light and if you are a fan of young, easy drinking Beaujolias or Jammy Australian Pinots, you'll quite enjoy Swiss reds. On their own, they are easy to drink, but perhaps they are not quite big enough to match your peppered steak or game. Although, I must admit, as a Pinot drinking, I think Swiss reds are rather successful for everyday drinking, if you like big reds, malbecs, shirazs, you will find these wines a little underwhelming.
Overall, I enjoyed this little tasting event, it certainly is abit different, especially drinking some rather rare stuff. The F&D Giroud name is on my list of cool producers now and their range of 'dance of the night' wines are quite an experience in my humble opinion.
Sip!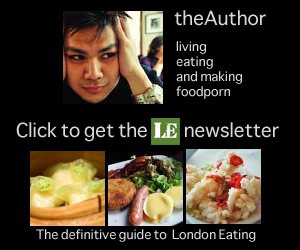 Did you enjoy reading this post? Why not subscribe to my feed updates for free. Alternatively, You can subscribe via email.