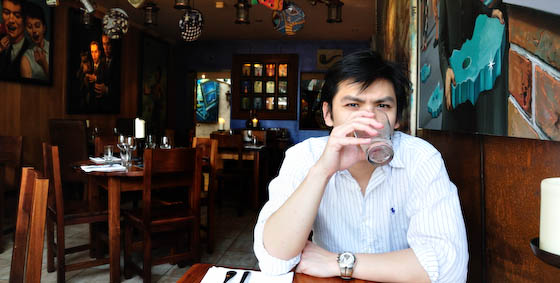 Metrogusto Official Site
13 Theberton St Islington N1 0QY 020 7226 9400
£40pp 3 courses no wine
In the sweltering height of the April heat, I broke the unspoken code of tap water conduct and plonked for a bottle of sparkling. It was such a hot day, I just wanted something crisp, but without the alcohol. Metrogusto has been on my relaxing eat list of a while now, and I'm glad to have finally made it here. Let your hair down a little won't you?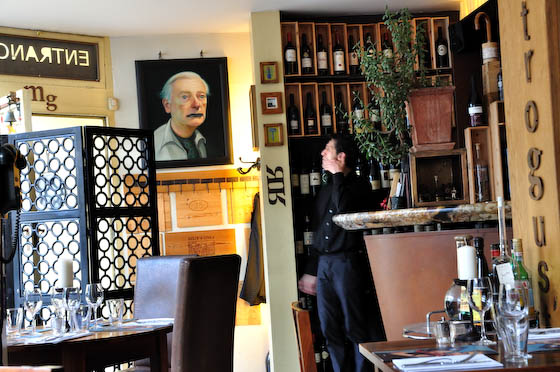 I have my reasons for going bottled.  I was saving myself for a proper wine sampling session at the Sampler, a few blocks down the road, after dinner. I still had twenty pounds in my pre-paid card.
I don't have it anymore.
Italian restaurants are a dime a dozen in the city and I get the perception that people naturally include this cuisine when they are considering a special meal. Perhaps its good business running Italian, perhaps its easy to maintain, I'm dwelling on this point because I simply can't get excited when I saw the Metrogusto menu. Starters are priced at £7 and feature the usual suspects of Buffalo Mozzarella, grilled calamari and cheese salad. Then there's the £12 pastas and then the £18 meat. Nothing stands out.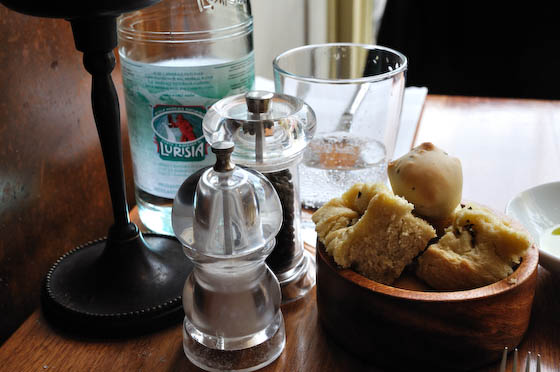 This rarely happens to me – I really can't decide what I want to eat, I am dangerously close to writing it off as just another Italian restaurant, but not just yet. I should rewind a little, Metrogusto is quite a well regarded spot. Afterall, it is blessed with a Michelin Bib Gourmand (cheap restaurant, good food but not Michelin star material). Critics seem to be in love with romanticism of Mg – hidden away along the Islington high street – its not hard to see why. The restaurant indeed has a quiet charm about it, one will notice the myriad of dangly bits as one moves deeper and deeper into the heart of the restaurant. Even the owner fits the part of a soave Marlon Brando lookalike in his perfectly pressed threads – with an apron no less. The much clichéd candle-lit dinner, with the smell of garlic in the air is ever present at Metrogusto, and last I checked, this sort of atmosphere still typifies a memorably soppy night out. Mwah.
It has been quite a while since I last dined a lonely dinner with just myself and the camera, because these days I dine with You. Yes You. Every sip of wine, every crunchy sensation, every chuckle of the crowd, I feel the obligation to share whatever it is I experience with you guys. I don't say it often, but wherever you are reading this, I appreciate it, and if you feel just that little bit more inquisitive about food, then I would have done my job.
(Incredibly soppy.)
Yes. It's about time, I've made my decision on the food, let's start with stuffed baby squid with polenta £7.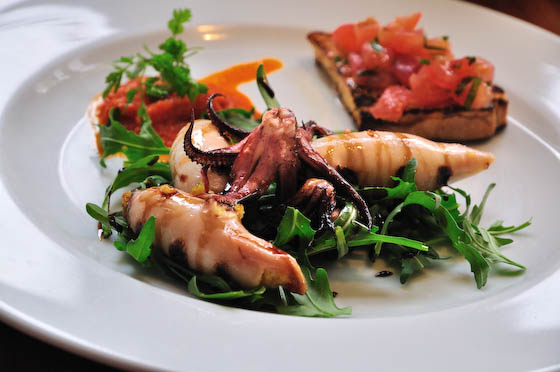 Fresh and bouncy, the squid was exceptionally soft to cut into, and the smooth polenta stuffing was a fine grain with mellow corn flavours. Perhaps superfluous, but I really liked the way this dish was presented, the elegance of the stuffed squid provided for quite a vivid retreat, and the efficiency of the presentation was evident in the simplicity of its taste. Gently grilled, mildy oily and a pleasantly subdued start to the meal.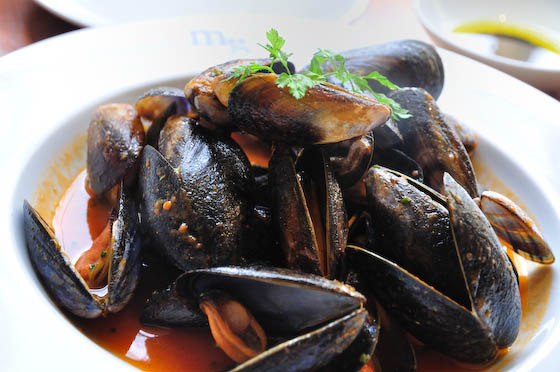 Mussels in white wine, garlic & tomato sauce. £7
Dining out on a frequent basis means that one's perspective on food gets redefined with every meal. You'll go through the peaks and troughs of it too; sometimes you'll get bored of just 'normal' food and always want to try bigger, better, more creative, you know … bang bang, bang – its not hard to imagine how El Gordo Ramsay gets so obsessed at times (or could that just be TV). Other times, you'll feel a kind of palette fatigue and you might miss the simple, the down to earth and the classics. I felt a back to basic moment coming on and followed the mellow squid with something classic in hope that it would take me back to pleasure of simple things in life.
Breathing in the garlic and tomato aromas and the smell of the sea in the mussels really took me back to the time I first found joy in mussels & frites. It was a feast for the senses as I undid the shells with the fragrance of the sizzling broth. So comforting, and perfect for bread dipping. The mussels are quite abit larger in size than I'm used to in London restaurants (Scottish mussels?) I am a little sad to report that the mussels weren't the freshest variety as some were terribly mushy, and even stank of deadness. A real shame because the broth was an instant classic, let down by poor produce.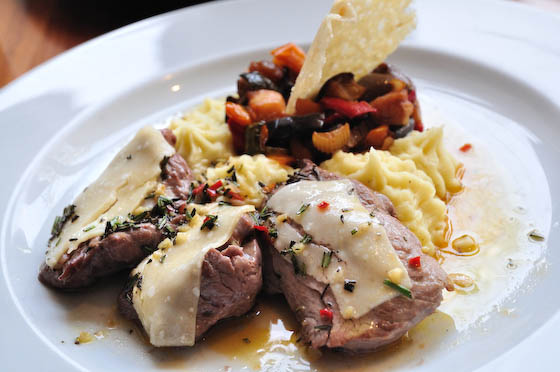 Pan-fried beef medallions served with shaved Parmesan, £18.50
I had to do it, I had to order the most expensive item on the menu. I was glad to have made the choice because the dish was a both a visual treat and an exhilarating whiff. So much rustic quality, and the rising hot steam, just perfect. I was intrigued by the lightness of the meat, it looked more like veal than fillet to me (if indeed it was fillet). We start with the vege on the side which looks to be an assortment of courgettes, cucumber, aubergines and shallots. It was a colourful combination of intercepting sweetness balancing herbs. Almost 'Michelin-like', what with a cheesy crisp wafer stuck in the middle of it all. Fluffy soft meat, so delicate on the chew, I really was confusing this for veal, with a mellow rather than beefy flavour. There was a lovely burst of heat from within the meat, and the parmesan provided most of the depth in flavour while the umami levels were amplified with the mash.
A graceful dish, rustic and well cooked, one that I enjoyed.
As my bottle dwindled to its last drips, I chose to finish the meal with a tiramisu; half expecting a miraculous secret recipe handed down from the ages, though the reality was rather more sobering. In the end, my first Metrogusto experience was favourable. I did not expect the food to be world class, I did hope that it to be mellow and rustic. In a sense it did exactly that, staying true to classical styles and a balance of mellow flavours. Perhaps a little old fashion measured against some of its contemporaries, who choose to cook with more fiery impact. That might explain Metrogusto's eerie hush on a buzzing Saturday night, especially since the French bistro accross the road was enjoying huge queues. Then again, I suspect some of you still welcome this kind of old school heartiness, especially on days when you want to go back to the basics.
The Gist of It.
Metrogusto Official Site
13 Theberton St Islington N1 0QY 020 7226 9400
£40pp 3 courses no wine
Verdict: Rustic & heartwarming food, charming ambiance and an old school Italian restaurant, candle lighting still exudes romance.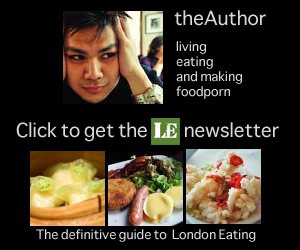 Did you enjoy reading this post? Why not subscribe to my feed updates for free. Alternatively, You can subscribe via email.