Kang's Note:
Today we have the 5 Star foodie blazing a trail of culinary glory to sample some of the best eateries in the US of A. In this post, she is at the Inn in Virginia and it's one of those posts which evokes a sense of holiday…… – Kang.

The Inn at Little Washington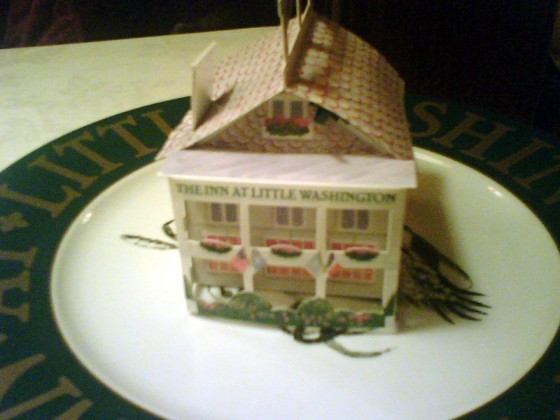 There's a small Virginia country town, called Washington, located near the Shenandoah Valley and the Blue Ridge Mountains, only a few hours away from the busy streets of the capital. It is home to one of the all-time classic restaurants in the United States, the Inn at Little Washington. The Inn, as it is known, has been awarded five stars by the Mobil Travel Guide every year for almost two decades. In 2008 the Inn is celebrated its 30th anniversary.
The chef and the proprietor of the Inn is Patrick O'Connell. Patrick O'Connell is a trail-blazer for modern American cuisine, featuring refined American classics with fresh local and seasonal ingredients. Amazingly, he is completely self-taught. His exceptional genius stems from his ability to select just the right combination of flavors and turn these into fantastically beautiful, artistic creations. The Inn has also encouraged the emergence of fresh produce and local farms tailored to fine culinary resources in the Virginia countryside. A true culinary pioneer, Patrick continues to make his own way and pave the path for many young chefs that have learned in his kitchen.
Living in Virginia, we have eaten at the Inn before and enjoyed wonderful dinners, including a classic meal for our first anniversary in 2002. However, we had not previously experienced Patrick O'Connell's tasting menu, as we now typically enjoy in the 5-star restaurants we visit. On New Year's Eve 2008, we finally had the chance to sample Patrick O'Connell's very special 7-course tasting menu, prepared for the occasion.
As soon as we entered, we were immediately greeted warmly and invited to rest a moment by the fireplace to warm up. Then we were invited into the gorgeous dining room with comfortable Victorian-style armchairs and sofas. Especially for New Year's Eve, the ceiling was filled with golden balloons. At our table we found adorable little souvenir menus personally signed by the Chef and listing the upcoming courses for tonight's tasting dinner.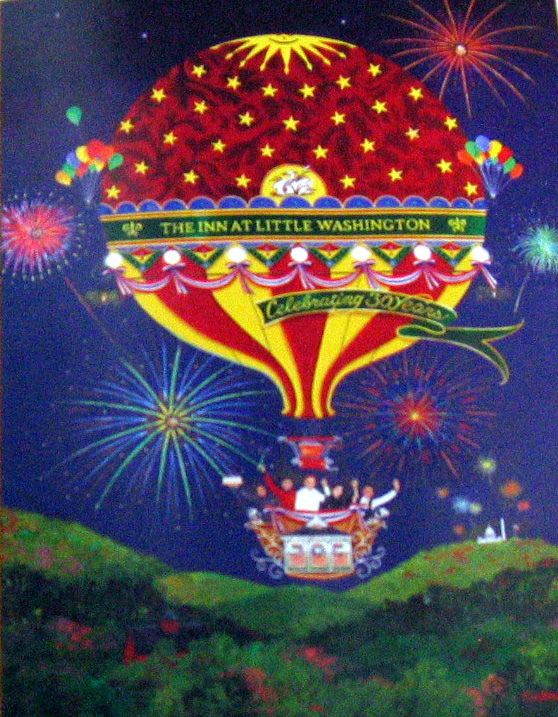 We chose a fine Burgundy to marry with the menu's winter flavors. Opting for the Domaine Hudelot Baillet "Les Cras" from Chambolle-Musigny, this wine tastes of delightfully concentrated bright fruit, rare for Côte de Nuits, while rich and well balanced, and thus perfectly suited for the courses to follow.
We started with amuse-bouche consisting of four Tasting Spoons with a delightfully refreshing beet horseradish and cranberry mousse, rock shrimp with avocado, a tasty slurp of oyster, and a crunchy bite of pear wrapped in prosciutto. We were also offered warm poppy seed baguettes and delicious slices of pumpernickel bread.
Our first course was called A Lilliputian Soup and Sandwich. This playful dish included a warm split pea soup served in tall thin glass, accompanied by two tiny crostini layered generously with thinly shaved truffles and parmesan cheese. The soup was restorative and very comforting, perfect on this cold and windy New Year's Eve. Meanwhile, the open-face crostini sandwiches matched this strength with their wonderfully strong truffle flavors. The pairing was completely scrumptious and a fine waking of the taste buds.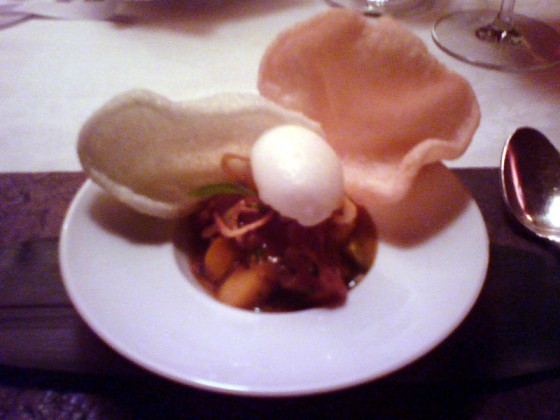 The next course immediately captured our imagination as our server's explained the creation was a "deconstructed rubix cube". Delicate chunks of big eye tuna, with avocado and mango, were served alongside crispy shallots sprinkled with red pepper flakes to add a perfect spiciness to the dish, while cooled at the same time by the bright sweetness of a Sake-Yuzu sorbet. In this one little dish, we experienced so many flavors and textures – spicy, sweet, salty, sour, soft, and crispy tastes! This play of different flavors and textures was incredible and created a very unique dish. For us, this was definitely the best dish of the evening.
The third course was also very unique – a pan roasted Maine Lobster in an Artichoke Barigoule. Barigoule is a traditional Provençal method for braising artichokes, usually in a liquid consisting of broth, white wine, and citrus. Patrick O'Connell shaped these artichokes into miniature bowls and then placed the lobster chunks, poached in the artichoke broth, in those bowls. The dish was finished with a garnish of tiny carrots dots and delicate oyster shell mushrooms. This was a wonderful combination.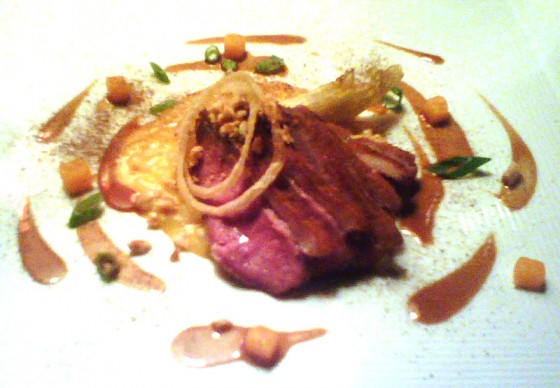 Our main course was a Four Story Hill Farm's Pekin Duck Breast, perfectly cooked to melt in our mouths, and served on a pumpkin risotto along with caramelized endive. The veal reduction was cooked over three days, and a Vermont maple syrup was infused into the sauce adding a wonderful depth of flavor to the dish. To finish the presentation, our server sprinkled fresh, aromatic cinnamon flakes all over our plates. It was delicious!
The pre-dessert/palate cleanser course was a miniature "dreamscicle" of passion fruit sorbet and vanilla ice cream. These were then dipped in toasted coconut flakes scattered about the plate. It was a yummy and fun little treat.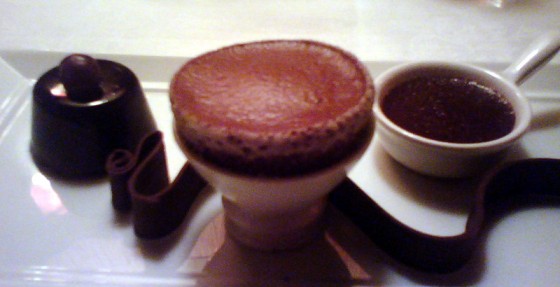 For desert, the Chocolate Manage a Trois was quite spectacular and included a Black Forest Mousse Bombe, a Chocolate Crème Brûlée, and a Bitter Chocolate Soufflé. The Bitter Chocolate Soufflé was our favorite, but we loved all three of these heavenly chocolate creations.
With our coffee, we were also presented with a miniature paper model of the Inn at Little Washington containing cookies and chocolates. It was just adorable, and made a perfect gift the following day for our daughter as we shared our meal adventure. This was truly a very special evening and an amazing culinary experience to welcome in the New Year.
While we were sipping our coffee and talking about the incredible meal we had just had, I suddenly spotted a Dalmation print apron – a signature uniform of the Chef – and I knew that the best part of our evening was yet to come. Patrick O'Connell made his way around the dining room to wish everyone a Happy New Year. He stopped at each table for a short time, but when he came to our table, we captured his attention for a lasting conversation on modern dining.
At a time when there is great pressure for restaurants to conform to a carefully packaged dining experience, simplified to satisfy a less educated food audience, Patrick O'Connell continues to buck the trend. He reflects that with his 30 year experience, the best chefs used to be laser-focused on the artistry of their craft and not so concerned with commercial success. Today, the industry has changed, with so many fine dining establishments either managed by corporate chains, or meticulously designed for a cautious palate despite the use of fine ingredients.
In a time of recession, it is especially difficult to stay focused on accomplishing great culinary artistry, when the public and the press are more conscious of what they spend, and more likely to seek "cheap eats" than to look for new adventures to expand one's palate and one's culinary horizon. Despite his long-standing success, Patrick O'Connell is no more immune to commercial pressures than anyone. Yet, he is resigned to continue in his goal to strive ever onward with evolutionary, mind-expanding fine dining. He joked that he may be the last such institution left standing. If so, then to the best of my abilities, I will be one of his last patrons waiting to join him in sharing this never-ending adventure.
Hope you enjoyed that one too folks, do remember to vote for the Five Star Foodie if you liked this one on 11th March here on London Eater, till then check out her blog 5 Star Foodie.