A dollop of off-the-curb eating quirk to brighten up those midweek blues every wednesday or thursdays or both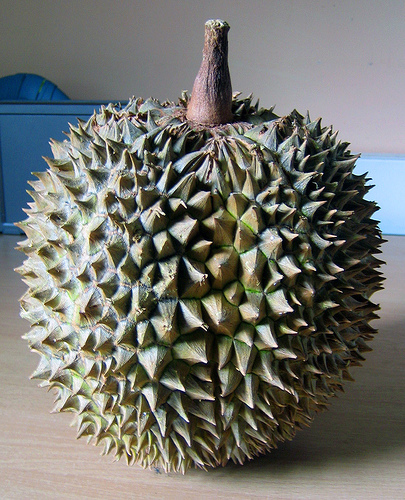 Depending on which part of the far east you travel to, the Durian is actually considered the king of fruit. This is a tropical fruit, so you won't see it growing in someone's back garden in Croydon, but in places like Thailand – where the famous 'Monthong' breed is planted – the durian is abit like a national treasure.
The thick outer shell is usually oval shaped, green and spiky. The flesh is usually cream in colour (sometimes yellowish or reddish too) and it tastes rather like natural egg custard or a crème brulee . Perhaps the most distinguishing characteristic of the Durian is it's smell.
Now, this is one of those polarising foods of the world, you either love it or hate it. That smell is unique and rather strong. I can't quite describe it except to say it's the smell of a durian. It is also uniquely because of the smell that people get put off by it.
The best analogy I can give is that of a great French soft cheese, like a good unpasteurised Brie, for example. Some say it's super pungent, but to me it's like a golden tingling sensation. The runny creamy texture and the sharp hit is like music to my tastebuds, or it could be like eating rotten eggs.
To find out if you are a Durian lover or not, head towards Chinatown in Leicester Square, go to one of the grocery shops and ask for one. They import them from Thailand sometimes.
So, do you like durian?
Photo by zircon3035