Square pie , Selfridges 400 Oxford Street W1A 1AB, 020 7318 2460
£5 per pie , £6.99 meal deal with mash, gravy, mushy peas and the whole nine yards.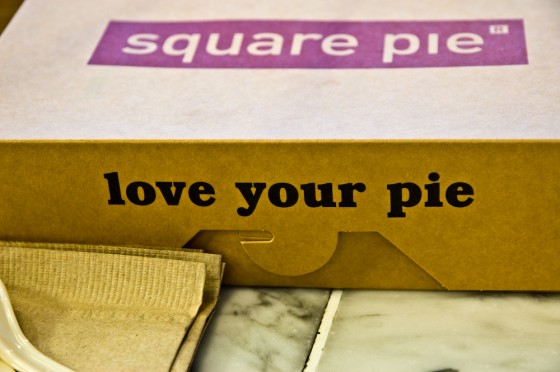 The selfridges food hall is still a thing of wonder ladies and gentlemen. It's been there for quite a while now -square pie I mean- and it's continued to grow. Having said that, there are still only just six outlets to eat the pie which is so good, it's square. I wonder why that is because the pies are affordable and taste really good. Maybe it's because they are breaking too many rules. In addition to squaring the pie – they recommend you eat their pies with mash, mushy peas… and gravy.
Alright, alright, you want to see the pie don't you?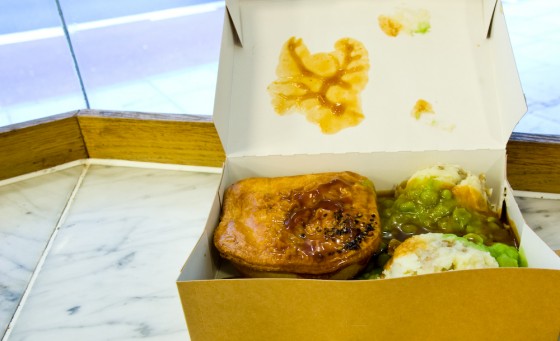 Oh, that's abit of a long shot, you want a close shot do you?
Before we zoom in, I was wondering if you were familiar with 'unboxing pictures' . Forgive me if I'm being patronising: whenever a new mac product gets released the whole web ( flikr and facebook rather ) starts clocking up bandwidth with lots and lots of pictures of customers uploading literally unboxing pictures of aforementioned brand spanking new mac product. Here is an example. They also tend to stick a 'first impressions' commentary on how much saliva has trickled since they opened their new toy.
I would like to apply those mechanics to this box.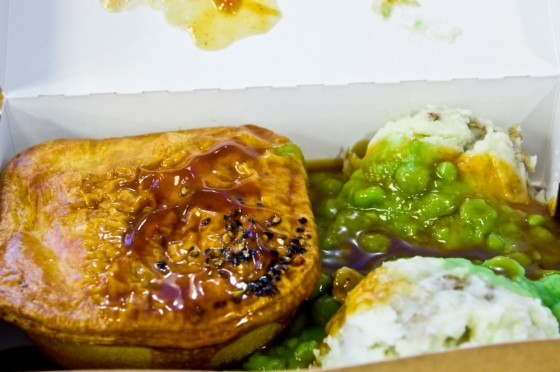 The journey begins. I ordered steak and guinness on the meal deal, £6.99 with mushy peas , mash and plenty of gravy. Everything looks amazing upon opening the box, the steam rising from the food, the gravy smells hearty and warm. Great for winter.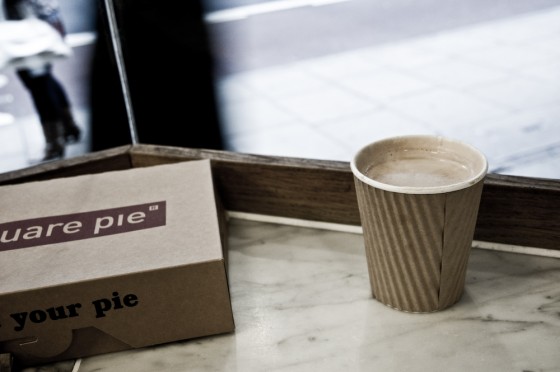 Before I black out, I need a sip of my cappuccino since this pie is also breakfast for me as I've woken up too close to midday.
I can't vouch for all branches, but the one at selfridges boasts monmouth company coffee, whom are the critically acclaim borough market coffee brewing masters. It's obvious their coffee does not travel well ( even if it's just a few miles from london bridge to bond street ) , mine tasted abit watered down if I'm being honest.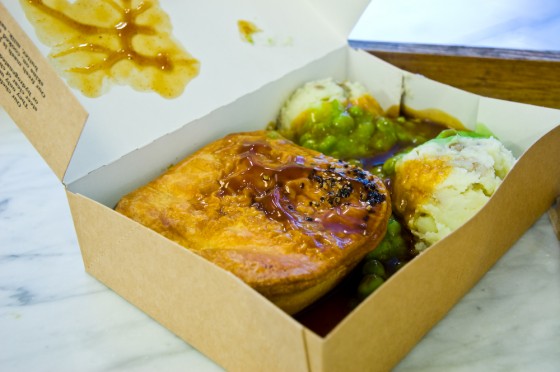 Alright, let's take another look at that beauty from another angle….. ok I can't resist anymore, I need to cut into it.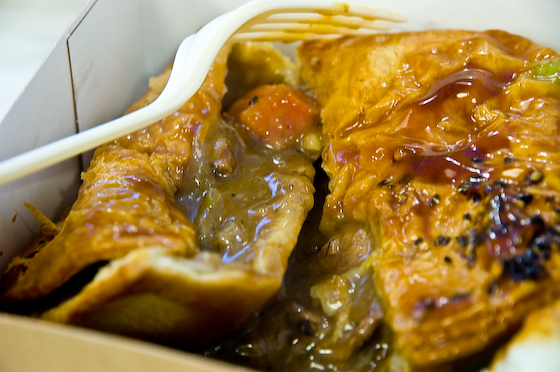 It's excruciating, I'll have you know. If you hadn't noticed, all I've done is have a sip of my coffee and not taken a bite yet…. I'm starving, but I'm commited to my 'craft' … I need to get the 'shot'.
In this case, the 'shots'.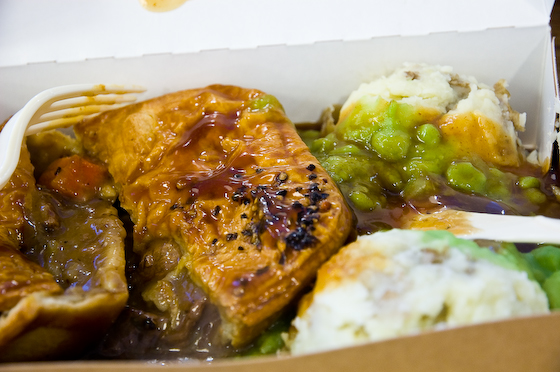 Here is proof that I've not touched anything yet. When I cut into the pie, the loving gravy poured out from the pie and I could see the steam rising from inside. Oh gosh, anybody seen Twilight yet? Remember that scene when Edward tries to kiss Bella and tells her to hold still because he's afraid he might eat her because she smells so good. ( I'm not going to give it away, just go watch it, it's funny )
Well that's what I'm doing, I'm kissing the pie and trying hard not to eat it.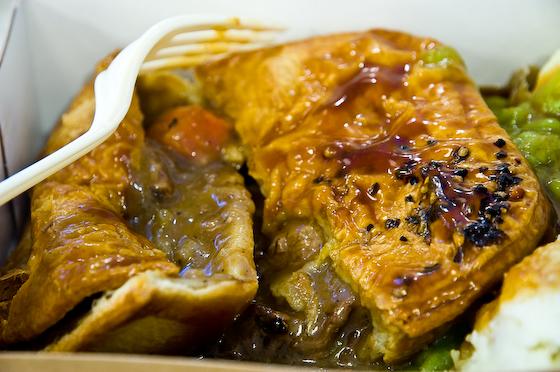 Folks, I'm going in….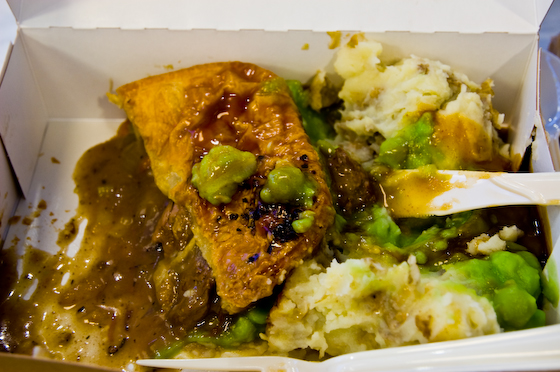 Oh. So. Good. I love a great pie and this square thing is great. The steak cubes are chunky and soft, the pepper gunniess sauce/gravy is full of flavour and tantalisingly appetising. Most people don't seem to understand mushy peas but I just love that stuff. It's like a great mash, except it's green and it's more fibrous. The mash is chunky here. It's not smooth, it's not delicate, it's chunky and full of potato-ey flavour and you know what – it's damn good. It's not haute cuisine here, it's just a well cooked pie with full flavoured dollops on the side.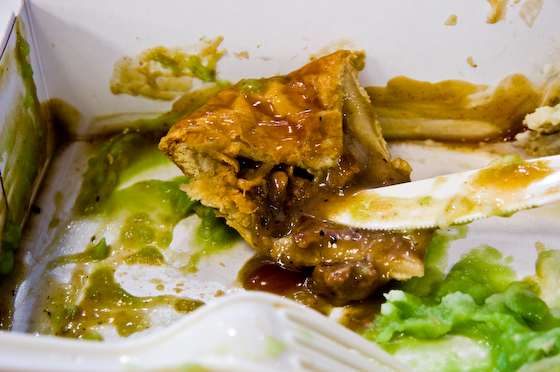 Ladies and gentlemen, it seems, we have come to the last bite. Before I finish of this little parcel of savoury goodness, I just want to say, this has been a good pie. Nay, a great pie. Yes it's weird, it's square afterall, and it's got stuff on the side and you have to eat it with a knife and fork. This reminds me of the last time I ate a cornish pasty -with a knife and fork- in Pembroke with two blokes from Darlington; Ivan did say he will never understand us southern fairies.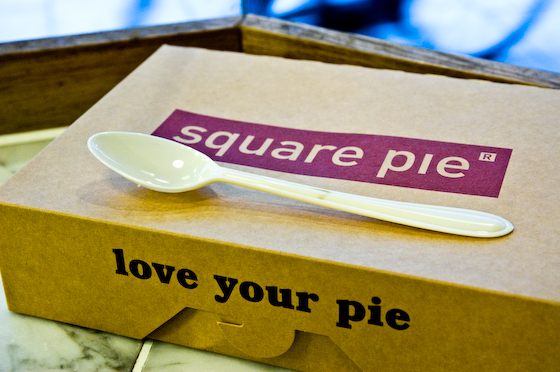 And on that note. I hope you enjoyed this little 'unboxing' of a review.
Now go out and eat one.
The Gist of it

Square pie , Selfridges 400 Oxford Street W1A 1AB, 020 7318 2460
Closest tube is Bond Street tube station
£5 per pie , £6.99 meal deal with mash, gravy, mushy peas and the whole nine yards.
Verdict: Good things come in strange shapes, like a square.

Did you enjoy reading this post? Why not subscribe to my feed updates for free. Alternatively,  You can subscribe via email.