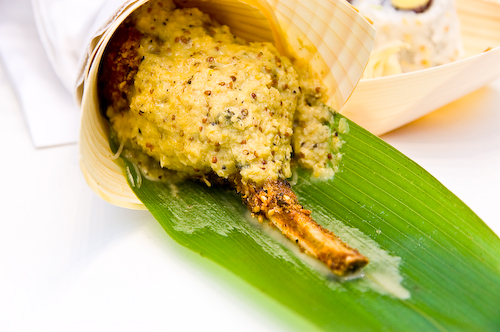 There was no way I could miss this monster of an event dubbed the 'ultimate gourmet food show' and I didn't. I spend much of last saturday whizzing around london olympia, nibbling on free samples, being swayed by the latest gimmickry in kitchen technology, sipping free wine and also managed to squeeze in some food in between. I took less pictures than I anticipated, but I think I managed to get the ones that mattered.. and this one, definitely matter. Do read on to have a look at more.

foodie heaven comes to london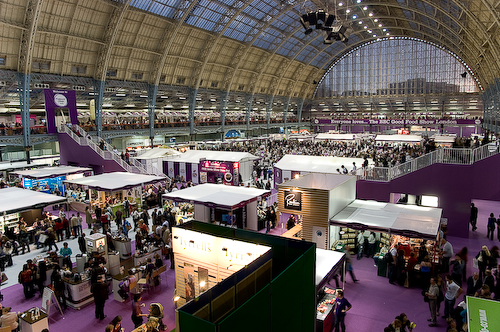 The bbc good food show is a food fair where producers, restauranteurs, wine merchants, kitchen gadget wizards, bakers, farmers and anyone selling anything that is even slighly edible showcase their stuff in a great big exhibition. At the moment, the show is doing its rounds around the nation with earlier dates already gone by in Scotland, last weekend was london and next week the show is going to birmingham.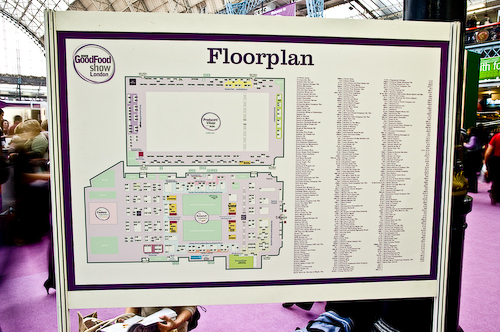 Needless to say, this show was huge, being spread across two floors, there were far too many stalls for it to be countable, that's music to my ears as it just means more free samples. My stomach was very empty on this occasion. 😀
a chocolate fountain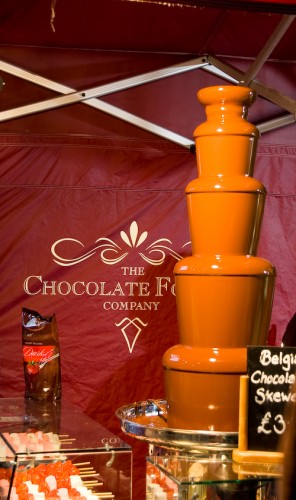 We start the adventure with a chocolate fountain.
One of my mates had a fascination with these things. In order to get the chocolate flowing, one would need to prepare it by melting it in a pan with butter (or was it oil?) until it goes all gooey. And then, one would put in on the fountain contraption and the heated base plate would keep the choco-pool hot and liquid. It can be quite fun dipping strawberries or marshmallows into the fountain, only the finest belgian chocolate would suffice of course.
fat geese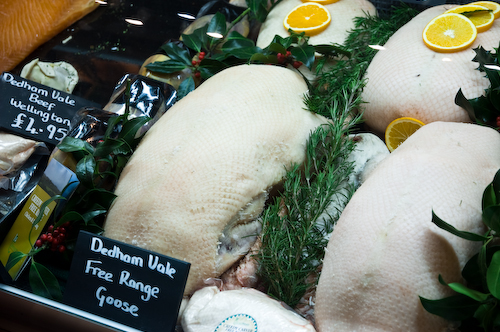 Are you like me in the sense that when you see fresh meat, you'll go up close to the glass window and check for freshness. Well these birds were really nice and I also managed to see some fresh beef too. If only this kind of quality was available at my local sainsbury – I didnt quite fancy lugging around a 2kg goose so i forgo-ed the option of purchasing one on the spot.
the dining experience
While there were lots of stalls to see, I didnt really take that many pictures, rather I was mostly drawn to the dining area bit which was a great big mess with 'fine dining' bite-sized dishes on offer. You couldnt pay with cash, instead you had to buy fod using dining credits. £1 was 1c. I can't wait to get round to trying some of the restaurants which has set up shop here.
wasabi prawns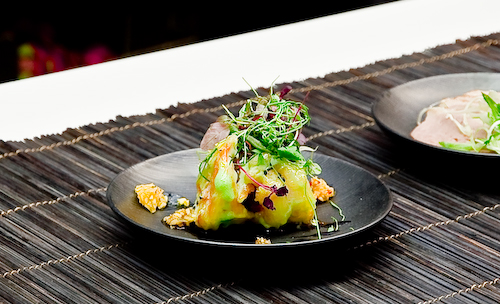 These were the wasabi prawns from Kai Mayfair. Apparently Kai are Haarden's best chinese restaurant this year and this little sampler was avilable for 5cs. I did a quick check at their website and it's a starter that costs £21! Yikes, that's expensive. Unfortunately, I didnt try this and now I live in eternal regret…
T&T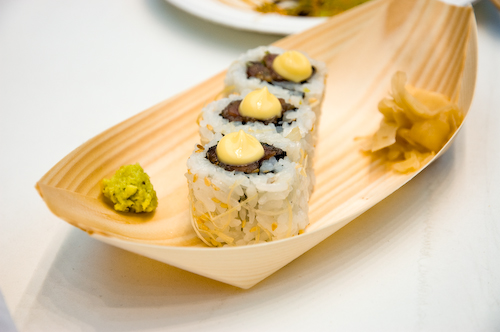 ….Until I came across the tuna and truffle oil roll from sumosan, which I did try. Before the show, I'd never heard of sumosan – but after this, I am sure to be paying a visit because this particular roll was a gem. The tuna is marinated with ponzu and a dash of truffle oil. That truffle oil added a smoky and flavoursome dimension to the tuna roll by which I had never really tasted before, it was really, really good. The roll was topped off with a truffle oil infused mayo and really brought a well-rounded smokiness that enhanced the taste of the nori wrap inside. This was such an appetising dish and as I thought the the addition of one superb ingredient in the truffle oil was absolute genius.
Lamb furikaki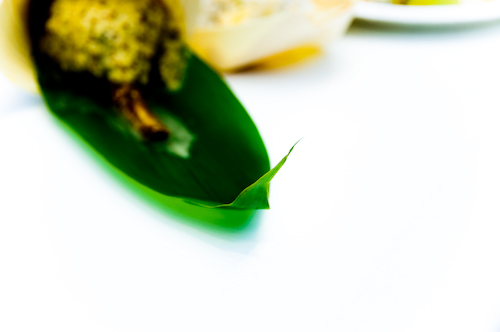 The lamb furikaki is lamb in a coat which includes sesame seeds, ground dried fish and seaweed. The whole chop is then deep-fried and a mustard sauce, which includes lemon juice & onions, is smothered all over it. I quite like this too. The furikaki coat balanced the strength of the dominant lamb, and that mustard sauce was actually quite gentle and almost gravy like rather than being thick & stuffy. It looked great too, being that it was served in a banana leaf. I don't tend to re-use pictures across posts, but I really liked this one I took and decided to re-use it after I posted it on my eat&read yesterday.
the chocolate fondant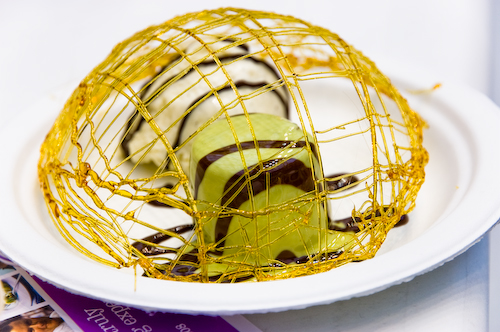 Each restaurant stall had just three samplers, since all of sumosan's looked good, I ordered all three. The pudding was a dark chocolate fondant that hid a white chocolate centred and all smothered with a green tea chocolate sauce with some vanilla ice cream on the side. Let's crack that sugary shell to check the contents inside: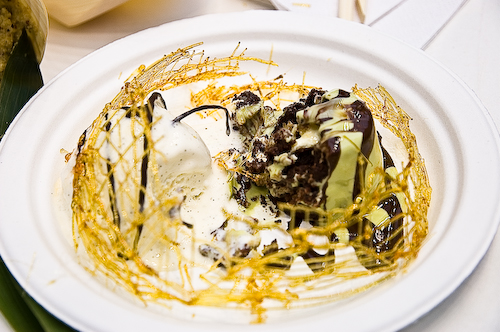 My oh my, this was so good. I am a white chocolate lover by the way, unconventional I know, but I love the white stuff. I am also a lover of vanilla ice cream, again unconventional I know, but in the words of a certain miss chee, vanilla is not plain, its a flavour in itself. This was such a decadently good pudding. The green tea chocolate was so rich, almost ice cream like and the white chocolate centre was gooey and thick. I really liked this alot and after a small sample, I can honestly say that sumosan is definitely on my eat list. The cooking appears to be very progressive, yet simplicity is emphasis and the tastes just goes together. Looks like good fusion at work here to me. My compliments to chef Belkhit.
fruit flowers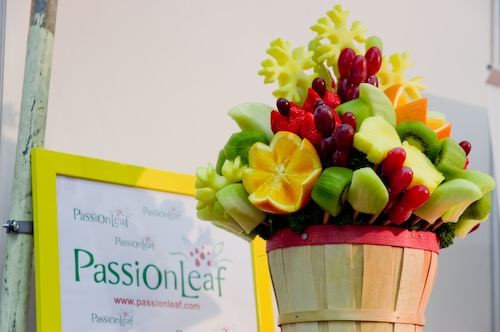 Like the same way I leave Jennie after a pleasant evening, I was still thinking about the sumosan tuna & truffle roll well after I ate it, but then I came across this stall which did home delivered fruit bouquets, everything is fresh and edible, albeit abit pricy. You can look it at passionleaf.com if interested.
sweet endings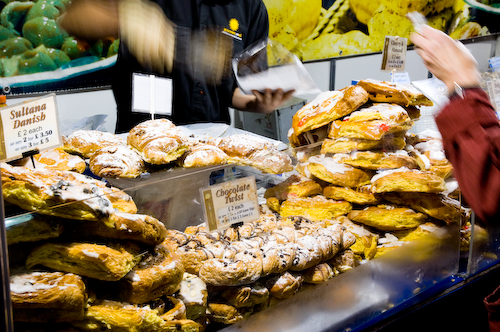 After spending the whole afternoon in the olympia, Jennie & I were positively exhausted.. actually I lie, I was positively exhausted but she was still buzzing as she tends to perk up when the sun sets. This was one of the stalls close to the exit and we just had to pick up some oversized sweet pastries for dinner.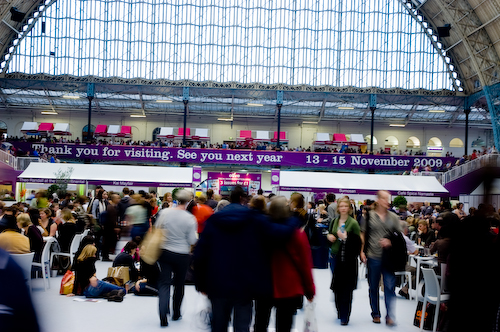 Overall, I enjoyed the food show, only 350 or so days before it rolls around again next year, and I'll be sure to make my acquaintance once again.
Did you enjoy reading this post? Why not subscribe to my feed updates for free. Alternatively,  You can subscribe via email.