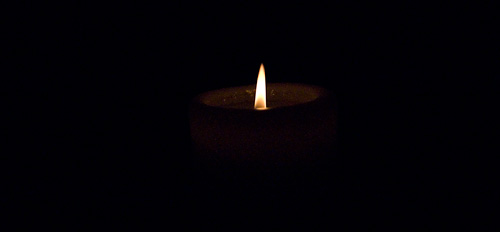 There are only a few places in Europe where you can find a restaurant which does this. Fortunately for us folks in London, you can experience this at Dans le Noir. No I'm not pulling your leg, this is a genuine restaurant and a very real concept.
Explain 'complete darkness' to me again?
The creators emphasize that Dans le noir lets you 'completely re-evaluate your notions of taste' as they strip you of your sense of sight and force you to rely on your other senses to truly taste the 'truth of the food'.
Lets demystify that a little. The concept is rather straightforward, really. When you arrive, you must put away any light emitting elements, ie, mobile phones, watches that 'light up' in the lockers provided in the reception area. You can also have some drinks in the completely lit bar on the 1st floor. After which, the blind waiters will guide you through to the dining room which is completely pitch black.
My experience.. twice.
I've actually been to this place twice and both times, it was a real….well, experience. I must say that it is quite vivid in my memory because I can still remember the smell of the food and the sounds. Oddly enough, I am surprised I remember as much as I did even though I didn't have any 'visual' memories of it.
Ok, if you want to eat here, you need to book about a week in advance just so they can make arrangments. It's partly a good thing because Dan le noir actually helps promote awareness for the blind and also help to support the community. The first thing you do is order from a surprise menu and specify if you want the meat, fish or veg menu. Part of the experience is to 'guess' what you are eating by trying to identify the flavours. The idea is that once you are robbed of one of your senses, the others should work hard to compensate for it, with the remaining senses becoming amplified.
The first time I closed my eyes
I put my hand on the waiter's shoulder and he takes me into the land of the dark. I have my eyes completely wide open, but the room really is pitch black (except for this faint speck of light in the distance which I can't make out what it is..). It feels quite jarring and almost immediately my hearing is amplified and the waiter's voice takes on a meatier baritone.
It felt like I was watching a movie. At first, all fine and dandy.. and then whoosh… the person on screen turns into a fantasy character like a Gandalf or something. 'Welcome to a brand new world'… sorry for the dramatics, but it's just to emphasize the point that I felt disorientated.
Decor
I can hear my friends' voice coming from in front of me. Never really noticed she had such a sexy, smouldering voice. At this point, our waiter starts telling us where the cutlery is and he tells me that he has placed a bottle of water in front of me. So I reach out and start feeling for a bottle.
As my hand runs across the table, I feel the edges, the creaks, the items on it and the crinkly wood. I begin to imagine what the decor would look like: I hear the creaking floorboards, so I can only assume wooden floors as well. My perception of space starts to take on a life of its own as my imagination starts running free, constructing a image as I absorb my senses. All the subtle background noises, like tapping shoes, clicking heels, the chatter suddenly become part of the decor and in my mind, that information helped to build an image of the space, almost abit like the way you construct a scene in your head while you are reading a book.
What an interesting experience! At this point, I also started to notice the music, a spanish guitar in the background and someone singing in spanish. Without really trying, I could really feel my hearing slowly getting more astute, even though at this point, my head was still spinning a little but I was slowly adapting to the change.
Thumb in glass
Finally I found the bottle. It seems my mate had adjusted to the changes long before I did. In order to measure how much to pour, the waiter advised us to stick our finger in the glass to fill to the satisfactory level. At first this simple task seemed so daunting, but eventually, I got used to it and got into the swing of things.
Starting to eat blind
The starters arrive. The waiter tells me where he is and which direction he's going to serve me from and I have to reply so that he knows where I am as well. All throughout this time, I notice that we were talking alot more to maintain that connection with the people around us, abit like a mass conference call, save for the fact that the other party is actually right in front of you.
Anyway, the starters were what I can describe as four parcels of food. Oh, I did try with cutlery at first but all I kept doing was stab either the table or the plate. So I ditched that and proceded to use my fingers to feel the plate for what ever was on it. So the first one felt gooey and moist. Two of them felt dry, like it's been deep fried. And the last one had a gooey middle bit, encrusted in pastry.
I try each one in succession. The first one definitely was some sort of stuffed ravioli.. I wasn't really sure what was inside, pumpkin maybe? And another meat… venison? The smell was quite strong, but I couldn't seem to place it at all. The same went for the rest of the other starters, I kind of knew, but at the same time, didn't really know what I was scoffing.
At this point, I think I was still very concious of the fact that I was eating blind.
Strong smell Mains
I must say, everything smells so much stronger. To the point where some of the dishes were a little overpowering. The mains is definitely lamb. Lamb in a thick sauce with lentil beans I believe it is. The smell of lamb was so strong that it stank. And it was abit on the spicy side too. I really did try to use my cutlery, but in the end I was just using my hands to pick the food up. I didn't know if I managed to finish everything on my plate, but I did poke around just to make sure.
Phew, I think I survived that. The jarring feeling of not being able to see has kind of left me now and I was feeling more comfortable relying on the remaining senses. I was also reaching out to try and poke my friend. I think I got her in the eye a couple of times.
Dessert and back to the light
Oh yeah, dessert was pleasant. It tasted like chocolate mousse, but it was really grainy instead of a smooth texture. You know, this was fun, definitely an experience, but I'm really ready to head back to the light again.
Hand back on the waiter's broad shoulders and before long that faint speck of light in the distance, slowly got brighter and brighter…
…Wow, I felt like I was transported into another world altogether. At the reception area, I was glad to get back to reality, yet at the same time, my mind couldn't help but play back the experience I had in the dark room. At times, it was jarring. Eating became a challenge (especially when I was trying to nick my mate's food from her plate) and I noticed chatter and noise can actually be rather interesting things to tune in to.
In terms of discovering the 'truth of food', I must admit the food is full of pretty distinctly contrasting flavours, though I found it hard to identify what they actually were. When we were shown the menu at the end, some of our guesses were right and some weren't. At least I managed the major ingredients, ie the lamb.
1400 words of continuous writing with no pictures, that is a record for me! Is it worth it? Well, 2 courses start from £32 and 3 courses can be had at £38. This does not include drinks or service so it's alittle on the pricy side. However, something like this, you really go for the experience and not just the food alone. Jay Rayner panned the food during his visit, but I actually thought the food was alright. I was so distracted by the fact that I couldn't see it, my mind just didnt really concentrate on whether it was actually spot-on cooking or not.
You only live once and you've got to try this out if you've not already done so. An experience, you're unlikely to forget.
Did you enjoy reading this post? Why not subscribe to my feed updates for free. You can also subscribe via email too, and for free.
Basics Dans le noir? 31-33 Clerkenwell Green EC1R 0DU  | 020 7253 1100 How to get there: Farringdon or Barbican tube station How much: Two courses for £32 , Three courses for £38
http://www.danslenoir.com/london/