Every foodieblogger wants to share their deliciousness with as many foodies as possible, but it sometimes can be difficult driving traffic to your blog. We do our part to keep involved in the blogosphere, thank goodness for foodbuzz and all the wonderful new foodie friends I've made, leave comments on other foodie blogs we enjoy and try everything we can to deliver one message : We love food.
How to get 1000 per day?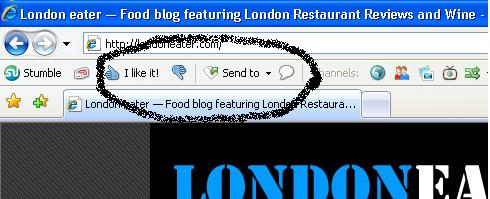 I'll admit now its not my idea at all, but rather, an excellent post on how to grow a young blog on problogger. To cut a long story short, here's what you do:
Open an account on StumbleUpon
Download the stumble toolbar for your browser
Gather 25 foodie friends on stumbleupon, if you need a foodie, my username is londoneater (shameless I know).
Once installed, the toolbar will appear at the top of the browser, navigate to the page you want to stumble (ie, a post you just wrote that you want people to see), click 'send to' and ask (very kindly) your foodie friends to stumble your blog. You can include a message too, so be nice.
And in return, help stumble your foodie friend's blogs, so it's a win-win situation.
Skellie, who wrote this post, claims that if you have at least 25 friends helping to stumble your blog, then it can drive thousands and thousands to your webby every day! The full post is here and I really recommend reading through it.
My plea to fellow foodies
We should go on stumbleupon, become friends, start a group, add me as a friend on stumbleupon and send me your blog, I'll review it and stumble it for you! And please also help me do the same, and hopefully together, we can help get more people to come and discuss about food…and convert new foodies along the way 😀
Ah yes the beauty of web 2.0, the more we network, the merrier it is…It's really that simple!
What are you waiting for? You can stumble me just on the bottom left hand corner under 'share and enjoy'.
Thanks in advance and happy fooding 🙂