So the story goes…
While in college, two friends decided to pass on the usual fat & furious delights and wanted do healthy. So they wandered into a 'specialist' food shop, picked up hummus, olive oil and pitta bread. One of them said "I could eat a meal like that everyday". The other one stopped talking, an idea lit between the two heads and Hummus Bros was born.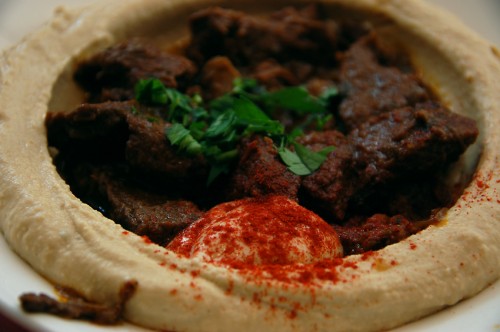 So this is how it works:
Choose a hummus topping (plain, veggie, mushroom, guacamole, chicken, beef)
Choose a pitta (white,brown)
Tear, dip, eat
🙂
Repeat step 1 to 4
What a great concept, I love simple food that just taste good. They combine two of the most appetising ingredients known to man: pitta and chickpeas. I don't know why I've never ventured here before!
I've past this place many times over while making my mandatory trips to Yauatcha. And it's a really good looking shop too, red walls, long tables and chilled out staff. What nice ambiance.  
Credit crunchers
Unless you have been living under a coconut shell, you would have heard about (or in my case, been shocked by) the crisis that has hit our beloved city of smoke. Its already hard to afford a meal in London, but this has just made it alot worse.
Well then its a good thing hummus bros prices are recession proof. A regular portion of chunky beef only costs £5.80. And that's the most expensive topping on the menu.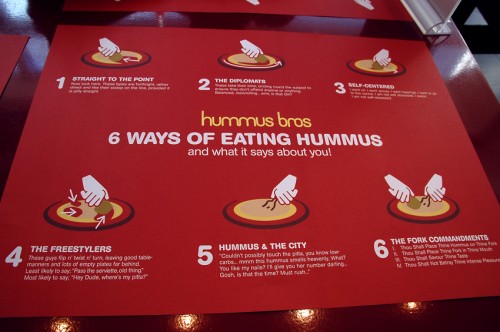 The price includes two pitta breads. The regular portion is quite large, so if you are on a diet then I'd recommend you go small (only 1 pitta for the small). Similarly the breads are quite filling. And if you are a take-away fanatic, they do their entire menu on take-away. A tub of small plain hummus  only costs £1.80! (pitta is such a funky word to say, pitta! pitta!)
So it's cheap, but how good is it?
This section of the review is my favorite to write. Sometimes I wonder if I should start my reviews with this section and do away with the little introductions.
Anyway, I went there with my mate Jon, who's just arrived in the country to do a degree in Medicine. Warm welcomes, Jon.
I'm a beef lover, so I sprang for the chunky beef stew topping, regular sized as I was feeling ravenous. Jon went for the chicken.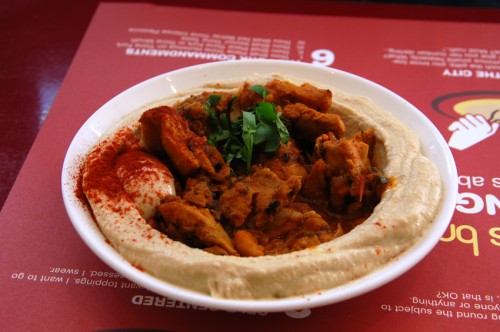 I'm a white bread kinda guy. I figure I should load up on all of life's most unhealthy sins while my body can still take it.
Hummusness
Oh, oh, oh. The hummus is oh so smooth. The pitta bread is moist and so soft. Crispy on the outside, very nice, it tastes exactly like how good pitta bread should do. Back to the hummus, oh yes, so smooth and it taste distinctly fresh. You can tell that these guys pumped alot of love and attention into it. Afterall, the success of this place hinges on getting this right. Sumptuous.
Normally with these places, I don't expect much from the extra 'add-ons'. To me, the toppings are abit gimmicky.
Oh, how wrong was I.
Chunky beefcakes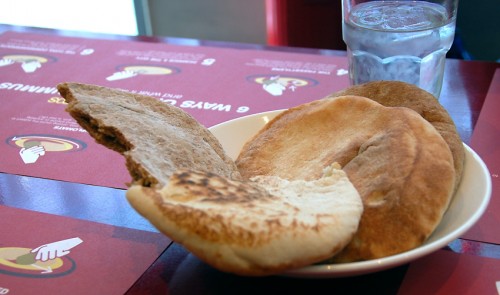 That is a cracking beef stew. The meat is so tender, full of flavour and the sauce is reminiscent of an Indonesian beef rendang. With a carefully selected balance of herbs and spices, its managed to produce a rich and very full flavored sauce to compliment the beef. Just excellent. This is beef stew heaven.
Ok so a dollop of hummus with the excellent stew on a piece of warm pitta bread… the bros are right, I could eat this all day, everyday.
Really cool service and free pudding
The waiter who served us was really great. He came over and asked if it was our first time and then proceeded to give us a friendly briefing of the shop concept. He suggested we try the malabi, which is a kind of milk-based dessert, abit like pannacota. Since we were both already pretty stuffed from the excellent meal, we declined.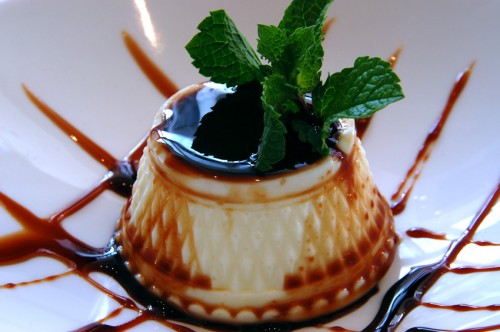 But then he brought us a portion anyway, plus two glasses of warm mint tea – on the house!
It was really nice of him. I am a strong believer that eating is an experience. For a restaurant, the kitchen may be the heart, but the staff are the soul. And that human connection is so very important. I mean, just think about all the best places you have been to, and would like to go back to, apart from the great food, who else do you remember?
Back to the pudding. Oh it is so wonderful too. Bathed in a date honey sauce, abit like a smoother version of caramel. Less sticky, healthy and really tasty.
Thoughts and more thoughts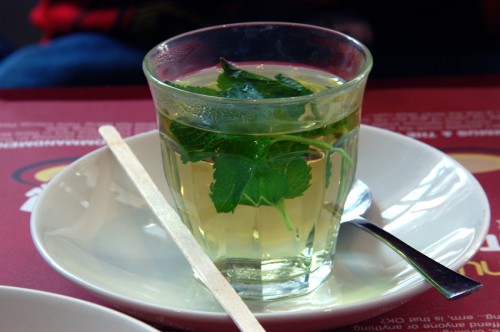 As I sip the warm mint tea on a beautiful summer's day (in September…) I wonder why it took me this long to find this place. This is easily one of the best places for a quick lunch after shopping in regents street or before taking in a show at the west end, or for just a really good meal. Friendly staff, great food and excellent service all inclusive.
Tip generously folks.
Did I find 'that' dish?
Oh yes, the hummus is smooth and the beef stew is really great. This is my favourite lunchspot for now.
Should you bother?
You can have a hearty meal here for under a tenner. We all need a reason to smile, this could be it.
Basics
Hummus Bros 88 wardour street w1f 0tj | 020 7734 1311 How to get there: piccadilly circus tube station How much: Cheap & Cheerful! Mains £4 to £7 , service not included
http://www.hbros.co.uk/