Other visits: Sept 2016 , Oct 2016
My 3rd visit to Phil Howard's new digs and it is better than ever and in fact, I ate one of my best meals in 2017 so far. Phil's head chef Toby Burrowes and his merry band have put the restaurant in a great spot and I think this team are flying right now. The execution was 100% on-point at this meal, fully realising the wholesome, hearty, belly-thumping cuisine of Phil Howard.
I was never in doubt that he would succeed with this switchover to a more casual style after he sold the Square. After 9 months in the wild, it is very clear is that this team are cooking with a kind of freedom which (I speculate) Phil had to hold in-check at The Square to keep up with the cutting edge category. Perhaps even more so during the last few Gary Foulkes years and their aim in further refining the food at the time.
Now that the shackles of table cloths have gone, the most striking aspect of Elystan's current dishes is how vivid it all is across the menu. As cliche as it may come across, you can feel this team enjoying their work, the FOH radiates happy. The quality and joy of the food speaks for itself on the plate, and I think represents – and perhaps even recaptures – the excitement of eating out, which at times is in my view lost in the modern day business of hospitality. Not many places claim to simply deliver 3 plates of stonking food these days, instead are bogged down with USPs and cracking ye old social media chestnut. In contrast, the beauty of Elystan Street is that there is nothing cerebral about it. It is simply about perfectly cooked food that delivers maximum deliciousness. Best of all is the utter generosity of the cuisine, albeit sleeker than the Phil & Rob days. It has always been Phil's style after all and the Chef certainly does not let his diners go hungry.
We were here in for Saturday lunch and were greeted by Elystan's new GM, Sarah Rhone, of course she is yet another Square alumnus. We asked for the lobster starter from the dinner menu, and they kindly agreed to make it for us during lunch. We chose our mains and puddings from the lunch menu.
We paid £265.50 for 3 people including the lobster starter, 3 mains, 4 puddings, 3 coffees, 2 drinks and service (£88/pp). For this much quality on the plate, it was worth every penny. Pure Cooking, Pure Class. Take me back to Elystan Street!
Details
Elystan Street
Phil Howard Cuisine
Open everyday
Lunch ALC : 2 for £35 / 3 for £42.5 + drinks + service
Dinner ALC : 3 for £60 – 90 + drinks + service
Sunday ALC : 3 for £50 + drinks + service
43 Elystan Street SW3 3NT
Tel : 020 7628 5005
Tube : South Kensington
Pictures and notes of some dishes below.
STARTER
Cornish lobster, gazpacho dressing, Capezzana olive oil and avo, £34 (from the dinner menu, taken at lunch)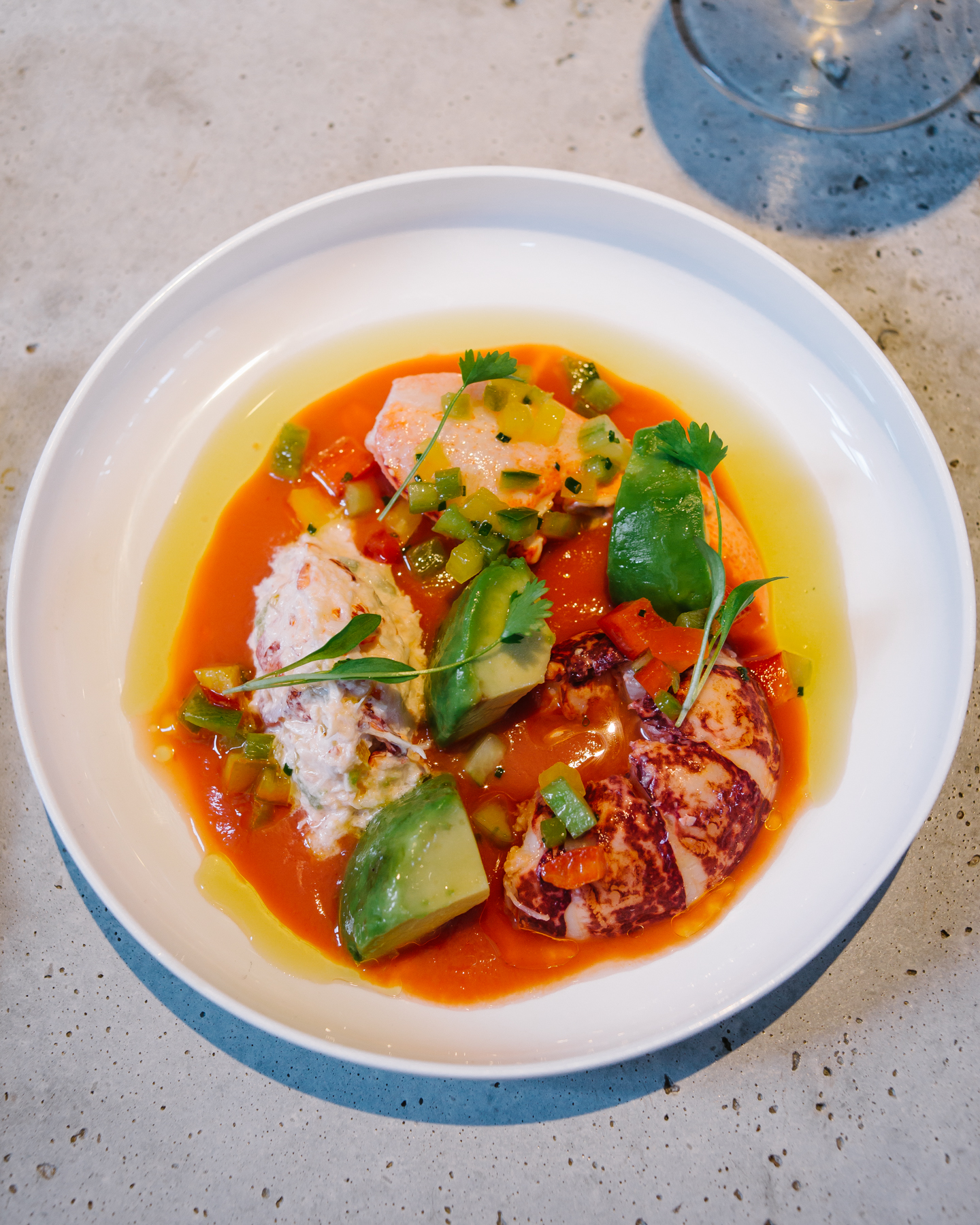 Magnificent dish! Generous starter portion, an entire half a blue with claw, tail and knuckles in with mayo.This dish really made smile. The conviviality, no messing about – This is how meals should be!
Vivid, vibrant, incredible sweetness and intensity of the noble shellfish' natural brine flavour. I really like the coriander and fat from the avo foiling the bursting lobster + gazpacho umami. Lobster itself timed to a perfect mi cuit, the team today are absolutely spot on.
One of the best dishes this year so far, and absolutely worth every penny.
MAIN
Crispy duck leg, dressed black barley, cherries, pistachio and endive, £22.50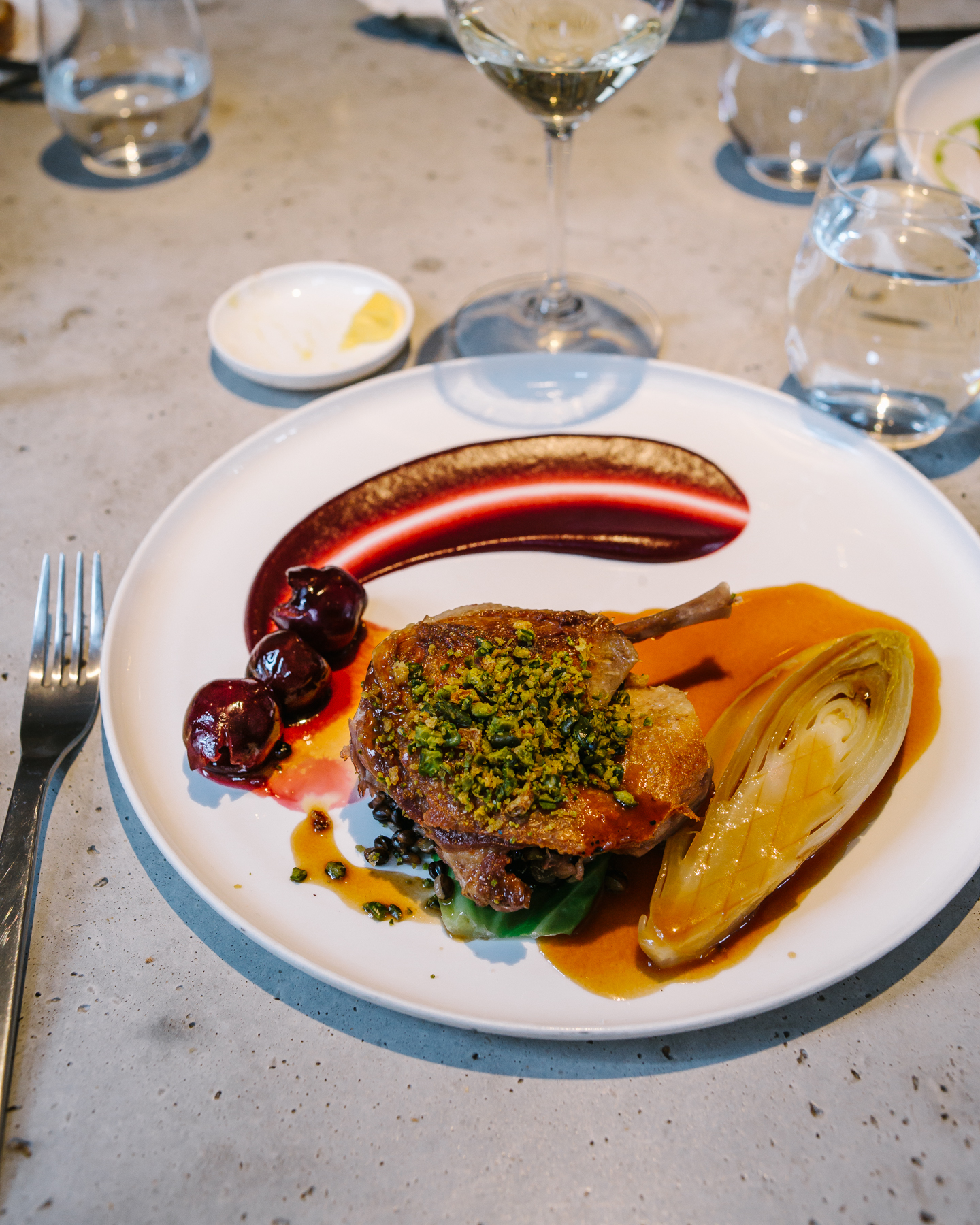 A classic pairing of duck and cherries, and could probably be considered a micro-seasonal dish, given how short cherry season is in England. And they are certainly stunning this time of year.
The leg is my favourite part (perhaps unsurprising), confit till succulent with a crispy skin. The extra textural dimension which the barley and pistachio brought were fantastic, almost retro in its real food quality, and the kitchen further showed its class with two textbook sauces to complete the dish. Harmonious, joyful and hearty plate of food. Total satisfaction.
PUDDINGS
Charlie Watson, prised away from The Square, is (also) reunited with his old boss as Elystan's head pastry chef. He also comes by way of 11 Mad and this fella's talent really shows. The top pastry chef at work, funneling Phil Howard's generous cuisine into producing properly sweet puddings that are equally beautiful to look at.
Chocolate and milk foam pot with chocolate eclair, £7.5
A scoop each of Tahitian vanilla ice cream and Charentais melon sorbet, £7.5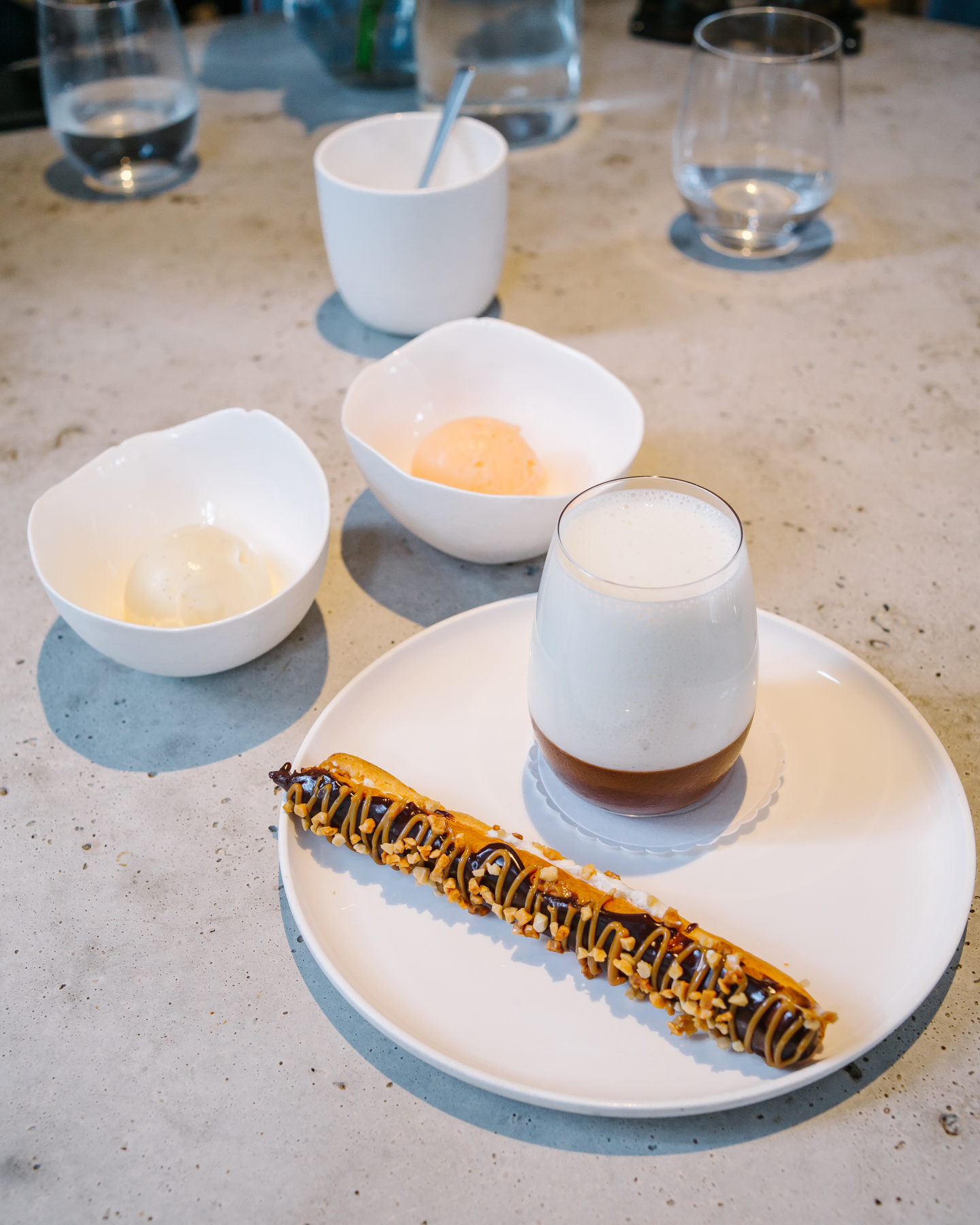 Very nice work on the chocolate eclair, especially love the thick head of milk foam on top of the chocolate pudding.
Ice cream here are all delicious, in particular the vanilla, thick, rich and incredibly sweet.
Soup of strawberries and champagne, £7.5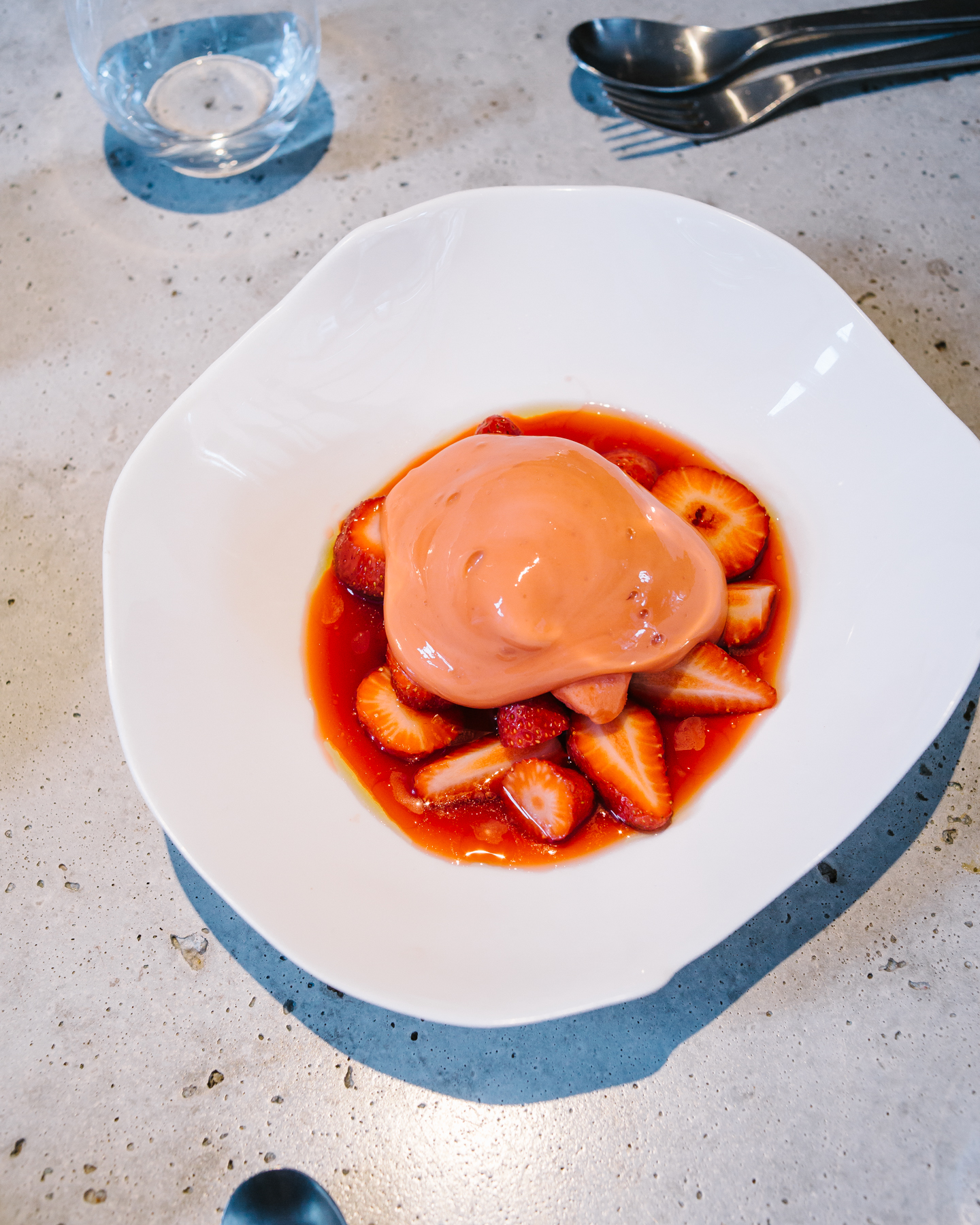 Classy stuff this, stacked with strawberry gelato with a champagne foam over it, soaking in a potent syrup, no doubt drawn from slowly cooking precious English strawberries in sugar and over low heat.