Alongside garoupa (and bluefin tuna…), I think of European turbot as the very top end of fish that money can buy. Glimmering white flesh that has just the right ratio of meaty to flaky. A clean flavour, yet imbued with ample gelatin all around its bones and fins to impart an 'oceaniness'. The taste of the fish is just perfect, fully deserves its reputation as the King of the sea.
Amazingly, this flat fish has enjoyed its sterling reputation for millennia with suggestions of its nobility in cuisine, stretching back to Roman times. Specifically a namecheck in The Emperor's fish, a satirical poem written by Juvenal, who lived in 1st/2nd century Rome.
Testament to its qualities as the perfect white-fleshed fish, I suppose. It is in the same family of flat guys as the mighty Dover sole, the slimmer lemon sole, the close cousin brill, the giant halibut. All are worthy fish, but none in my opinion, deliver an experience that is as balanced as the turbot.
In Spain and France where it arguably has a higher profile than over here, you might stumble across the farmed variety, and hence why if you find yourself in Getaria, at say Elkano, they might say that their rodaballo is of the wild Atlantic kind. Over in Turkey where the fish is also held in high regard, they have the Black Sea turbot. It also goes by its local name Kalkan (meaning Shield) with the exception of very obvious large studs (pimples?) on both the dark and white sides of the fish. I've never had them, but they are meant to be even more tastier.
As far as I know, turbot landed in the West Country are entirely wild. Aside from Jersey, I don't know of much aquaculture in England that includes turbot as one of their products. And we sure do have mighty fellas swimming in British waters, I think very highly of Cornish/Dorset turbot indeed.
For this post, procurement led me to a Cornish specimen. Dayboat caught, 1.4kg on ice, and already settling from the effects of rigor mortis. Quick check of the gills, pink and clean. I ask only for the fishmonger to get rid of the gills. Fins on. They are the best bits.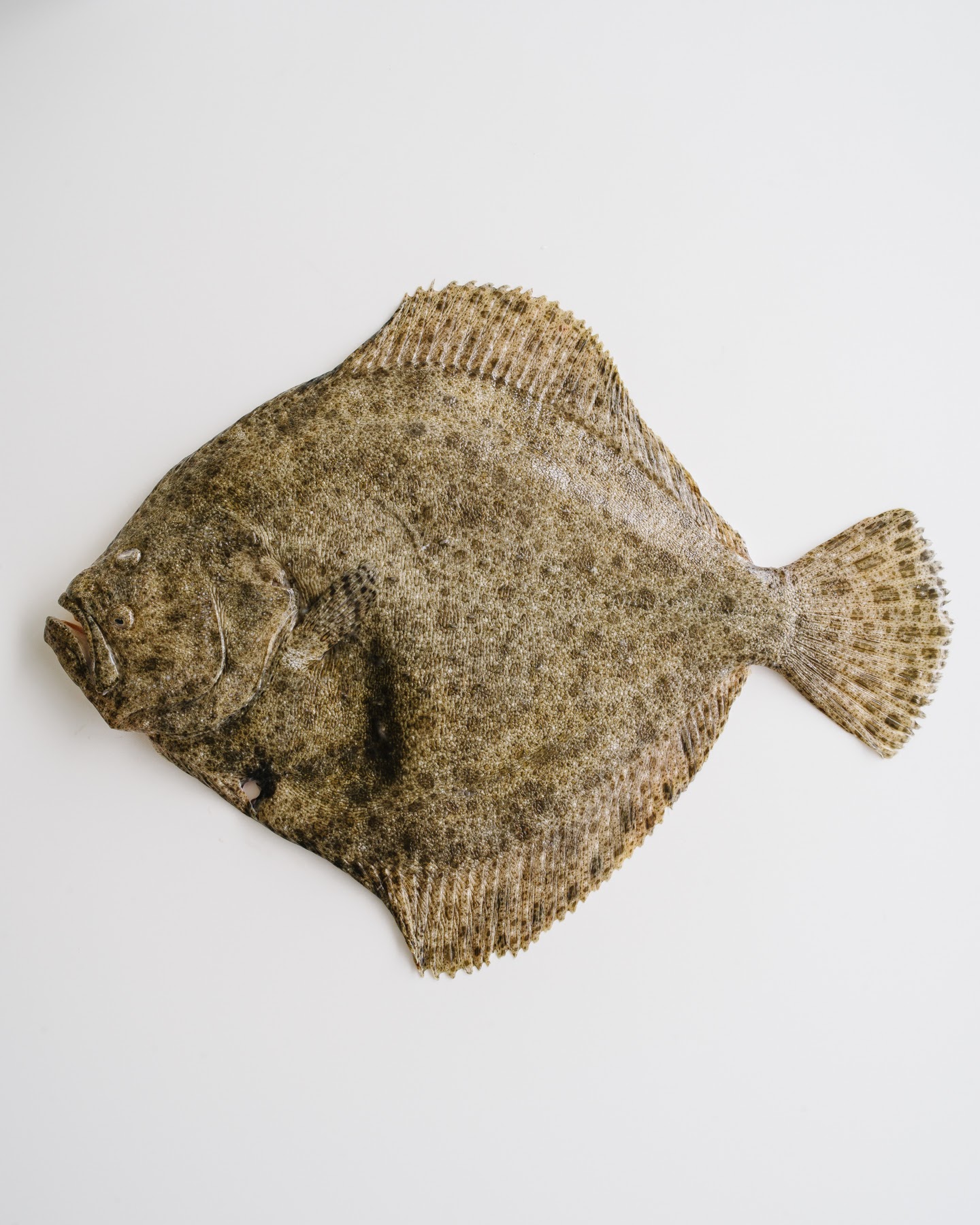 Beautiful creature isn't she. For turbot, 1.4kg is a rather young one, but for the avid home-cook, more than my fridge can handle. In the ideal world, I'd aim for at least 3kgs, you get better yield, and if you have a fridge big enough, and cold enough that can take you down to 0 degC, you can keep in it dry and cold, and let it 'age' for a few days to tenderise and to develop flavour. Fresh I hear you say? Proper storage (i.e. ice) and bleeding are probably more important, as some Japanese chefs might tell you.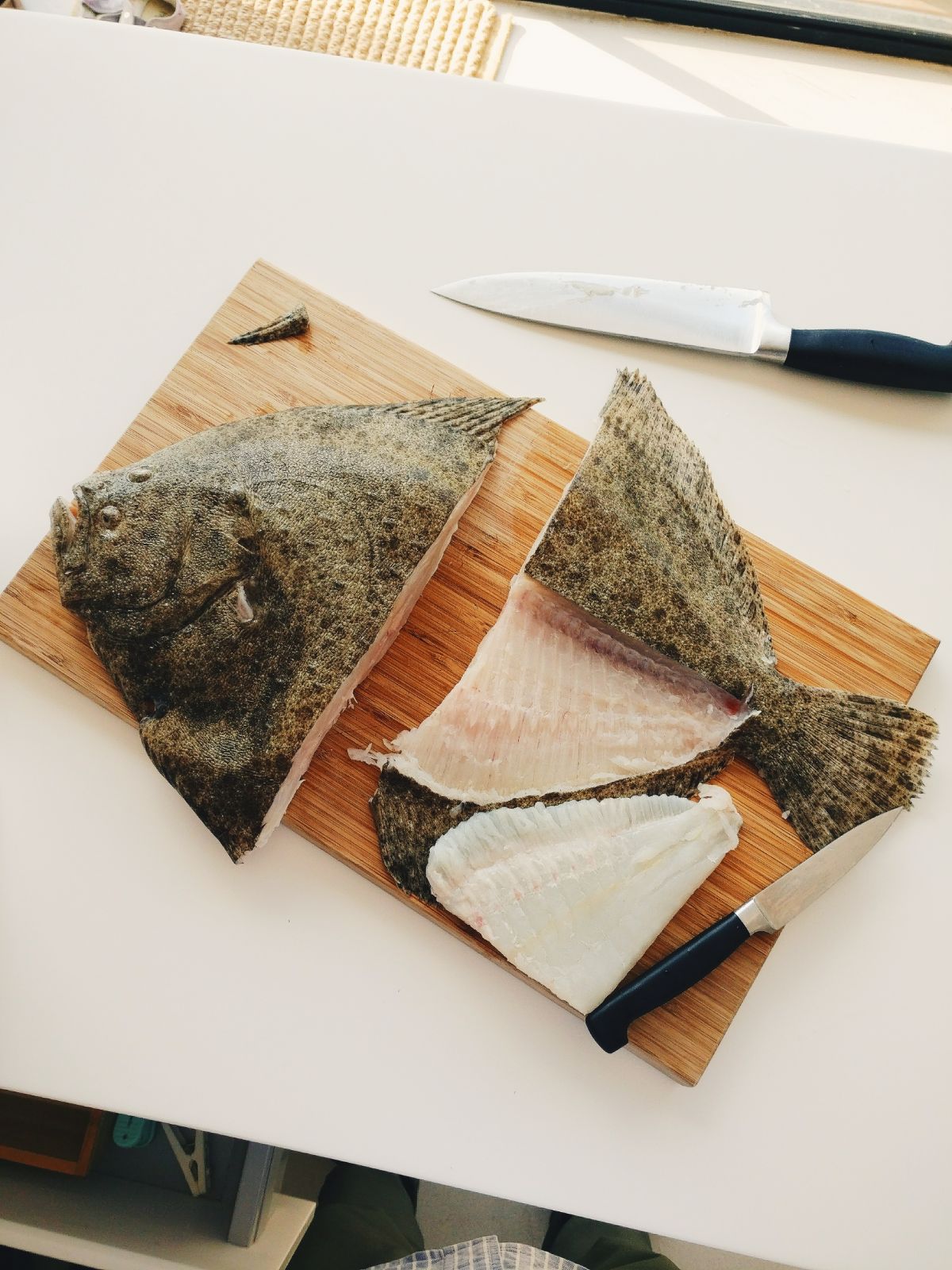 Right then, for filleting and cooking, I did this turbot in two halves.
The front half, the head, cheeks, collar (the best bits), I steamed (because I am Chinese) , and the bottom half, I fillet and cut into tronchons, and keep in the fridge for the next day.
-Steamed Turbot-
It doesn't take very long to steam fish. Depending on how big it is, 10 mins, flip, 10 mins, rest. Timing is variable and crucial, because there is nothing worse than overcooked fish. I'm looking for the just under-cooked firm flakiness, the skin breaking from the skin, but still intact and gelatinous, and finally the mother of pearl effect otherwise 'nacre'. Mind you, this is a fairly small turbot, so any glimmer will be limited.
Steamed turbot fillet & fins, peas, lardons, wild asparagus, champagne sabayon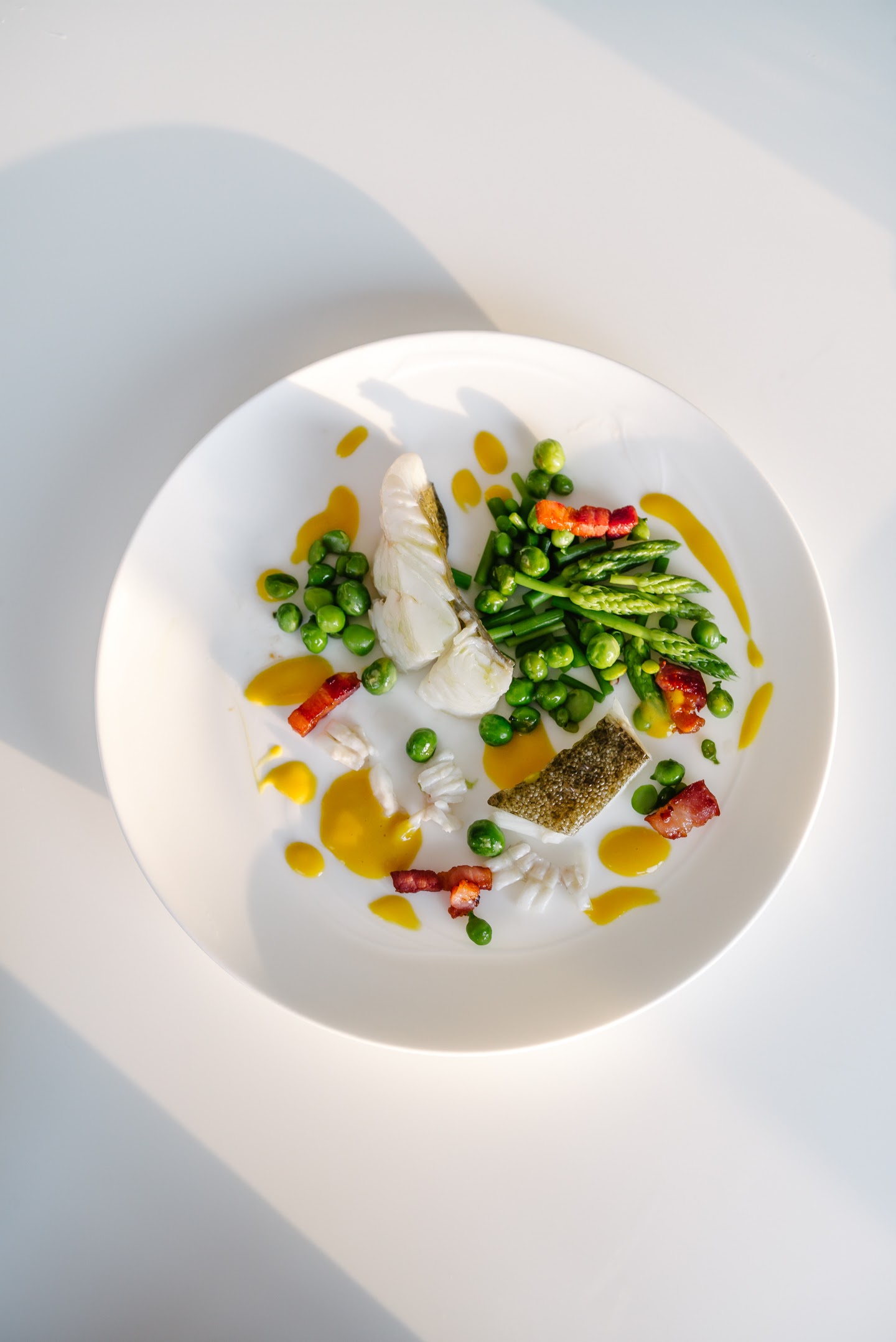 I toss some shelled and blanched garden peas in crispy lardons for not quite a petite pois a la francaise, and make a sabayon sauce with reduced champagne, beef stock and onions. That's the beauty of this mighty fish, it can go with land flavours, just as well as it can go with sea flavours.
-Slow Roasted Turbot-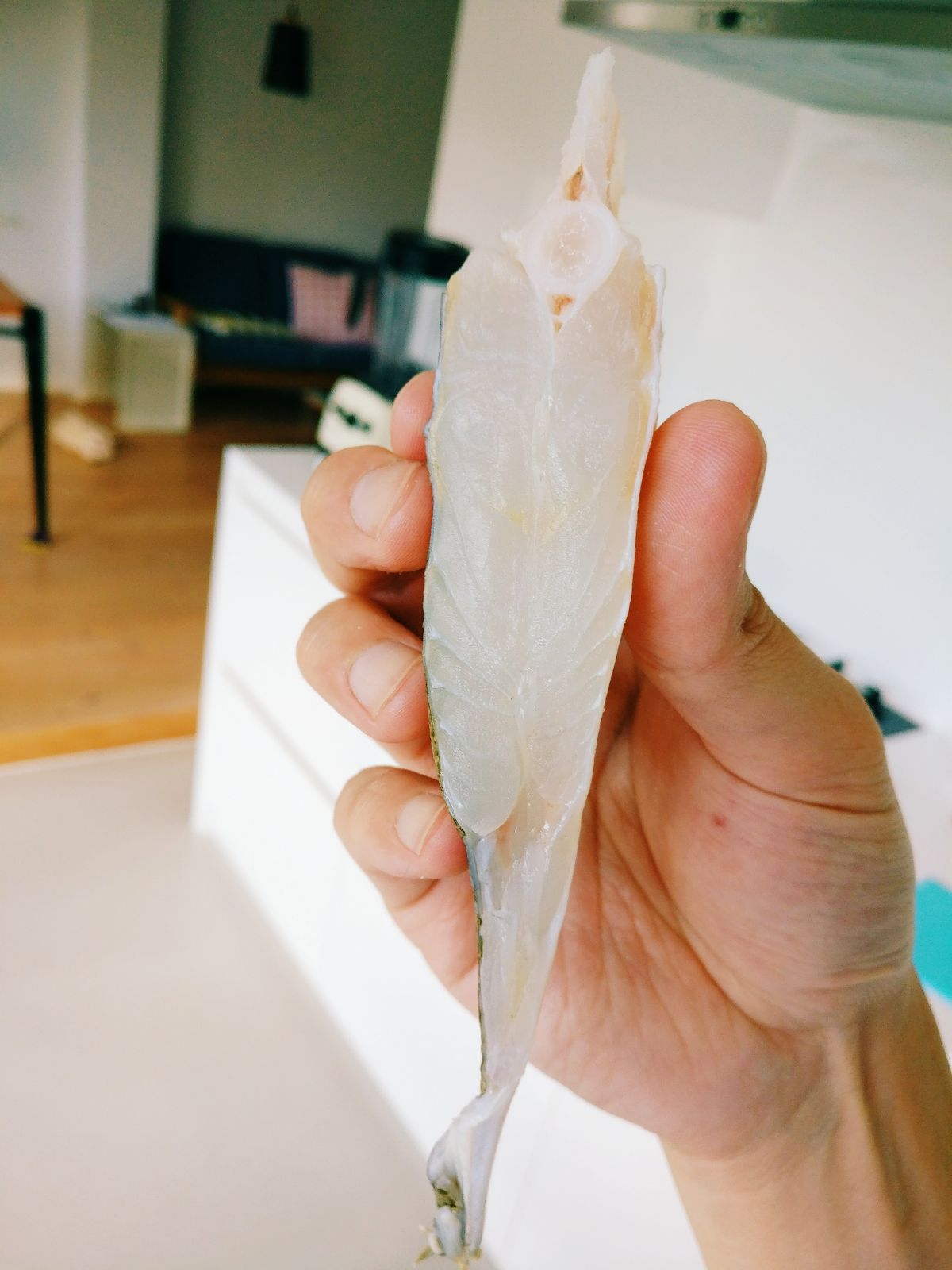 A turbot tranche/tronchon, cut like a 'steak' and cooked on the bone, definitely is Nirvana. I keep all the fins intact, as all the gelatinous, fatty bits around the bone are 100% flavour. This I think is where eating habits differ from one part of the world to another, for me, all protein cooked on the bone will always taste better. Plus, more forgiving to cook, as the bone acts as insulation to protect the meat.
I season with salt and stick it back in the fridge, 2 hours prior to cooking to allow the fish to firm. Temper for 30 mins in room temperature.
I start the turbot in a low oven at 85degC and I step it down to 70degC and eventually 65degC. I baste with olive oil often and the entire cooking time took about half an hour. A teeny weeny bit of nacre. Phew.
Slow cooked turbot tranche, matcha beurre blanc, pil-pil emulsion from turbot bones, radish, broccoli, sugar snap peas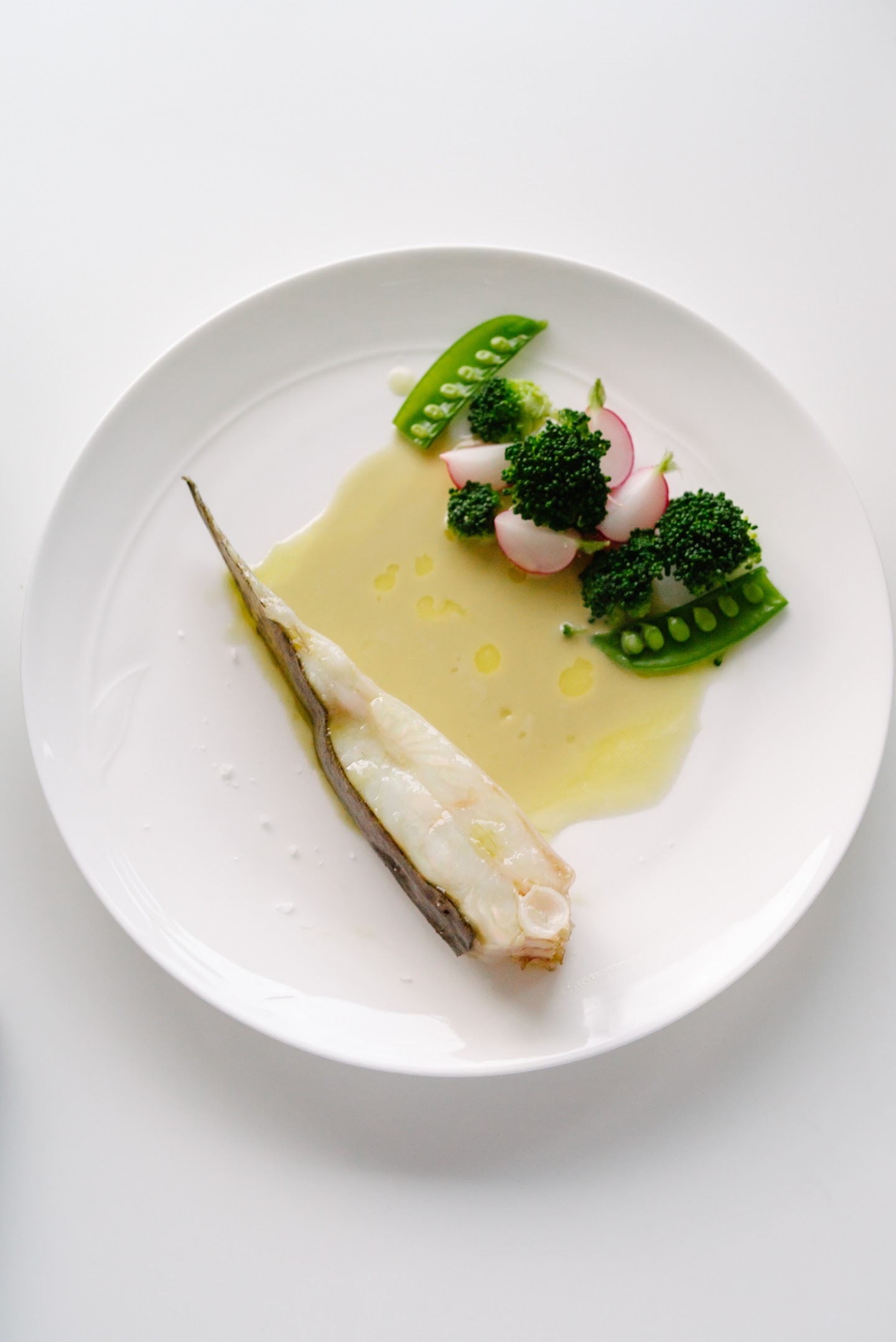 The pil-pil I made from cooking the bones in a saucepan with a little water and olive oil, until its inherent juices spew out. Then I strained and simply whisked with more olive oil, and a stable emulsion then forms. It's like magic really.
For the beurre blanc, it is done the classic way, shallots, white wine, touch of cream and then melted butter at low simmer. I tipped in matcha powder at the same time as the butter emulsification step. The colour was lighter than I thought, but it is a sauce I think works with the fish. I think matcha can at times produce a similar flavour to nori (seaweed). Then again, I should have simply blitz nori with the beurre blanc. Hmm. I poured one sauce on top of the other.
-Wine-
A young red burgundy, Corton, ripe and juicy but ample acidity as a foil for the mighty turbot.
2015 Corton, Maison Harbour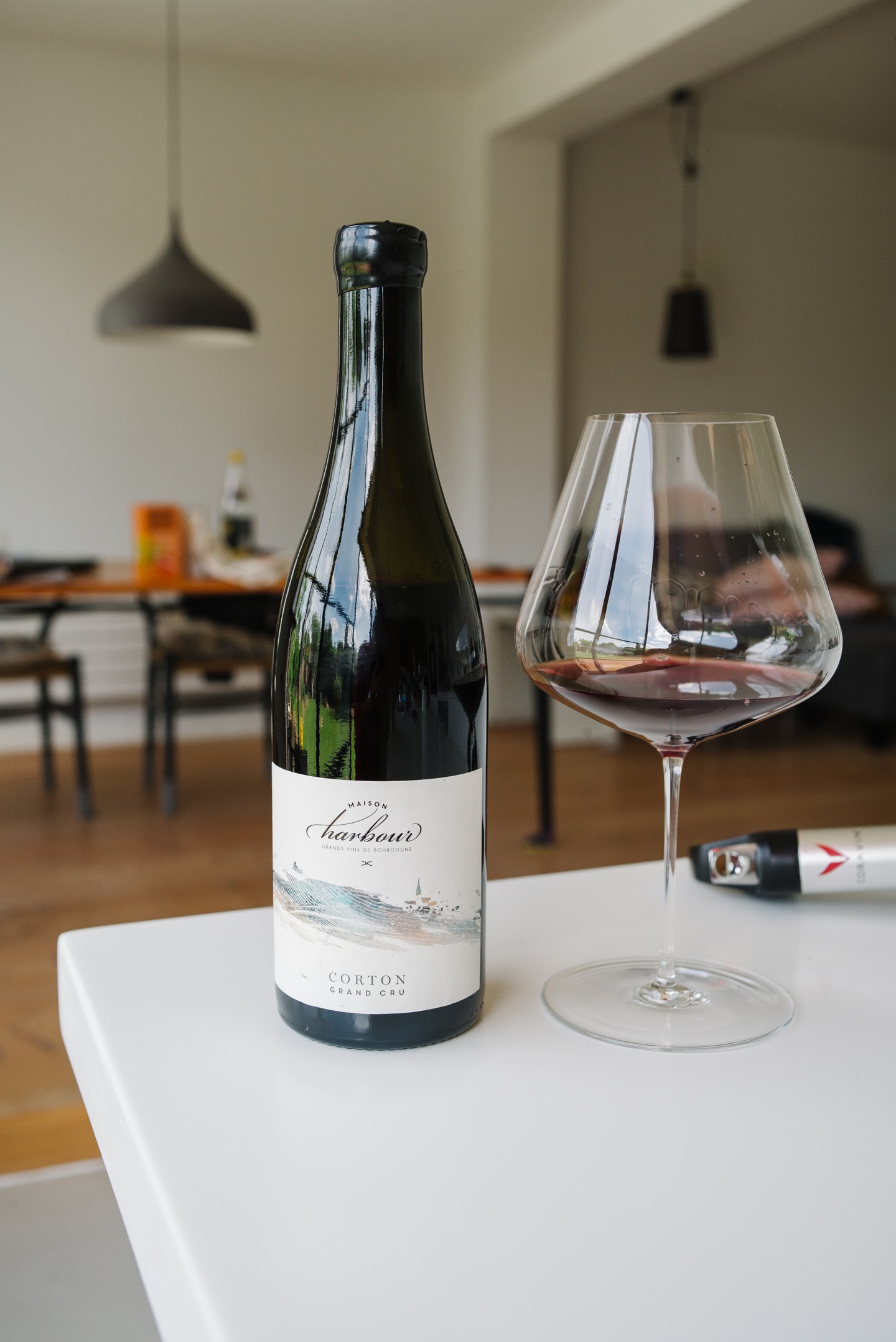 A fairy tale backstory behind this label, from a husband & wife team with only 3 vintages under their belt, and yet the proof in the glass is startlingly good. Living the dream. Cannot say I've not fantasied about bottling my own.
Nicolas and Colleen have made an elegant and light footed bottle from the Grand Cru vines in a solid vintage. Nose is a bonquet of smoke and roses, the oak evident and is obvious that it needs some time to integrate.
The palate features crunchy red fruit, is very dry, but the mouthful is lacy , pure crystalline. Masses of raspberry with this smoky element coming back in. Tannins very tight right now, but is a forward style and I suspect can be drunk in a couple of years.