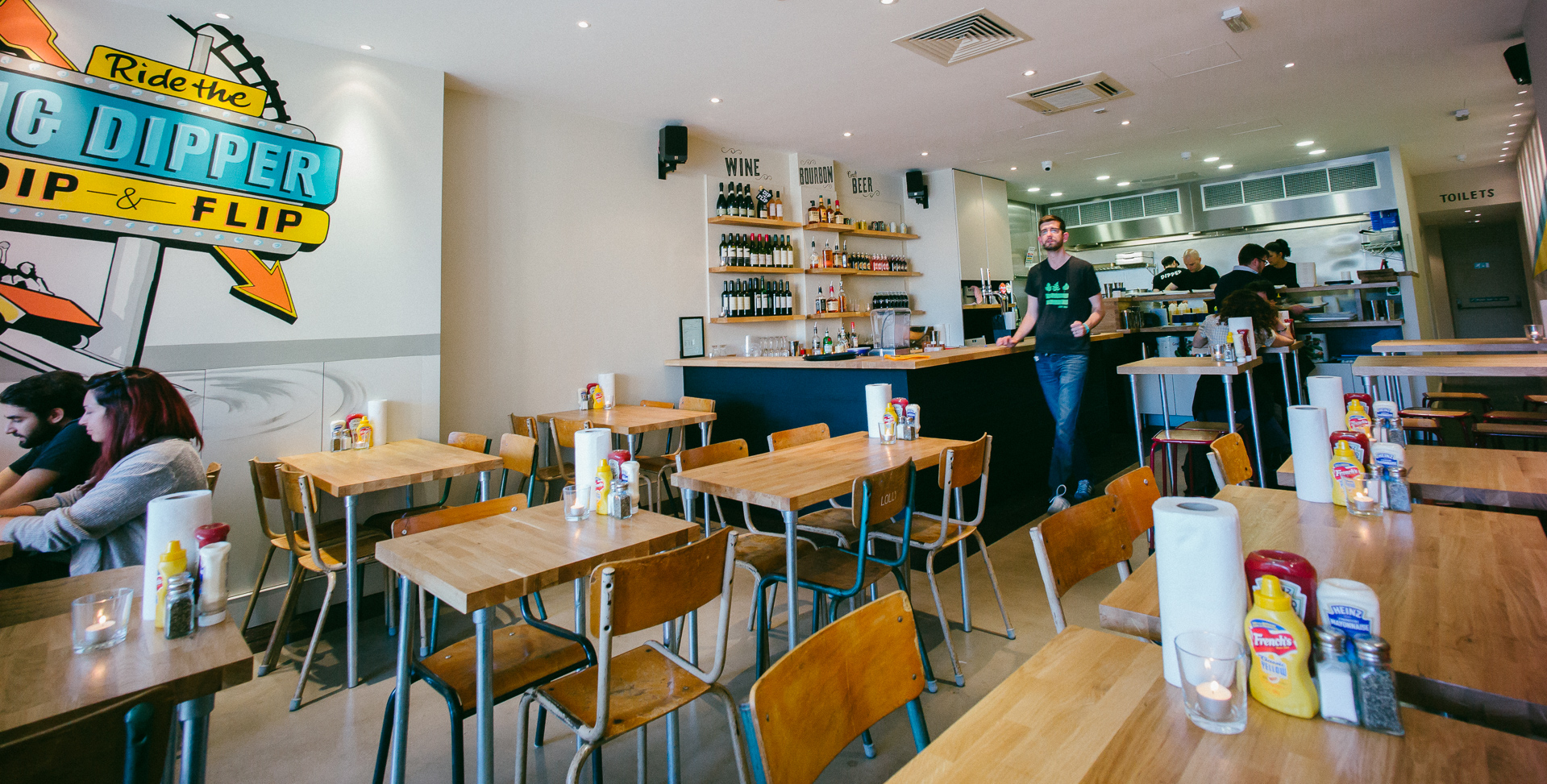 I very recently moved to South West London and have suddenly discovered the Bossam oasis that is New Malden. Dip & Flip has also recently moved into the area with the opening of their Wimbledon outpost. This follows the success of the Clapham shop – opened in 2013 – built on gravy lathered burgers.
I do like burgers and clearly there is (still) a market for it. I think the majority of the many (maybe too many) burger places that have sprung up over the last couple of years have done a lot to raise the benchmark and these days, it really is quite hard to find a truly bad burger in town. Dip & Flip and Five Guys now in Wimbledon. Come on Shake Shack and Bleecker Street, come on…
The variation to D&F's menu compared to the market adds roast meats (choice of lamb or beef) and gravy, which means French dips, poutine and gravy soaked buns.
Potato Rosti Burger, £5.95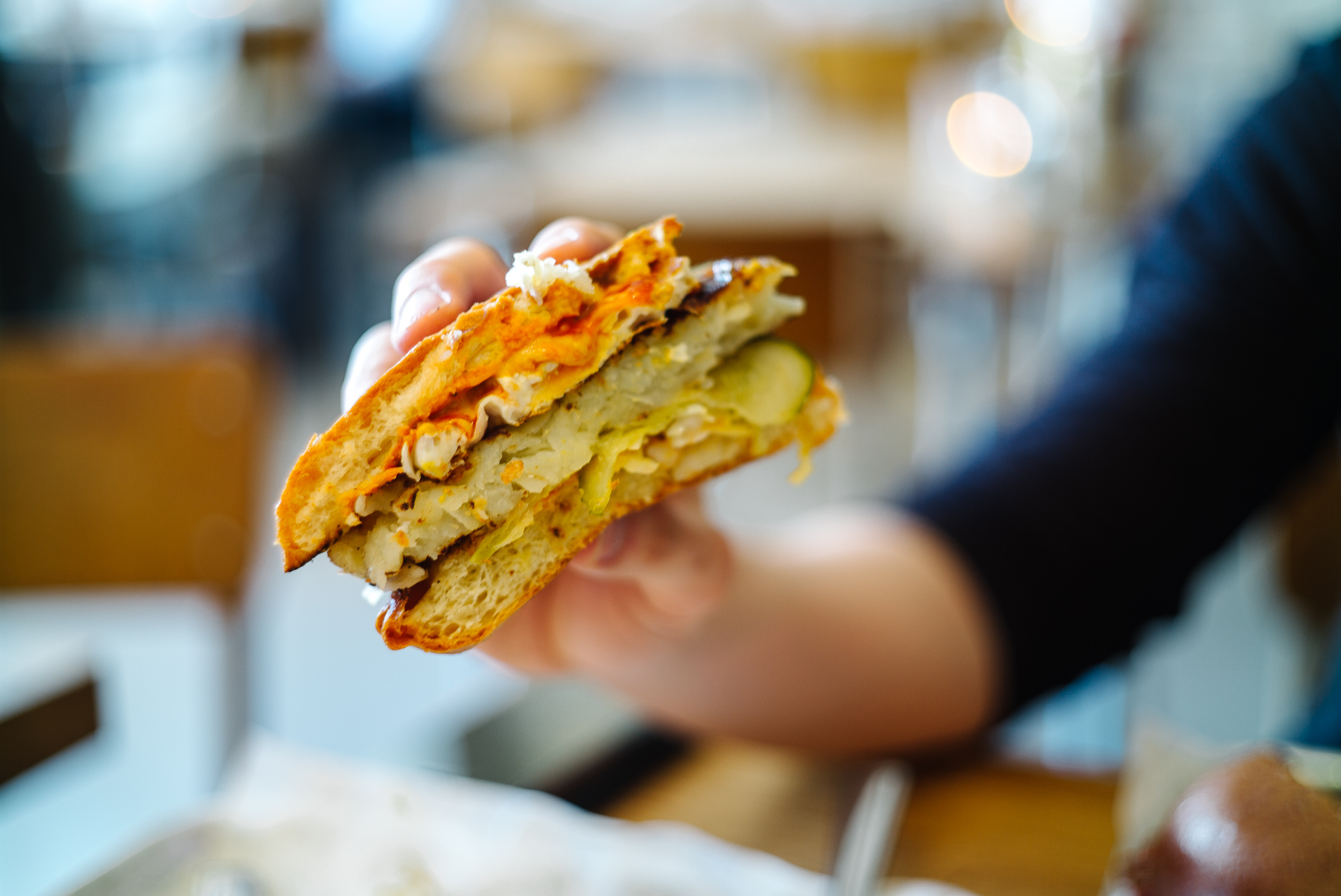 So let's start with the vegetarian option – no gravy with this one. Served with fried egg, slaw and pickles. Oof.. too dry, completely dry. Sadly the egg was overcooked and that rosti seemed undercooked on this occasion. Didn't like this. False start.
Sriracha Patty Melt, £5.25
Fries, green chillies, bacon, gravy, cheese (and I asked for more squeezy cheese), £5.25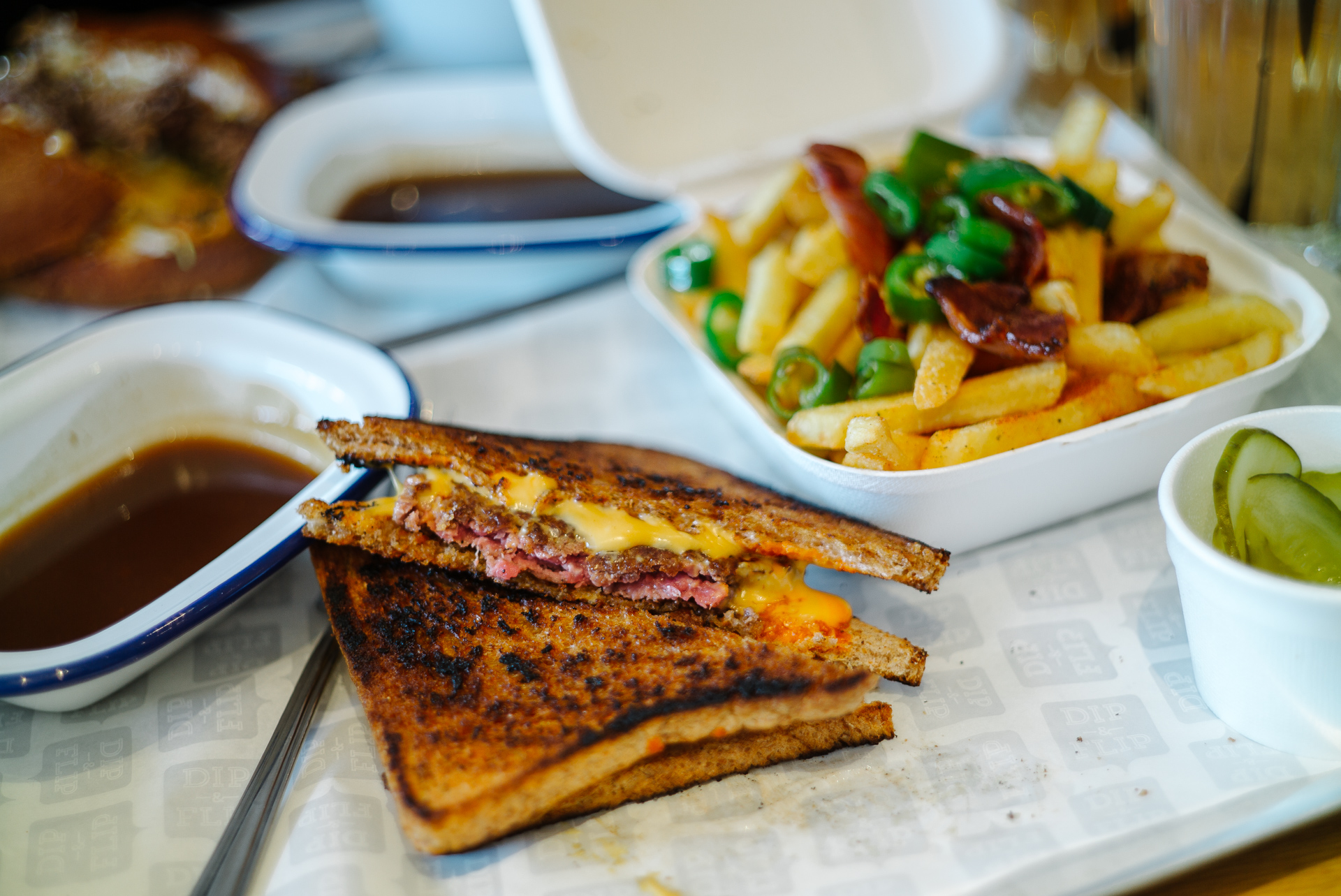 Mmm cheesy beef on toast, and pot of gravy on the side. It's a satisfying sandwich, nothing wrong with it, get's the job done but it didn't really get the arteries a-clogging. A bit on the small side too. Maybe not as much thought went into this, as compared to the burgers. Then again, it is just a sandwich, so maybe I change my expectations.
The chips were passable. This cheese curd they use is really below par, and the squeezy cheese used was also poor. The gravy was very good (more on this below) but it couldn't really mask the poor quality of the chips. I'm disappointed. Miles away from Shack's cheesy curly fries. Work to be done here.
The Dip and Flip, £9.95.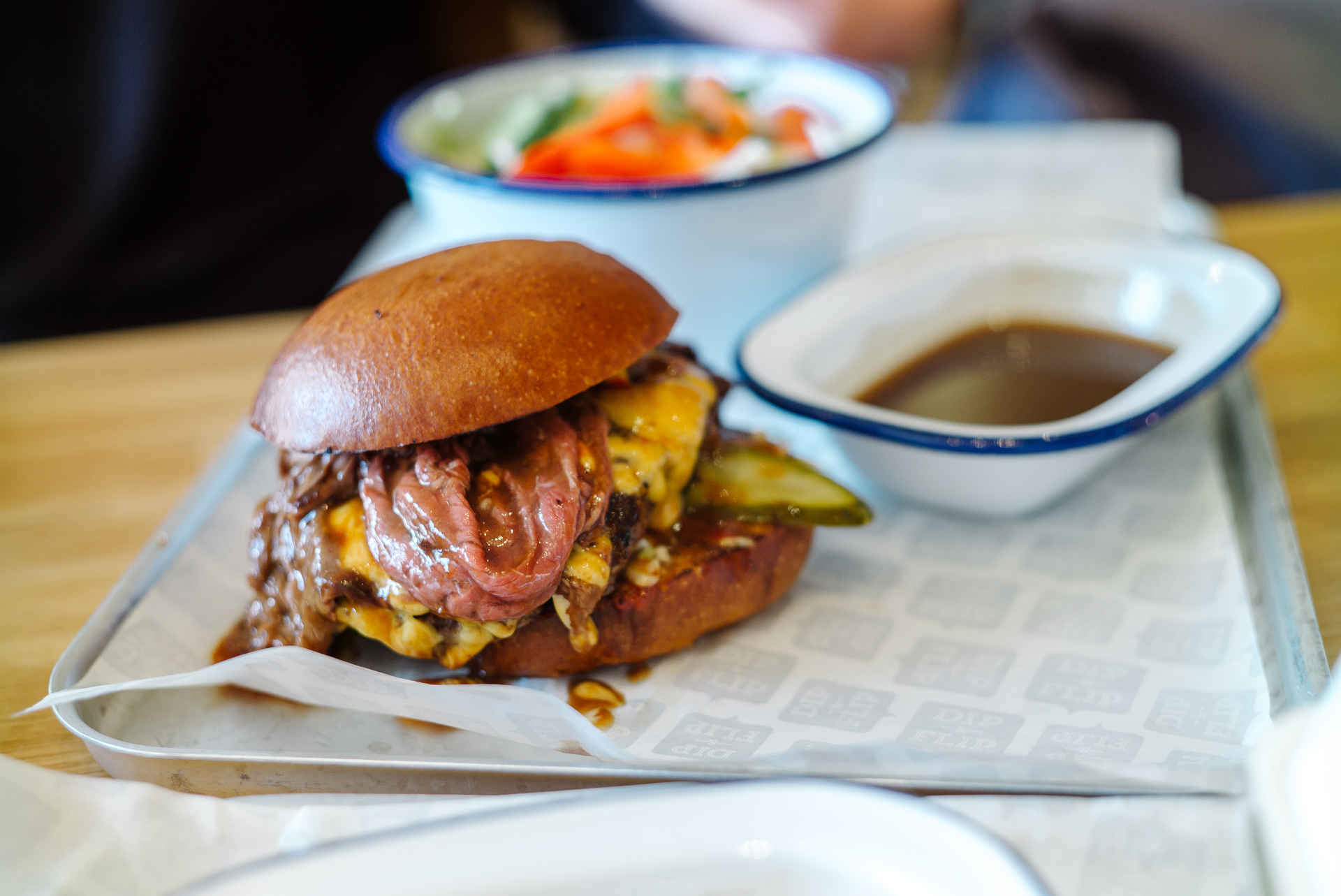 Rare roast Beef, forerib & chuck patty, slaw, pickles, american cheese, gravy, mustard, ketchup, brioche bun. Pot of gravy and salad on the side.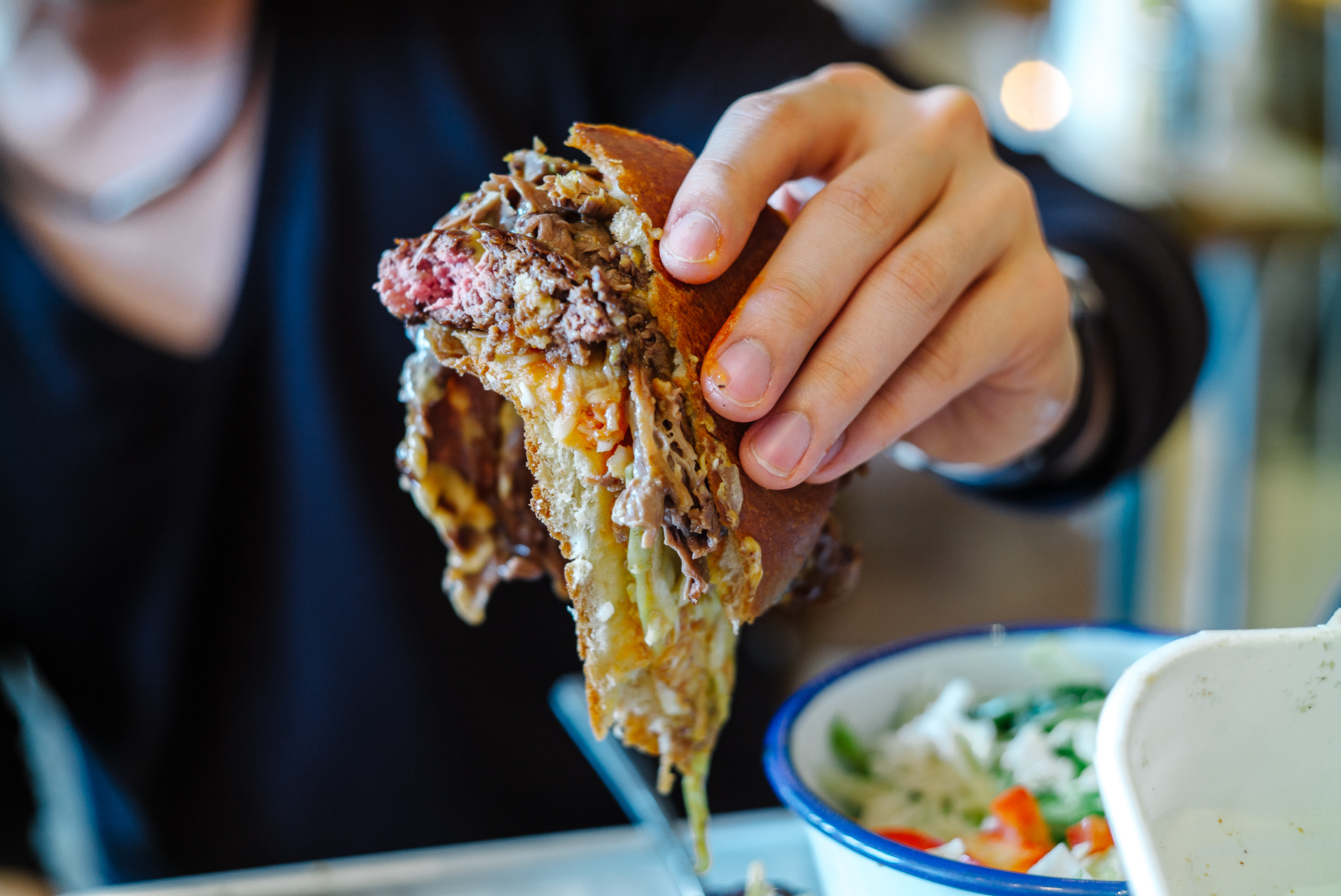 Yes. This is what its all about. Forget everything else on the menu. Just order two of these when you visit. The roast beef and gravy are just awesome. It adds even more beefiness to the smashed patty, grilled with a crusty husk and a loosely packed mince in the middle. Of course, this is all going get very messy but it is an extremely juicy and satisfying experience altogether, and you will definitely enjoy slurping a gravy-soaked burger. We asked for top ups of their excellent gravy. Just couldn't get enough of that stuff. I really like this, it's a great idea and it really is done well.
We paid £54.56 for food and plenty of drink for two. It's all about the roast beef and gravy here, everything else is a side show. Will be back soon.
Details
Dip & Flip Wimbledon
Burgers, roasts, gravy
£15pp
62 The Broadway, Wimbledon, SW19 1RQ