I'm doing things in reverse which is sometimes a good thing. Some restaurants do dip in quality after the initial opening buzz dies down, but those that hang around do get better with sharper recipes and evolutionary innovation (Did I just write an oxymoron?).
This re-opening of a free house – in some form or other for the last 140 years – is by Will Lander and Josie Stead. It is approaching its 3rd birthday this year. The kitchen is run by Shaun Searley who has landed at Quality Chop via Bistrotheque and The Paternostor Chop House.
I'm always late to anything in North and East London because the restaurant would likely be closed by the time I manage to get away from work in West London. So my eating habits are evidently grounded by geography, that is until jet-packs become the norm. But after I went to Portland, I felt I had to make the effort.
So let's start with the interior design, which is quite literally from another time. The building is Grade-II listed and the owners have restored this pub to its original 1869 Victorian architecture (do correct me if I'm wrong); Complete with wooden booths, black and white checkered floors and mechanical fans in the high ceilings.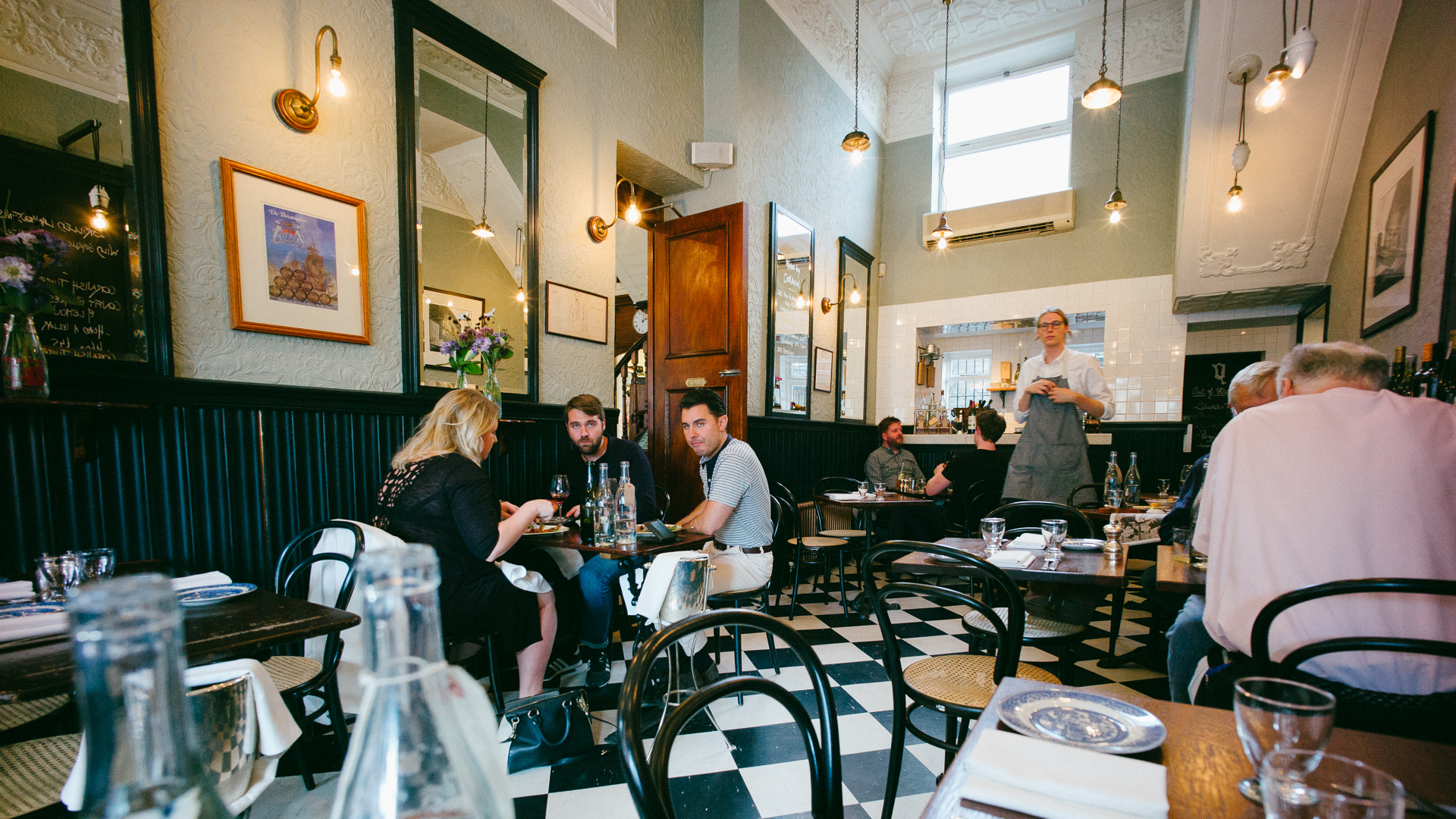 I sat in the connecting room with individual tables, right by the window, for a quiet solo Friday lunch. No booths here, but I believe the dining chairs are No.14s designed by Michael Thonet – the very first 'bentwood' chairs (ever!) – which would have been a correct feature for its 19th century timeframe.
The menu is British and democratic, St-John-esque, no-nonsense proper grub that regularly changes on a properly printed brown paper menu. Their daily specials of chops and seafood scribbled on the chalk boards on the walls.
For my starter and mains, I chose both from the boards.
Grilled Langoustines, Wild Garlic Mayo, £12.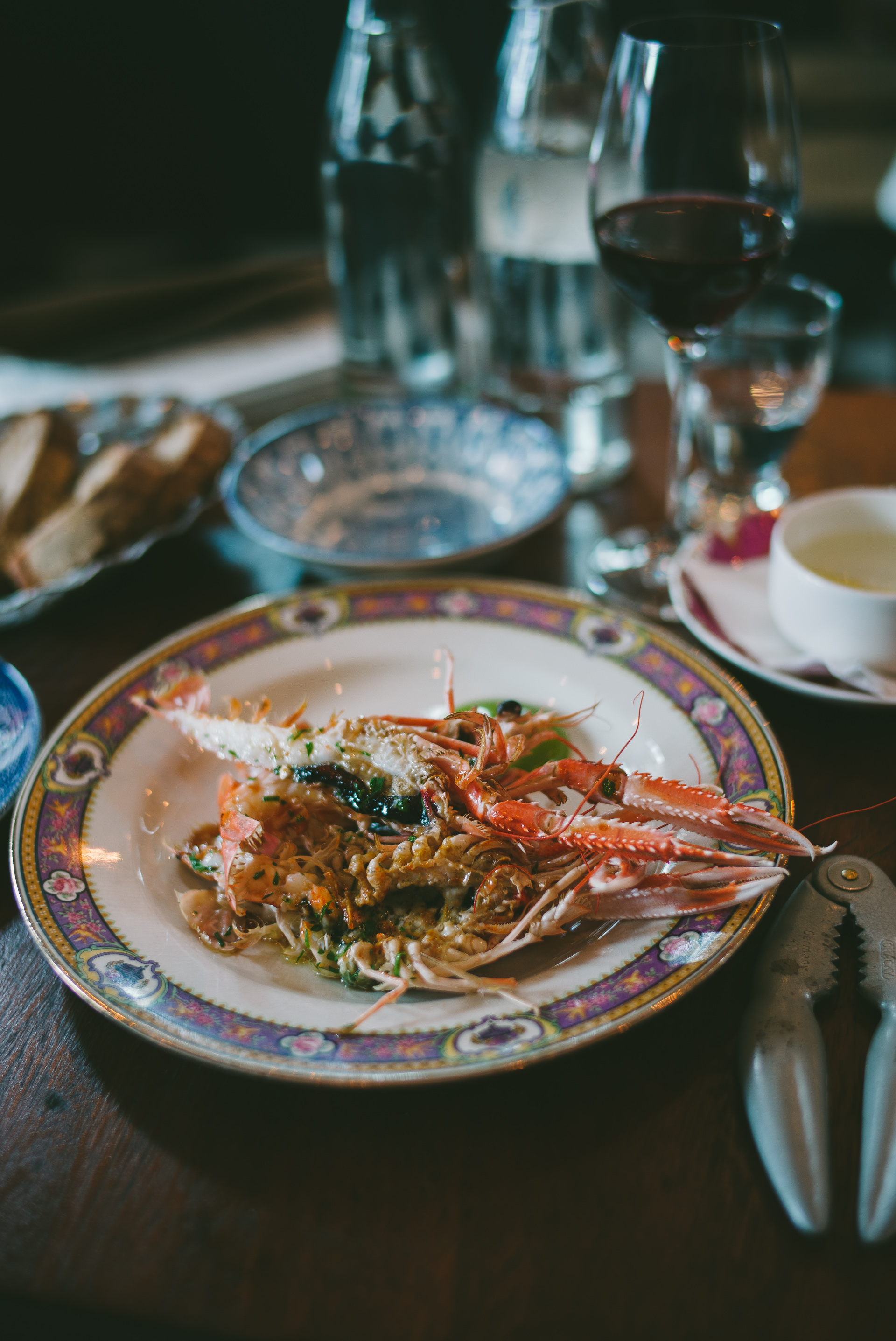 Look at all that colour in the crockery – lovely isn't it? The langoustines were obviously fresh and delicately grilled to perfection. Well seasoned and served with a vibrant, green coloured mayonaise that had been infused with the essence of wild garlic. So much sweet juice leaked from the flesh as I carefully flicked the meat off the shell. I moped it all up with the excellent sourdough.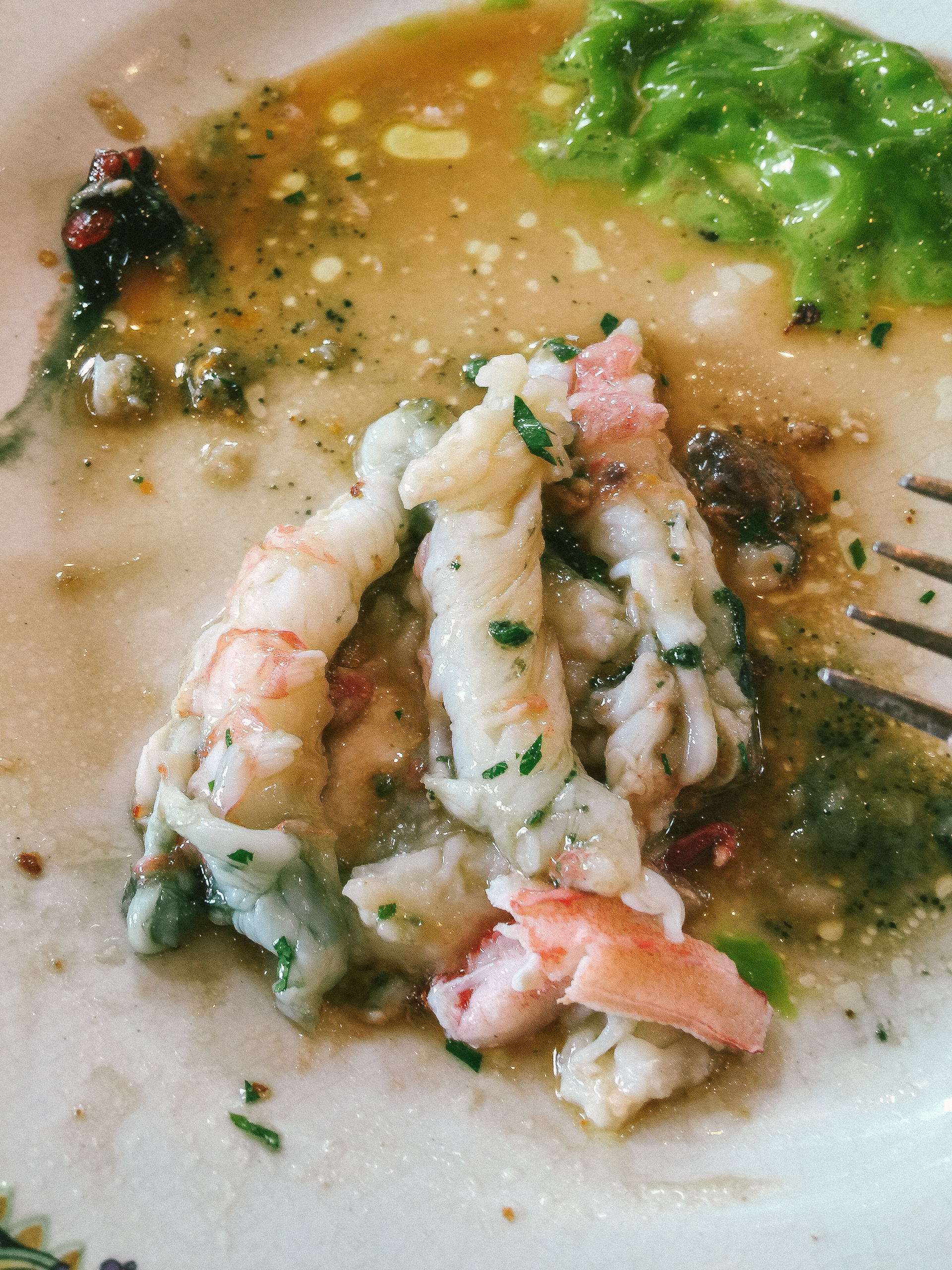 Here's my effort in shelling those lovely langoustines. Meaty. I'm not sure if you can tell look how they are delicately cooked they are – just verging on being still slightly translucent. Quality indeed.
Old Spot Pork Chop, £18.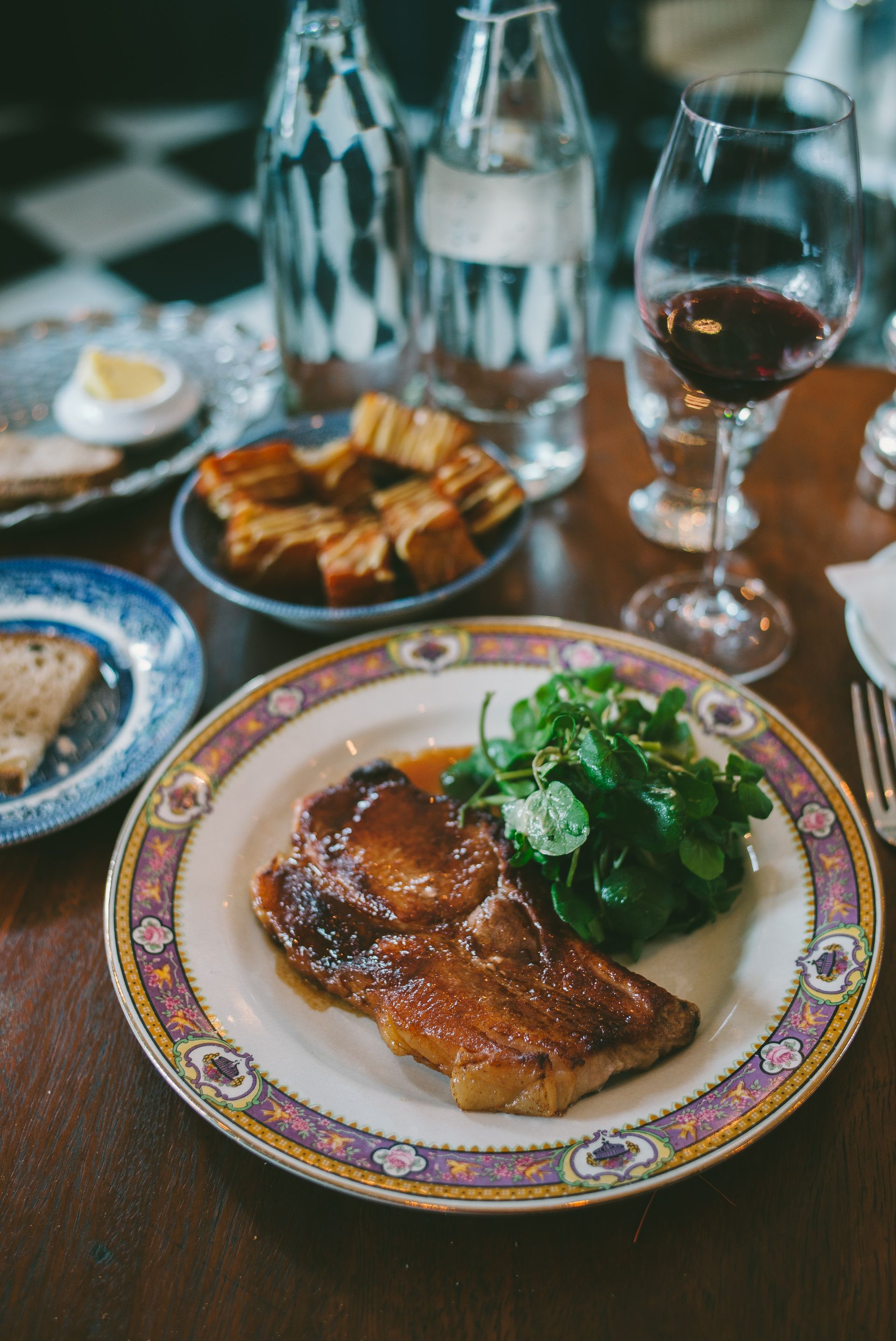 Just an ace bone-in pork chop that is also carefully rendered until juicy and brown. What are those juices? Something like brown butter I wonder? Something zesty in that seasoning too? Or was it just a great cut? It was especially fatty during this visit (do old spots become lazier in summer?), so the meat was amazingly tender with pockets of marvelous fat dotted throughout. Delicious. I loved it.
Confit Potatoes, £5.5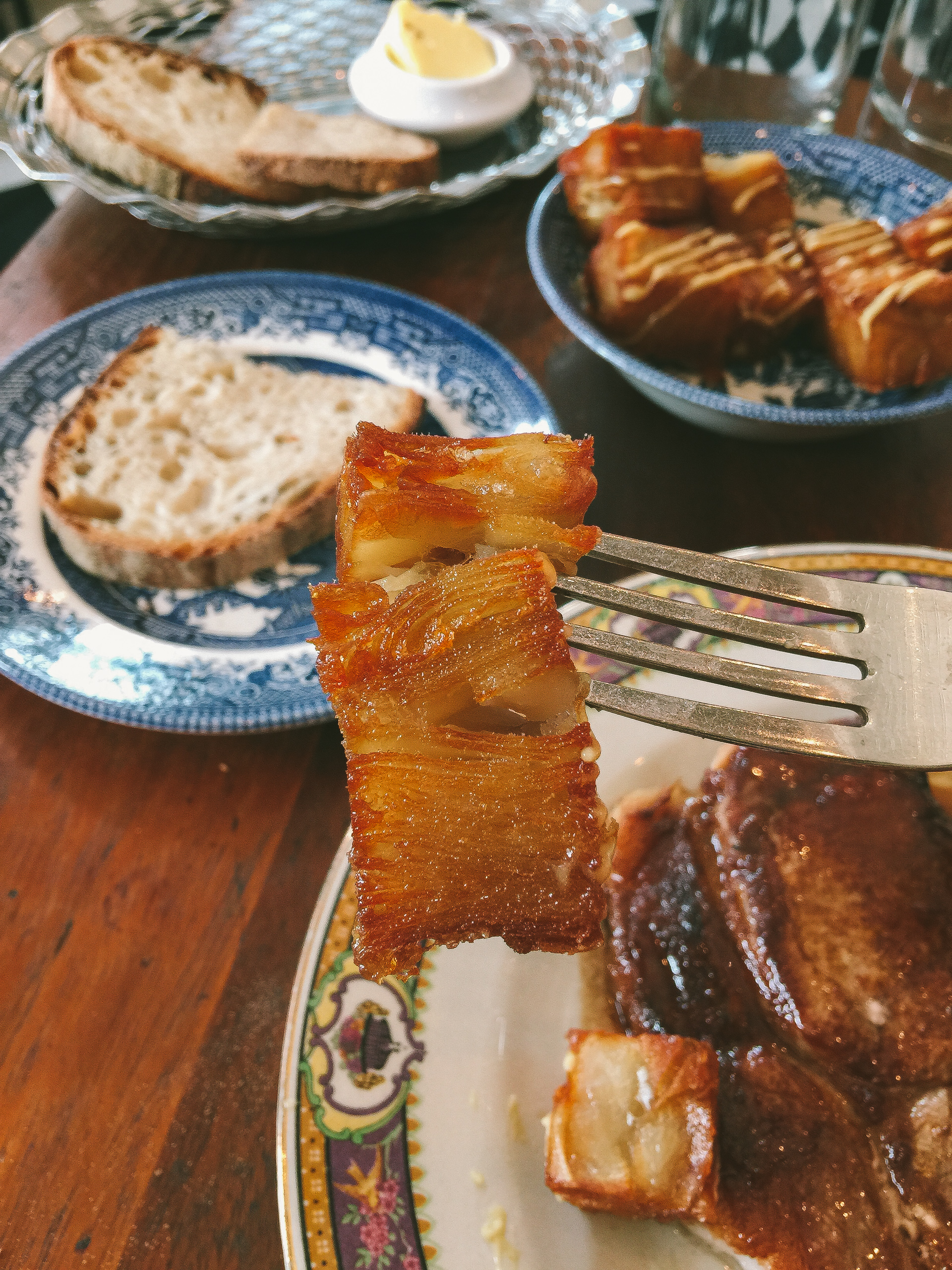 Yes. It is just as they describe it – These confit potatoes are simply to die for. Look at those layers. Layered crispiness, but immediately fluffy on the inside. It's like the best crisps and the best triple cooked chips, somehow interspersed. It baffles the mind. Gorgeous, just gorgeous.
Mast Brother's chocolate, malt crumble, milk ice cream £6.50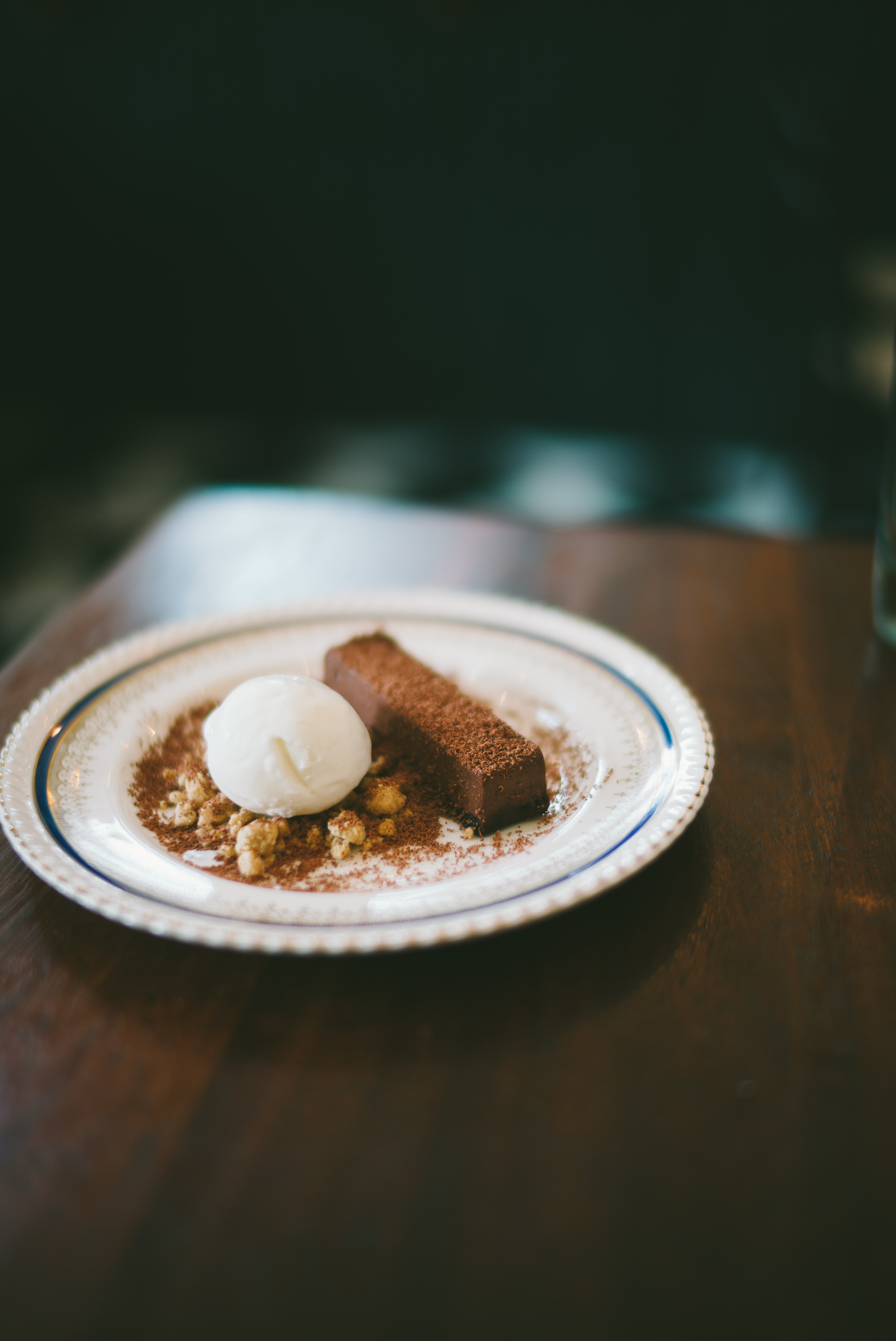 I'm no chocolate expert, but to my untrained palate, those Brookyln 'craft' chocolatiers sure do know their cocoa. The chocolate just tastes so pure – like reconstituted cocoa beans as a gorgeously soft, spongy, dusted mousse. It's just …so earthy. With large bulbs of sweet crunchy crumble and a milk ice cream of equal purity to the chocolate. My goodness, I'm blown away. What an amazing pudding.
I paid £56.81 for all food, one coffee and a glass of wine. Not the cheapest of meals, but a quality one that represents decent value for money. I should also mention that they also do a lot of big portions for a couple of people, and chops of notable quality including Ayrshire veal, Blackface lamb – obvious synergies with its butchery (and wine shop) right next door.
So I leave the wines for the finish. I feel that someday in the near future, we will be able to instantly distinguish all of Will Lander's future lists (in his future endeavors should he pursue them beyond Chop and Portland). Like Portland, this selection is varied across the spectrum (an educational pleasure) but also filled with lovely rare labels which are all carefully stored in their Eurocaves in the basement (spot the two exhaust vents on the way to the loo). Every wine on his list comes with a very personal tasting note. It's really well-thought out and carefully put together.
Like Portland, Will's lists have some of the lowest mark-ups across town. As an example, a 96 Phelan Segur is £135 dine-in, retails for around £60 to £90 if you scratch around town. A fab wine and a slim-line mark-up (60% GP, going by Will's post in 2012), it really is commendable work.
Chop also rotates three or four specials using their Coravin, which is pretty much modus operandi in restaurants now. I didn't take note of what was on offer during my visit, but they are around £10 to £15 a glass if memory serves.
On this visit, I drank a glass of very beautiful and unique 2013 Syrah by Jiménez Landi Sotorrondero (£5.5), from the Méntrida region in Spain. This grape is alien to the country's vineyards and for me, it is somewhere between St Joseph and Barossa. Lovely.
This is a class act. Yes, I love it and then some. I can't believe it took me this look to get to Chop. Quality meat, fabulous wine that's priced sensibly, wonderful 19th century decor and some of the best service (understated and professional) in London. A textbook chop house that deserves your attention.
Details
The Quality Chop House
£45pp
British
88-94 Farringdon Road
London EC1R 3EA