Yup, exactly like Marina said, this is baby St John, but maybe I'd go a bit further and say St John with Japanese influences.
It probably comes as no surprise since James Lowe and John Ogier had cut their teeth at St John Bread & Wine. If they didn't hang signage, I'd mistake it for another branch, for sure. In James' words however, his newest project (which takes after his mother's maiden name) is intentionally designed to be simple and 'quite utilitarian'. There is of course, nothing wrong with the clean interior design, it is long admired, and for me at least, a joy to eat in this sort white canvas type of canteen room. James & John are also backed by the Sethis, who own the well-regarded Trishna and Gymkhana.
You will know James from his time with the talented Young Turks crew and their run of (very) successul pop-ups, notably at Ten Bells. Each has since gone their separate ways to establish successful restaurants. Isaac's got a star at The Clove Club (what a nice story for the crowd-funded restaurant) and Ben's going strong with David Chang's Seiobo in Sydney.
Ok so, another Young Turk restaurant – impossible for the food to be bad – these guys may still be young, but they are a proven quantity and sure can whip up good meals! So naturally, I was really excited about my lunch. And going by initial critic reviews, you'll probably enjoy lunch more than dinner.
Like the other Young Turks restaurants, dinner is a £39 set meal of five choice-less courses whereas lunch is ALC. So if you're one of them who have an issue with the former, try lunch first.
Chanterelles, Egg & Onion, £6.90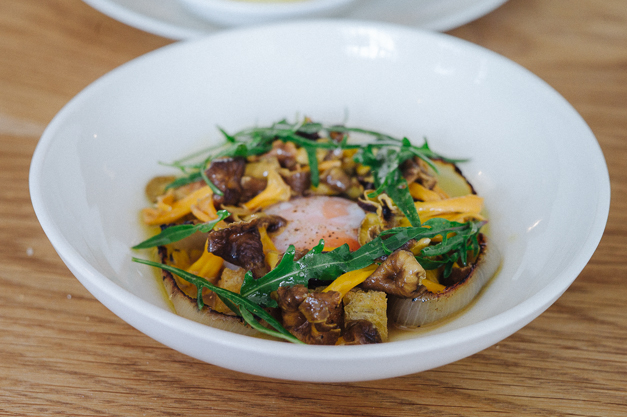 This has got it all. Sweet, salty, sour, bitter, umami, warm, onsen-like poached egg, with bits of toast soaking up all those wonderful juices. Everything gels together extremely well, making for a balanced profile. And it just smells so good. This is like a modernised French onion soup, I wrote 'Undermoss, ethereal' in my notes, I can't work out why I thought that at the time, but perhaps I was trying to say that it's all earthy, natural and simple – like drinking a good biodynamic burgundian wine, or perhaps even analogous to the harmony of a bloody good dashi. 5 star cooking.
Monkfish Cheeks & Liver, £8.90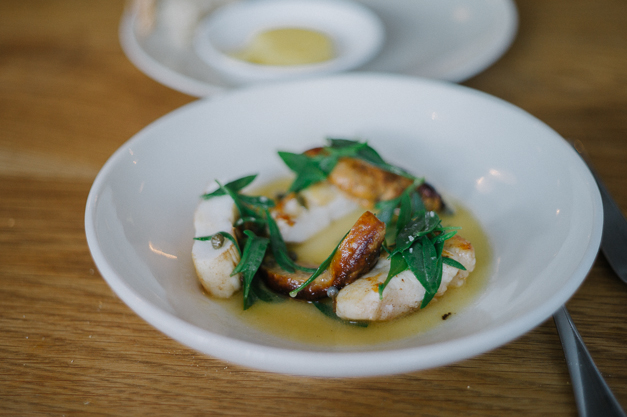 That butter sauce – it's got something funky about it… what is it? Could we call monkfish liver the 'marine' version of foie gras? More ethical, or maybe let's not have that discussion? I suppose because this dish is redolent of ankimo that I think of the Japanese influences.
Either way, I love it. Sea purslane, capers, the richness of the liver, and that butter sauce. It's so light but is also imbued with so much flavour. The cheeks are amazingly well-cooked. So bouncy. Almost lobster-like fleshliness. Muscular but fresh. Pan fried but still juicy. I can't believe it's monkfish. So meaty, but it's also that contrasting interplay between the creamy liver and clean tasting cheeks that makes each mouthful such a joy. Liver for flavour, cheeks for bite. Awesome. I wiped my plate clean with bread. Just what is that butter sauce? Lemon butter? Butter milk? Another five stars here.
Dexter, Baby Gem & Anchovy, £17.90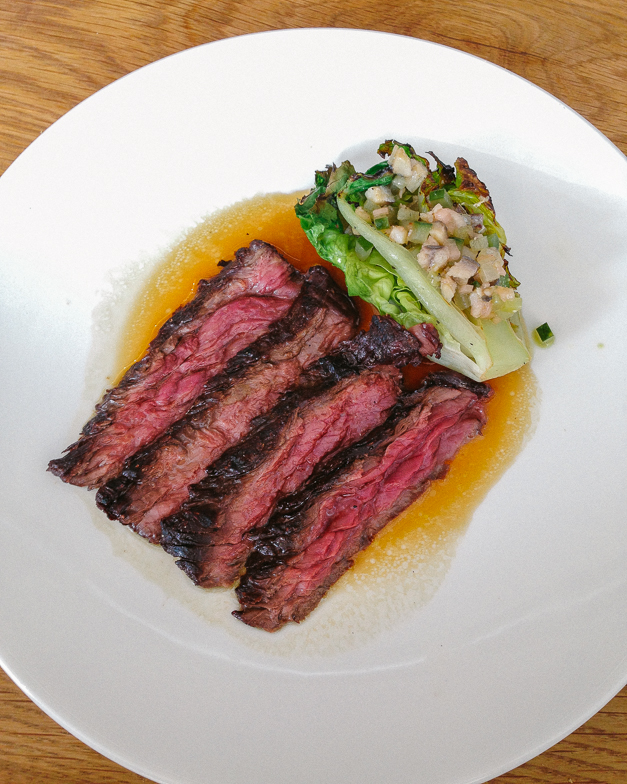 Dexter wing rib. Smell that tremendous dry-age beefiness. So..beefy! Wing rib texture is somewhere between an onglet an a flat iron, cooked medium rare. What's that on the side? Pickled sardine? Pickled mackerel? Something fishy and pickled to balance the heady beefiness, so props for the pairing.
So on to the beef. The dry-aged flavour is exactly like The Clove Club's tartare. It's like a good dry aged burger you know, Minetta Tavern Black Label funk. Except in this format, it's probably more like Spanish wagyu cecina. So robust and rich but also round and mellow, like a good stilton, morbier, comte and brie all mixed in. Pure bovine pleasure. How did they manage such wonderful dry-age funk, I wonder. It is a marvelous achievement. The cattle was 3 years old and I'm told that they do the dry aging in-house, taking either 6 or 10 weeks.
On to the gravy. The wetness is just great, imbuing the meat with a sense of juiciness. I think beef dishes are generally difficult to make interesting or delicious in a restaurant format. Tarting up a prime cut and serving with some variation of butter and potatoes, invariably makes for heavy dishes – too much of everything.
This is exactly reverse. He's managed to distill the essence of beef, tweaked the sides to balance up the flavours and has created this exacting, pure expression of the ingredient. Ok maybe just a bit much of hyperbole, but it really was that good!
To make comparisons, it's sort of like what Barnyard was trying to do with their short-rib and pickle, except that was just kind of dry, not cooked so well. This dish on the other hand is complete and most of all: the beef tastes amazing.
I really love this. Recipe and execution. Beef, pickles and stock. It's almost brutally effective, executed with certain deftness. Seven out of five. The best beef dish I ate this year.
Blackberries, Vanilla Ice Cream & Crumble, £6.50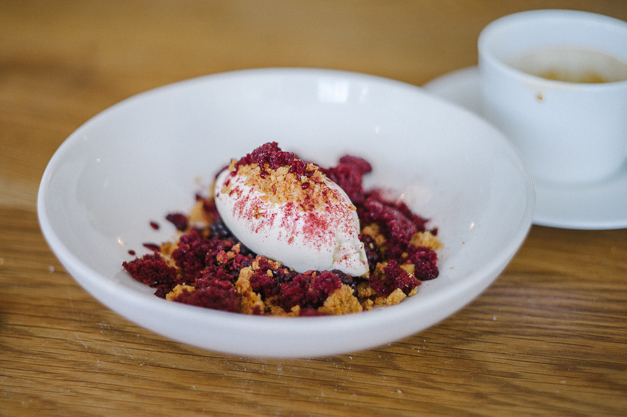 Raw and granita blackberries. The vanilla is proper rich, creamy, seamless without air pockets and like frozen custard. Perhaps made with clotted cream or jersey milk and maybe even pacojet though I didn't hear the whirring from kitchen. Dense and very cold. Crumble for texture. Just wipes your palate clean. What can I say? Like the rest of the meal, everything is so harmoniously in perfect balance.
I paid £58.28 for food, a glass of wine, coffee and service. Just right on the edge there on value, just a wee bit much for portions which could be a little bigger, but it's totally worth it.
Structured and completely formed. Everything tastes so orthodox, so balanced, so logical, precise and correct, so simple that it is obvious that James' primary goal is to actually cook properly without compromise. There are loads of restaurant going for this clean-style cooking, but I think what separates the best from the merely good is the level of completeness that goes into the recipes. And I think James' food is complete. It is some kind of refined perfection going on here. British-Japanese? Would you agree or I'm completely off the mark? Maybe James can tell us of his inspirations.
Some day in the far flung future, the Young Turks will surely be remembered as the magicians of their era. Maybe they have cracked the formula to what makes the human taste-bud tingle. Or maybe I'm just a really big fan of their cooking. While there are similarities between the existing Young Turks restaurants, Clove Club and Ten Bells, Lyle's is not the same and is unique cuisine in its own right.
What're you waiting for?
Lyle's
£60pp British
Tea Building 56 Shoreditch High Street,
London, E1 6JJ
0203 011 5911
Liverpool St Station