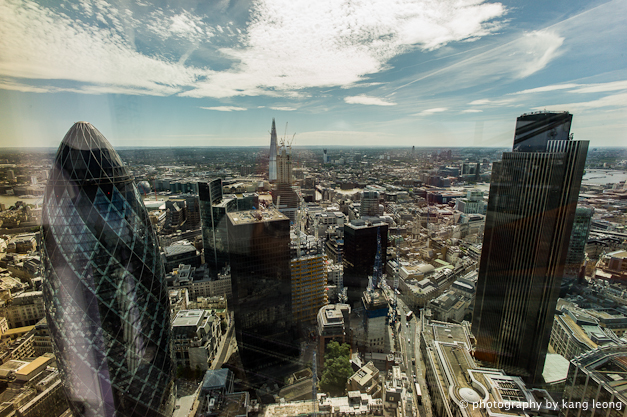 It wasn't because I was up 40 floors of glass and metal, rather I was quivering at the sheer breakneck speed with which the lift hurled up to the heavens. Watching the marvellous financial heartbeat of Europe seemingly shrink under my feet was completely vertigo inducing. When the lift stopped and I looked into the distance, I have to say, the view wasn't half bad.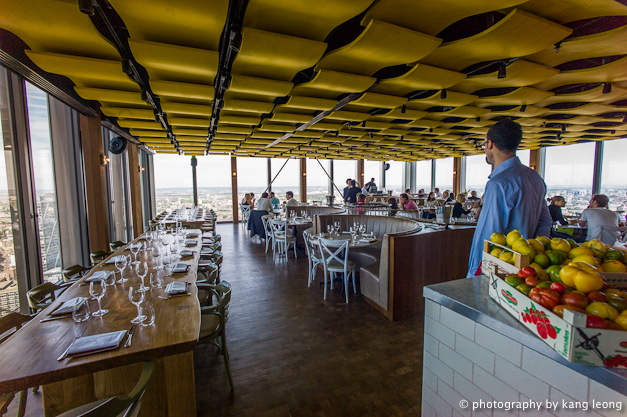 The panoramic vantage was only matched by the magnificent decor. Duck & Waffle and its sister restaurant, Sushi Samba on the floor below, are nothing short of engineering feats and interior design ingenuity. Ah yes. The pinnacle of modernity, civilisation, the by product and triumph of capitalism, the future of hospitality changed forever …. The air must be very thin up here, as grand delusions extend to the food menu, where boundaries are so obscure, that my waiter insisted I share every plate of food I ordered, even as I was dining alone. The menu appears to use various European recipes, though it is the namesake signature dish which grabs the most attention. It's definitely the first time I've seen waffle, duck confit and maple syrup on the same plate, in a restaurant. Perhaps in another era, this may be written off as being completely bonkers, but we live in bolder times and maybe it isn't. Maybe it's really quite creative.
Scallop, apple, black truffle, lime. £8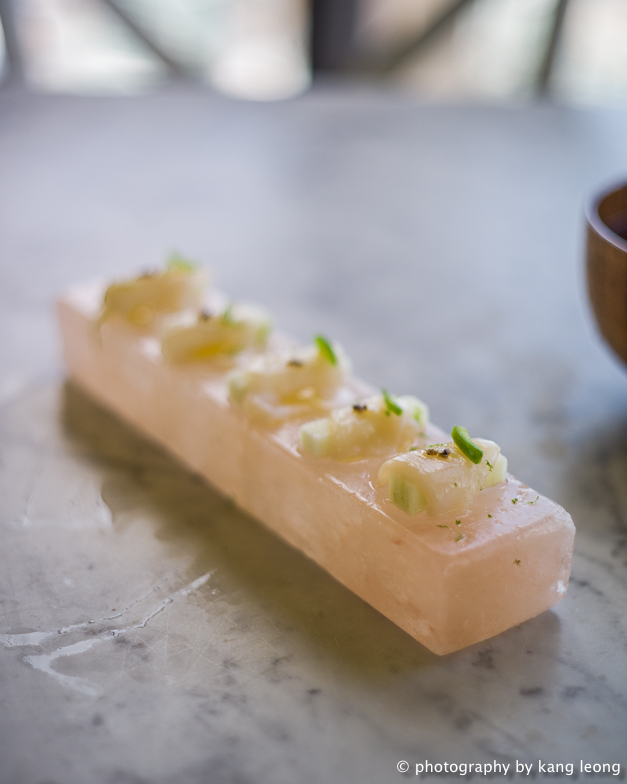 Thinly sliced raw scallop sashimi over tiny logs of sliced apple, served on a large block of pink (Himalayan) salt. For posterity, and for an extra rub of seasoning. This is clever, don't you think?
I think the price is a little steep considering each parcel is about the size of a thimble, and I doubt the five slices add up to a whole scallop. It is more canape than a starter of course. Reservations aside, it the combination of flavours were delicious and I certainly enjoyed it.
Herdwick mutton slider, harissa, charred tomato jam. £5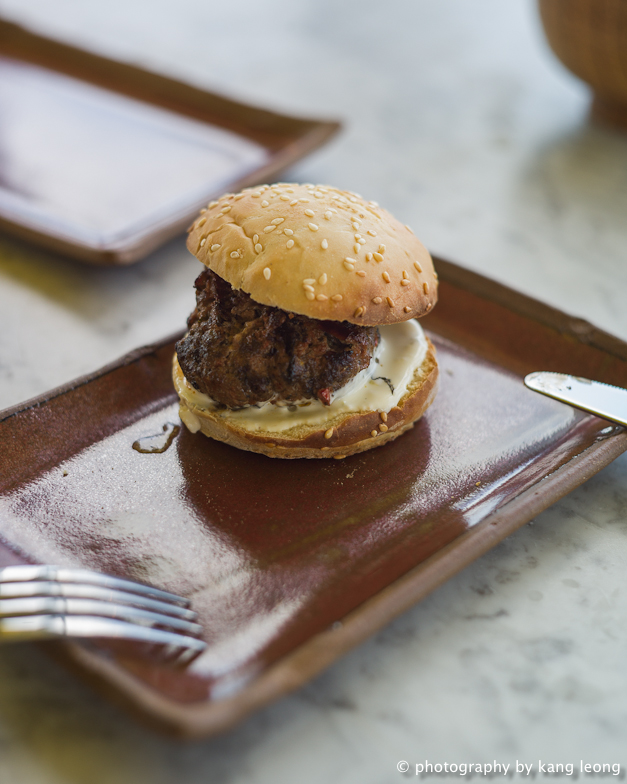 This was just ok for me. There are better places to eat burgers, and this was far from anything near the current median standard. The lamb bun kebab at Roti Chai for an equivalent lamb burger for example is superior.
Duck & Waffle, fried duck egg, mustard maple syrup. £13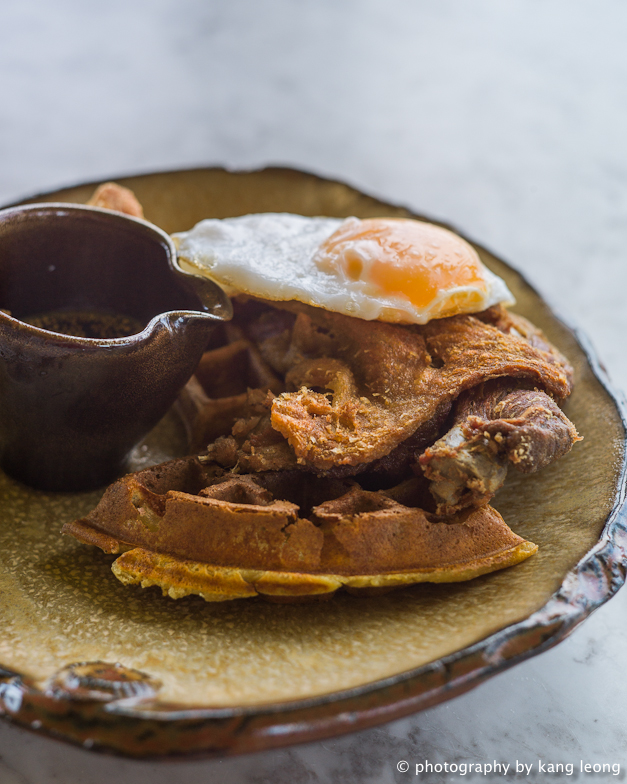 Finally, the signature dish. Fried duck leg with fried duck egg, waffle and a small pot of mustard maple syrup. On first impressions, it certainly seemed like a step too far, but as I worked my way through the dish, I was pleasantly surprised with how the combination of flavours complimented one another. The duck leg was probably over fried, it tasted really quite tough and dry, but it soften considerably when slathered with lots (and lots) of syrup. And that's when the dish really came alive, syrup and duck yolk was an ace combo. Maybe just a little overwhelming, but nevertheless, as an experience, it was immensely enjoyable. Like the scallop dish, this was fun, unique and delicious.
Torrejas, maple caramel apples. £7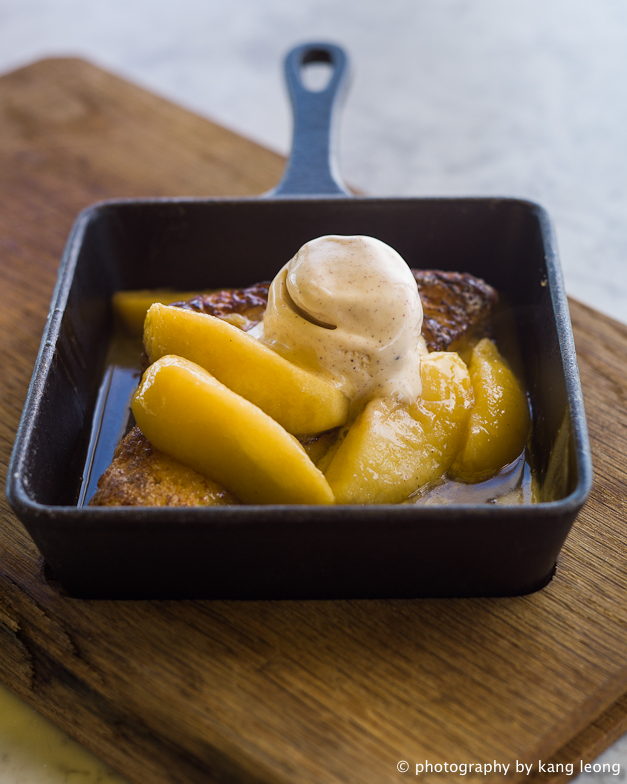 Or Torrijas – A Spanish version of French Toast. I thought this was the best dish of the meal. The sweetest scents of charred bread and sugar. The bread was light and crispy, like honeycomb made from toasted dough, smothered in a sinful caramel drizzle, with the lingering acidity of baked apple and the cooling sizzle of melting vanilla ice cream. Just brilliant. Even after the overwhelming duck & waffle, this dish still tasted so good that I could have easily made room for another.
All in all, including a glass of Malbec, I paid £44.44 for this meal.
Food is largely fairly priced. Main dishes are well portioned, and mostly at under £15, but the drinks are where it really hurts. Cocktails cost as much as mains and the wine list is a little unspectacular for its asking price. A glass of their house red (an Argentinean Malbec) starts at £6.50 and goes up to £18 for an American Pinot. I did think there were a few nice labels by the bottle, but just a little beyond the intended quality-price ratios. The 2006 CdNP by Pegau is a solid wine from a solid winemaker (even better if it was the 07); Dominus always dependable; Torbrecks are interesting (amongst Oz's first growths) and the 2nd (and 3rd) wines from Spain's most famous estates, Pingus and Vega Sicilia, are probably nice, though I've never really had the pleasure of popping either.
The head chef Daniel Doherty deserves applause for his creativity and it's clear that he has put a lot of thought into making Duck & Waffle different. It's probably not the kind of meticulous, obsessively complex construction of 'finer' recipes in more auspicious establishments, but not all successful restaurant need to be built that way. It doesn't seem to take itself too seriously, and I think the fun nature of Dan's food makes it very likable.
While it is certainly fashionable today, I do wonder how the style will be sustained over the longer term. Maybe Dan has more tricks up his sleeve. Fried Duck, waffle and syrup may not exactly be breakthrough, but it is a kind of fantasy becoming reality, and taken in totality, Duck & Waffle is an intriguing experience. As I descended back to sea level, I was very conscious of the normality around me. So in that regard, I suppose I did have a great time up there then.
Details
Duck & Waffle
Duck leg, waffle and syrup. £30pp
Heron Tower
110 Bishopsgate EC2N 4AY
Tube: Liverpool St Station
Did you enjoy reading this? You can subscribe to the Newsletter. Alternatively, you can subscribe to the RSS feed.