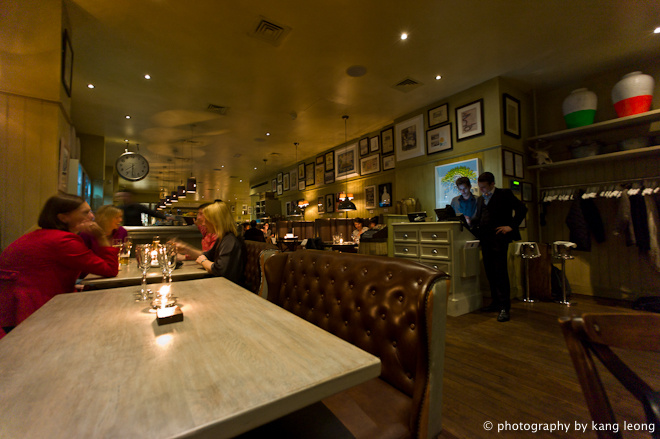 Here's a list of good things I expect from a good bistro:
1.Good soup
2.Good steak
3.Good frites
4.Good tartare
5.Superhot waitress
I recall a highlight reel of what the Glasgow arm of this luxury out-of-town hotelier is capable of, during an episode of Don't tell the bride. They took the tour through the banquet room, the room for the exchange of vows, the grounds. the venue was so slick, the bride cried knowing her man would never plan their wedding there. Of course, I don't watch that show. It just happened to be playing in the background as I was shaping my manly deltoids at the gym. Obviously.
There are fifteen Hotel du Vins up and down the country from St Andrews to Brighton, none are in London, but presumably all of the hotel restaurants resemble some version of bistro du vin. As of writing, there are two Bistro du Vins in London; one is next to the shit-hot Duck Soup Soho, and the other currently occupies the site where one of the best London bistros died – Bjorn van de Horst's Eastside Inn.
You do remember Eastside Inn don't you? That was nice French food. Bistro du Vin doesn't punch at that level, but in many ways that's a good thing, because really the formulae that's being applied – competitively priced, traditional French bistro affair, enomatic-preserved wines by the glass and really big and comfy leather seats – is the template for the mid-range restaurant of the future. Think of the day when the high street restaurant, the Zizzis, The Stradas and Cafe Rouge's of our beloved city start serving steaks good enough to challenge Parisian bistros. Oh who am I kidding, that day won't actually ever come, but places like Bistro du Vin are pushing us closer to that reality. I'm not sure how Hotel du Vin feel about this image I am suggesting about their London outposts, that they are the herald of a new restaurant franchise, but really HdV should take it as a compliment. If we're going to reboot the standard restaurant, it may as well look like this. There's oysters and steak tartare, terrines and grilled fish with butter and potatoes. There's also a Josper in the kitchen, cheese supplied by La Cave a Fromage and serious Scotch and English beef. Add that to an orthodox bistro menu that simultaneously appeals to the masses and easily replicated, should equate to a good business model.
Soup du jour, £6.95.
My twitter feed suggests this was a haricot veloute with slow braised oxtail. I didn't take notes during the meal, but I'm pretty sure I remembered this to be quite delicious. They even stylised it by pouring the soup out from a small porcelain jar like they do in Ramsay restaurants.
Donald Russell Onglet with frites and bearnaise, £14.50.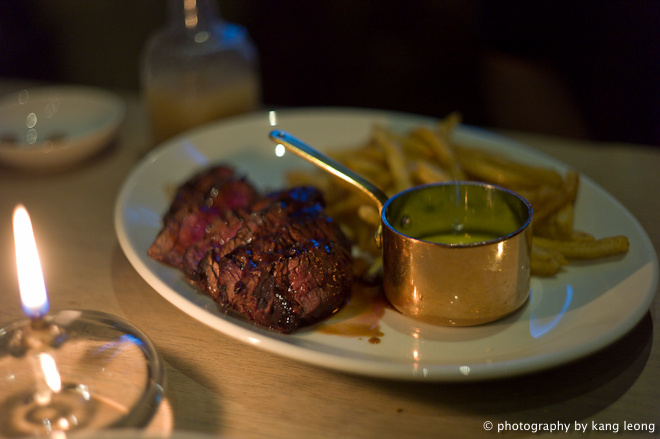 The steak was a beautiful medium rare, tender and flavoured like the charcoal embers it had briefly laid atop in the Josper. I was freakishly surprised how well the hanger steak came out. I was even more surprised when I had the frites, crispy, potato-ey, a little oily and buttery, the hallmarks of fucking great frites. I was bowled over when I dipped the beef in the bearnaise. It was a great bearnaise – egg and butter and egg. A solid steak and chips, it epitomised the very idea of bistro steak. For £14.50, I could easily have this for lunch every week.
Pork cheeks with gratin potatoes, £16.50.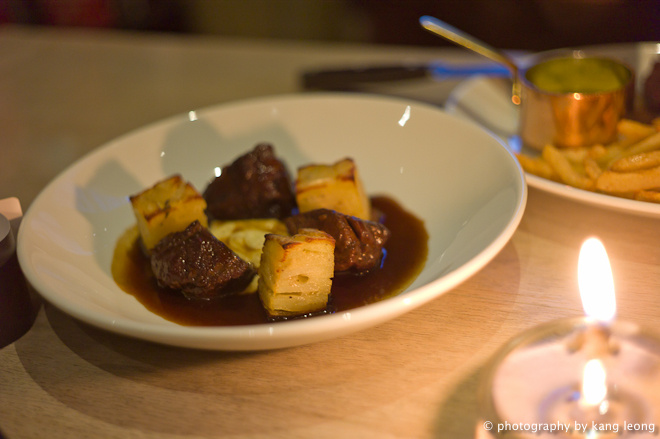 Soft, melty layers of pork cheek, the heavy red wine jus was delish, but really I was so jealous of the onglet staring at me as it wrapped itself around the lips of the other half. That lecherous piece of red meat. The potatoes were real nice, you know all butter and oil, so rich it made me queasy, evoking an old-fashioned sense of pleasure, mmmm.
The kitchen nightmares-proof menu is applause-worthy, their selection of wines by the glass are admirable, and their cheese deals are good. We paid £59.85 for this meal which included two glasses of wine.
On a separate occasion, I popped back in to try their £8 cheese platter with a glass of £8 Burgundy. I have to say I was treated to a pretty robust selection of French and English cheeses. Served with truffle honey and a plate of oat biscuits. For £8, it's decent value. Great brie de meaux.
Actually for my 2nd visit, I was duped by the £12.50 unlimited cheese deal – cheese only becomes unlimited if you order it WITH a meal, as opposed to it being the meal itself. It would have been a great idea for a late Saturday lunch – sampling every conceivable in season cheese they had hidden in their stash – that bit isn't very clearly written on their website, but perhaps an unlimited deal for cheese monsters may be something for the decision makers at BdV to consider. Come on Mr Hotel Executive, how much unlimited cheese do you really think one person actually eat on an empty stomach, let alone after a meal of buttered potatoes?
We're getting close to that time of the year again, and if you've only just been anointed by your boss to put together your team xmas lunch, then you might want to give BdV a call. My forecast is that you will be able to negotiate a pretty decent £25 per head that will please everyone including the food nerd on your team who you suspect to be a closet food blogger with a fig obsession, and has Jay Rayner as his iPhone wallpaper.
The Gist of It
Bistro du Vin Soho
French, £35pp
36 Dean Street, Soho
Tel: 0207 432 4800
Tube: Piccadilly Circus
Did you enjoy reading this? You can subscribe to the Newsletter. Alternatively, you can subscribe to the RSS feed.