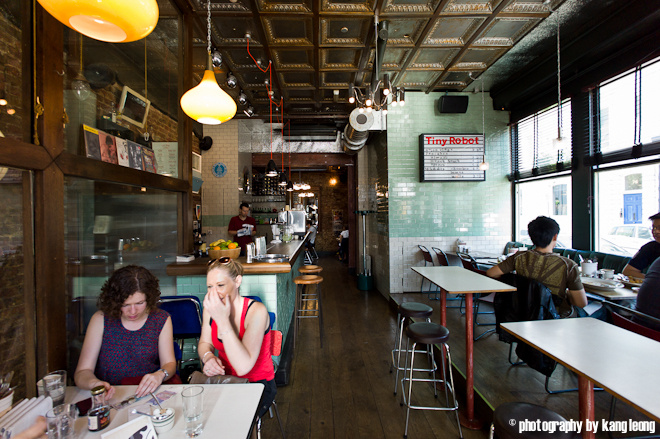 The reception for the Robot franchise, has been lukewarm, to say the least. Blogs can't seem to get excited about either Tiny or Giant.
Nevertheless, I was still interested in visiting at least one of the two all day diners in town, mainly because they serve one of my childhood nostalgic puddings – the baked alaska. Oh I wet many a diaper watching a waiter set meringue on fire to the effervescence of evaporating alcohol, right by the table.
The food is Italian-American, and two restaurants that specialises in signature balls. Meatballs that is. But I didn't get in any of the full menu action, instead I was looking for a place to brunch, on a sunny Saturday morning. Tiny Robot is situated along Westbourne Grove, and it sits on the ground floor, on top of a members only Starland Social Club in the basement, which is owned by The Rushmore Group.
Let me just start by saying that I really like the decor.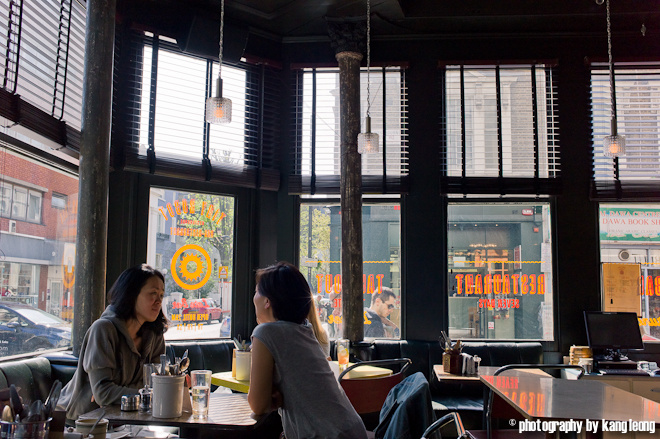 The space is actually quite small, with diner-style motifs, such as the green leather seats, washed out green tiled walls, aged wooden floors, and retro patterned enamel table tops. It's great, it's really comfortable inside. Bring on the coffee.
Rum & Vanilla milkshake, Filter coffee.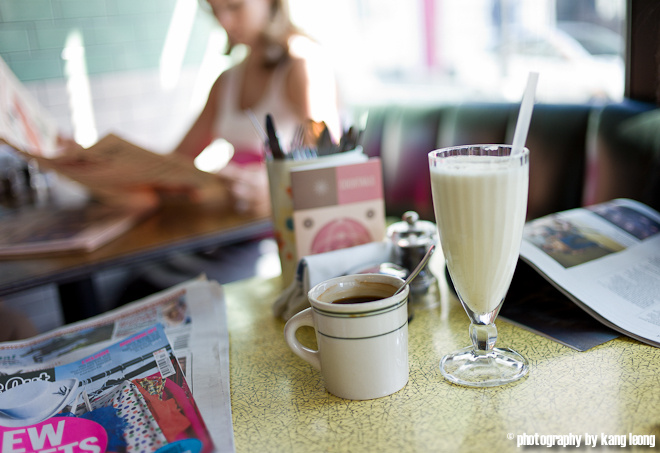 Woah, the rum was pretty stiff! Nice. I initially asked for a cappuccino, but changed it out to just a brew, since you know, one shouldn't ever have too milk at 11 in the morning.
Cotechino Hash, £7.60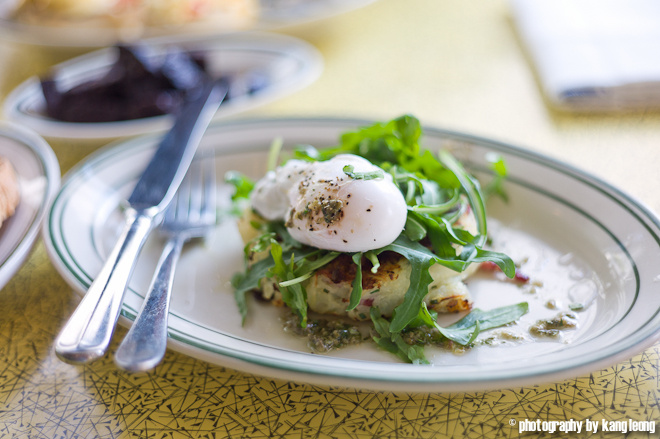 Which as the name suggests, involves chopped potato, arugula (which I checked on wiki that says it is rocket, so please don't sue me for the misleading facts.), poached egg and salsa verde.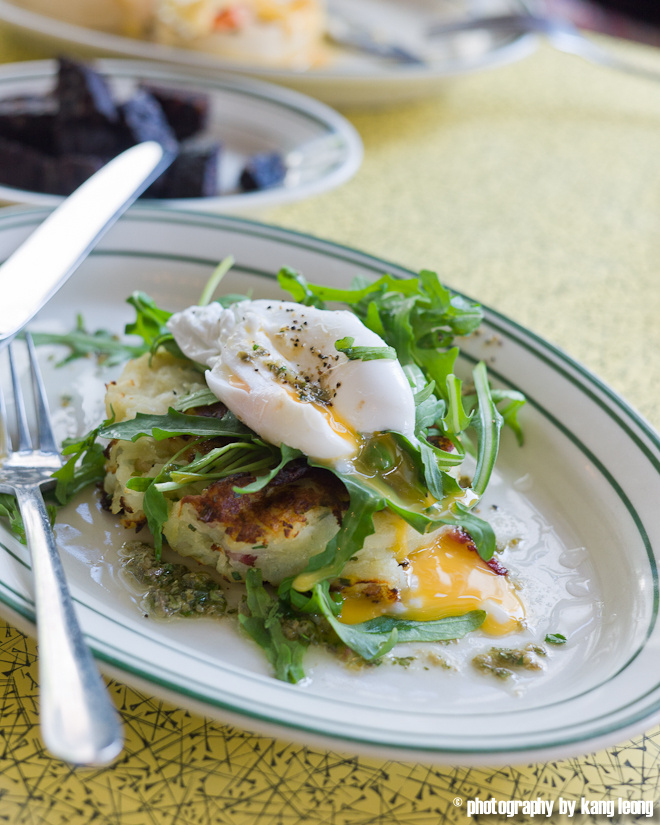 I like runny yolks, and this was pleasing. Viscous orange hued essence of chicken, smothering the hash absolutely worked its ways to my heart. The salsa was abit like a pesto, so the hash, tasted like a morning salad, of sorts. I liked it fine. I also ordered a bowl of Biroldo (£1.10) – the Italian black pudding as the lovely waitress described to us – which to my untrained palate, was like black pudding, except fluffier, and tasted like it was also laced with pesto.
Eggs Benedict, £7.30.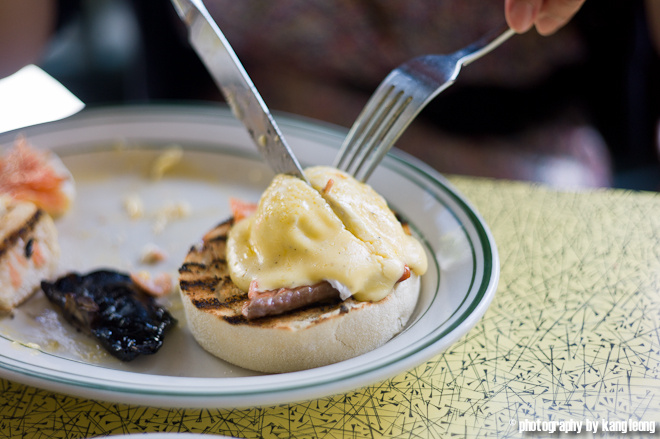 Ah, the acid test. The benedicts make or break brunch.
For such a big ticket encounter, I had commissioned the better half to carry out the very delicate operation of dissecting said benedict. She asked for a Royale – with smoked salmon – unsurprisingly.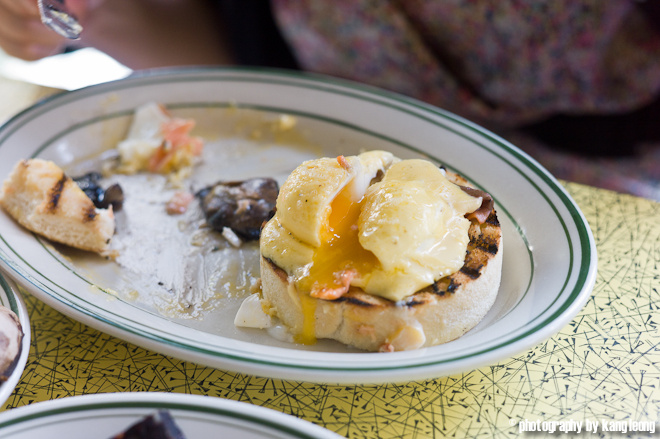 The result, I am glad to annonce, was a smashing success. Especially with an side order of extra mushrooms. Really liked the dense, charred muffin, the hollandaise sauce was rich but not too thick, not sloppy and not too runny. And I think most of the water from the poached egg had been knocked out before plating up. Thick slices of smoked salmon, now appeared to be cooking under the egg was good. The better half totally approved.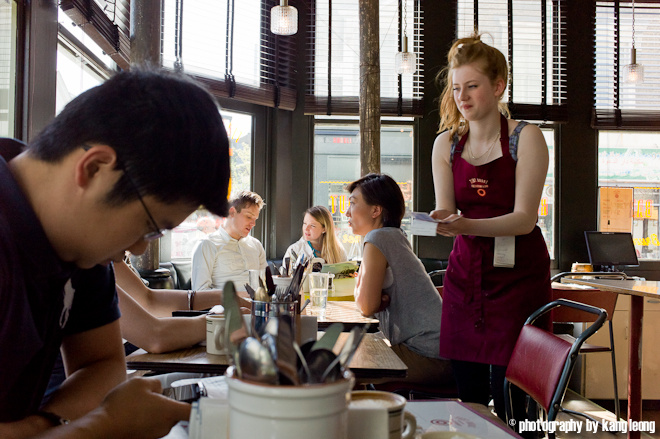 Before you shoot me for my lack of taste, I just want to disclaimer you and say that I don't know what the best brunch in London actually tastes like or actually is. What I can say however is that I had a hugely enjoyable, and relaxing time at Tiny Robot.
It's in a nice enough neighbourhood, you can read all the weekend papers, and you can spread yourself all across a table for four, with your partner in crime. Service was smiley, careful and unintrusive. Batteries were recharged at a very effective rate, and the food was heartfully delicious. Hey it's brunch, put away the knives and just enjoy the butter and carbs.
The bill came to £30.35, which doesn't include the free of charge tap water, flavoured with huge thrusts of refreshing sliced cucumber in the jars.
Where was I? Oh yes, baked alaska and signature meatballs. I will be seen at Giant Robot, and watch in glee, for the waitress to set my meringue on fire, as she douses it with something a little stiff, and a little boozy.
The Gist of It
Tiny Robot
Brunch, American, £20pp
78 Westbourne Grove W2 5RT
Tel: 020 7065 6814
Tube: Notting Hill Gate
Reviews: The Scrag End ; Gourmet Chick ; The Pub Diaries ; meemalee's Kitchen ; Eats, Drinks and Sleeps ; TimeOut London
Did you enjoy reading this? You can subscribe to the Newsletter. Alternatively, you cansubscribe to the RSS feed.