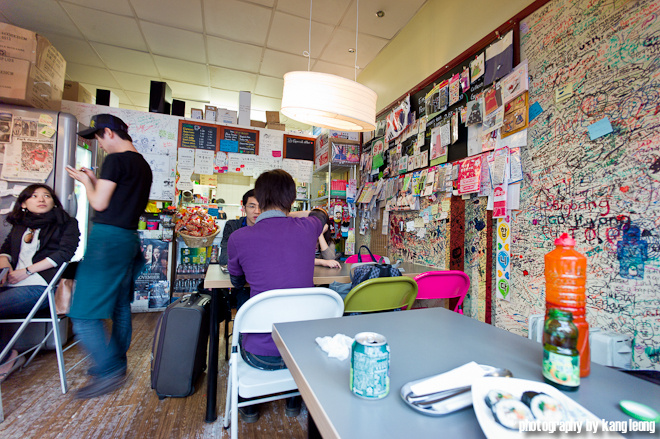 Talk about being hidden away. Not only are Seoul Bakery based in a pocket of real estate behind The Centrepoint, which so few venture to, that going there is like remembering to clean behind your ears (unless if you happened to take a wrong turn, from the buzz of picking up your next Les Paul in Denmark St); This Korean cucina goes out of its way to mask the fact that they serve actual hot, savoury delicious and completely edible food. As if it weren't enough, they appear to occupy half a shop connected to a hair salon (Azito). They also are not a bona fide bakery, as the name might suggest.
Isn't that just the coolest? And doncha just love it when you stumble across the weirdly, uniquely and dangerously indie-like caffes? It reminds me of the kind of hole in the wall cafe which I frequented during my time in Sydney. And while the indie-feel cafe movement is really only just starting up in London (hard to believe, we still ain't over the non-committal pop-up phase yet), it is something which I think, we Londoners are beginning to totally crave now.
Remember Rochelle Canteen? God I sure hope we did all we could to keep that little gem of a food haven open. We'll hear soon in April.
The space is minute, a rich tapestry consisting of apparently genuine writings on the walls, each uniquely scratched in by visitors over the duration of its existence. From the sheer variety of the messages – most of which appears to be written in Korean, as I can't make out most of it – it does seem like Seoul Kitchen has been going for a while, and those who go there, appear to have established a deeper connection to it. It's real, it's human and the sociable aspect wasn't lost on me, on this visit.
It appears to only be manned by two people, who take turn in taking orders while managing the kitchen in between to churn out the goods.
Bulgogi Beef Roll.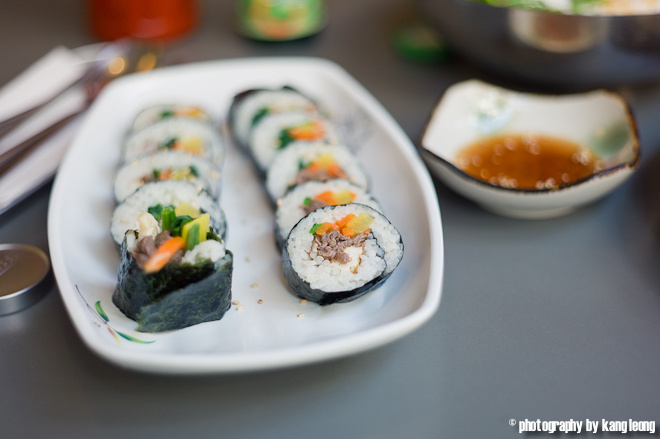 The 'fire meat' roll for a more literal translation (so says wiki), was a pleasant, homely start to the evening. Beef could have probably done with a little more wetness, but hey, this was not place to be an elitist food snob. I loved it, and it was fine.
Kimchi pancake.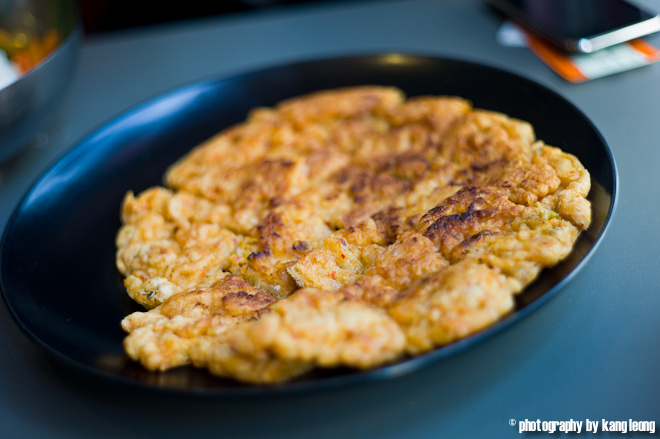 Astute Korean cuisine lovers will remind me of the kimchee pancake good work being carried out in Koba, and while this won't win any gongs, we enjoyed it just the same, if not better, for the sheer honesty in the cooking. It's homely babes, and it was (also) fine.
Bibimbap.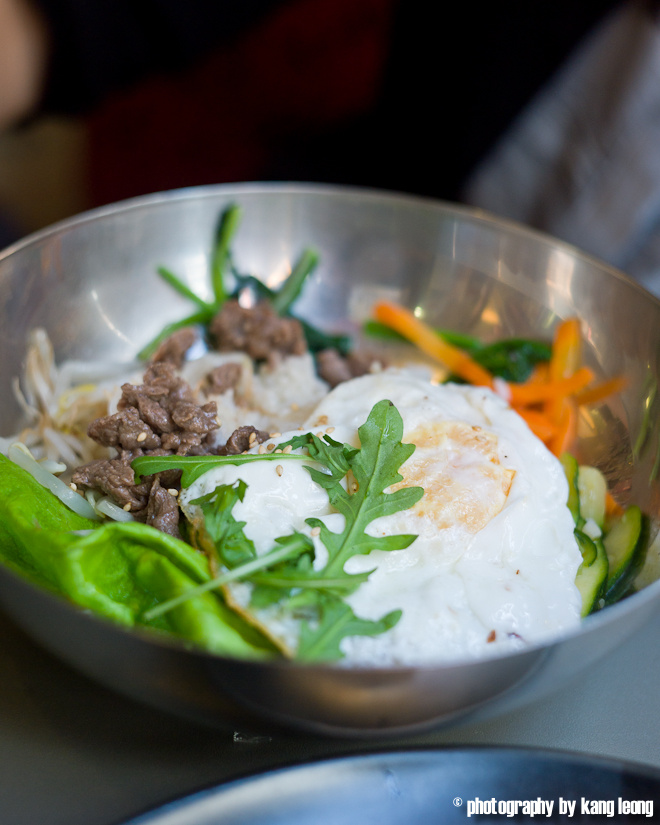 Egg, bulgogi, rice, cucumber, sliced carrots, beansprouts and what appears to be rocket leaves. Easy food for the easy rider.
I can't remember how much we paid. Probably £15 plus bottled aloe vera juice, and a can of grape juice. If you happen to be floating about St Giles, I suggest skipping the views at Paramount, bring your iPad with you, some post-it notes, and leave a little sentiment behind at Seoul Bakery.
The Gist of It
Seoul Bakery
Korean, £12pp
55 St. Giles High Street WC2H 8
Tube: Tottenham Court Road
For reference: Kimchi Soul
Did you enjoy reading this? You can subscribe to the Newsletter. Alternatively, you cansubscribe to the RSS feed.