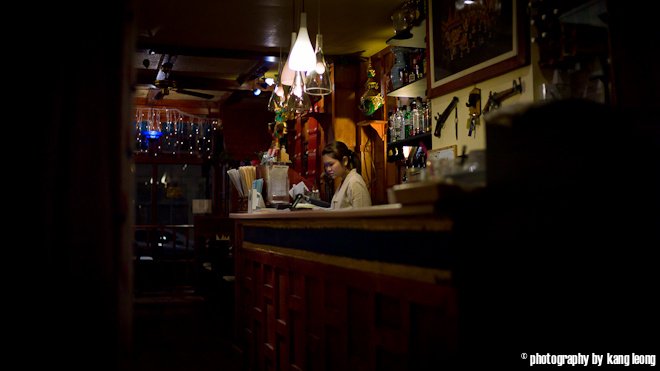 These days, people naturally assume I take all my meals outside the comfort of the home; which is technically untrue, since I do eat home-cooked food at least during half the week; it is just that I'm not the one doing the cooking. That's why she's the better half, you see. While our usual go-to pizza service is the rather decent Lupa (especially with the 2 for 1.5 deal), we can't afford eat to pizza every night – waist-wise – and there aren't any formidable (decent yes, but not formidable) Indian or Chinese take-aways around Kilburn.
I can't remember how we first came across it, either via the Hungry House portal or ordering from the menu shoved through the front-door, but I do remember making the first visit there sometime during the winter break.
The restaurant doesn't look unlike any Thai restaurant, decent sized, fitting around 15 to 20 tables, rose wood, here, there, and an all Thai staff both friendly and neighborly. We've eaten at Bhan Thai a number of times, both sitting in and take-away, and with the reasonable, take-away friendly, market-competitive prices, and of course the decent food, I felt it deserved writing about.
Kai Yang, £6.70 and Nau Nam Tok, £6.70.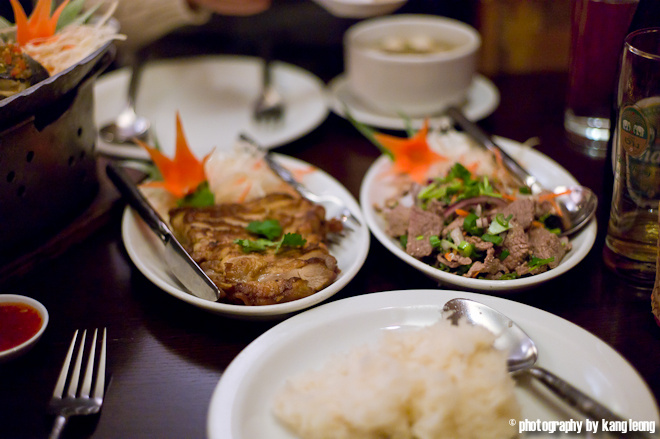 Kai Yang is de-boned chicken leg, marinated in sauces, spices and honey then grilled and served with sweet chilli sauce… resulting in tender pieces of pleasingly well marinated, with a touch of spice and sweetness, that goes very well with a bowl of sticky rice.
Nau nam tok is essentially a spicy beef salad, made with onions, coriander, lemon grass, ground chilli, ground roasted rice, lemon juice, sugar and fish sauce, that was rather mild for a Thai spicy salad, and leaned on the sweet and zesty side.
Steamed Sea bass with Lemon Sauce, £12.50.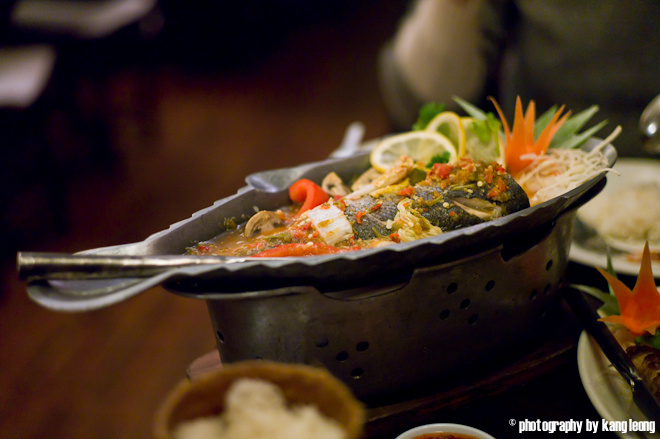 The sauce was really nice, chilli and citrus with just a touch of sweetness. We brainstormed it and thought alot of lime, bergamut and lemongrass was involved.
Special fried rice with prawn, squid (and chicken I think), £6 and Pad Thai, £4.50.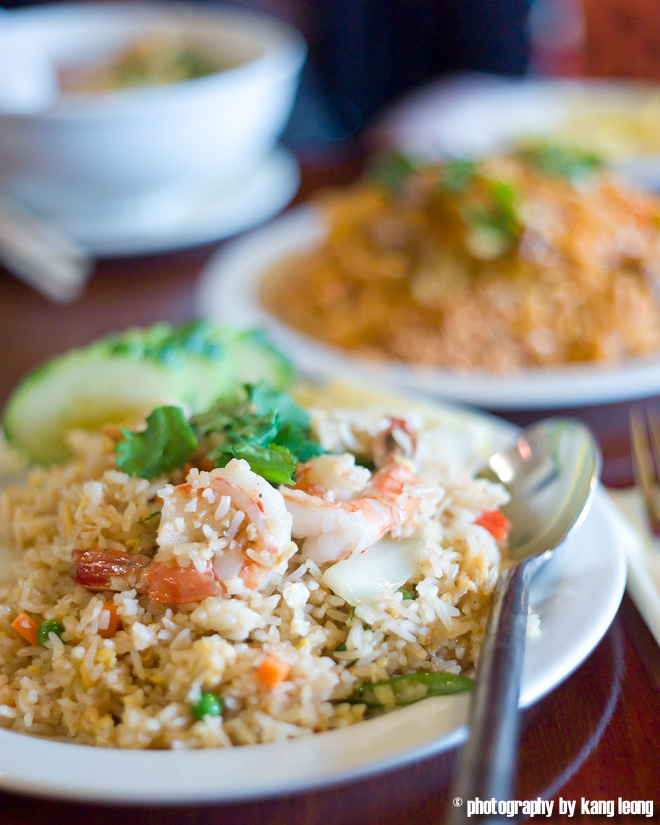 Fly-rice champion. This is their best dish, in my opinion, and good fried rice is a difficult thing to pull off. Just the right amount of oil, a nice fragrance perhaps from the seafood, and I think there was a nice depth of flavour to it. Salty, a touch of citrus, I can't quite work out what all the signals meant, but it was abit like having really good pan-fried carrot cake. I've had it a couple more times after this visit, and it's a good plate of fried rice.
For the pad thai, I believe they use chilli, garlic, bamboo shoots, vegetables flavoured with sauces and hot basil leaves… giving rise to that hot and sour and spicy and peanuty flavour which is my interpretation of what Pad Thai, and the general flavour palate of Thai food is built on. I think the best Pad Thai is at Addies Thai Cafe in Earls Court, which is incidentally my favourite Thai in London.
Chicken Curry Rice, £5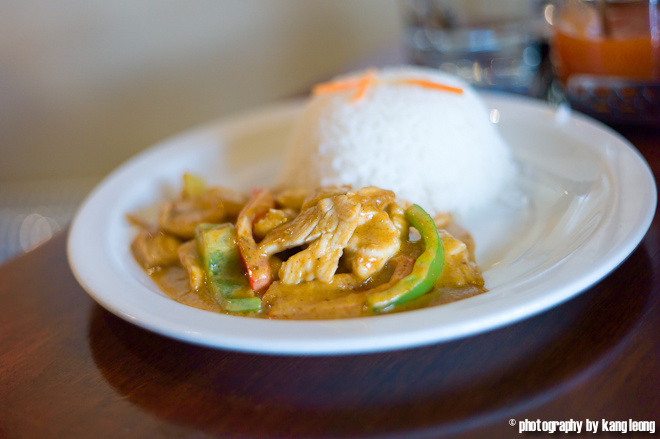 And I quote:
kaeng panaeng with chicken
a mild, aromatic curry based on ground peanut cooked with lime leaves, curry paste and coconut cream to enhance the rich flavour and has added red and green peppers for extra colour.
It was pretty good curry. Not over the top, but not bad.
Soup and noodles.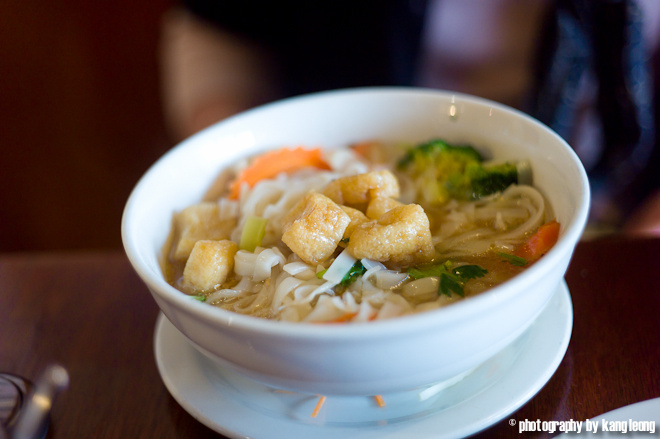 Not entirely sure what it's called on the menu, but their hot and sour soups are pretty hot and sour, which is to say it will give your buds a tingle.
I ordered the Weeping Tiger, which is sirloin steak, Thai-style, weeping on a sizzling hot plate (but in a box), for take-away a couple of nights ago, that featured alot of potent chopped chilli balanced against alot of citrus, and I really liked it too, as it also went really well with a bowl of sticky rice. Order the special fried rice with seafood and whatever meat they are willing to add to it, if you are in the area, searching for a quiet, half-decent Thai restaurant in St John's Wood, Bhan Thai is a safe bet.
The Gist of It
Bhan Thai
Thai, take-away, easy. £12pp.
103 Boundary Road NW8 0RG
tel.: +44(0)2076241485
Tube: Kilburn High Road
Did you enjoy reading this? You can subscribe to the Newsletter. Alternatively, you cansubscribe to the RSS feed.