What it must feel like to be Yotam Ottolenghi. Author of two likeable, innovative cook books; Owner of a string of likeable, innovative takeaway/café/restaurants, and the custodian of a weekly vegetarian column in Guardian. And women just love his food.
There is something extremely likeable about the brand Yotam has created for himself. It's like everything you imagined organic food – healthy, delicious and expensive – to be. There are four Ottolenghis' dotted around London, and quite a startling 15 years or so it has been for the native Israeli philosophy major. In 1998, he who had come to Cordon Bleu in London to study food before going on to solidify his pastry experience in The Capital, The Kensington Place group (with Rowley Leigh) and then become head pastry man at Baker and Spice (which I believe is somehow tied to the origin of Gail's). Eventually in 2002, he opened his first Ottolenghi and the rest is history, as they say.
It has been a poster-child kind of success story, therefore the recent opening of his latest venture, Nopi (for North of Picaddily (circus)) is expected to be a high profile – amongst the obsessive gluttons – production that should have industry onlookers salivating with undulated respect.
On the surface, Nopi looks like the latest and greatest Soho-based, egalitarian and super hip all-day diner, though this could not be further from the truth. This is not Polpo 2011, ladies, this is something a lot more precise, better choreographed, a slicker operation; equating to a ridiculously pricy menu.
Naturally, it's already submerged in overbooked sessions, being that it has only been opened for less than a month. There was no chance in grabbing a table for a late Saturday lunch, so instead I just showed up at 15 minutes before lunch service was planned to stop, to see if I could snatch a small corner table for some solo dining. I did much better, as they placed me at the bar. Décor is kept as elegantly as humanly possible, furnished to a brass and crème finish. The room is a long and narrow rectangle, and it feels rather like eating in a well-dressed and permanent marquee.
Staff are chillaxed and all smiles, the restaurant has a generally laid-back attitude about it, which is rather modern of them. They appear to carbonate their water, and the choice of still or sparkling is on the house.
The ambiance is something Alan Yau would be proud of, understated slickness, all the small touches you expect restaurants to get right, they have got right.
Everything came with a smile.
Kingfish carpaccio, curry powder, lemon oil, shiso, samphire £10
The luxury thick cut carpaccio, the densely buttery texture that melted accordingly, not unlike a Tsar cut of salmon. Crusted with curry powder and then drizzled with lemon oil that set off an ear-ringing zestful charge of citrus. The shiso and samphire was ample for decorative purposes, I think. This was a small platter of glorified sashimi, executed in splendid fashion. It was hard to fault it, in fact I loved it, though I couldn't shake the feeling that this could well have been done before, such as say the Nobu new-style – wet, drizzly and zesty – sashimi. Is this really worth a tenner?
Twice-cooked baby chicken, lemon myrtle salt, red pepper sauce, £10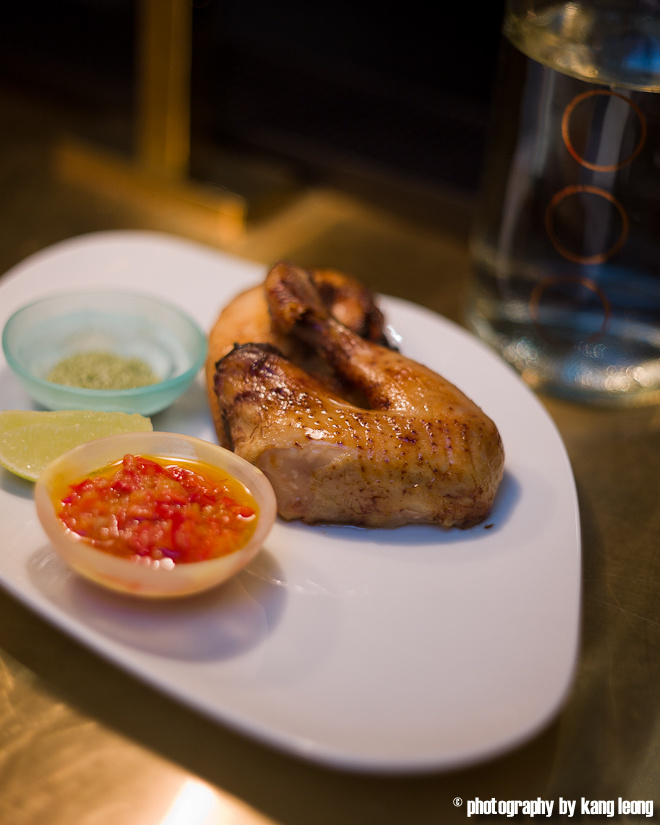 Next up was the first broth-boiled, then grilled, twice cooked baby chicken. Sweating with lovely chicken-stock juices. The sweet chilli mix it came it was very good, the chicken itself was reminiscent of soya chicken, redolent of chilli, broth, ginger and spring onion. But again, I couldn't help but experience another bout of deja vu, that this apparently innovative recipe had been done before elsewhere, and in this scenario, a Chinese soya chicken rice recipe. It is not better than Uncle Lim's Hainanese chicken rice recipe in my humble opinion, and I am mindful of the fact that Nopi fuses Medi and Asian recipes, but I find myself asking the obvious question : Is any single chicken wing and half a thigh really worth ten pounds?
It didn't even come with a small bowl of stock infused rice.
Slow cooked pig cheek, celeriac and barberry salad, £10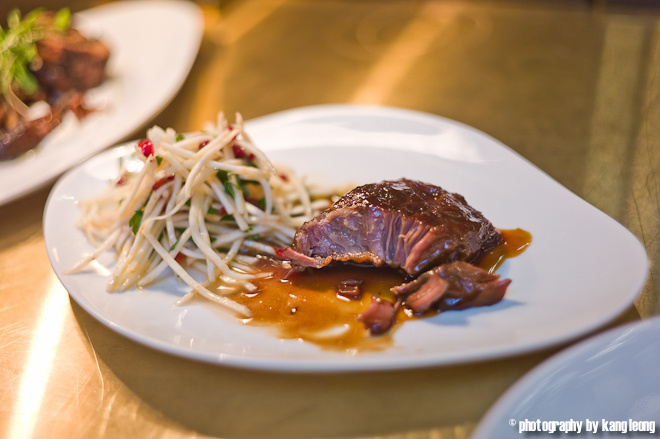 By the time the third dish landed, I was sold on the fact that this kitchen could cook anything. Everything was delicious, like this buttery tender, superior slow cooked cheek that easily put the Brindisa version to shame. It was intense. Served with an extremely citrusy shaved celeriac salad, which for some reason, failed to equalise in flavour, and was palate piercing instead. Luckily the sourdough was fantastic, and helped to soak up and dilute the strong flavours. It carried a subtle bitterness, as if it was made with tea leaves.
Baked lamb belly, mixed mushrooms, sumac, £12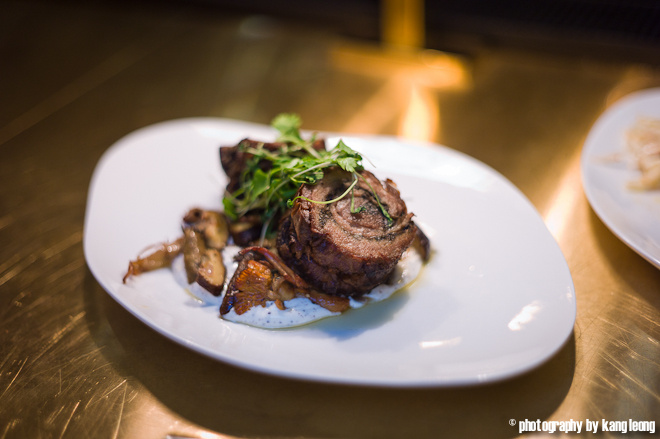 The procession of savoury hits reached a summit with this dish. I loved every bit of this highlight of muscular on muscular flavours. Sitting on a bed of yoghurt (or crème fraiche), the soured cream took the edge of the intensity of the mushrooms, for the gloopy texture of the cream against the mushy fried 'shrooms, I felt it created a very stylish texture. The rolled lamb belly was expectedly pungent, but in this tirade of strong flavours, it was not overpowering, rather it was just succinct.
Pineapple galette, pandan, coconut ice cream £7.5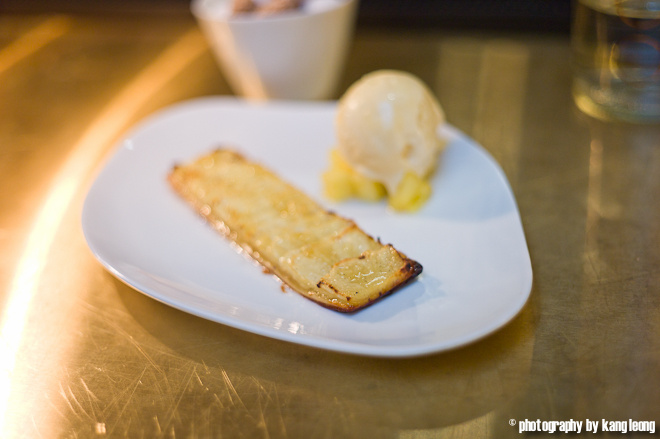 The smell of sweet, hot, burnt, sugar over hot, sweaty and burning pineapple. The winner was the exceptionally thin crust, the pineapple slices sat on, producing just the slightest crisp. The clotty and dense coconut ice cream was regal. Thicker than any gelato than I had ever eaten. This was an ace pudding. It wiped away all the previous strong flavours and left me with a cooling sensation.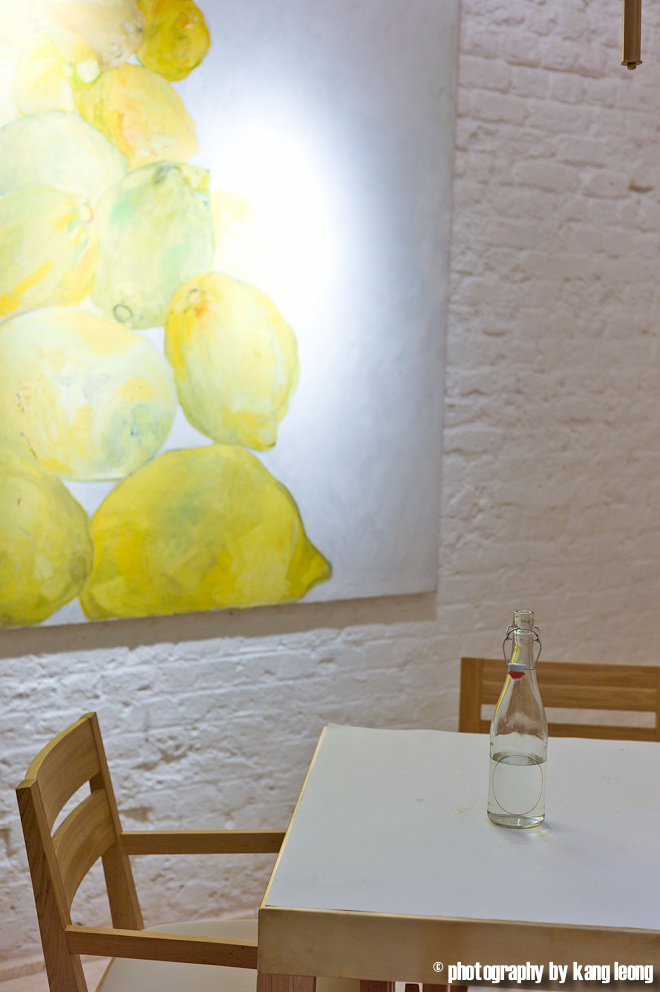 The meal was fabulous. I could not fault it for the cooking and for its sheer likeability factor; I believe it is poised to be overbooked for many a cold night in the months ahead. However, I just cannot shake the feeling that they have pumped so much hard work in dazzling clientele that they have managed to fool everybody with their pricing. Plus a double espresso and five small plates of food, the bill was a whopping £58.50 – one hugely expensive all-day diner.
Granted for those who flooded the restaurant during the 50% soft opening, may have glossed over the bottom line after a couple of glasses (I would have too), but I just can't see myself choosing Nopi over Polpo or even Polpetto, since the concept of sharing platters are so similar; save for that the latter restaurants are so much cheaper, and are more generous in terms of portions. On the otherhand, the food at Nopi is tastier, the recipes are better, and the atmosphere isn't so rowdy.
Contrary to what the menu says the small plates are designed for (sharing), I don't think they came out as intended. Portions are laughably tiny, even for one, let alone to be shared. Take the chicken wing for example, surely the most expensive chicken wing in London. If they were truly for sharing, I believe they needn't suggest a recommended three savouries per person.
Nopi feels like a resurrected Maze (remember that?), another restaurant that has a menu built around the idea of sampling alot of successive small dishes. I feel that the Nopi portions are not big enough to be shared, but that they are just adequate for one person wanting to taste abit of everything. I had five dishes by myself, and I don't think I would have enjoyed splitting those dishes with anybody else. The dishes did not seem scoop-able or partition-able, it might work for a couple but certainly not divisible for more than that.
The good news is that the cooking is just amazing. At least based on this one visit. Everything rolled out of the kitchen with panache, zest, passion and sheer umami.
In the end, I found Nopi not to be groundbreaking, rather I thought it was refreshing. The recipes are recognisable and are not alien to our palate. They are however, slickly repackaged, and exceptionally cooked. Fusion can swing a lot of ways if done incorrectly, but I think Nopi has got it under contol, and got the recipes just right. I think Nopi is what Kopapa should have been.
It brings the same rebooted feeling that Viajante has brought to the blurred fantasy of one global cuisine. If Viajante is esoteric folksy jazz, then Nopi is mainstream, bubblegum pop. Because of the menu's apparent liberal nature, I believe it can only evolve to become better, as the chefs get bored with/refine their recipes. And as the loyal patrons, we have reason to keep coming back for more I suppose.
A great start, that comes with a hefty price. For now, I shall be happy to pay the price, but it probably won't be long before they introduce some kind of set lunch menu. Lest it becomes a deterrent in light of the fact that there are so many nice things to eat in the city, for a lot less money.
The Gist of It
Nopi
Fusion, Medi-Asian and expensive. £50pp
21-22 Warwick Street W1B 5NE
Tel : +44 (0)20 7494 9584
Tube: Picaddily Circus
Soopi : TO , Wennie's Affairs , What Katie Does, Tofufa , The Bountiful Plate ; The Skinny Bib , Winkypedia
Did you enjoy reading this? You can subscribe to the Newsletter. Alternatively, you cansubscribe to the RSS feed.