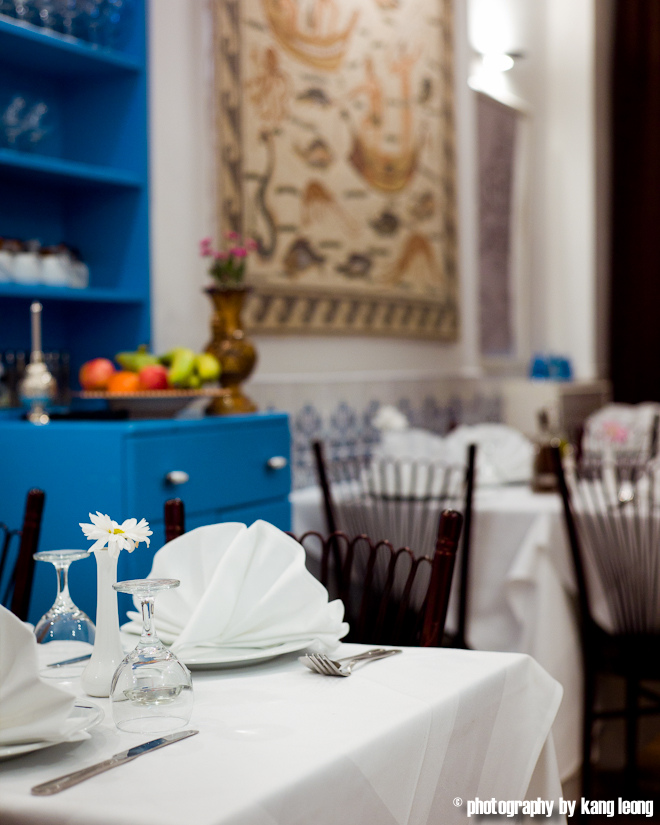 Shortly after my visit to (probably) the first authentically Tunisian restaurant to open in London, I went on Wikipedia to read about the history of modern day Carthage, and the variety of its sun-kissed cuisine. There has been a movie made about La Goulette – the diminutive port town – titled "A Summer in La Goulette" that tells the tale of three young women, and their summer of frivolity at this coastal town off the capital of Tunisia, in the late sixties. The name is derived from gullet representing the channel, in which the harbour town is based. As it is the brand new year, maybe a trip to this part of the world is not such a bad idea. Just look at this website.
Back in Kilburn, freezing my balls off the week before Christmas, we noticed a modest restaurant opening, next to our dry cleaners. Tunisian food was completely new to me, so we thought it was a good idea to give it a try. We were greeted by an affable gentlemen, Tunisian I gather just as much, in his middle years, welcoming us into what appears to be his family restaurant, furnished with props, apparently from an auction of the Cleopatra movie. The Carthaginian boudoir ambiance was very different, but cosy.
Flurry of appetisers, £free.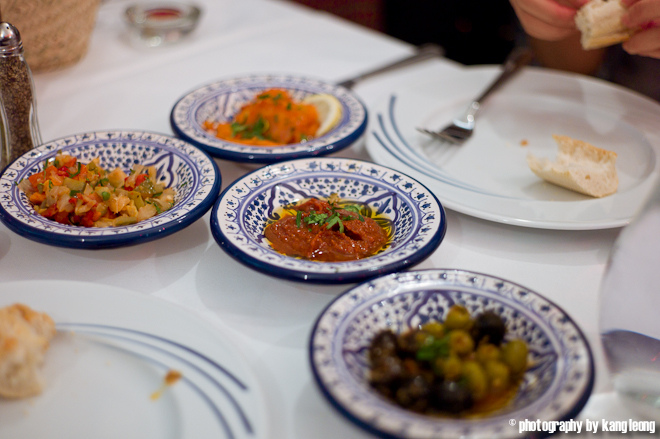 The cuisine is much like the rest of the Mediterranean, rich in colourful spices, olive oil and lamb. The pre-starters were on the house, harissa, pickled carrots, marinated olives and a basket of sliced baguette. We were nearly full… and we were yet to order.
The menu expectedly follows the Mediterranean trend, recognisable names include tagine and cous-cous, a Breek menu as well as a selection of Tunisian soups.
The fish soup, £3.75.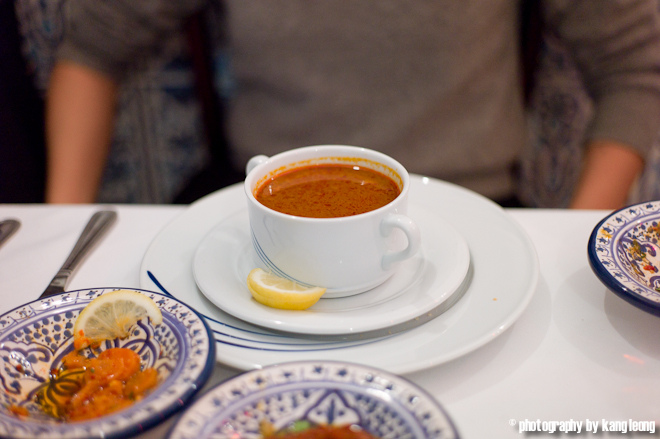 "Cooked with vermicelli and small pieces of fish in cumin, garlic, harissa, olive oil and fresh tomato sauce" – I hazard a guess that the colour comes from the hot harissa sauce. It smelled much like a Bouillabaisse sans saffron, and tasted like they do in French bistros. The better half enjoyed it, and I thought it agreed with the baguette very well.
Tunisian Breek, with Tuna, £3.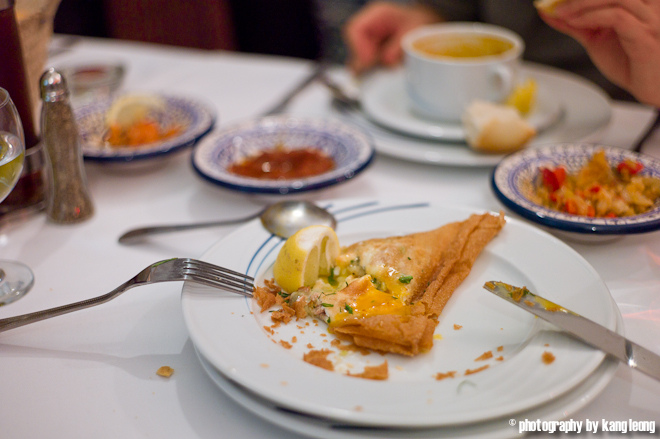 For its pièce de résistance, La Goulette proudly presented me with the Tunisian breek. Wrapped pastry, deep-fried, with chopped parsley, potatoes, capers tuna and a runny yolk. Served piping hot, it was unimaginably edible, the crispy wafer-thin pastry was addictive, and anything with capers and a runny yolk had to be good. The best thing we ate during the evening, and we could easily have ordered three more.
Calamari Cous Cous, £10.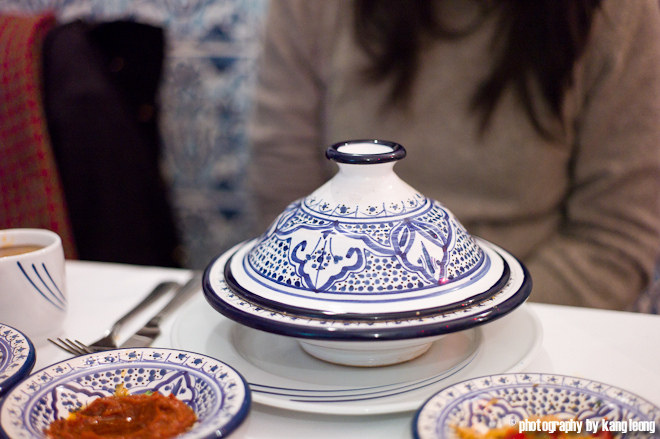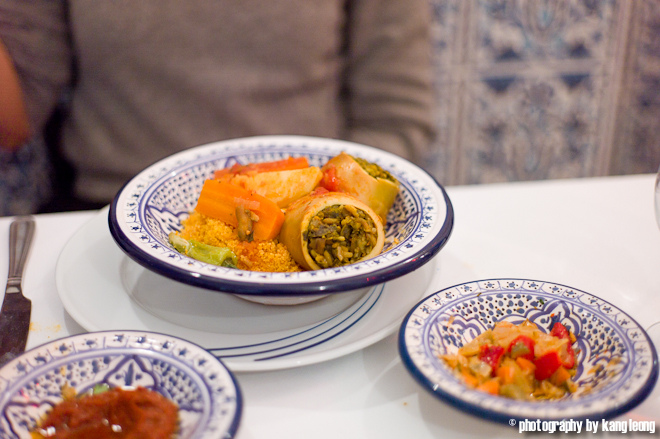 There is an entire section dedicated to couscous, Tunisia's national dish, and so the better half had the pleasure of sampling the stuffed calamari rendition. Tunisians pride themselves as purveyors of the fluffy stuff, and are arguably one of the best the region has to offer, and I hazard a guess that they cook it in a couscoussière, a North African invention which is basically a double steamer exclusively used to make couscous taste brilliant. While the couscous were fluffy, it was sadly a little under seasoned. The stuffed calamari was good however, and the portions were massive. I'm no couscous expert, but to my untrained palate, there's very little to write home about this rather bland dish.
Kousha Alloush, £8.50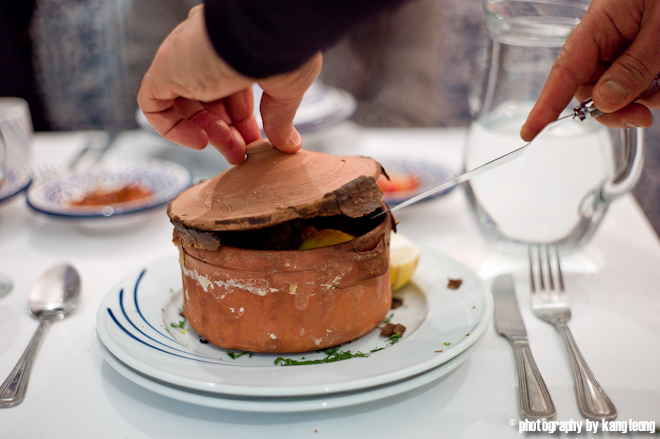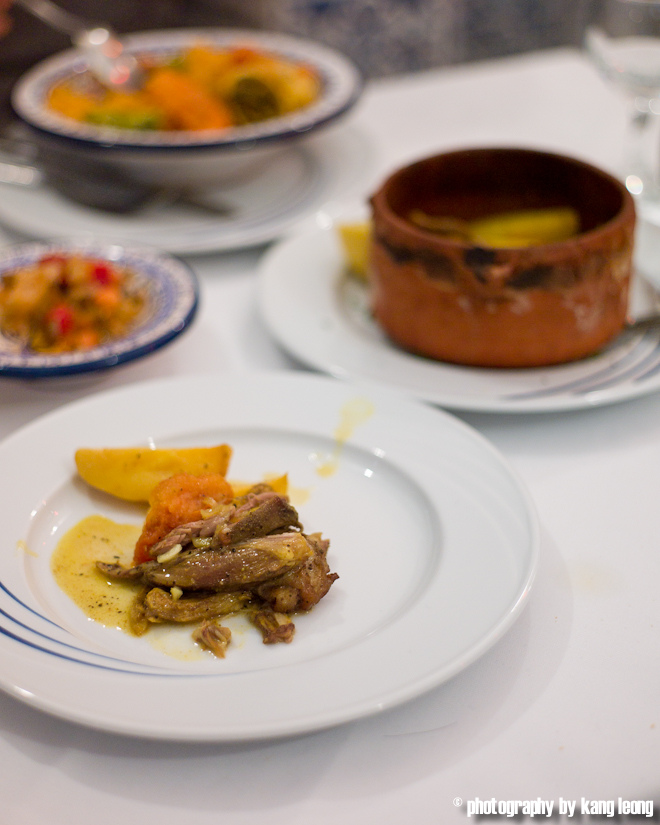 Top marks for presentation. I scooped out the poorly piece of lamb chop, with onions, pepper, fresh tomatoes, and far too much potatoes, in the entirely claypot baked dish. I don't recall much of the saffron-spiked sauce, aside from it being rather watery, rather thin and ultimately quite bland. For a cuisine that boasted spice, this dish was tepid.
To finish…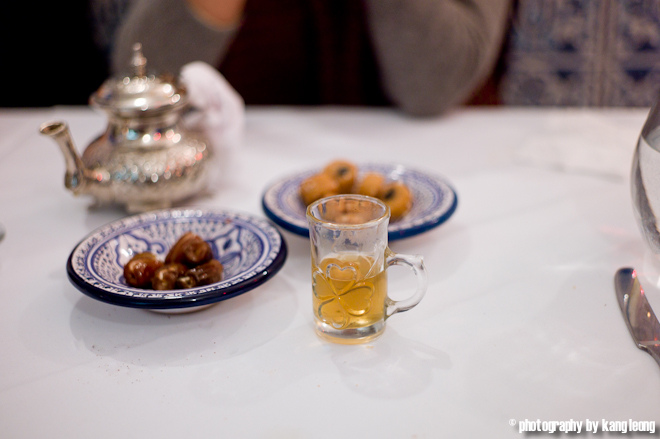 Sweetened mint tea, dates with almonds and a pistachio sweet that resembled baklava. A quaint finish.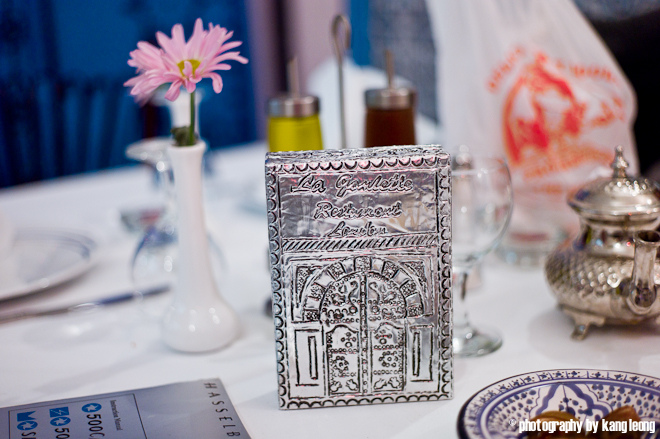 As of 2011, they have received a license that allows 'entertaiment' in the form of belly dancing every weekend (you must watch the video). I've seen similar acts in other Med restaurants in town, for bum and belly enthusiasts really. It makes for a jolly good show, if you'd never tried it, while wolfing down couscous.
I think we paid about £25 for the meal, fantastic value for money, but then again, what isn't on Willesden Lane. If you make a hobby out of visiting off the beat, family restaurants who care for diners like their mortgage depended on it, then you might be charmed by the spell that is La Goulette. Honestly, the main courses were abit of a bore, but in my estimation, the rest of the menu was pretty good. I'd happily swap the takeaway pizza, burger or pad thai for the occasional breek and belly dancing.
Happy 2011 everybody.
The Gist.
La Goulette
Tunisian £20pp
51 Willesden Lane NW6 7RL
Tel: 0207 624 5800
Tube: Kilburn
Did you enjoy reading this? You can subscribe to the Newsletter. Alternatively, you can subscribe to the RSS feed.