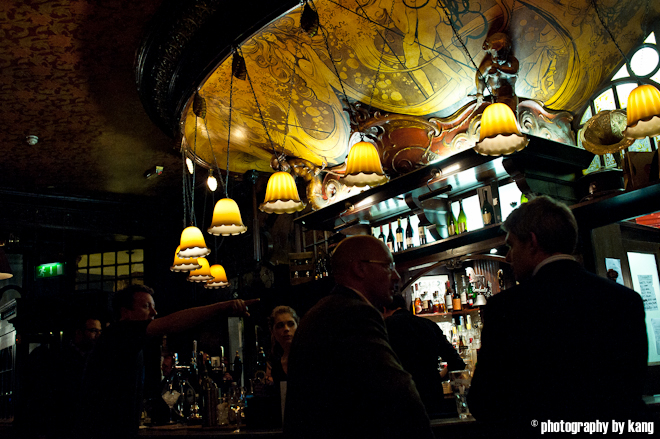 As part of our entertainment plans for out of town friends who had drifted into the Smoke for a weekend break. We sold them the idea that London was a treasure trove of brilliant adventures, whether it'd be food, theatre, the arts or history. The rest of the other criteria were suitable met with walks along the river, taking in The Lion King, and a hugely productive trip to Primark. They brought us fantastic Polish sausages, and in an effort not to be outdone, I thought I'd pick a sure-fire British gastro-brand to match their gratitude. This was a chance for me to knock multiple birds with the same stone, take them to a pub, that served Brit food, plus a blog post (this one) for me.
So off we went to The Warrington in Maida Vale (which is also home to a fantastic wine merchant called The Winery, mainly for German Spätburgunders and Rieslings), one of Gordon Ramsay's pubs with a dining room. I especially took to the intricate interior, witchery and goth, exaggerated details that were apparently borrowed from 19th seafaring ships. This building was at one time, a plush brothel in the late 1800's. Apparently, the use of 'Randy' to describe libertine behaviour came about from the antics occuring at the Warrington during that time; it was situation just off randy Randolph Crescent.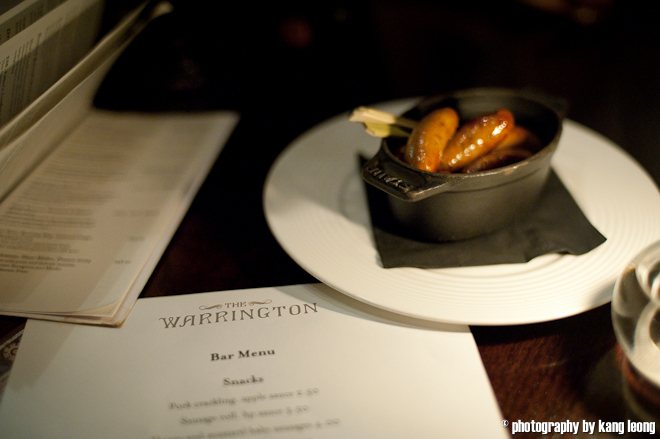 The staircase was epic like something air-lifted from a major ocean liner, it leads upstairs to a typically Ramsay-esque, stiffy dining room for 'serious' foodies. Our guests were not really into clenching their butt cheeks, and besides, they were more intrigued with the whole malark surrounding pub grub, so we elected to stay downstairs and ordered from The Bar Menu.
On this Friday night, the neighbours poured life into the Warrington, coupled with the spooky atmosphere, it was like a Pirates theme night. Vivaciously arggh…!
We started our private soirée with a selection of fine British ales (well, bottled beer anyway, Meantime Chocolate beer and Innis & Gunn's awesome rum cask aged brew) paired with honey and mustard baby sausages (£4.00) , which were nicely cooked but no match for the sausages they brought over with them.
Pork crackling with apple sauce, £2.50.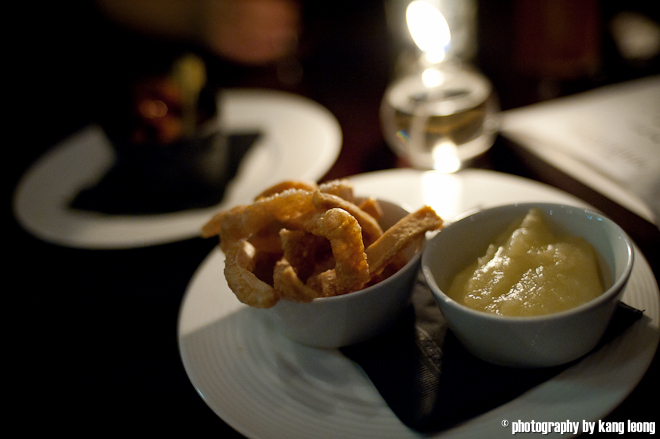 These were horrible. It was so tough, that when I bit into them, I felt the equivalent of an earthquake going off in my skull. I felt embarrassed these were so bad, citing to our guests that crackling in this country were usually much better and were not supposed to be jawbreakers.
I could have sworn sabotage, as my curry chips failed to turn up on the table.
Pork Pie, £3.50
At least the buttery pastry was good, so all three bar snacks were nibbled by me, but were left untouched by the rest of the table. Sigh. British food well beaten at this point.
The Warrington burger £12.00.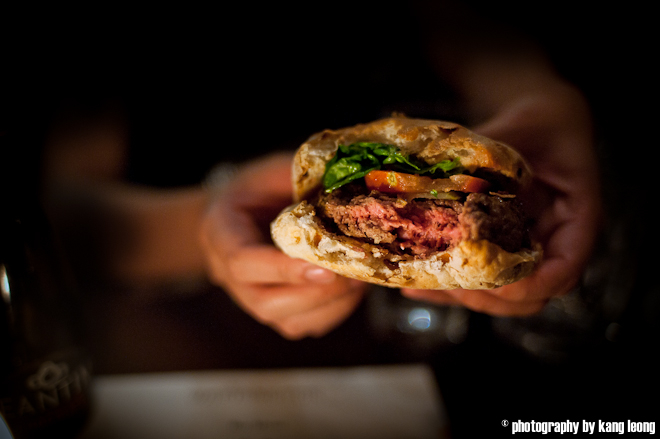 The better half indulged in the beef burger, served on a wooden board with dripping fat chips. Cooked absolutely spot on, bloody and beefy, while a good effort, it won't put a dent on the sterling 'British' burgers such as Lord Byron's or Hawksmoor. We enjoyed the beefy patty nonetheless.
What do you make of the photograph? It is actually an emulation of something from the Food by Mark Portfolio. Don't tell him I stole his idea.
Breaded coley pieces with chips and tartare £8.95.
Six points for styling, two for miniscule portions and minus sixty nine for not including some mushy peas. A pub that doesn't even do decent fish and chips… sigh.
Lamb leg steak with spinach, chips and rosemary sauce £15.50.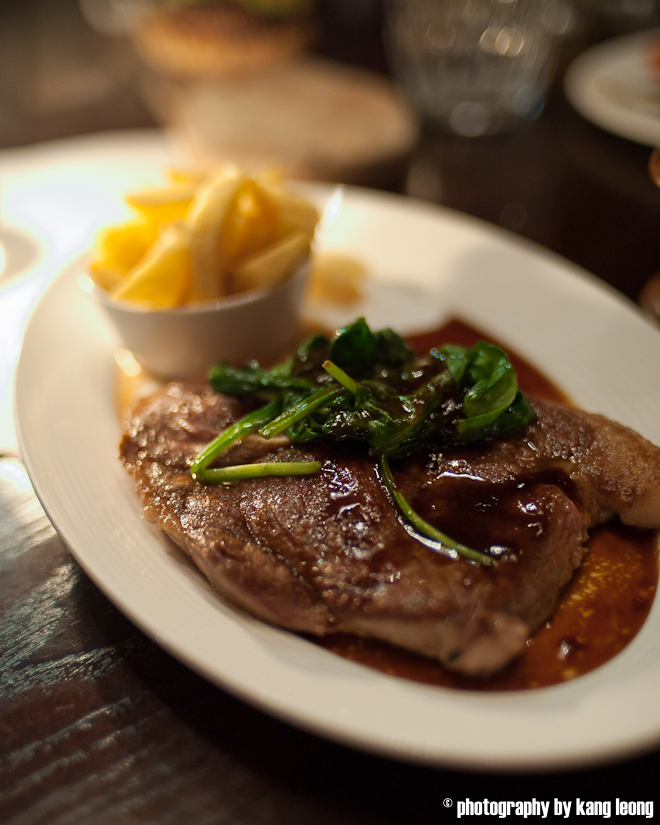 As per usual, I ordered the most expensive item on the menu, but was woefully disappointed with the gummy and rubbery excuse of a lamb steak. It threatened many times to turn into flying latex as I struggled with dear life to cut into the piece of meat. Mein gott, at least tenderize the damn meat, man.
We paid £91.74 for five people, food plus two pints per person.
This isn't a negative review, I assure you, because we left the pub as five merry persons, happier than when we arrived. The atmosphere is conducive to cheekiness, staff are the friendliest of chappies this side of North London (EDIT: By North I meant West) , and the buzz is so excellent that everytime you pop upstairs, pass the dining room, to visit the loo, you are tempted to feel pity for the patrons in the adults only restaurant, who one assumes, can only endure so much butt clenching. Wahey wahey, who am I to pre-judge when I haven't visited the Restaurant which is meant to be rather decent (see b'low) though. Back downstairs, I think it's a nice pub, the beer list alone is worth the visit (not that I'm the alexpert), which I suppose is the point. Plus it is GRH, so quality is at least assured… well.
Better drinking downstairs, probably better food upstairs.
The Gist.
The Warrington Bar
British, £20pp
93 Warrington Crescent W9 1EH
T: 020 7592 7960
Underground : Maida Vale
Grab your fork! Sexton for The Standard ; A girl has to eat for A Girl Has To Eat ; Tehbus for A Rather Unusual Chinaman ; Mimi for Meemalee's Kitchen ; Rayner for The Observer.
Did you enjoy reading this? You can subscribe to the Newsletter. Alternatively, you can subscribe to the RSS feed.