And with a whimper of a bang, 2010 has finally arrived, Happy New Year folks. I trust everyone celebrated with enthusiasm and alcohol in equal measure. Myself, I watched the neighbours light up their backyard with a modest display. The lights, the sleeping in, ohhh the Jack O'Shea porterhouse… all still vividly lingering at the back of my mind. It certainly feels like a million years ago since I last wrote about a restaurant, was I ever a food blogger? So the end of year break has given me much needed R and R, and also time to finally try out some restaurants which eluded me in '09, and amongst them : Galvin Bistrot de Luxe. This restaurant was one of the most widely blogged about restaurants in 2009; or at least many of the bloggers I read had been and raved about the food; In fact the press has been so positive that I haven't read a bad review as yet.
It has been around since 2005 and is oldest of the four Galvin restaurants which are currently taking the capital by storm. These restaurants are set up by brothers Chris and Jeff Galvin. Chris in particular has had an illustrious career which included stints with the Conrad group to the opening of the Wolseley, an interesting read to say the least. The Galvin restaurants are now gaining a heady reputation among the gastro republic, and as I write this, I can't help but be planning my next meal at La Chapelle – the latest square mile version of Galvin – which has had Marina cooing (see her review here.). So this meal cannot be bad, so I tell myself. I was a little surprised at how elegant the restaurant looked inside, you couldn't tell from the outside, which is completely unassuming with nothing but a dark coloured sign and with the curtains hiding the interior. The first thing I noticed was the stone floors, and then the high ceilings, with casablanca style (I'm reaching with this reference) black wooden ceiling fans. Our table was toward the end of the dining space, walking the length of the bistro, we noticed how large the restaurant was. As I sat down, I looked back and noticed a rectangular cut out from the last wall – it revealed the kitchen. I am not one to pigeon hole eateries, but I did find an interesting thread on chowhound which debated the differences between restaurants, brasseries and bistro(t)s. Apparently, if it has flowers on the table, its not a bistro.
Galvin Bistrot de Luxe does not have flowers on tables.
So the main attraction of Galvin are their prix fixe menus. £15.50 for three courses during the day; £17.50 during dinner, very nearly everyday. Being the 'professional' I so aspire to be, we tried both their set menu and also ordered from the a la carte during this visit. I was glad to see the set menu read more like a sub set of the a la carte, rather than a completely separate budget version. My original choice of starter was suppose to be the pumpkin and parmesan veloute – this was on both menus, and so we ordered it as part of the set menu.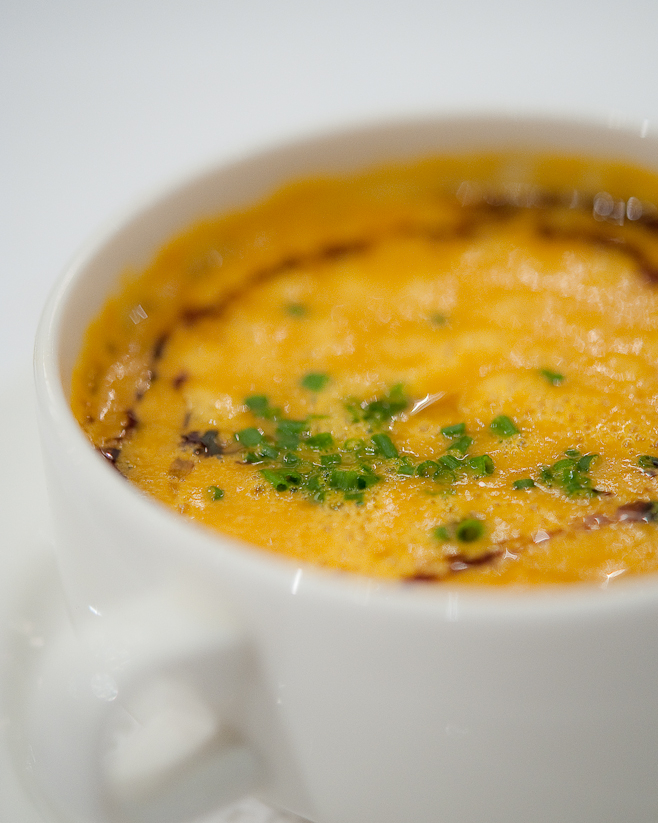 Rich, thick and creamy. The fibrous pumpkin complimented well with the sharpness of cheese. A good soup warm all the way down. I liked it so much that I defied etiquette and was reaching over with my soup to try and finish my partner's soup. Yummy and hearty. I finished the soup for her in the end.
On my end of the table, I went for something abit more classical, Rillette of middle white pork. £7.50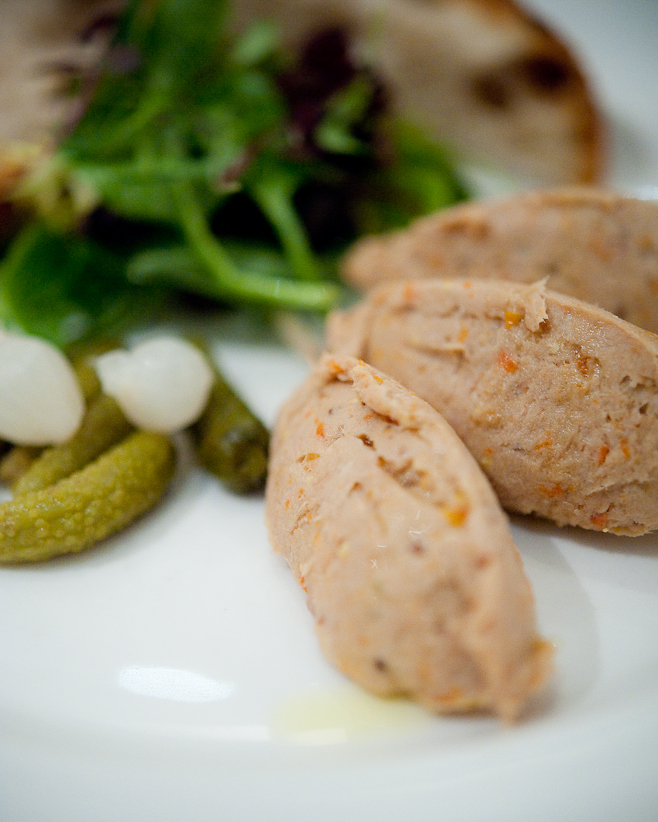 Talking again on benchmarks, my most recent experience of pork rillette was at Racine. I didn't take toward the Racine rendition as it was covered in a huge wadge of – what appears to be – runny fat. In complete contrast, this version was as dry as a bone. Strangely enough, it was reminiscent of tuna flakes in mayonnaise, it was hardly enticing, and I think some would appreciate the subtle flavours, personally I felt it was a little underseasoned, and so abit bland for my young palate. Served with pickled gherkins and shallots, toast and some salad on the side – all very Parisian to me, it was ok, above average.
Right then, starters were good – I preferred the soup to the rillettes. Now on to the mains. Let's start with the a la carte : Pithevier of red leg partridge, foie gras. £19.50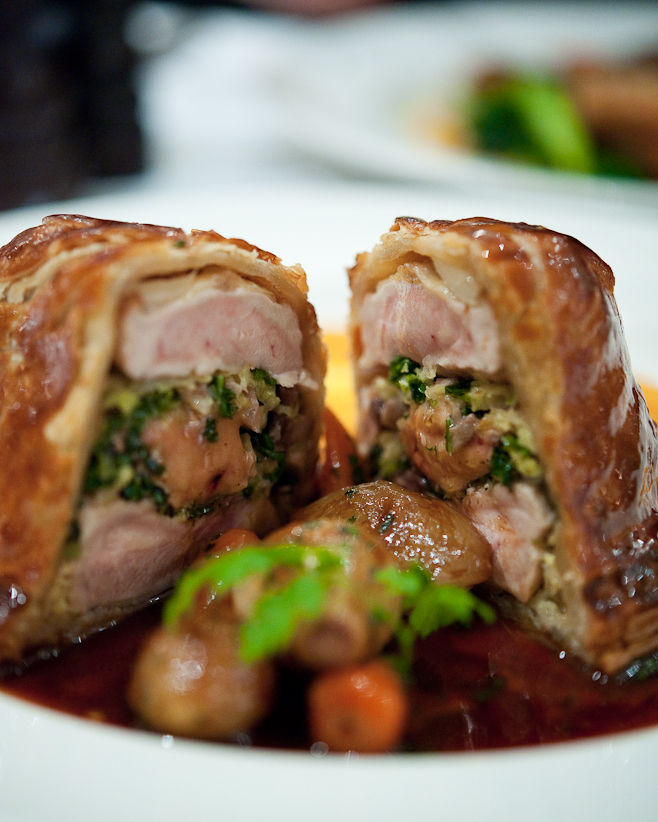 I had to google what Pithevier meant, and this little exposition was the best explanation I found. As I understand, the Pithevier is a kind of French puff pastry pie, and is named after a French Town in Orleans, called Pitheviers. Anyway, so this one is stuffed to the brim with breasts of red leg partridge – supposed to be the mildest of the game birds – along with a good serving of foie gras and what appears to be cabbage. It came sliced down the middle and served with shallots and carrots, finished in a jus. Presentation wise, it was impressive, so much so that I photographed it from all four angles. First of all, that glistening crust was a godsend. Really moist, buttery inside and crispy on the outside. It protected chunky partridge breasts, cooked to well done. Stuffed with foie gras for flavour, the dish was alot less gamey that I had expected. I will admit that game birds aren't really my forte, so I was glad that this was so easy to eat as I finished it without having to resort to diluting with several glasses of red. It was a deceptively large portion, I was just as well stuffed as the pithevier.
On the other side of the table, we had a simply grilled salmon on a bed of vegetables.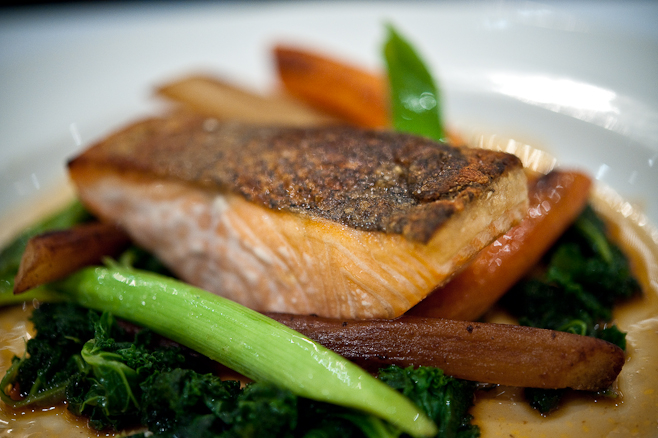 The salmon was cooked to a perfect pink with the centre still oozing oil as you cut into it. The fish was tender, as if it had been slowly kissed by heat. I could find no fault with this dish, easy to eat.
Finally, we ended with the prix fixe pudding of nougat glace, I just didn't have room for a choice of my own and opted to finish with a single espresso.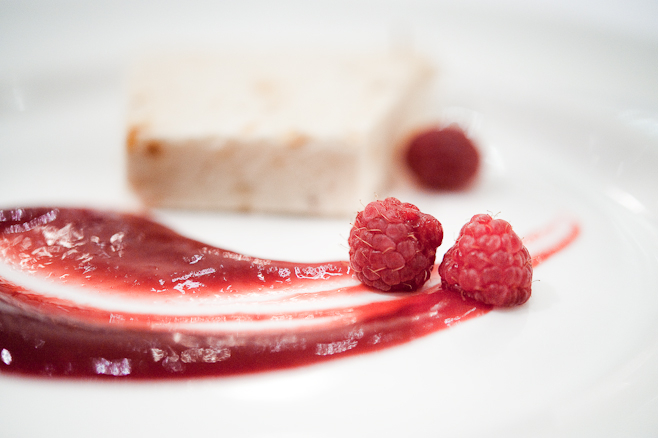 The glace was much like eating whiffs of cold air captured from the Alps and then brought back to life as a pre frozen pudding in the Galvin kitchens; Served with a raspberry coulis – and a couple of raspberries – it was a light end to a delightful meal. All in all, I enjoyed the food at the Bistrot de Luxe, and I could see why so many had found favour with this establishment. To my surprise, I actually preferred the price fixe menu to the ala carte, gastronomically and economically – something that rarely occurs on my restaurant outings. The £15.50 deal is a steal, and most importantly the quality of the food is as good as it gets in similarly priced restaurants around town. In the end, we paid £54 plus service. Galvin Bistrot will be replacing my usual recommendation of Wild Honey for 'budget fine dining', as I feel that this really is the benchmark (for me at least).
The ambiance is lovely, projecting both an air of slickness and an understated humbleness. It is the quintessential neighbourhood restaurant, a restaurant where I could sit all day to enjoy a quiet lunch. Service was notable, the maître de gentlemanly and ever so charming, greeting his patrons at the end of every course with but the warmest of smiles. A couple of chocolate truffles on the house guaranteed that I gleefully sipped my espresso as I paid the bill. Looking around, I saw entire family gatherings both of multi generations, and also of newly emerging families, all very PG-13 – a good sign, as I suppose, a restaurant where you would take your kids, and your dad at the same time, must be a good thing. If I was a picky 12 year old and my dad took me here, this place would make a lasting impression on me. Recommended.
More photographs from the meal here.
Here are some reviews written by other esteemed foodbloggers which you can also refer to in case you need to make an informed decision to try Galvin Bistrot de Luxe : The Epicurean ; Gourmet Chick ; Greedy Diva
The Gist of It
Galvin Bistrot de Luxe official site £15.50 pp for price fixe 3 courses.
66 Baker Street W1U 7DJ
Tel: +44 (0) 20 7935 4007
Tube: Baker Street
Did you enjoy reading this post? Why not subscribe to my feed updates for free. Alternatively, You can subscribe via email.