Many many moons ago, people used to refer to me as 'Leong'. And several moons after, I became a legend, and I galloped into the sunset with my silver stallion and lived happily ever after. No, I'm kidding, but I did (and still do) go by Kang L(eong), Leong being my surname for anybody who is wondering. I think it translates to 'Gentle', so you can all refer to me as Mr Gentle from now on (perhaps a reflection of my skills in the boudoir….?). This (of course) has nothing to do with the Taiwanese restaurant we're going to talk about, which is now so successful, it has open its second legendary outpost. Let's find out if indeed, the legend does continue.
Where is the love?
I was a little confused to find that after eating at Leong's Legends, I walked past another Leong's Legends. Surely, Chinatown ain't that small; puzzled, I felt a black cat moment there. Free your mind, Neo. Either it was a really big restaurant with multiple entrances, or they have opened a new branch (what fantastic logic, mr gentle). Anyway, Continues – like many Chinatown restaurants – is spread over multiple floors, and we had to scale very cramped staircases until we finally hit the 3rd floor that could accommodate us. I love all the faux rose wood they have used for the furnishings and the low hanging lights are just great. Bit like a mass produced version of Hakkasan. (wait, isn't that called cha cha moon?)
Chilli chills
The menu reads well, a lot of faithful Taiwanese classics, a statement backed up with a recent trip to Taiwan. I spotted 'Thousand Year' egg with tofu, mmmm… and the oyster pancakes, mmm… and stuffed breads, mmm….
I was on the bench for this one, and I left it to my Taiwanese bred compagno to make the decisions on what to eat.
Dish number one is boiled pork belly slices with a very intense garlic paste on the side. The blandish meat didn't taste like much, but it did have quite an intense chilli hit in the after taste, my throat was positively flaming. I chose the douse those flames by dipping the meat into the garlic paste, but man oh man – it was probably strong enough to fend off Dracula… ok in keeping with times, Edward, no no, Bella.
Gluten
Next, I sampled the bamboo rice with scallops.
Yeah it wasn't bad, full flavoured and the choice of going with scallops definitely a prime contributor to the umaminess. However, the glutinous rice was verging on being too dry. Not enough stickiness or density. It was forgettable…. next?
Mono sodium glutamate
I was lusting after an oyster dish since I had amazing oyster dishes in Taiwan. And so, Tofu with Oysters and what was supposed to be a black bean sauce, although what came out looked more like a spicy chiili bean paste; a ma-po sauce I believe.
This dish is seriously spicy, with just a tad too much chilli in my humble opinion. I don't mind the chilli so much, but the heaviness of the sauce weighed down the dish as the tofu tasted very dead, instead of being lively. Similarly, the oysters were a total failure, it was utterly mushy, like its been in a freezer for far too long; bursting flavours of the sea, were positively absent.
The Legends end.
Overall, I think Leong's Legends is merely ok. There were flavour balancing issues, far too much chilli to go with stale ingredients, not a good combination I can assure you. Still, it was a rather affordable meal which just sneaked in at £20 plus a couple of glasses of soya milk. I probably won't be indulging in my namesake restaurant again in the near future; I'm afraid the legend ends with this meal.
The Gist of It
Leong's Legends
26-27 Lisle Street WC2H 7
(020) 7734 3380
£12pp
Verdict: Not Taiwan in London as I originally imagined. Flavours are all over the place, and excessive use of MSG is alittle worrying. Merely ordinary in my opinion.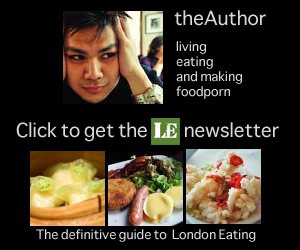 Did you enjoy reading this post? Why not subscribe to my feed updates for free. Alternatively, You can subscribe via email.