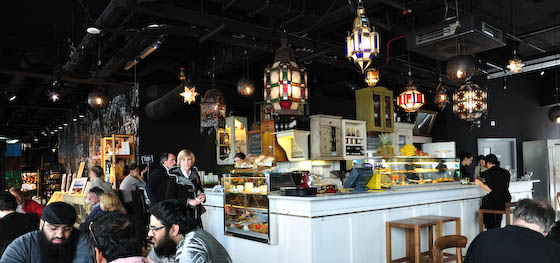 National Geographic Pincho Cafe official site
83-97 Regent Street W1B 4E1 0207 0256960
Pinchos £4 each
Pinchos: Spanish inspired small dishes that allow for instant gratification….oh wait isn't that otherwise known as Tapas?
An invite to try the cafe at the brand new National Geographic store in Regent steet; folks, the window light was brilliant and I brought my best camera lens. Can I interest you visual feast?
I am a Photographer
There is something special about photo galleries. It means even more when its a commission of the National Geographic society. To me, a photograph is like a window to another reality completely frozen in time with the soul, the temperament and the moment captured. Natgeo photographs are almost always breathtaking, one can only aspire to perfect composition – oh will I ever take photographs with such grandeur, I wonder.
On the other side of the ground floor gallery is the café area. I've always been curious since it looks like quite a relaxing area, but never really got the chance for a sit down – its almost always packed out on weekends, whenever I'm viewing the galleries.
Yes, I jumped around abit when I got the invite to try it.
As I alluded to earlier, the café serves tapas style small dishes, brandishing them with a new moniker but still small dishes nonetheless. I must admit, I initially approached the café thinking it was yet another well-oiled franchise machine serving up signature panini-cappuccino sets…. Oh how wrong was I.
This is interesting: Chef Miguel Espinosa is a true Pincho Chef and he was pinched from 'Café Rioja', located in the Spanish town of Calahorra in the La Rioja region, which of course is famed for its wines. At risk of coming across as a yuppie, I must say I'm impressed with Natgeo's manpower sourcing.
Right on to the food.
iberico
By the way, I love Spanish food – it is my most favourite cuisine, I love the rustic qualities, the octopus, the rich vibrant flavours, the potatoes, the paprika, and above all I love Spanish ham.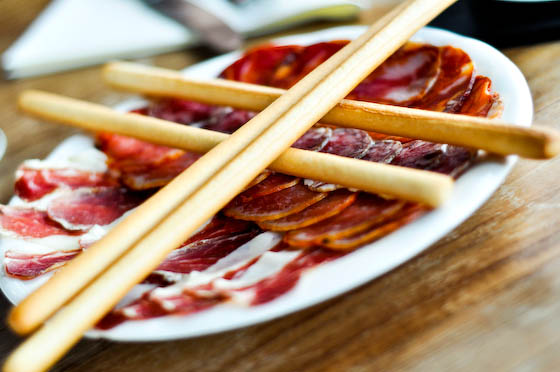 Spanish selection, Jamon Iberico, Lomo, Chorizo, Salchichon £11
We started with a selection of iberico hams, served with breadsticks from the charcuterie and it was excellent. The most critical item on the platter was of course the Jamon Iberico. I believe they are sourcing quite high quality stuff, perhaps closer to 12/18 month but it certainly was not the 36 month variety as it didn't quite exhibit the nutty, silky and superior sweet flavours. I would be surprised if they did, considering this platter was laid on for £11. For the price, it was definitely a robust selection of Spanish hams. Not quite Brindisa standards, but still surprisingly pleasing. Off to a good start then.
Shiver me Tuna
I should take this opportunity to talk abit about the setting. The first impressions are that of a really comfortable cafe. It is helped by the huge windows letting in gorgeous light (on a good day) and the black painted interior provides a sort of calming contrast to the busy streets outside. Plus its got high ceilings. Being a Natgeo store, you'd expect all sorts of interesting dangling bits and it evokes that feel of a diverse multicultural cafe. I did feel like I was on the set of the next Indiana Jones movie, with a fedora, reliving my childhood explorer fantasies. Whip!
Seared Tuna served on a bed of wild rocket and tomato with balsamic glaze £5
A simply refreshing dish served with a tangy rocket salad, the pan-fried asparagus was welcoming. While the tuna was nicely seared, it was cooked to the core. Personally, I think that tuna should almost always be served medium, it's juicier and the raw centre gives it a nice bounce in texture. Overall, a nicely executed dish, they weren't kidding about small portions either, this one was miniscule.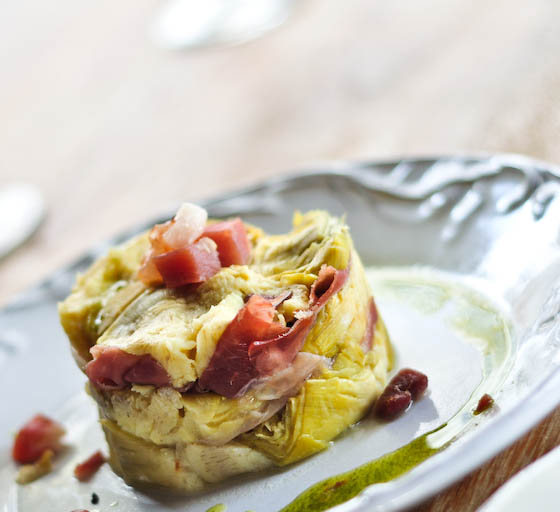 Artichoke and Ham Cake £6
The next thing we tried was off the specials menu, and something a little more inventive, in the form of an interesting savoury cake. Apprehension was quickly erased as I found this dish quite eye opening. Surprisingly moist and juicy on the palette, with a creamy and fragrant texture – the hearty artichoke flavours blended beautifully with the ham, giving way to a comforting finish. A savoury cake shouldn't taste good, but this one dazzled the senses. Very well done, and I appreciated the simplicity of the dish.
Mini Wagyus
Legend has it that Kobe beef tastes great because a) the cattle drinks a lot of beer b) they bath them in sake c) they laze around, a lot. And so whenever I see Wagyu anything on the menu, it's a must-order, though in this country, Wagyu beef is likely to have been air flown from Australia rather than Japan.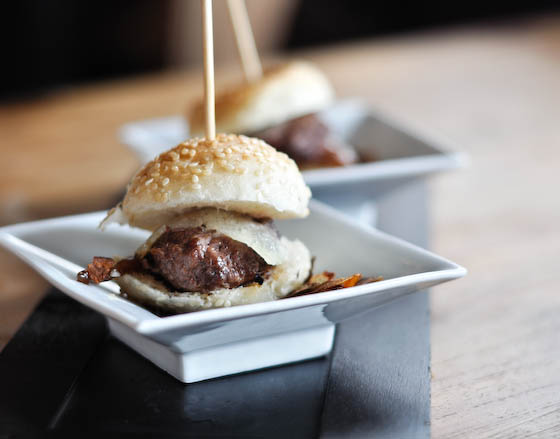 Wagyu mini burgers with caramelised onion and crispy chip £8.50
Yeah, I once had Byron's mini burgers (which I believe is now a kids choice menu item) and it was utterly disappointing. I think that burgers are one of these things you just can't shrink. Maybe its just psychology in the lack of satisfaction when chewing down a penny sized burger, though I think it loses juiciness in the process of frying such a small piece of meat.
Anyway, the wagyu burgers were quite abit bland. The sweet caramelised onion was alittle overpowering against the (lack of) beef, and I just didn't taste any beefy flavours coming through at all.
Chocolate Ravioli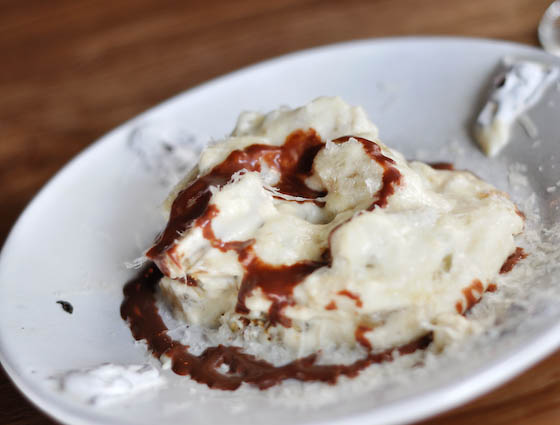 Ravioli of Cardon (Thistle) drizzled with Chocolate £4
Ravioli Chocolate immediately stood out for me, I just had to order it, this one was again, surprisingly good. It was much like a warm and savoury rice pudding with a bursting of juices from the cardon. The chocolate sauce did not overpower, and this rather curious looking dish tasted much better than it looked.
Pinchos, the new Tapas?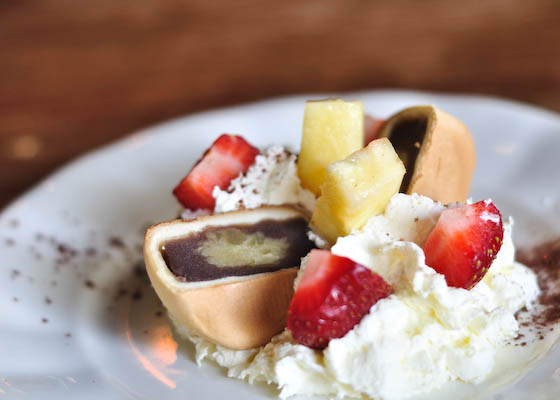 At the end of the day, I was pleasantly surprised by the quality of food at a store cafe. The simplicity of the recipes were indeed refreshing and the balance of flavours were inviting and appetising. Coupled with some rather unique ideas, on the whole, Chef Miguel's adaptation of the pinchos concept is successful. Price wise, it's certainly pleasing to see the small dishes hover the £4, albeit they are tiny, I would not attempt a dinner here (if indeed it's open for dinner..) but as a relaxing cafe to grab a small bite – it ticks all the right boxes in that respect. The only howler were the mini wagyu burgers, which – respectfully – I didn't quite agree with, but everything else sizzled with serious intent. It's not going to mount a serious challenge agaisnt say, Barrafina, but its nearly half the price, food is almost as good and the atmosphere is cool in a very hectic central London. The last dish of the day was £3.50 worth of mini Japanese azuki bean pancake, yeah its sweet and I found the cream overkill amusing rather than tasty, still at £3.50, its cheaper than a scone at Sketch. It did not detract from the overall experience, which was definitely a positive one.
The next time you visit the Natgeo gallery, don't be afraid to give the pincho cafe a try, you should be pleasantly surprised.
The Gist of It.
National Geographic Pincho Cafe official site
83-97 Regent Street W1B 4E1 0207 0256960
Pinchos £4 each
Verdict: Good food, relaxing atmosphere and its in a skillfully decorated Natgeo store with lots of things to see.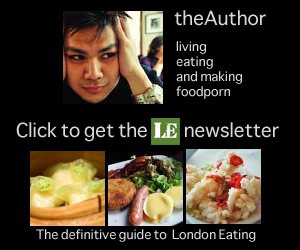 Did you enjoy reading this post? Why not subscribe to my feed updates for free. Alternatively, You can subscribe via email.