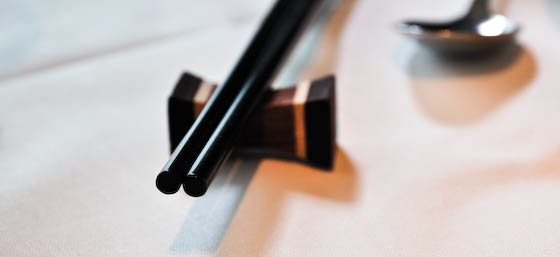 Singapore Garden Official Site
83 Fairfax Road NW6 4DY 020 7328 5314
Approx £25 pp
There are many parts of London that remain undiscovered to me. Take for instance the Abbey road crossing. I didn't think I would enjoy holding up traffic to emulate that famous album cover, but enjoy it I did. I'm in the area looking for good old steamed chicken, hainanese style preferably.
S'pore
Correct if I am wrong: Singaporeans are mad about food. The uniqueness of Singaporean cuisine is the melding of the local cultures, with the Malay influences, Indian Influences, Chinese and even British food in the mix, for good measure. The tiny island state is a Food Eden of sorts, supposedly a reflection of its place in history as an important trading port along the Spice route. Singapore does conjure up lots of childhood memories as I've had many a great meal while on vacation.
Sambal Prawns
Singapore Garden predominantly features Chinese food on their menu. However, the multicultural aspect of its homeland cuisine is evident in the menu, with Satay and Chilli Garlic Spare ribs sharing the same space on the starters section. Of course, I turned my full attention toward the Singaporean & Malaysian Specialties section.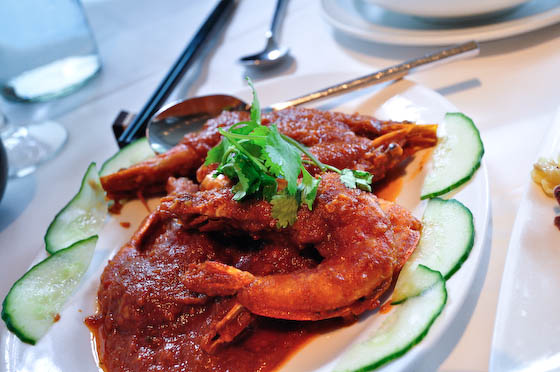 The first dish: Assam Sambal Prawns £13.00
Perhaps a good example of Malay-Chinese Fusion (Nyonya?), the sambal sauce is a tangy and zingy citrus with abit of spiciness from the chilli and it is unmistakably fragrant. I'm not an expert on Sambal, but I suspect this comes from Lemon Grass and Tamarind (confirm for me guys?).
A distinct peanuty graininess and the appetising qualities of the belacan (a kind of dried shrimp paste) is only ever so welcoming on my palate. On the whole, the sambal sauce is pretty good, I would have preferred it just slightly sweeter to compensate the chilli, but that's just nitpicking. The only downside (well, a big downside) were the rather soggy prawns. Respectfully, they tasted as if they've been in the freezer for far too long (if they even should be), no bounce in the flesh at all.
The Hainanese in Me
I really miss good steamed chicken and rice and I am under the impression that the Hainanese Chicken recipe is a healthy one. Seemingly, a simple dish, but one in which perfection is hard to achieve.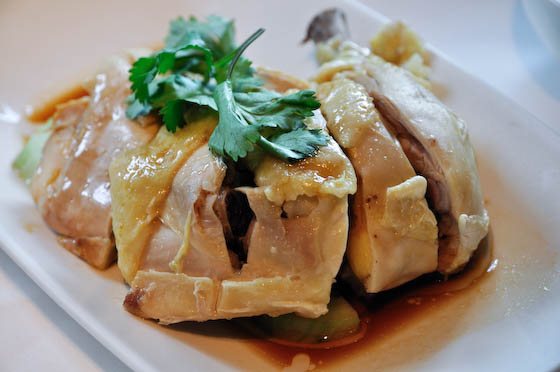 Hainanese Chicken Rice £7.70
The chicken is richly aromatic, and one can really smell the chicken stock – hearty and comfortable. The light broth that accompanies the chicken is rich in soya sauce and the delicate balance of saltiness against, just a tinge of sweetness, is about right I would say.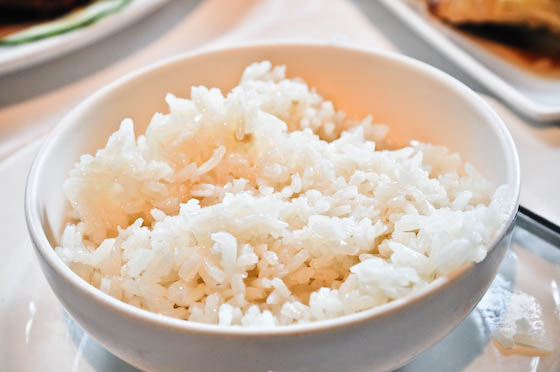 An integral part of this recipe is the infused steam rice that it is usually served with. I was so glad that they got it so right. Fluffy pillows of perfectly fragrant jasmine rice lovingly infused chicken stock, the capital of umami. Delicate, warm, flavoursome and goes down so smooth. Yummy. I waited till last to savour the chicken. Here goes…. urgh, too tough. I was expecting a silky, melt in your mouth softness; instead I was confronted with just a mildly steamed chicken – the taste was good, lots of infused flavours of stock, soya and ginger, but sadly the tenderness of the meat wasn't quite up there. Having said that, it was still a good rendition of Hainanese Chicken; it got seven out of ten right, but the lack of tenderness shackled the dish and in the end, it failed to separate itself from the merely good against being truly spectacular.
And the search continues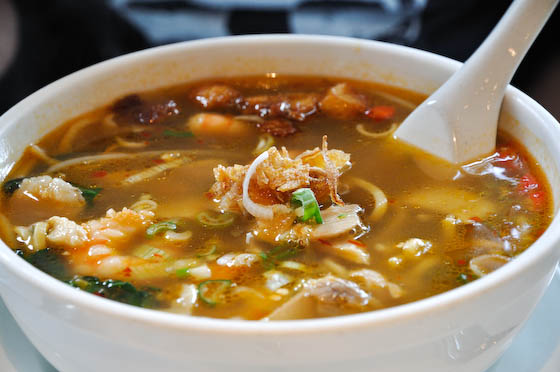 I also managed the Hokkien Hay Mee Soup (£7), what should be a kind of hot and soup egg noodle soup, with prawns, slices of pork, beansprouts, spring onion and fried garlic was a midly spicy and tangy broth. Not quite an attack of the senses but I enjoyed the mild sizzles nonetheless.
All in all, the search continues for true perfection of steamed chicken in London. However, Singapore Garden is no slouch, it serves pretty robust food, faithful and tasty. My major issue is the this unfulfilled feeling like I've had better. Perhaps that niggling is down to the prices, which are just abit steeper than I'd expect – £7.70 for chicken rice is just a little outside of what I'd like to pay and the £13 sambal prawns are undeserved I reckon. The other Singaporean restaurant that comes to mind, is Bugis Street (named after the real thing in S'pore) at the Millennium Hotel (owned by a Singaporean I think), which interestingly hosts several tennis players during Wimbledon.
I can see the merits of Singapore Garden being a local favourite, but perhaps its just my lofty expectations as my visit felt much like a slowly deflating balloon. Not bad, but could be better.
The Gist of It.
Singapore Garden Official Site
83 Fairfax Road NW6 4DY 020 7328 5314
Approx £25 pp
Verdict: Try the Hainanese Chicken Rice and also try dishes from the singaporean specialty section. I think it's a good restaurant – however, I'm not jumping up and down.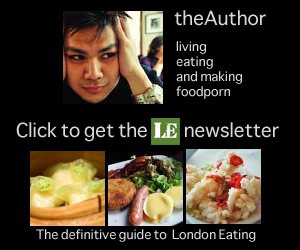 Did you enjoy reading this post? Why not subscribe to my feed updates for free. Alternatively, You can subscribe via email.