The word binge is so 2007.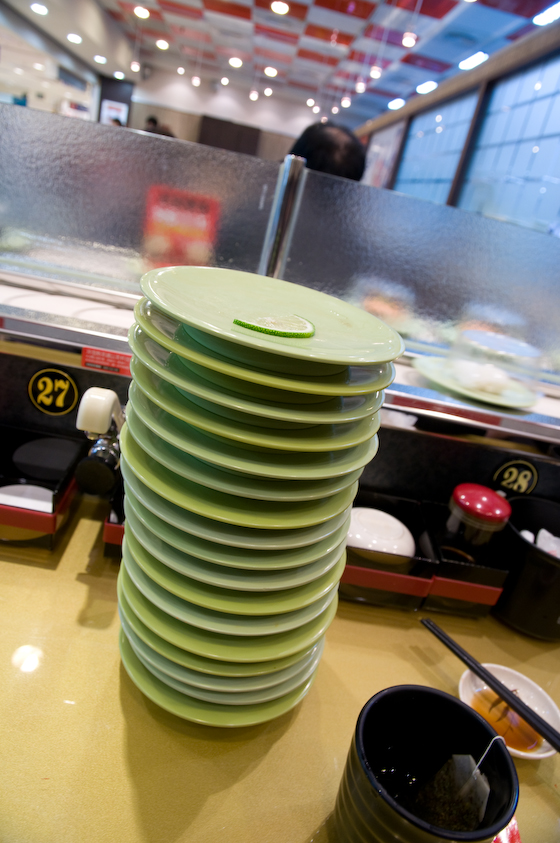 I've been off for two weeks and the sky is still falling down on London, seriously when is it all going to stop? Did anybody miss me while I was away? I did manage a couple of reviews on my break but my first London restaurant visits will have to wait till Friday. As I said yesterday, I bought a new camera and this will be it's virgin usage for a very sinful post.
This sushi train is located somewhere south of the South China Sea (I forget the name of the place) and the rate is 50 pence per plate. This isn't really a review, but more like food glorification, though the technically accurate term is foodporno. If you're anything like me, you'll appreciate great sushi trains for peanuts – it's just a shame we don't have more of them in London ( Yo! is alright, but seriously overpriced). On this visit, the count is about 20 plates (my record is 37 in Sydney, I think) and that's a grand total of £10. A tenner barely gets me like 2.5 plates at Yo!
Yo.
Cheap sushi bingeing – as far as I know – only exists in Asia; ok so welcome back to another edition of London eater, the name is Kang and I will be at your service for the rest of this post.
Number one, the salmon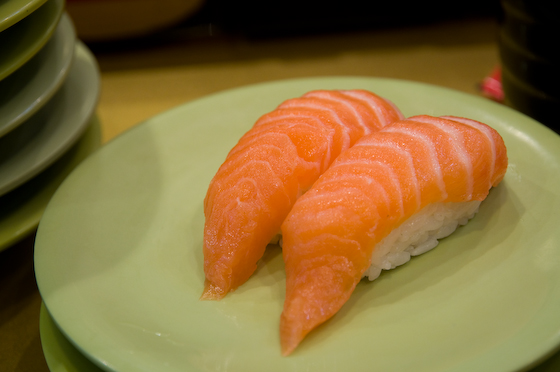 Some places call it the shake, or the sake nigiri and this is perhaps the most common sushi dish found amongst faux-sushi bars outside of Japan. Contrarily, thickness does not equate value – a good piece of shake should be filleted at a very artful angle to attain a smooth and consistent texture that will melt in the eater's mouth.  I just love a robustly silky salmon nigiri with a dabble of soya sauce. Yummy.
Number two, steamed egg tofu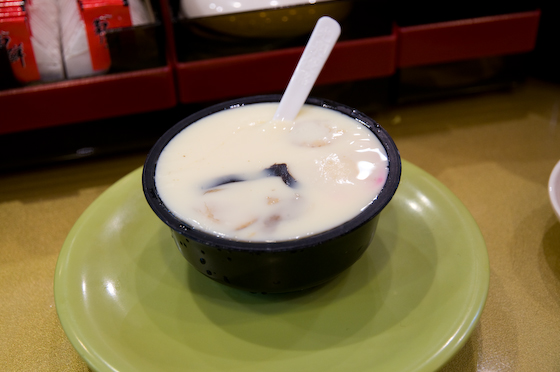 Not everything in sushi bars is raw. Case in point: A creamy and gentle slow steamed egg infused tofu is oriental comfort food central. This particular one was almost like a smooth vanilla custard, mild, eggy and milky – it was a pretty interesting contrast to the salmon.
Trinity, octopus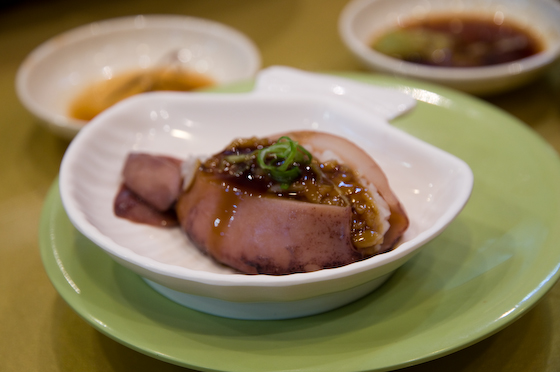 I'd like to think of this as an inside out nigiri with a boiled octupus's body (sounds abit yucky doesn't it?) sliced down the middle, stuffed with sushi rice and smothered with teriyaki sauce. As an avid fan of the rubbery creature of the deep, this was thankfully chewable, believe me, if you overcook it you may as well use it as a doorstopper and in parts of Asia, its a delicacy.
Hmm, ok I'm sure it's a baby octopus and not a squid (squids have tentacles in the front bit I think) , can anybody confirm?
Fourmage, California roll with roe sauce on top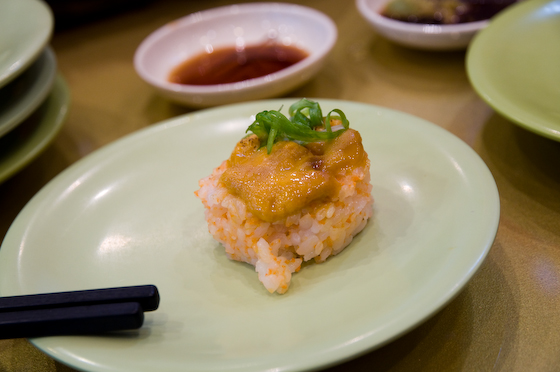 My tastebuds didn't quite agree with the bitter and strong flavoured roe sauce that seems as though it's been made with mayo and soya base. Perhaps it's the bitterness from the roe itself but I just didn't quite get this. Having said that, the golden hued topping looked so good (it was a special) that I scoffed a piece even before I took a picture. Wrong move.
At five… Unagi on rice.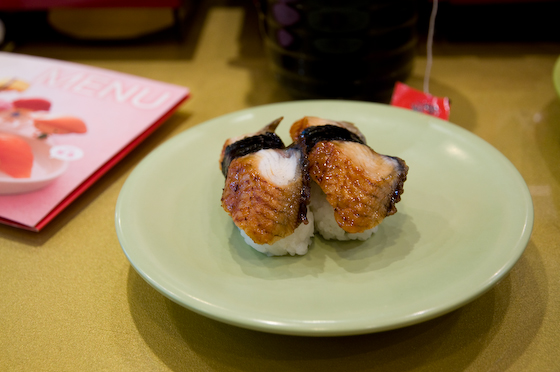 Remember this one time Ross told his Friends that he had a black belt in Karate and he picked up an acute sense of awareness known as Grilled teriyaki eel? I loved that episode and I also love unagi. It is ex-pen-sive in London (last I checked, prices hovered the £2 per piece mark, on average) and I usually have a couple more plates of this whenever I am stopping in a cheap sushi bar in Asia. I've never really had unagi that was bad before, how wrong can it go right? It's grilled, with teriyaki sauce and slapped on rice.
You can get frozen pre-grilled unagi fillets for six quid at Japan Centre which tastes like the real thing, so if you are craving unagi and you live in London, that might be a cheap alternative for ya.
Six is a white fish.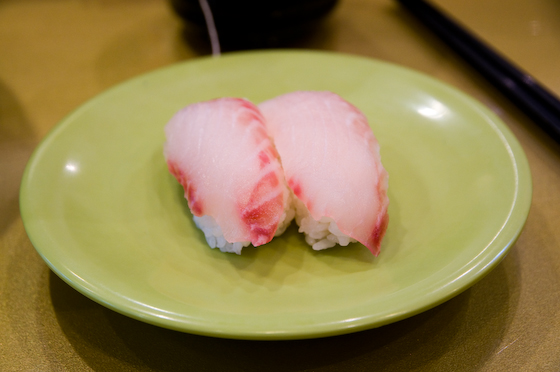 Ok I must confess, I am not that good with fish names. My best guess is that this is the flesh of a sea bass who's family still swims in the south china sea. But I'm not too sure. White fish sushis are plain at best, at worst they emit a decaying, fishy odour. Here's a tip for your virgin sushi-nos, if you find yourself needing to dip the raw stuff in lots of soya and wasabi to mask the flavour – then it's a high probability that it's gone off. The whole philosophy of sushi is to eat ultra fresh fish and ultra fresh fish should smell and taste fresh – not dead.
Seven scallops and a tree full of money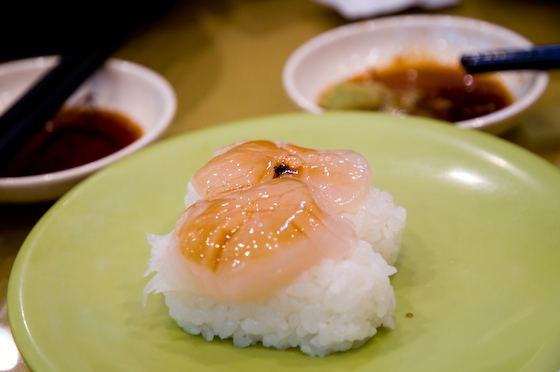 It's the little touches you know, abit of teriyaki on the scallop just brings out the sweet and creamy scallopion fragrance. Nothing like fresh spanking dollops of scallop on rice, yes it's pretty good at sushi hiro and sake no hana but no where in London are you going to find this for 50p, and as for the little touches? Wake up, London sushi trains, do it like the way they do it on the other side of the globe and be generous with those funky sauces.
Eight abalone, mayo and colourful chips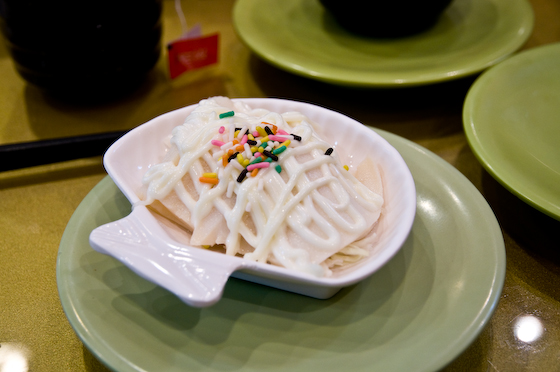 Good abalone is a delicacy in Asia, but over here in the UK, it's nearly unavailable. I was pretty surprised to find a 'delicacy' available for 50p to be quite honest and the simply boiled slices – while edible like slices of chicken fillets that taste like prawns – wasn't the wallet busting double boiled stuff you'd find in pricy Hong Kong restaurants. This one was whimsically decorated with chocolate chips. Will the wonders never cease?
Nine – crabs, mayo on rice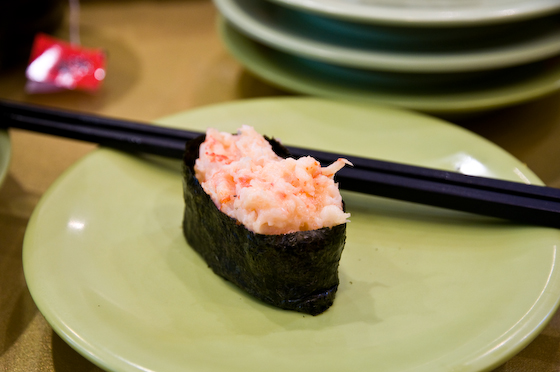 The same way we have crabs on toast, sushi bars have crabs on rice. Japanese mayo is more intense than European mayo. It's saltier, edgier and I think more umami rich – goes criminally well with strands of crab….
Ten, lightly seared salmon with abit of skin.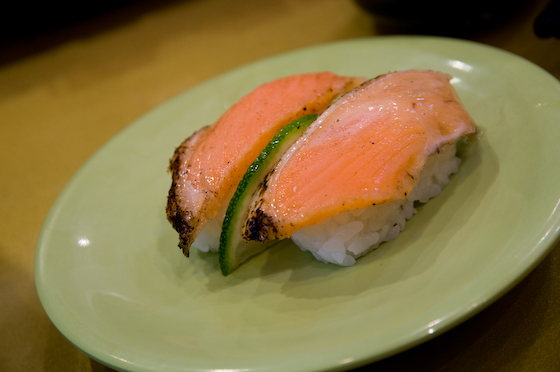 Finally, this is not so much seared than torched. The sushi chef comes to the salmon with a mini blow torch to pink the flesh. The direct flame from the torch means that the fish maintains it's creamy texture but now carries a cool charcoaled smokiness when it hits your mouth. With abit of oil (not melted) and abit of a temperature, it's more decadently soft too.
Little touches, just little touches. I love sushi, I wish I was still on holiday and that was a tenner well spent.
Did you enjoy reading this post? Why not subscribe to my feed updates for free. Alternatively,  You can subscribe via email.