Sophie's Steakhouse & Bar Official site
311-313 Fulham Road SW10 9QH 020 7352 0088
Express Lunch 2 courses £11.50 , Ala carte £30pp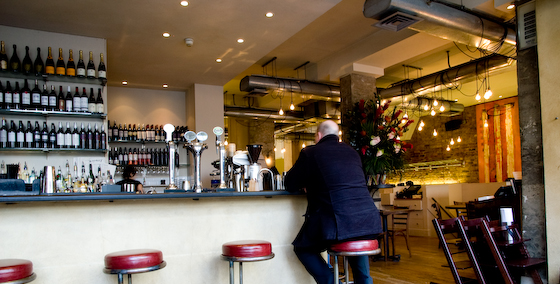 I wish I worked closer to central London (or anywhere that does half decent food) because as much as I enjoy the usual paneer tikka, I do daydream about a 'come and and laze around' steak house. Luckily, I get Friday afternoons off and I was in the mood for some real 'come laze around and read paper' action along the Chelsea strip.
I had heard great things about Sophie's – in particular – their express lunch menu: 2 courses for only £11.50 and that includes a choice for a small slab of ribeye (me favourite cut). This steakhouse is abit of a cult favourite and it's high time I paid a visit.
Freebies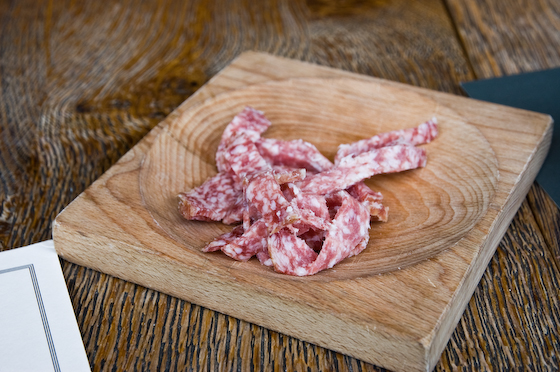 For a bon vivant, I can be a cheapskate sometimes. Though, I'd like to think of myself as the post-credit crunch non-yuppie who has displaced excessivity with conservativity and has become a seeker of true value.
Well, something like that anyway.
The free salami appetiser was surprisingly good, it was silky and soft, it's nuttiness melted in my mouth and had me wanting more, though my pride stopped me from ordering another one. I spotted a table of newspapers, and they have the Times!
Extra salami points for that.

Eat another day.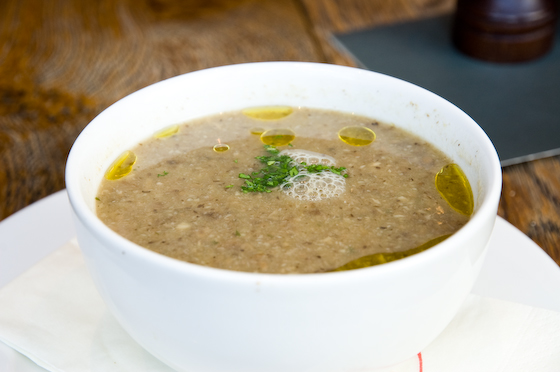 There's always a great big dilemma as to what I should order when I eat out these days. On the one hand, I'd like my account to be at least in the black some days of the month and so the set lunch menu really should suffice; On the other hand, the cut price set option also means cut price ingredients and I really should try out the full blown ala carte for a more considered review.
Decisions, decisions…. which I'd rather not make. That's why these days I have a recurring guest eater joining me and we'll refer to her as Miss Universe from now on. Miss Uniball plonked for the set lunch and her du jour was a rather curious bowl of boiling water with lots of sliced mushrooms and drops of olive oil. I'm reaching for the salt – in parts of Europe that's pure insult to the kitchen, then again Miss University can't exactly complain, it's only a £11.50 set after all.
Holiday Eater
Peeps, I'm actually writing this from the island of Borneo in the sunshine state of Brunei. Think long sandy beaches for backyards and swaying coconut trees as tall as St Paul's and temperatures hovering the 30C mark.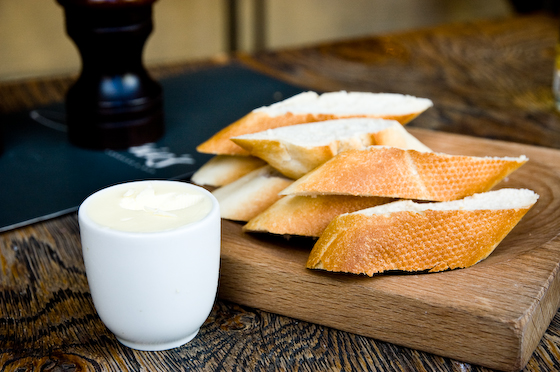 My notes tell me that the bread is not your standard baguette dough, it carries a slight sweetness and it seems as though it's a brioche pretending to be a baguette. Missus Unilever agrees and can't spread the unsalted (light and clean) butter on quickly enough.
While we wait for more food to arrive, I couldn't help but be impressed by the décor, which is reminiscent of a rocky brick laden warehouse, complete with an exposed ceiling, wirework everywhere and unpolished timber tables. The whole place had a nice buzz to it, amplified by the big windows and completed by the great chatter from the crowd. The melodic beat of the restaurant was pleasant noise and I actually enjoyed reading amidst the apparent chaos.
Steak, cheaply.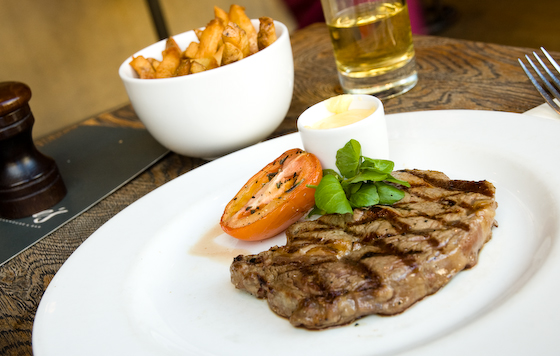 The ribeye was wonderful. The grilled slab of protein was charred to a perfect medium rare. The soft steak had good beefy flavour and I couldn't help but coo with each bite and it's companion smokiness. Really great stuff.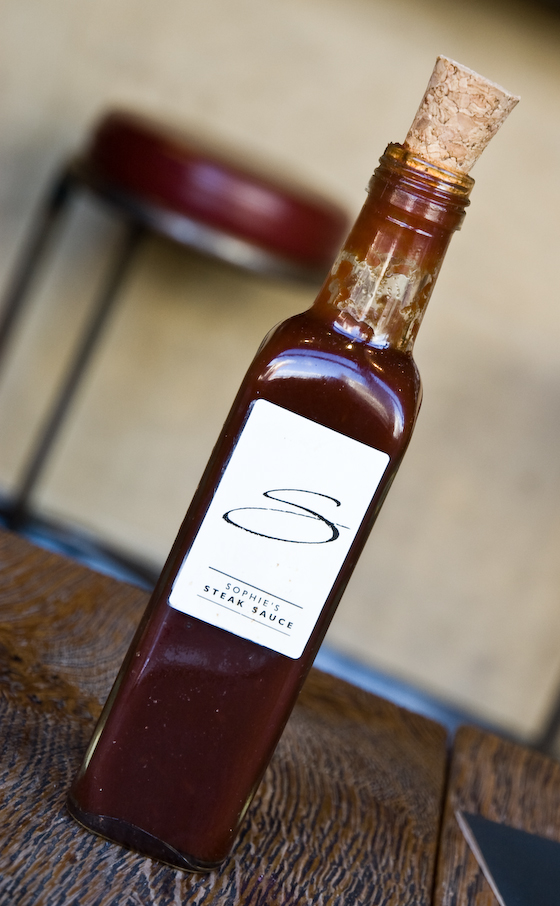 It was served with medium sized chips, skin on and Miss United We Stand opted for the béarnaise sauce, which was light and whipped like a fresh mayo. I'd rather prefer it with abit more oomph, but that's when I noticed the bottle of their in-house steak sauce. I'd describe it as a cross between a balanced sweet BBQ drizzle with shallots and a dabble of the best Heinz. Honestly though, I think abit of French mustard and béarnaise was a better steak compliment than this steak sauce, which went better with the chips.
Before I forget, the steak is surprisingly good and for £11.50, this is great value and much better than most pub steaks, in fact I'd gladly pay the full ala carte price for this piece of fineness, it's really pretty damn good.
The Prestige.
Ok so there's more.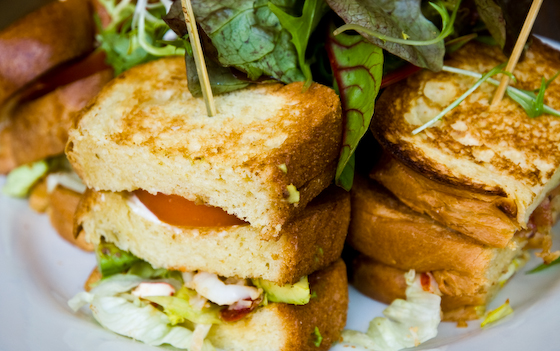 Ah ha ha, yes there is: I opted for the £15.00 lobster club sandwich with a ratatouille on the side. Lobster rolls are a rarity in London, it's just not that widespread for some strange reason and it really baffles me because lobster is as we all know, a fine ingredient. There should be a campaign to make lobster rolls a standard in pubs and cafés and restaurants across London… fish and chips? Forget that, I'll have some Lobster and avocado thank you very much.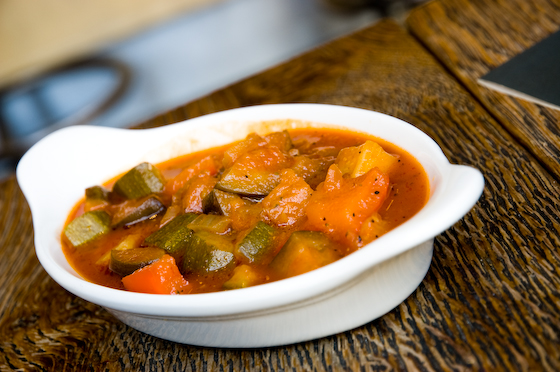 The buttered brioche toast was a little too sweet for me and the simply tasty lobster was sandwiched with crispy grilled bacon, buffalo tomatoes and avocado. While this delightfully simple combination was tasty, I felt the lobster portions were a little too measly. The lobster appeared to have been pan fried and was well seasoned (come on, how can anyone get lobster wrong?) but I was just left wanting more. Seriously, a lobster roll should be jam packed with lobster not everything else so as to get that wow factor. This wasn't even a mini wow, I was just bored. It tasted good but for £15.00 I can hear the rip-off police sounding off in my head.
Miss Uranium nods along as she steals a piece of my lobster club sarnie.
I won't go into too much detail about the £3.50 ratatouille side dish, it was an accurate enough reproduction of the French classic dish and was a fresh change from the usual spinach and potatoes.
As I finish my trio of frozen creams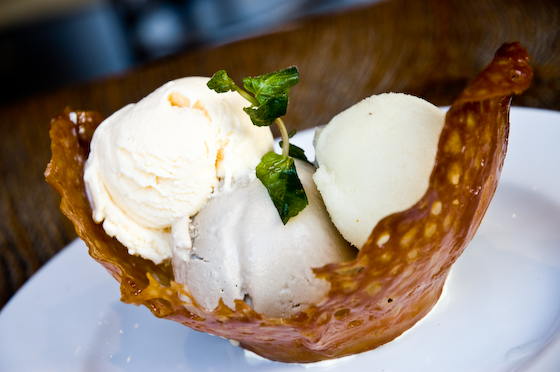 The custardy apple sorbet was tangy and creamy, the vanilla was plain vanilla and the coffee ice cream was a pretty good frozen frappuccino. Mmm, all in all, the bill came to about 30 quid and I think it's pretty great value for a rather relaxing Friday lunch. The express menu is only available on weekdays (to 6pm) but I'd happily come here anytime for steak and Times. I have a sneak suspicion that while everything else is ok on the menu, the real star are the steaks. My steakhouse of choice used to be Gaucho's but Sophie's is looking like a strong contender.
Righto, about time I pay a visit to Hawksmoor.
The Gist of It.
Sophie's Steakhouse & Bar Official site
311-313 Fulham Road SW10 9QH 020 7352 0088
Express Lunch 2 courses £11.50 , Ala carte £30pp
Verdict: The steaks are great even if it was the express £11.50 set lunch which is really awesome value. Recession proof prices with bullet proof food and insult proof service.