Cafe Rouge official site £15 pp
120 High Street St Johns Wood NW8 7SG 02077 228366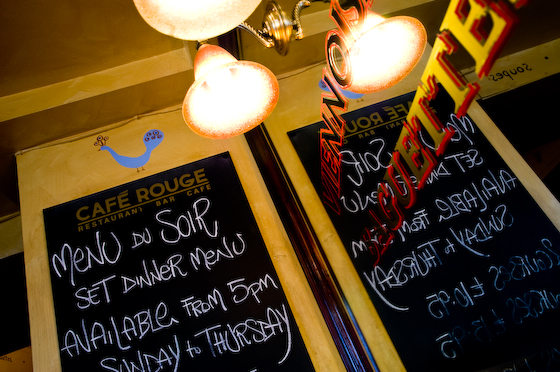 For some of us, 2009 will be a year to forget. Page after page, day after day, sometimes I do wonder if the frontpage of the Times will ever smile again. As for the eternal optimist in me, 2009 will be the year my eating out bill shrunk in half. No 'in line with year on year' inflation price hikes , but the year on year expanding waist will be greater than usual.
It is a crisp and sunny Sunday at time of writing, 8th of Feb, 11am (well, we'll say 12pm) and I've found myself an offer to eat breakfast at Café Rouge for £5. I've ended up in St John's Wood for this and before I head over to replicate my favourite John at Abbey road ( it's just a standard issue London zebra crossing peeps) , I'm going to have some good old Anglo French oeufs.
Kang reads the Times and eats eggs on Sunday
I've been catching the new season of 24 and sometimes I get caught up in the illusion that every tick of my life is as high octane and pumping as Jack's (There's no time! Serve my tornados Rossini now or I'll cut your eye out.. you've read my file.). Oh and Tony is back, woah. From now on, you shall address me as Kang Bauer.
Sigh, I watch too much tv.
When one stares at spreadsheets all day and spends his evenings eating & typing, not only does one conjure up delusions of grandeur, one also yearns to read the good old fashion way. I love reading the paper and in this day and age of ever increasing social information with RSS readers giving us the ability to tailor make and decide how and what we want to read; it is still nice to sit down like my old man does and get your fingers dirty with classic printed press.
So it was in the Times that I cut out a restaurant offer that lets me choose anything I want from the breakfast menu for a fiver plus coffee and a glass of juice.
Benedictorious
While I love the full Anglais ( Work. Café. Two eggs. Bacon. Bap. Every Friday morning. Without. Fail. ) , I prefer poached eggs and love a good benedict. My usual arse-print used to be at Balans West in Earl's court, but they've since changed their recipe and it's not so good anymore. I'd like to say the Wolseley is my new place to grab the meal of champions but even I can be seen sporting a slimline wallet in today's troubled times (Eyebrows Darling still hasn't returned my email request for a 20 gazillion pound bail out.).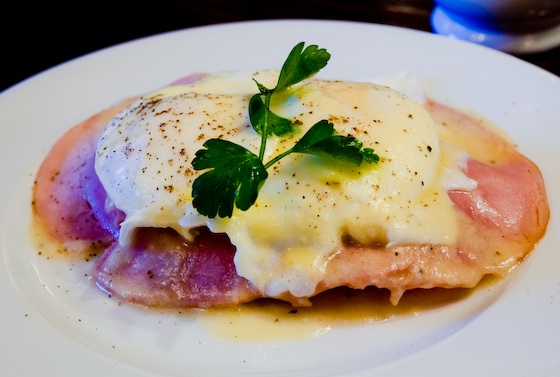 Believe me, I know my benedicts – in fact it was my first ever LE review (which you should disregard by the way as Balans West is not quite the same restaurant as it was 6 months ago). I am sad to report that my £5 worth of oeufs were pretty horrendous. The hollandaise sauce was runny like tepid water and I am certain the eggs were still swimming in the same tepid water it was boiled in. Aside from egg and abit of butter, it was bland and the water had seeped into the muffins the eggs are sitting on, making eating it feel like eating a soaking wet sponged.
Not happy Jan. I could have cooked a much better Benedict than this and that's saying a lot.
The Full Anglais
The great thing about being a bloke is that I have an impressively large tummy. No, I'm not referring to my bellyfat sticking out of my shirt, I'm referring to the medically accurate (really now Kang, medically?) description of the stomach. I wouldn't like to say that I'm a tubby little bugger – I just like to think of my tummy as the ultimate one pack.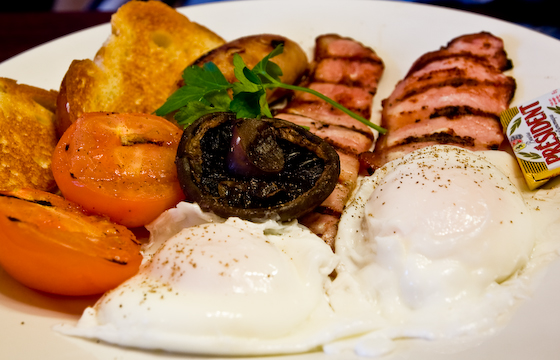 Anyway, the advantage of having an oversized tummy is that I can sweep up anything the guest eater cannot finish. Here is café rouge's full English.
My tummy does concur with their reproduction of the classic English breakfast and it comes complete with one mushroom and one wrapped slab of French butter. Can't say I was blown away by this but for a fiver it'll do.
Madame Croqued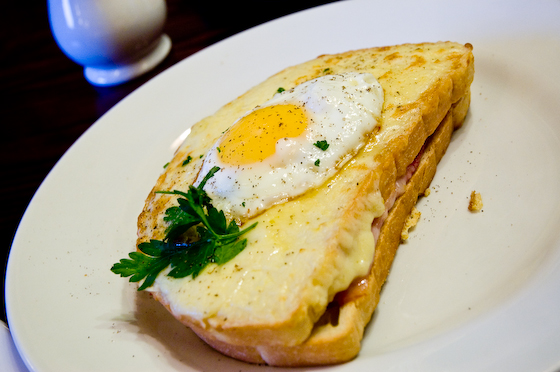 The last time I was in Paris, I tried one of these ham and cheese toasties at a street vendor just outside the Eiffel Tower and was absolutely blown away. I'm not quite sure what cheese they use but it was so divine, I had two more.
Spanish is my cuisine of choice, but like most people, one cannot ignore the food French kitchens churn out – no wonder those buggers live so long. I was hungry and I felt the need to order an extra dish just to erase the horrible memory of their benedicts and thankfully this didn't fail me. The Croque madame is topped with Gruyere cheese and finished with a fried egg. The cheese is amazingly chunky and the richness of the cheese & ham combo left me wanting to order another one. Really appetising and if it was 2007 , I'd have had another one (or two).
And so we have come to page 3
Dinner at a rouge is not too shabby, actually. The food isn't really going to win any awards but I'd pick a red café over a TGI Fridays any day – French entrecote and frites over an American JD fillet and fries hands down. This is my first breakfast at Rouge and I think it's abit hit and miss. For a French café – they really need to deliver better benedicts, the croques on the other hand are excellent. I can't vouch for anything else on the menu, but if you're after a standard issue French brunch/high tea with a relaxing wooden décor for a place to catch up on Coren's latest rants – then you won't go too far wrong with the nearest café rouge.
The Gist of It.
Cafe Rouge official site £15 pp
120 High Street St Johns Wood NW8 7SG 02077 228366
Verdict: It's wallet friendly, staff smile and they serve honest food. Steak and frites for a meal and croque madame for breakfast. Bring your own paper. 
Did you enjoy reading this post? Why not subscribe to my feed updates for free. Alternatively,  You can subscribe via email.