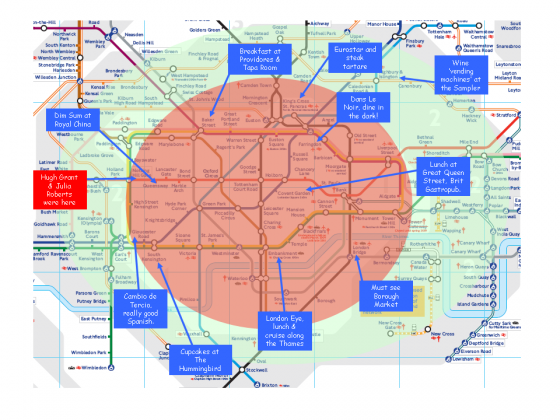 I've always had this idea to use the tube map as an eating guide for anyone wanting to sample highlights of London via the underground – I just didnt really know how ( or more like when ) I could figure it onto this blog. When I was approached by Hillary who edits both Recipe4living and the chewonthatblog , she wanted a kind of snapshot of London and I thought wow – what a coincidence we're on the same brainwave. So I mined the archives and put together an 'underground eating list on the underground'. I included stuff such as Borough market and sampling some very British crabs on toast at 32 GQS. I also included a recommendation to my personal favourite: Cambio de Tercio.
You can download and print this map if you want, just click on the image for a bigger version.
Anyway, I thought it'd make for a great guest post and one that can be useful for anyone who's about to visit London and are looking for a few places to munch up. As with my last few guest posts, I am giving away my best stuff and treating these guest posts as if they were to be published here on LE. To that end, I'm giving away the same quality of pictures too and I do try and make sure they are decent enough. Hope you guys find my stuff both useful and entertaining – oh and if you feel hungry after reading then I've done my job! 
(Yup, that's one of my personal missions now: to make people feel hungry) 
Snapshots from London : Do check it out over at the Chew on That Blog.