I was struggling with this one. I think this will be my first non-review-review since it wasn't my intention to make the trek out to Ealing specifically to eat here.
I wouldn't say that I was dragged either, but for a variety of reasons, I was the self-appointed photo-man for this year's departmental christmas do. The decision to select charlotte's place: "It had rave reviews on toptable.co.uk"
Yeah, just so you know, toptable is supposely the gold standard for company organised lunches now.
T'was a merry december menu from whence we ordered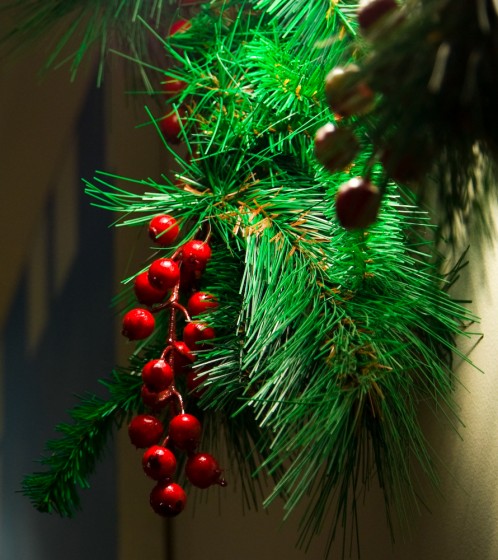 As I said, this ain't a review folks, this is a non-review and hence it gives me abit of space to ramble on about some other world-shaking events while you get distracted by food pictures.  
As a start, the christmas menu was £23 for three courses and had four (yes! four!) selections for each of the courses. There were 25 of us and we were spread rather comfortably over three tables in the basement. I must say, I was abit dissapointed they stuck us in the basement – not exactly sure why they would do that considering we were a thousand pounds worth of business (and potential return business).
It was particularly niggly because the upstairs was wonderfully bright and had these lovely bay windows which overlooked the common. The wooden interior were warm white walls, creaky wooden floors, dark wooden tables and leather seats. Everything was so very subtle that it had that sort of quiet english charm you know.
The hallway leading from the entrance even had a row of coat hangers too, and it felt rather like an invitation for a homely dinner…. until they led us into the windowless basement. It was a nice enough space, but four white walls and a tiny window where you could peek out to see just a slither of sunshine ( not that the sun was shining last friday ) -bah! humbug.
A tale of vinos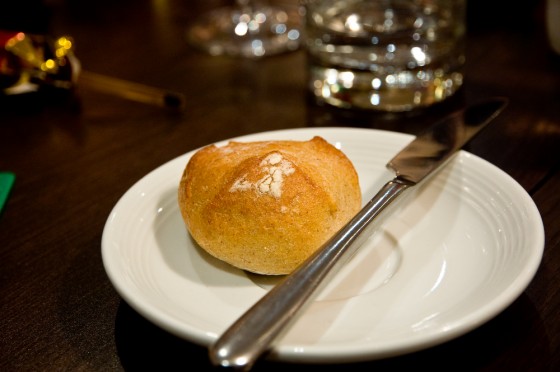 I sat on a table of eight and appreciated when one of my colleagues shouted "order the cheapest bottle please" because as much I love eating out, I don't particularly enjoy paying for someone else to get drunk on posh vino. Perhaps that's the wrong way of putting it – rather, when you're out with a bunch of work mates, it's the banter and laughs that you value, instead of worrying if the rhone was smooth and jammy enough to go with the foie gras.
Yeah, I want to see Jon burn his nipple hair with hot sambuca shots and I'm not too bothered if my steak was cooked to my liking or not… no I take that back, medium rare , bit of blood, pink around it, but red in the centre. 
And we're off!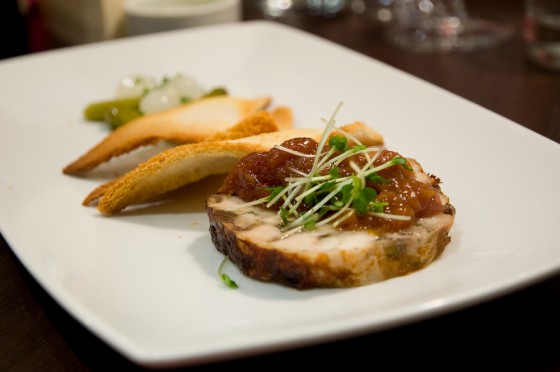 Everybody can appreciate warm bread and butter, I certainly did and it did put me in a great mood for my starter of cornfed chicken & porcini mushroom terrine, peach chutney and crisp breads.
The crisp breads were crispy and bland which was good, since I was expecting a strong flavoured terrine to top it off. While the terrine was nice, it was also abit underseasoned and the peach chutney was just unexciting. It certainly photographed well – but meh, maybe it was the fact that Jon's bodily hair was a no-show that I found this starter tasting just alright – but wasn't really anything to crow about.
Medium rare is not the same as medium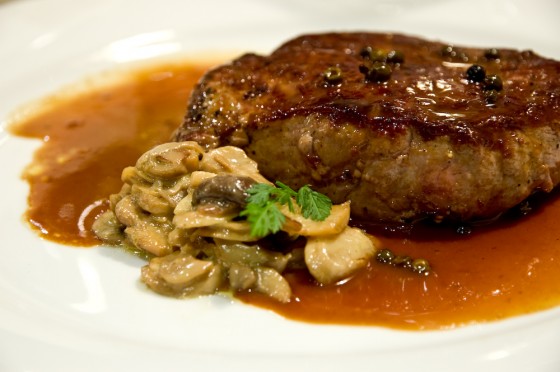 I'm feeling abit self-aware. Actually it's more like self-doubt, perhaps a better term would be self-assessment. Here's the situation – there's kang before L.E. (London.Eater.) and kang after L.E. , and I think B.L.E. , I used to talk about food with anyone who so much as looked at my moving lips but A.L.E. , I find myself quite happy to sit back and just enjoy a quiet meal chatting about everything other than food. ( did you know that there's a cruise ship called 'the world' where you can buy up on-board flats and live on it permanently?)
I suppose its because I'm saving all my foodie thoughts for when I blog. Here's the inherent problem – when people know you're a food blogger, they'll start coming up with statements to 'challenge' you. So here's a (not so) hypothetical conversation:
"Hey Kang, hows the foodblog?" says dude.
"Yeah, ok i guess" says me, but wondering how that question is utterly ridiculous because if you cared even the slightest, you would just visit it.
"So are you going to review this place?" dude says.
"Erm, don't know, may as well since I'm here." I say.
"Here's a question for ya: what is, in your opinion, the perfect christmas dinner?" man with the plan says.
"Well, I don't know, roast beef?" says me. Ok , so there I was , wondering just because I blog food, does that mean I'm condemned to facing these cryptic questions expectant of some sort of bold sweeping (prophetic) reply to determine if the direction of the monsoon winds will affect the texture of asparagus?
Following his five-star showstopper he felt the need to ask the following "How did you ask for your steak?"
"Medium rare." says muah.
The steak sauce was alittle sweet – very nice actually considering that it was a green peppercorn sauce and the 'shrooms were delicate.
"Wot?! Not rare?! " He's so appalled he's almost falling out of his chair.
"Hm" quipped the sorrily sad self-anointed london eater… oh and my steak was pink – not med-rare as requested.
chicken legs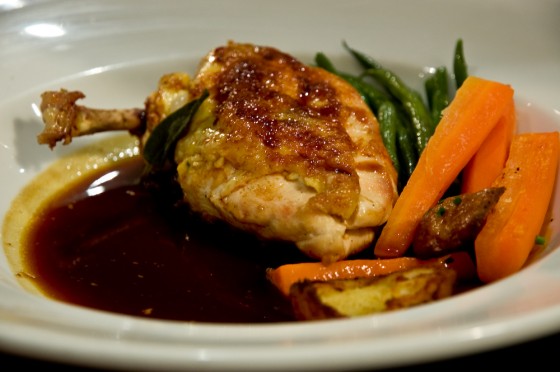 Yeah, I'm going to stick with roast rib of beef being ultimo christmas grub. At this point the forth bottle of cote du rhone has arrived and I'm getting a lesson in the fine art of wine appreciation as I am told that the reds of southern french chateaus of st mont are to die for.
Must try to acquire some.
Meanwhile, the rest of the mains fill the tables in the form of sage & mascarpone stuffed chicken and I am again educated that the mascapone is not really a stuffing per say, rather it is used like a butter to season the said chicken. I didn't have the chicken, but it looked nice enough with the winter veges.
At the end of the day – it's all just banter and a pud
The white chocolate cheesecake and raspberry coulis was a stunner. The creamy and light texture was 7th heaven for me with the depth of white chocolate filling the flavour profile and blending nicely with the cheesiness. The raspberry sauce was subtle instead of sharp – but like the rest of the food here, everything seems abit sterile while good, didnt seem to attack the senses.
Yes I did enjoy the banter even though my mate felt the need to advise me of his gold standard choice of chablis. I refrained from rolling my eyes and thought that he must be barking mad telling me that £34 on a petit chablis is a good choice when that money could have been better spent on two and a half bottles of excellent vourays from berry bros.   
Would I go back to Charlottes? If I lived in ealing, yes for convenience. Otherwise, probably not. Don't get me wrong, for the price, food is not bad – it's just nothing special. You'll do better spending your lunch money at sophie's for steak or a pig's head at arbutus.
Basics
Charlotte's Place 16 St Matthew's Road W5 3JT | 020 8567 7541 How to get there: Ealing Common tube station How much: OK. £6 starters , £12 mains , £6 puddings ; £25 sets
http://www.charlottes.co.uk/
Did you enjoy reading this post? Why not subscribe to my feed updates for free. Alternatively,  You can subscribe via email.