Everybody does it. The first time they set foot in London, they are sure to hit the embankment area to catch the London eye, possibly the mayor's offices and take obligatory pictures of tower bridge. After that, the thames just becomes this 'been there, done that' non-event. Surely such a scenic river holds much potential. What happens when you put together a beautifully laid yacht, a sunny autumn friday afternoon, excellent service, cool clientele and excellent food? You call it the veuve clicquot cruise.
Visit London 2008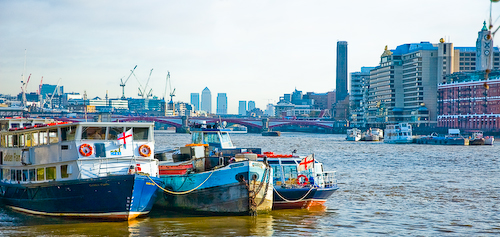 The thames is beautiful. It invokes this lovely sea-breeze feel ( its a river I know ) but you can't help but feel the buzz emanating from the city which surrounds it. There are just so many landmarks, the tate museum, the shakespeare globe theatre, the london assembly, canary wharf, the O2 , I could go on and on. Suffice to say the river still holds a certain charm, if only there was a way to get londoners excited about it again.
Welcome aboard the Silver Sturgeon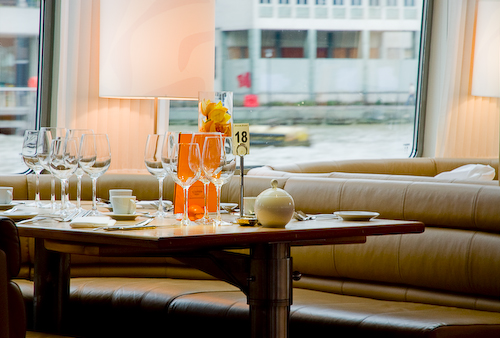 The silver sturgeon is the marvelous darling of the silver fleet, operated by wood river cruises who have been around for over sixty years now. Primarily offering tailored services for private and corporate events, they believe in providing excellent food & service from the comfort of a highly furnished boat while being enticed by the allure of cruising on the thames.
What is the veuve clicquot cruise?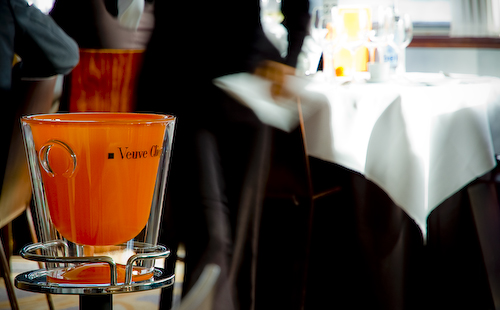 When the silver sturgeon is not entertaining her corporate guests, it turns into this floating restaurant which receives private guests for a spot of friday lunch. I was fortunate enough to be invited to join this service and was excited about the idea of cruising and dining.
We begin the journey from the savoy pier, where the sturgeon will depart from. The pier is a convenient three minute walk from embankment tube station, the afternoon schedule ahead:
Boarding

11.30am

Cruising

12 noon

Returning

2.30pm

Disembark

3.00pm
Of course, with these events, one can become rather skeptical about it and the details can get abit murky. An excerpt from their website:
Step onboard and choose to sip your glass of Veuve Clicquot and nibble delicious canapés in the Ensign Room Bar or on the Sun Deck taking in one of the city's most memorable views – the river's curve at Waterloo Bridge.
Dine on a stunning, innovative three course lunch by "rhubarb" on the river created in our galley with seasonal produce. Your menu will be complemented by fine wines selected by our sommelier, organic and fairtrade coffee and homemade petit fours.
In their own ad-speak, its ' the perfect way to enjoy a friday afternoon '. Right ok, sounds like one of these too good too be trues which you read about in travel magazines. Let's put that statement to the test then shall we?
Cruising the vaunted interior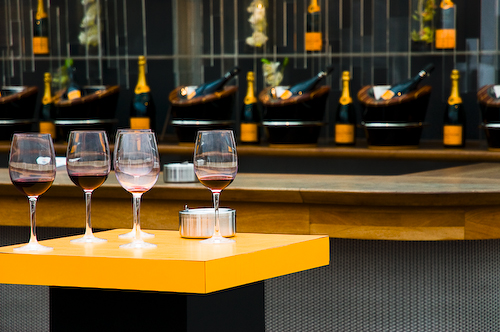 I invited Caro along as my plus one and we arrived a little early as the sturgeon has not even docked yet. A suitably large crowd was slowly gathering as we inched closer to 11:30. It was beautifully sunny (thankfully) and really made for a great start to the day. I'm on the list. Passing through the entrance, we are directed to the left into the ensign room where the champagne reception is held. Naturally, we were drinking veuve.
Wow. The interior is tasteful and just comfortable. It is adorned with polished brown woods, of oak and maple. The space exudes a really classy feel with booths of tables clad in leather couches at either side of the room. I want to point out the slick solid wooden floors. I love wooden floors, it manages to bring out a modern feel to the space and makes everything feel subtly cool. Now, I'm no architectural wunderkid, but I do know when I am in the presence of beautiful decor and boy, was I impressed.
Have a look at their boat gallery here.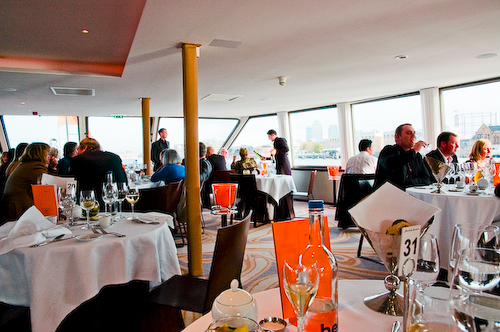 Moving on to the sun deck, it's an open space complete with decking and a nicely laid out bar. You get breathtaking views of the london skyline, oh what's this? Free flowing champagne? Nice touch, Caro agrees while bottoming up. Canapes include baby baked potatoes with blue cheese and (if I remember correctly) chilli beans, another is scotch beef carpaccio (yes, very good indeed) with parmesan on a coin sized piece of toast. Bathed in sunshine, the clientele includes business types chatting away on their blackberries possibly still trying to close a deal, a few look like retiring couples out to celebrate an occasion and there were a few tables where I can only assume, is the boss rewarding his key staff after yet another quarter of solid results. 12 pm, time for lunch.
Bustling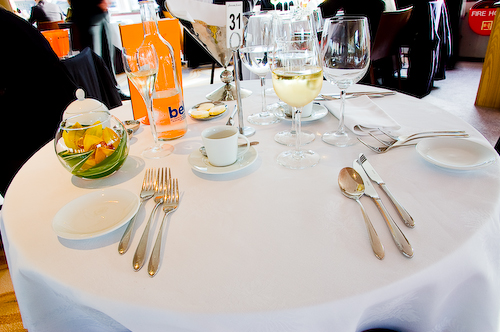 I actually really like the dining area. It is towards the front of the boat, the open windows let in alot of natural light and the openness of the space gave way to a lively and bustling atmosphere where the diners are noticeably happy ( perhaps from knocking back one too many? ) .The menu is seasonal and put together by exec head chef Dennis Van Golberdinge of 'rhubarb' design whom are known for their creative flair and style from 'within the industry' . More copywriting spin. I must say, large scale catering events are difficult beasts to tame. Food needs to be cooked for hundreds of guests all at the same time and quality control becomes abit tricky when everything needs to go out at the same time. I don't think I've ever rated a planned event highly, especially in the food department. So I am approaching 'rhubarb' with slight caution.
On paper, everything sounds great. The seasonal three course lunch is contemporary british ( Yes, I am glad that it is) , some of which are quite classic choices and it will be interesting to see what he whips up. Doing a quick head count, there are about 30 tables (I'm on 31) and round about 80 to 100 guests. At this point, I've already had a couple of glasses of bubbles and suitably tipsy, only for the waitress to bring along yet more free flowing happy liquid in the form of a white pinot grigio and a red zinfandel. The white is crisp and light – as you'd expect from an italian grigio, the zinfandel could be better. Hollow in the centre and bit too smoky on the finish for my liking. However, I'm not complaining, after all, it is free flowing.
A fine s-tart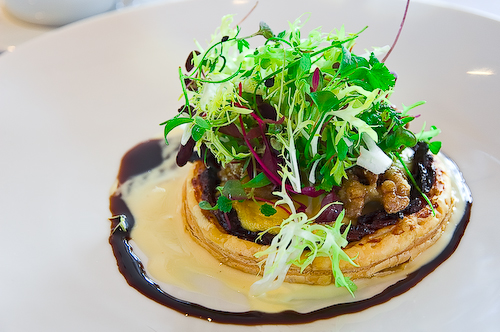 We kick things off with a fine tart of sweet onion and melted raclette, bitter winter leaves, caramelised walnuts and cabernet sauvignon dressing. Alright, as I said before, big party events mean that the chef has to be strategic about his choice of food. The fact that quality control (and timing) becomes a big issue means that 'fine dining' for 100 guests can be rather contentious.
Anyway, rambling aside – this tart is an excellent choice. The elements are classic and it's an easy dish to control its quality. The sweetness of the onions against the richness of the melted cheese work well. Together with the mildly bitter winter leaves, it makes for a refreshing mouthful all sitting atop a crispy and light pastry base. Oh I like it already. There are nice subtle touches in the walnuts, which add a nutty savouriness to the already interesting flavour profile and the dish is coloured by the roundly rich onion reduction which is slightly tangy perhaps to help coat the tart and its bits in a nice moistness. I suspect the cab sav reduction has had all its alcohol boiled off so it didnt impart any acidic bubbles, rather it was an amazingly subtle grapyness in the dressing. If you didnt know to look for it, you won't really notice it was there. Top marks for this though, I found the dressing to be a fine touch. It's almost like the chef saying to me 'I can do big party fine dining.'
It's a rather simple dish to start, but one which works. It's fresh and I think that the three main elements to this dish the pastry, onion and cheese are spot-on. In particular, the fleshy cheese (think melted mozzarella texture plus creaminess of a damn good mature cheddar) held the tart together making it fine indeed.
The main of two faces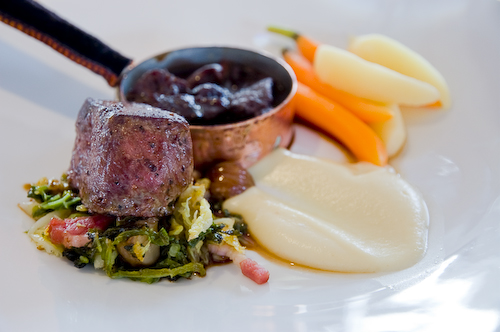 Service is excellently unobtrusive. The staff smile warmly if you catch their eye, but the body language is never rushed and they don't appear to want to 'over-serve' you. Instead they exuded a cool calm which just made me feel so relaxed. I was not being intensely scrutinised in my every single move and felt as though I was allowed to just be myself and have a long relaxing lunch.
So, next up was Daube of Denham estate venison with celeriac purée, poached quince, baby carrots and slow braised savoy cabbage with chestnuts and pancetta. Now we're getting serious. There are actually two dishes on this plate. We'll start with the grilled meat first. On the left, the venison rests on top of savoy cabbage ( yes, if you want to be fine always go savoy, but surely this is going to go out of fashion someday right? ) garnished with pancetta and chestnuts. The chestnut is delicately mushy imparting a good sweet flavour to the bold cabbage. Everything sits in a light broth (possibly juices from the venison?) and the saltiness of the pancetta help lift the balance to exhiliarating heights. Tastes of garlic, the sauce is superbly light yet has a strong edge, almost like chinese oyster sauce, dominant and married well with the venison.
I can only assume that it had been pan-roasted as you could clearly taste the mini-explosions emanating from within the meat itself. The smokiness help bring out the meaty flavour and along with the cabbages, it produced a rather interesting rainbow of savouriness. The best part came when the baby smooth celeraic puree brought moistness to wash down quite a mouthful. I thought this dish was stunning. The cooking is spot on and the easily identifying parts of the dish was definitely a mark of a good chef as you could 'see' the ingredients form in your head while you ate. The chef is clearly playing mind games with me and I suspect I'm slowly falling into his trap. Personally, I would have preferred the venison to be alittle bit bloodier – it's just on the right side of medium-well, but considering he has replicate this 100 times, good.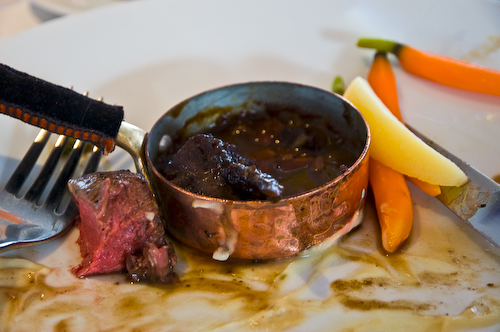 Alright, part two of the dish is the daube which is apparently a classic french stew. Ok, I was going to claim it as a hearty, homely and very rich irish stew with the slow-cooked meat decidely soft on the chew and a sauce that just took me back to the days when my mum first introduced me to stew. Oh yes, it was good and very strong, it even carried a hot peppery aftertaste. It's a good thing then, this hotness is balanced by the sweetly poached quince on the side. Lovely, just lovely. While this is not imaginative haute cuisine, everything is perfectly cooked and the food pairings are thoughtful and well balanced. At this point, I must say that cooking is so solid that it can easily rival the wild honeys, petrus's and nobu's of London.
Ok I take that back, maybe not nobu.
A sweet finish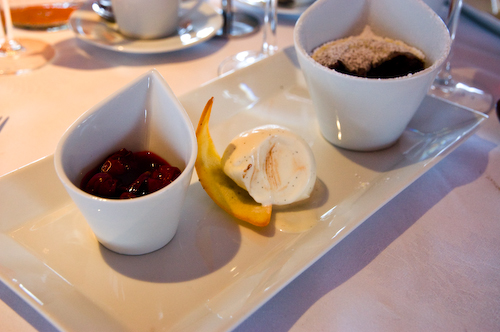 The chef's got my attention now, the food is so good, that it actually turned my attention away from entertaining Caro… but then again, she seemed quietly making love to the food herself. Last impressions are lasting – so how is he going to bring the curtain down I wonder.
I should note that we have gently cruised ( very smooth ride, no bumps and hardly even noticed we were floating along..) along toward the east, passing the O2, Greenwich and the London eye (a stunning vista from the river, I've never seen it quite from that angle before) and we are just about to turn around back to the Savoy pier now.
So to end, its valhrona chocolate fondant, warm spiced cherries, milk ice cream and a pistachio wafer. Again it seems another two in one kind of dish. The warm dark chocolate fondant is creamy and rich ( after such a meaty mains, I wasnt really too keen on yet more heaviness, but that's just me on a niggling point ) , but that fire in your mouth quickly gets put out with the super light milk ice cream. Moving to the other side of the dish, the spiced cherries tasted of a sweet mulled wine, being that it was warm, gave me a soothing feeling in my tummy. It's quite clear that the cherries and the chocolate are not meant to work together ( really it didnt ) , but it was rather like polar opposites held together by the common milk ice cream which existed in the equilbrium, even the way it was laid out suggested a divide. The pistachio wafer is as good as a wafer can be and overall, it was a rich and classical way to end the meal. Properly fine and no surprises, it was just very good cooking on show.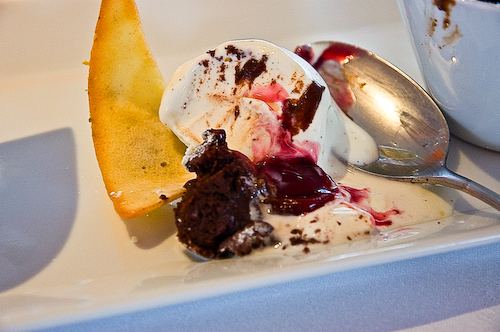 Im not too impressed with the pictures I took of the dessert. I couldnt quite find the money shot for a big finish. So I thought, I just do a close up to whet your appetite.
Touching down on earth again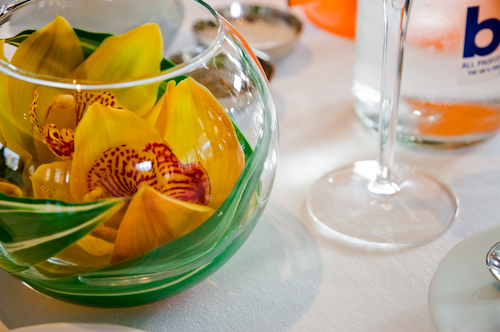 All good things must come to an end, we floated along for a good two hours and as we finished dessert, the sturgeon gracefully redocked at the pier and we were back to where we started once again. The waiter kindly told us that they would be shortly on their way again and it was the signal for journey's end. Reflecting on the lunch – it was a really excellent experience all together. Everything was so good that it exceeded my expectations and was better than as advertised. It actually was quite the perfect way to enjoy a friday afternoon, and it made me appreciate just how cool london really is once again.
I believe they do one of these veuve cruises every other friday and the whole package is £89 inc VAT. Now, £89 sounds like alot of money, but factoring in the boat ride (let's say £20 worth for 3 hrs of floating) , champagne reception ( £15), three course meal ( erm, £35 ? ) not to mention the free flowing happy drinks ( ranges from £10….  to £ 100, in caro's case she really gets her money's worth ) , it's actually not a bad deal.
It's probably one of the best boat trips I've been on and i think something like this would make it suitable to celebrate special occasions (anniversary perhaps?). The next trips on schedule is for the 28th November and 5th December. There is a special christmas one for the 18th of December and if you're still scrambling for plans with that special someone – then this one comes highly recommended.
Did you enjoy reading this post? Why not subscribe to my feed updates for free. Alternatively,  You can subscribe via email.