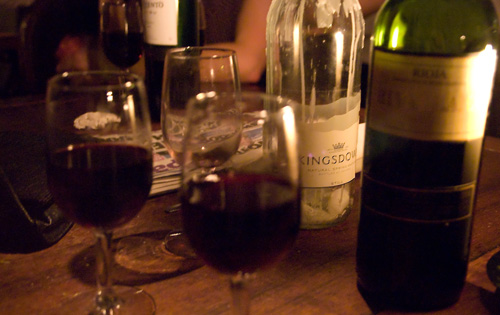 Its a trend. London's like that, stuff comes in and out of fashion. Wine bars used to be ( long long ago, in a galaxy far, far away) cool, then it kinda died but now its back and its all the rage. When I was hunting for one to write about, I thought it would only be appropriate to go to the oldest one in London; Gordon's wine bar.
London Whining
We were suppose to check out Benares, the first indian restaurant to win a michelin star, but I couldnt get a reservation at a reasonable time. Caro did say that she was feeling more thirsty than hungry, so off we went to the oldest wine bar in London.
So lets talk about Gordons. It is known to have existed in the same spot in embankment since 1890 and stakes its claim as the oldest one in the city. Today, the wine bar is owned and run by Wendy Gordon. Much of her extended family helps with the business so, as they mention on their website, it is very much a family affair.. which means one thing, heart and soul. Ok thats two things, but you get my drift ( my drift? That's the weekend manifesting itself…).
Down the rabbit hole we go…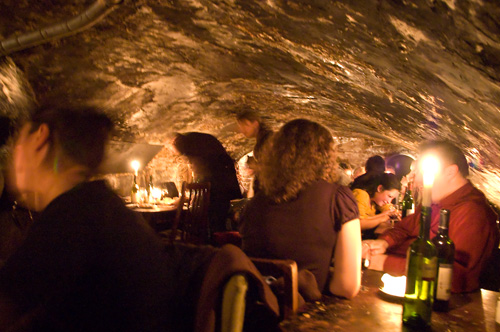 Situated in the 'tourisy' part of London in Embankment, its by the river and its a nice spot. The outside looks ancient, like its been unaltered since the 1900s, so authenticity of its age is proved I suppose. Its downstairs, so you follow a very steep set of stairs down..
There are no ceilings, instead it's all rock and very low in height. Im not a very big guy and even I had to bend down a little as we descended down the more cramped bits. Its so atmospheric! I don't think there are any lights, so its very dark, instead the whole place seems to be lit by just the candles on the tables. There's also an outdoor beer (wine) garden area, but I really came here to drink in the cellar environment. I believe there isn't music playing in the background either, just the chatter from the huge crowd.
We went on a friday night and it was absolutely packed to the brim. Luckily, Caro managed to find us a some seats on one of the long tables. Its also rather warm, Caro had to strip off to just one layer. Strip for dramatics of course. I then proceeded to the bar to order us a few glasses.
I need to quence my thirst
The wine list is straightforwardly arranged by body, ie: light, medium and full-bodied. Most of the wines are available by the glass, but some of the more interesting ones go by the bottle. Both of us felt red and Caro wanted something full-on, so she went for the Chilean Shiraz. I spotted the Grovers "La Reserve" which is a cabernet syrah..from India. Wow, that's pretty unique, never had wine from india so I decided to go for that.
The food is a sort of buffet bar. They have a selection of cheese with the usual suspects such as brie, gouda, camembert, etc. In addition, there's cold meats, roast beef, chicken wings and chorizos. All the nibbles are pretty formidable, I mean, you'd come here for the atmosphere more than anything really.
Heart & Soul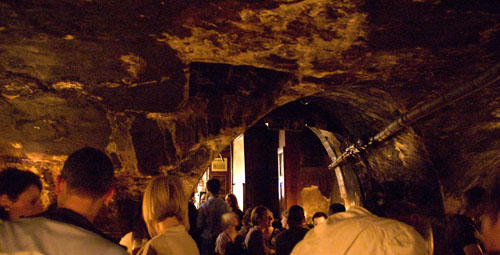 I got to say, I was a little apprehensive about this, since I thought of it just to be just another wine bar. But this one is really nice. You sip wine right next to their cellars, so its all dusky and musky, candle lights, very warm and the light bouncing off the low rocky ceilings, its superbly atmospheric and dare I say, quite a romantic place to have long chats. I think the fact that it was completely packed out help add to that atmosphere.
Haven't really seen Caro in quite a while and she has since become abit of a sporting fanatic, squash to be exact. This was the perfect place to catch up. We stayed on till it closed at 11 and finished with an affordable bottle of Rioja between us.
OK, maybe its more stone than rock? What is the difference anyway? Perhaps its a mixture of both. Im wondering if its artificial, did they used to construct buildings out of solid slabs of rock back in the day? Maybe that's why its still standing. Hmm. Musings of a drunk London eater.
Its a great place to catch up with old pals from yesteryear and I must say, the whole setting is very memorable and abit of an experience in itself. Its nice to see a revival of wine bars and on a more general note, wine becoming more 'mainstream'. Now that autumn seems to be in full swing, cosying up in candle light and stone with good mates seems a great way to unwind after a long weeks' work.
And for once, I'm going to act on my own advice 😀 Nic, Nicole, what are you doing tonight?