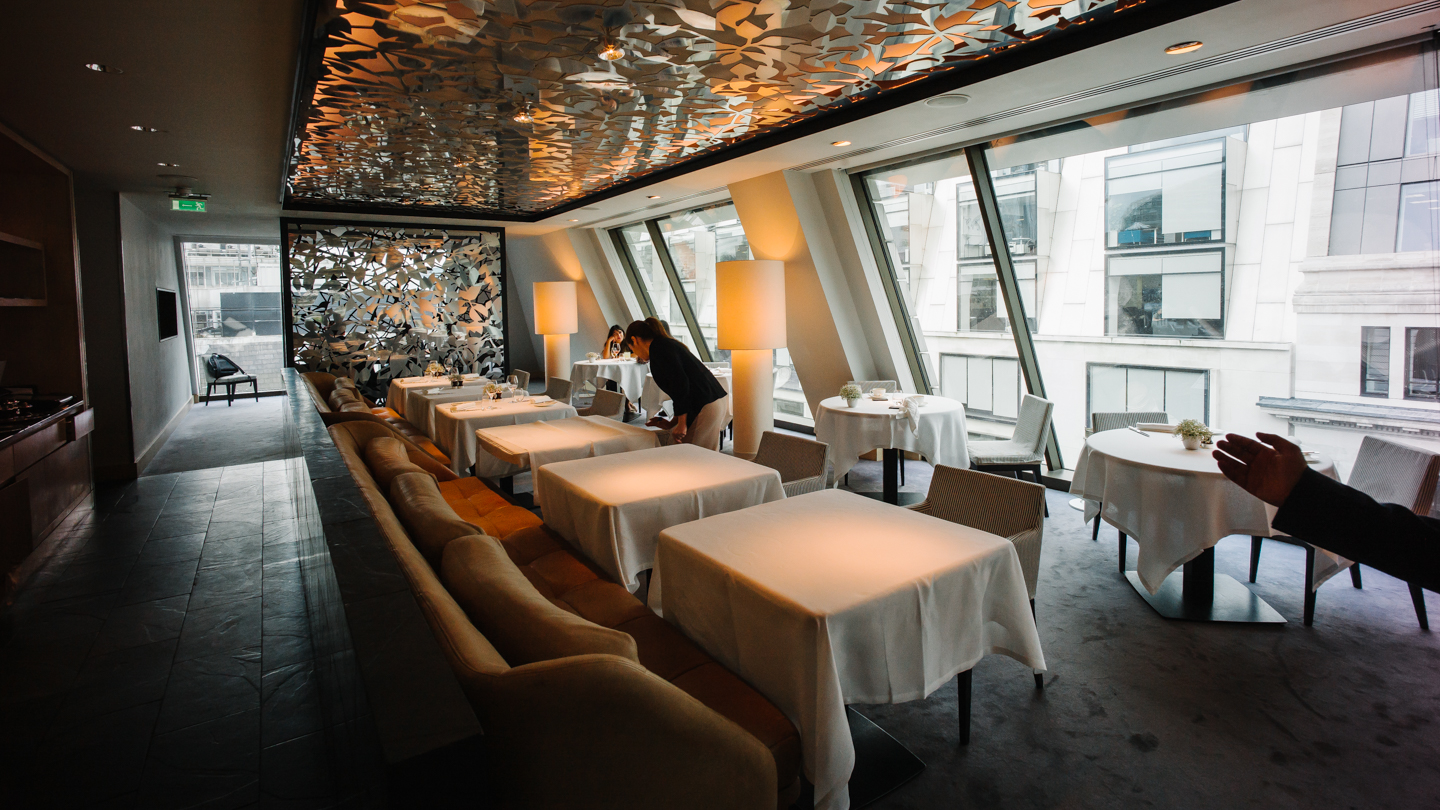 During the last days of The (Old) Square, Gary's style was becoming evident, which I find to be rather more elegant on the plate, with tidy compositions and precise cooking applied where necessary. Of course he had to do it within the confines of having to intepret Phil Howard's more generous cooking, but I certainly thought that the Foulkes years (2013 to 2016) was a rather slick effort in the modernisation of Phil's classics.
Scouring Gary's IG feed, it partly shows his inspirations that has informed his current cooking, his love of Thai and Japanese cuisine in particular. A seafood restaurant (as is suggested in the restaurant's name) seems the appropriate platform for him to flesh out his cuisine. Gary is an experienced veteran having started out with Richard Neat and Gary Rhodes, then eventually spending the good part of the last decade with Phil at The Square. As you know, Phil sold The Square last year, and since April 2016, Gary has quietly built up his repertoire at The Angler. He replaces Tony Fleming, the previous Chef at Angler, and has managed to retain the restaurant's michelin star in the 2017 guide.
What is significant to know is since the sale of The Square, you could say the old team has branched off into two locations; Some have joined up with the Boss at Elystan Street, and the other (larger) contingent went off to join Gary at Angler.
And so we left it with Gary (who was in the kitchen) to make a menu for this lunch on a Friday afternoon, for two.
0. Squid ink cracker with taramasalata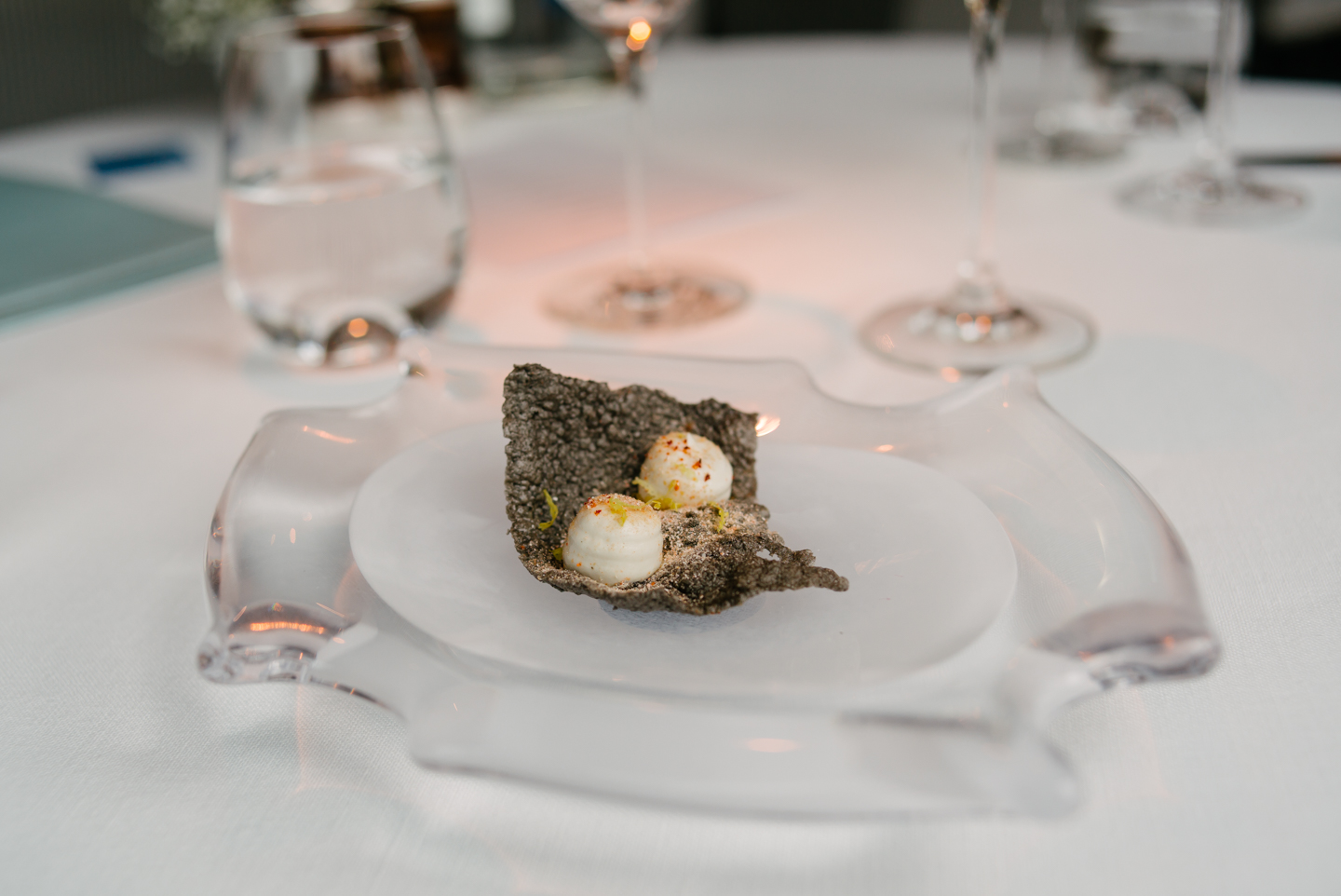 Kian, one of many Old Square regulars, had shed some light on the history of this omnipresent canapé, in which its invention can be attributed to Gary during his Square days. As far as originals go, this is cool runnings. Wafer thin, and a clean snap with a full flavoured taramasalata. Good.
1. Tartare of yellowfin tuna, Hass avocado, wasabi and shiso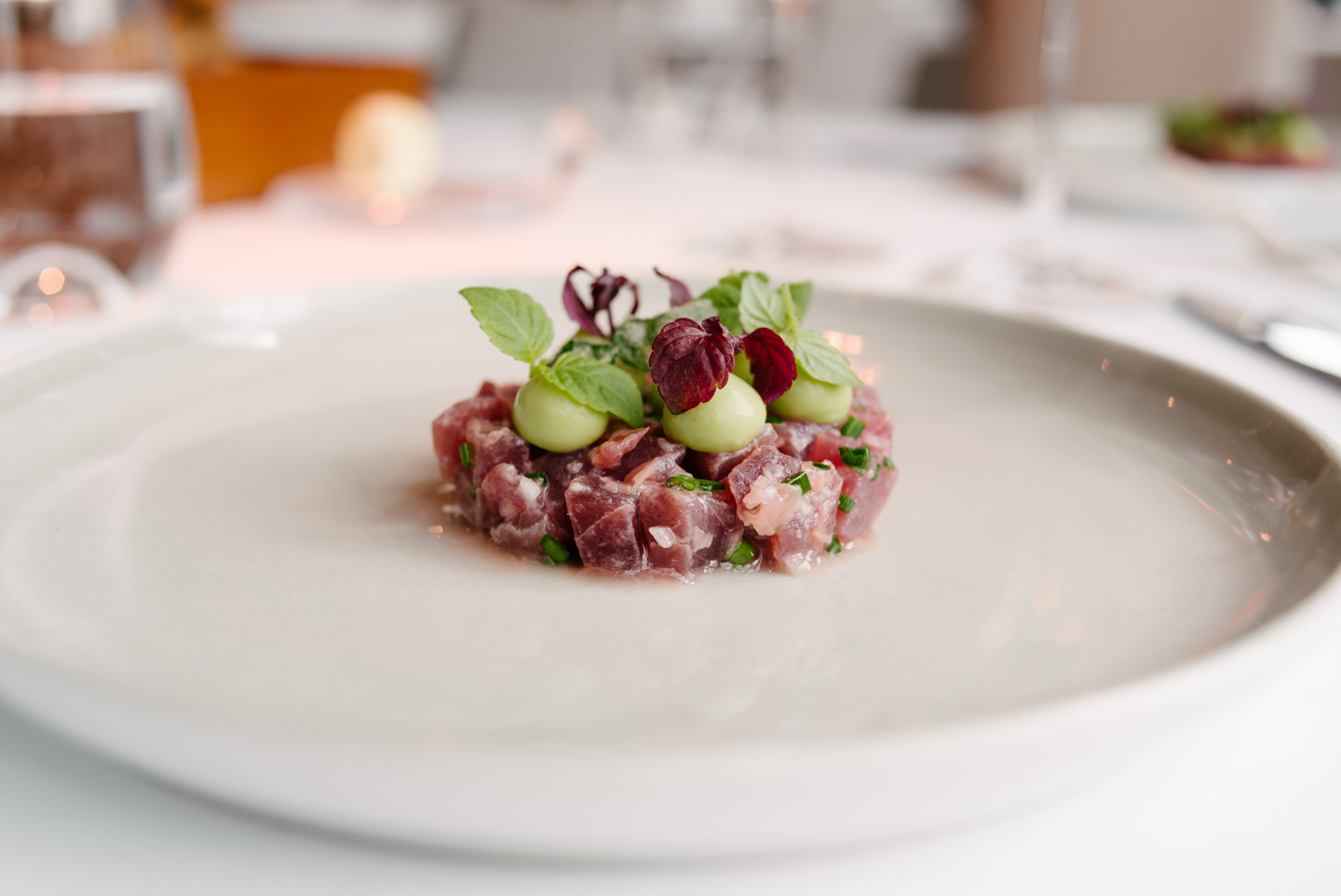 A classical combination, and appealing, the fat of the avocado puree with the acidity of the marinated tuna tartare. Fresh, enlivening and well-made. A good star, although (it is not so PC to say it these days, but is a fact) yellowfin is a far cry from blue fin for raw prep.
2. Ajo Blanco, raw red prawns, Zerbinati melon, grape, fig leaf oil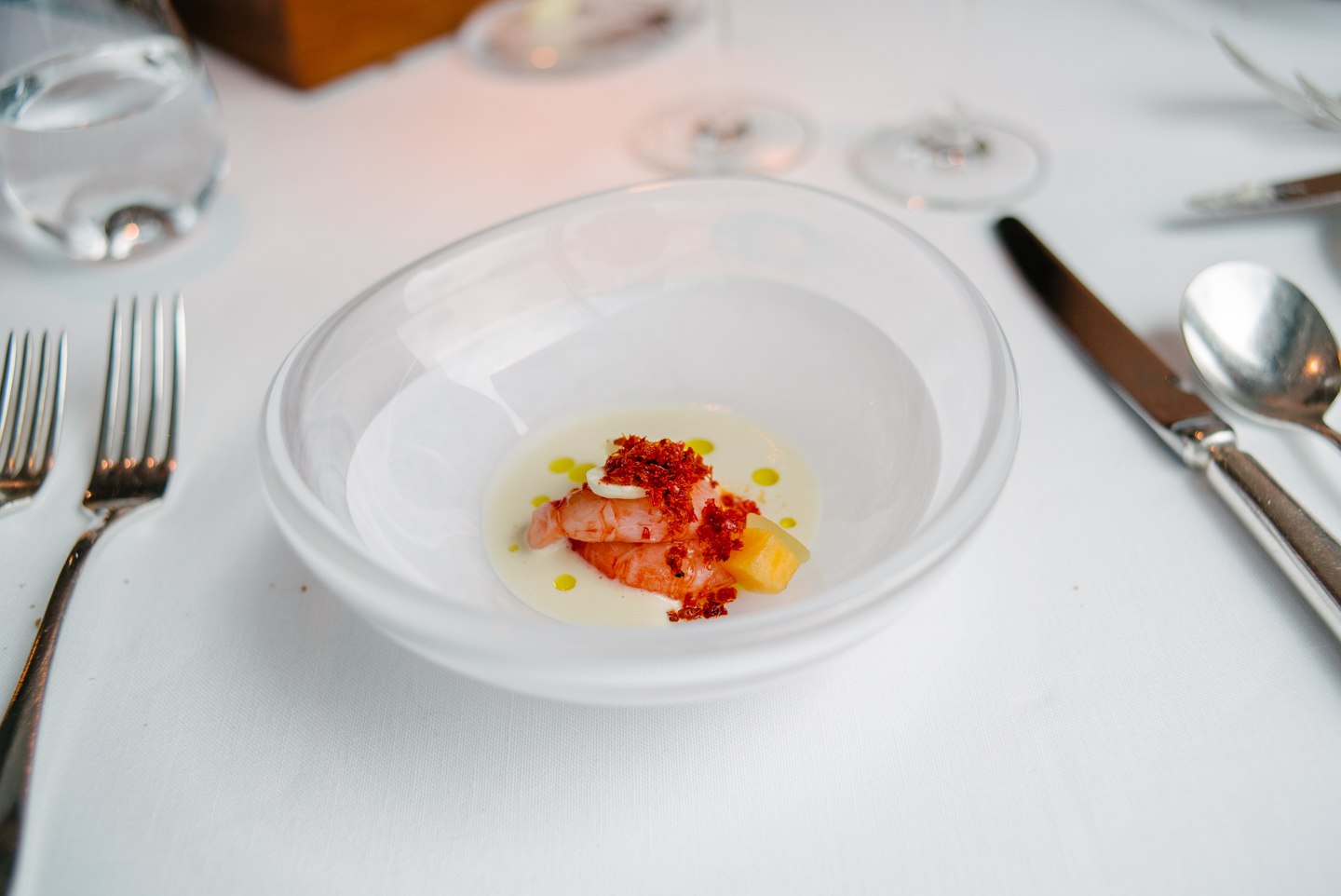 On the other hand, you already know how fantastic these Sicilian red prawns are raw – Slippery, sweet, natural brine and jewel-like. The almond garlic ajo blanco is sufficiently seasoned to match the prawns, but here the real genius is the dried spicy shavings made from the head of the prawns.
They remind me very much of sambal, belacan or even dried shrimp. Pickled and spicy with a very true punch of umami. The finish is is a contrasting clean and cool, the spectre of melons. Smart dish this, this is Gary showing his quality.
3. Roast octopus, crispy chiporones, taramasalata, jersey royals, red wine bagna cauda
I really like this dish, and I find it pretty unique. It is mature, confident, well thought out and is of course delicious. Especially the cooking of the octopus tentacles, slow braised in stock, and then coloured in high heat to finish. The suckers are removed and this gives the visual illusion of frankfurters, but frankfurters these are not.
The reduction is sweet and sour-ish (say anchovies and balsamic) to a sticky consistency that plays well as foil to the creamy and garlicky taramasalata both holding up to the octopus well. Impressive as the meal builds.
4. Cornish native lobster, summer minestrone, farfalle, lemon verbena, olive oil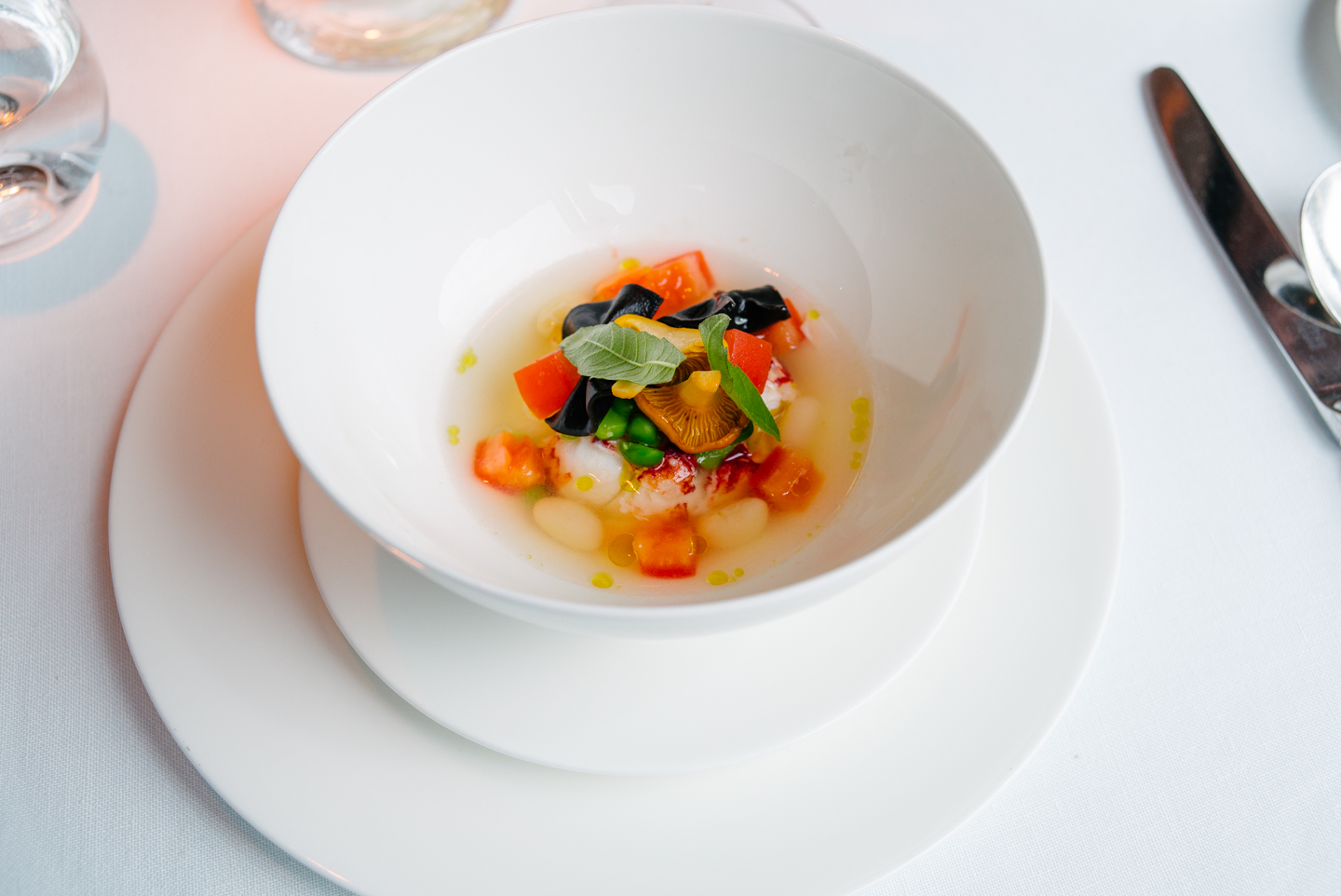 Summery indeed, I like this hot and sour aspect to the broth, lemon verbana plays like lemongrass, no doubt this is Gary inspired by his trips to Thailand, dare I say it is a very sophisticated tom yam.
5. Cornish turbot, line caught squid tagliatelle , Japanese mushrooms, bonito dashi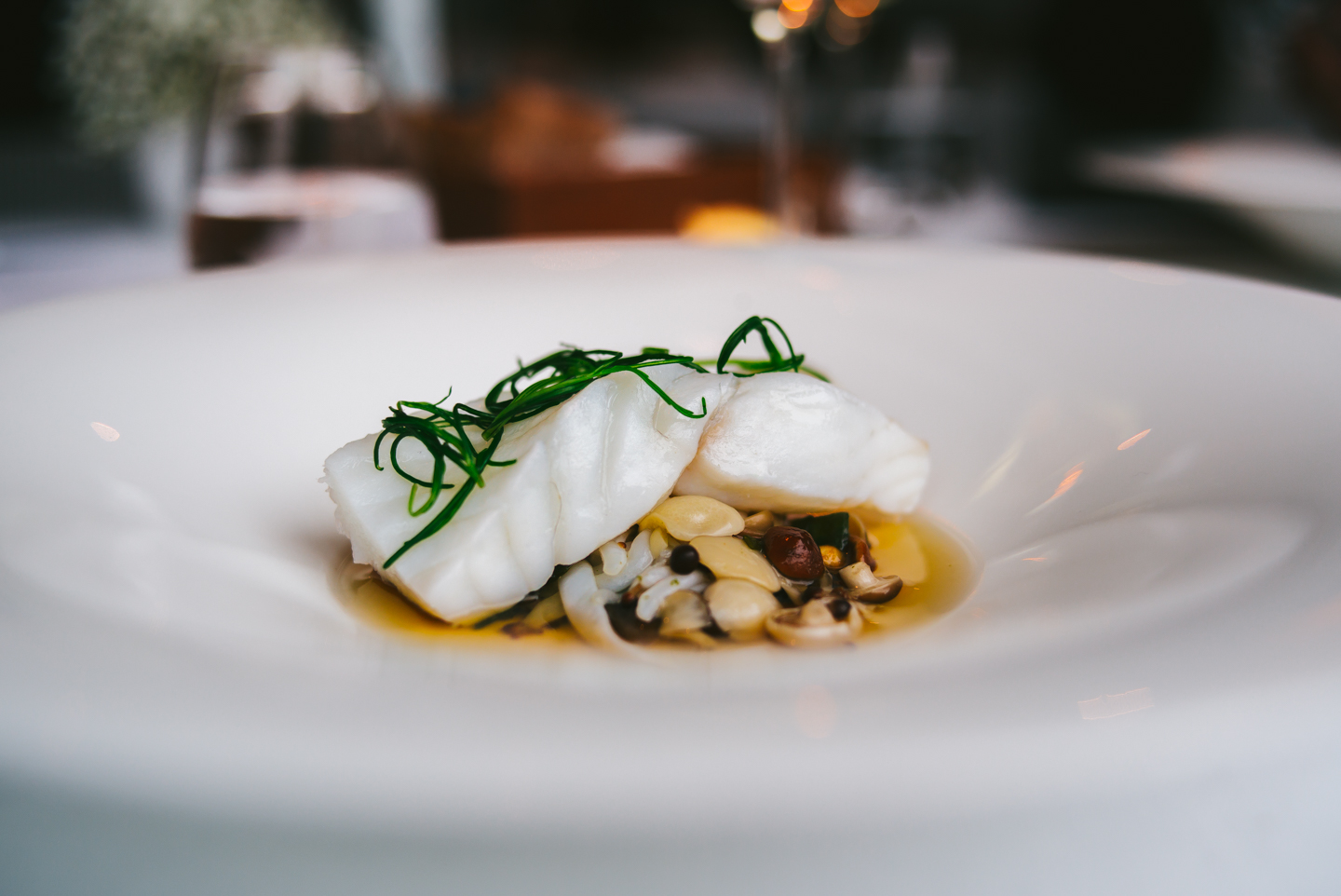 Spectacular. Have to hand it to Gary, the cuisson here is absolutely perfect. It is an elegant composition, yet jam packed with flavour without being heavy (no butter). It is obviously Japanese inspired, I have no doubt this can sit comfortably in a kaiseiki menu.
This pearlescent fillet, lifted off a 4kg fish, is timed until each and every firm flake is as polished as a cut diamond.
I think this steaming in kombu is brilliant – it has completely penetrated the turbot with deep umami, and the mushrooms as well as the dashi serve only to enhance it. A pure explosion of flavour greets every spoonful of this gorgeous dish.
Some of you know how much I love this noble fish, and I must say this is the best piece of turbot I've encountered in London this year. It was that good. Well done to Chef.
6. Roast Newlyn cod, spring peas, Cornish squid, Scottish girolles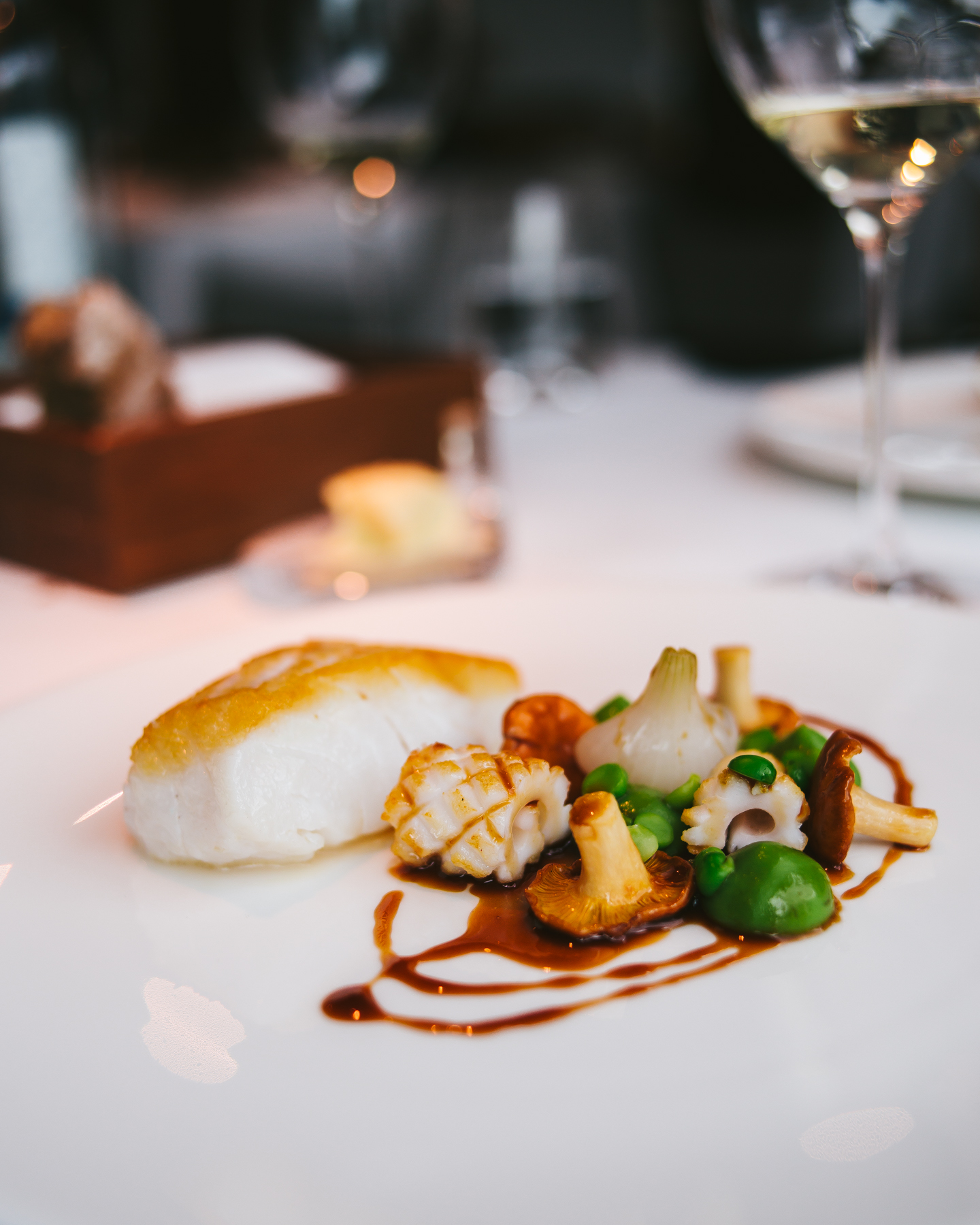 This must be the Anglo-French parallel to the turbot dish. Golden crusted on a one side only, an indication of how it was roasted on the pan, and of course a technique familiar to Phil Howard fans. A straight up classic dish here with little to fault. Delicious piece of firm, flaky and moist cod.
7. Blood nectarine, hyssop ice cream, buttermilk and fig leaf pannacotta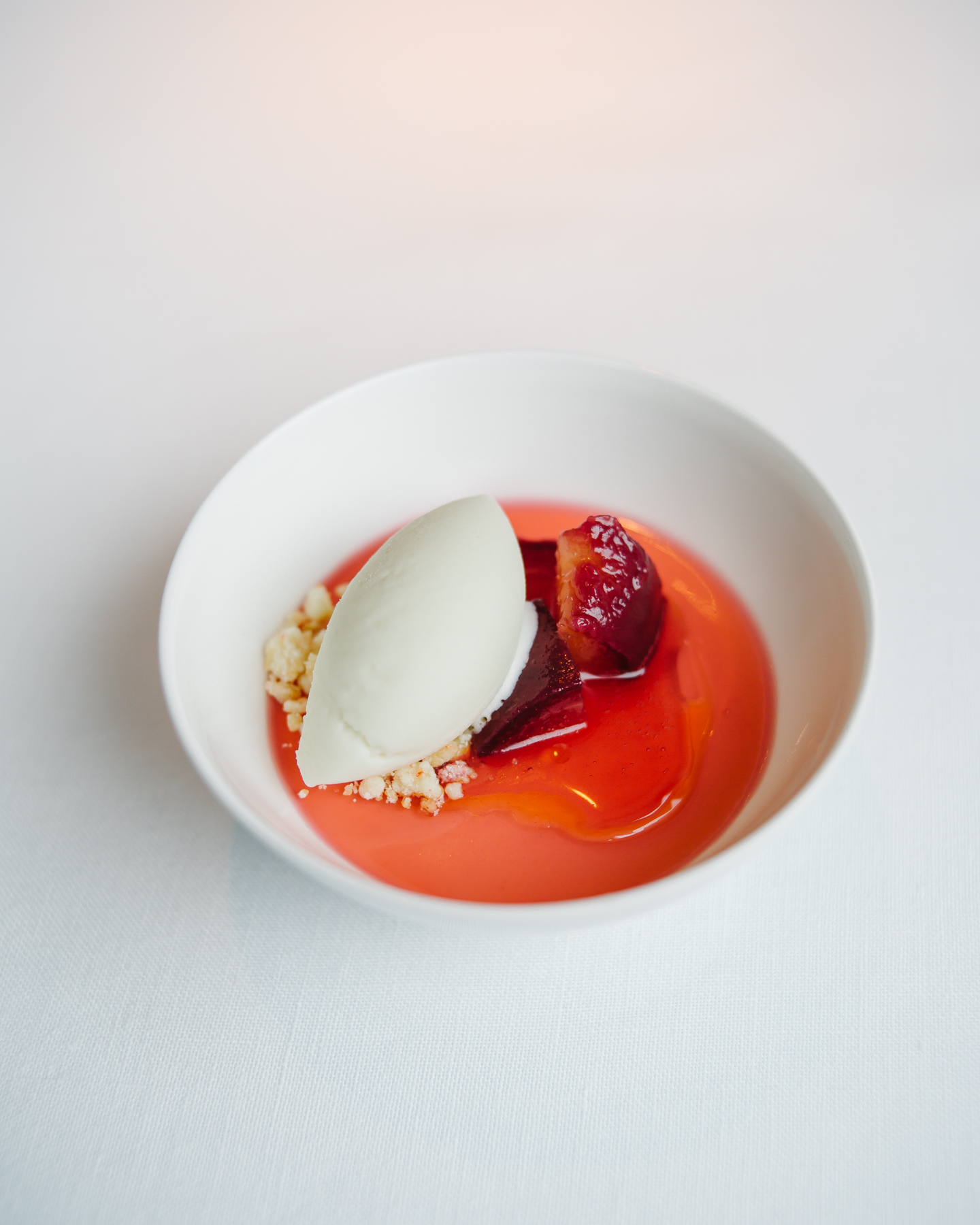 Just when I thought we were winding down, the pastry section breaks out a trio of extremely impressive puddings, starting with this one.
I love these French fruit, they are incredibly intense things, especially the ones with the saturated red flesh, as these are. Balanced flavours and truly a pudding to savour when the spoon goes in.
8. Tart of English strawberries, Brillat-Savarin and violet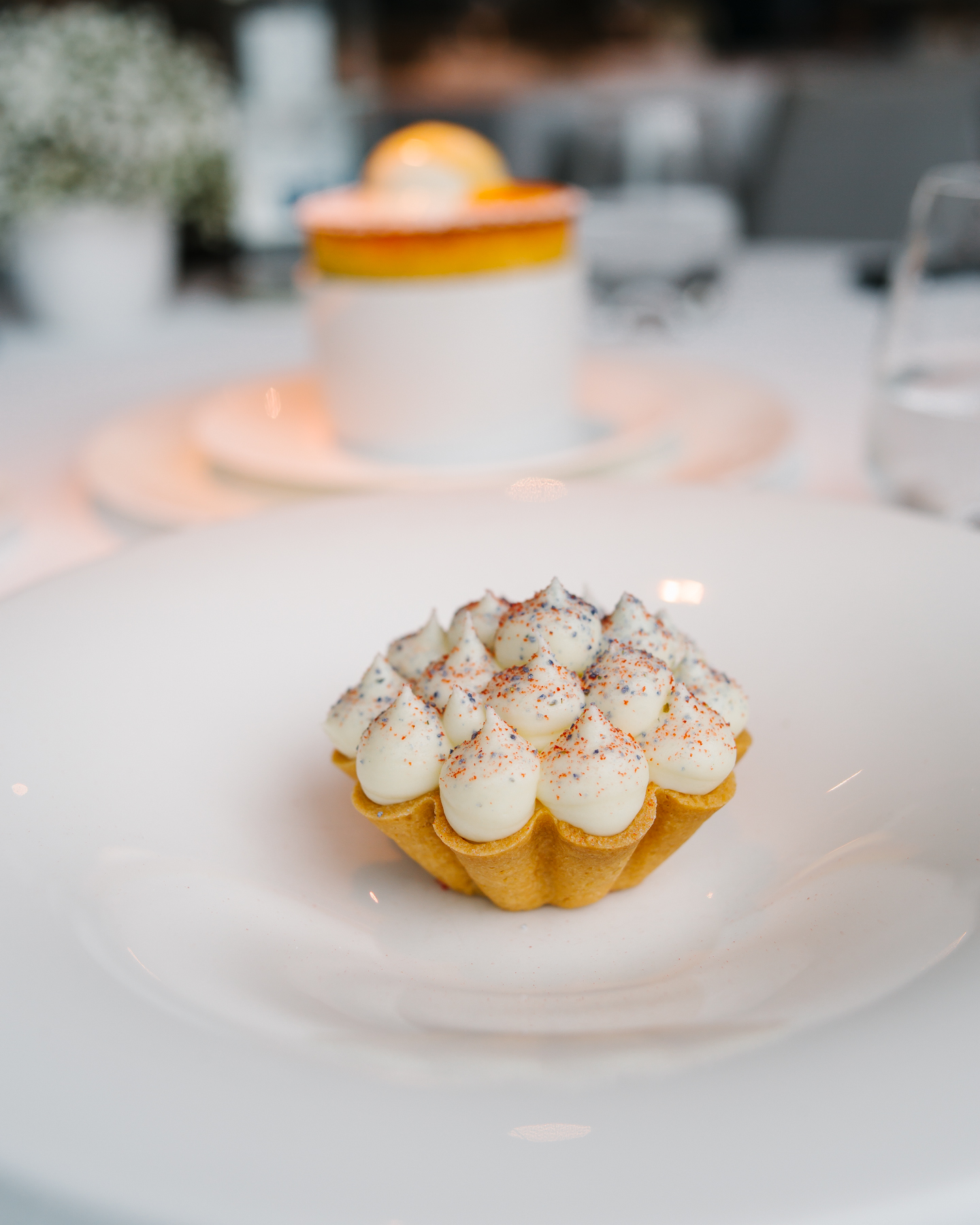 I think the quality of the shortcrust is evident even in pictures, very thin, and extremely light, it is perfect pastry work. The filling is equally fleeting, essentially a cheesecake whipped with plenty of air with a compote centre from soften and sweet fruit.
-extra- Apricot souffle with chamomile ice cream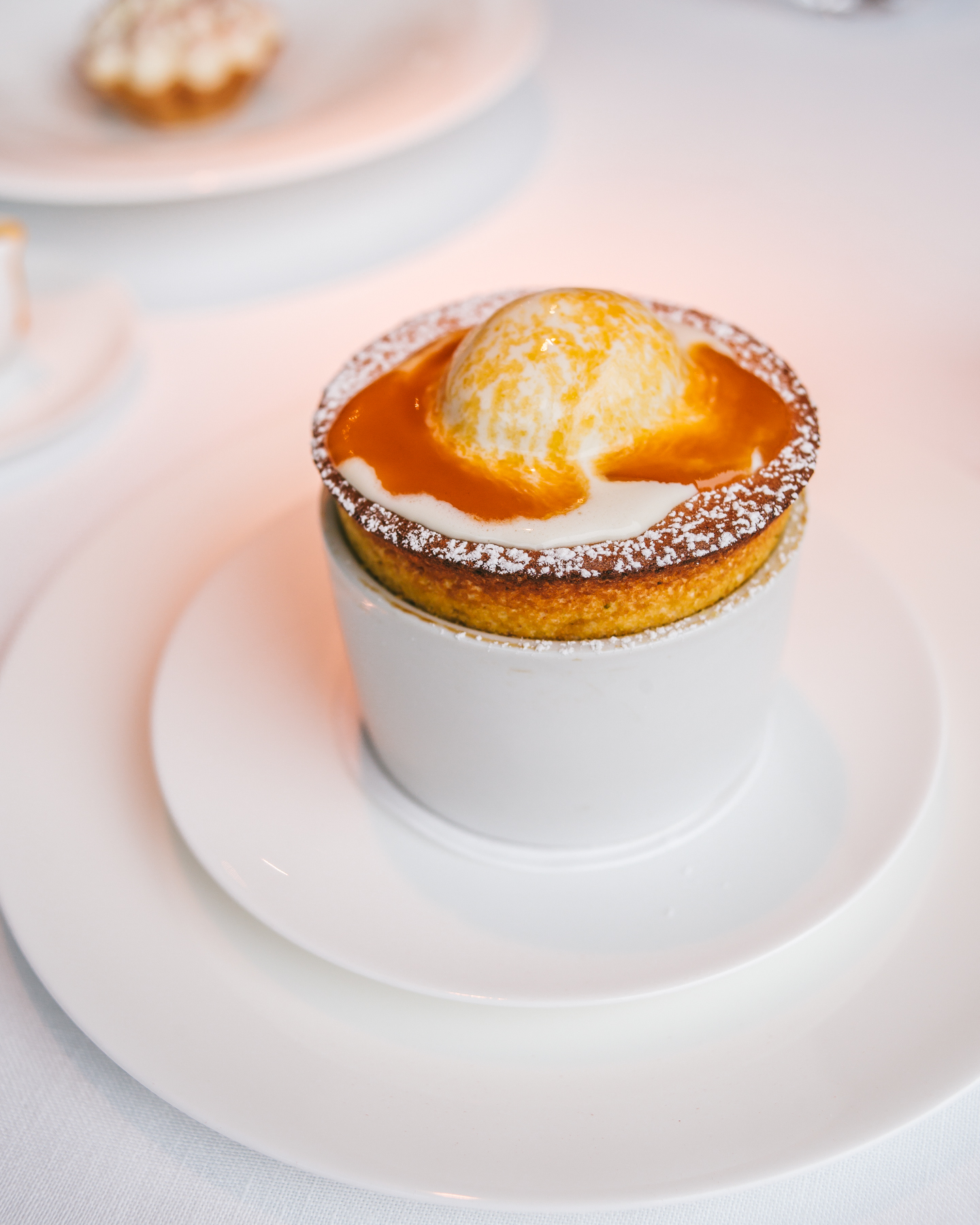 I could not resist, I had to have a souffle and for you old Square fans, this should be familiar.
As you can tell, the souffle is very stable, and is very likely a mix of rice pudding (puree as they use to do at old Square) in place of classic creme pat with the meringue. I urge you to play the video above. Utterly luscious, entirely gorgeous and this is truly what puddings ought to be!
—
We paid £275.06 in total for 2 taster menus, water, 4 glasses of wine and service.
I must say, I was delightfully surprised by this meal, especially considering Gary has to do his thing within the confines of the D&D banner. I did not expect this much quality, but came away marveling at an array of hugely accomplished dishes that showed maturity, precision in execution, and a unique identity to his cuisine. The latter is quite the feat in current times. Gary and his team more than deserve their michelin star. If you love seafood, you will be in good hands and be mightily impressed by the output, and you should take advantage of the dying embers of the British Summer. There should be a patch of good weather coming up, and if you are lucky with the weather gods, you really must try his turbot dish. To reiterate, it is without question the best turbot I've eaten in London this year.
When you do eventually visit, do leave room for pudding. They are incredible things and certainly make for a sweet ending.
Details
Angler Restaurant
Seafood
ALC £65 for 3 courses (average) + drinks + service
Set Lunch £38 for 3 courses + drinks + service
Taster menu £60 for 5 courses / £90 for 8 courses + drinks + service
South Place Hotel, 3 South Place EC2M 2AF
Tube: Moorgate
Tel: 020 3215 1260