Other visits: June 2016
I was doubly impressed on my return visit to this much-loved one star restaurant situated in the Paris left bank, confirming the good things that are happening in Hideki Nishi's kitchen today. We had visited for a weekday lunch, and requested their full dinner taster menu, in advanced, to which the restaurant were happy to lay on for us. 90euroes for 8 courses plus canapes and petite fours.
Do excuse the overused cliche, as I can think of no better way to describe Nishi san's cuisine other than being truly elegant. To eek out this much colour, in the dead of winter really is pretty respectable indeed. My opinion is that Nishi san is cooking above the 1 star rating. 1.5 stars by Paris standards and perhaps closer to 2 in London terms. For me, Nishi san's handiwork is that good. His timing on the bincho alone is worthy of 2 stars. Then again, Etxebarri is on one, so maybe, bib doesn't think that highly of BBQ? Who knows. I would not be surprised if he gets promoted someday.
Of note this trip are the BTG wines. I started with a glass of Kuheiji sake and drank a perky 2010 NSG "Les Quatre Vignes" from Domaine Laurent Pere (for 16euroes). Of note however was the white wine with the fish course; a glass of 2014 Blanc Fume de Pouilly from the revered Didier Daggernau, for under 16euroes. Fantastic value for money, and well worth considering during your next visit there.
In all, we paid 357.50euroes for two people for all food, wine, water, coffee and service. Good QPR.
Pictures and notes below.
0.1 Hors d'oeuvres. Pommes souffle with shellfish puree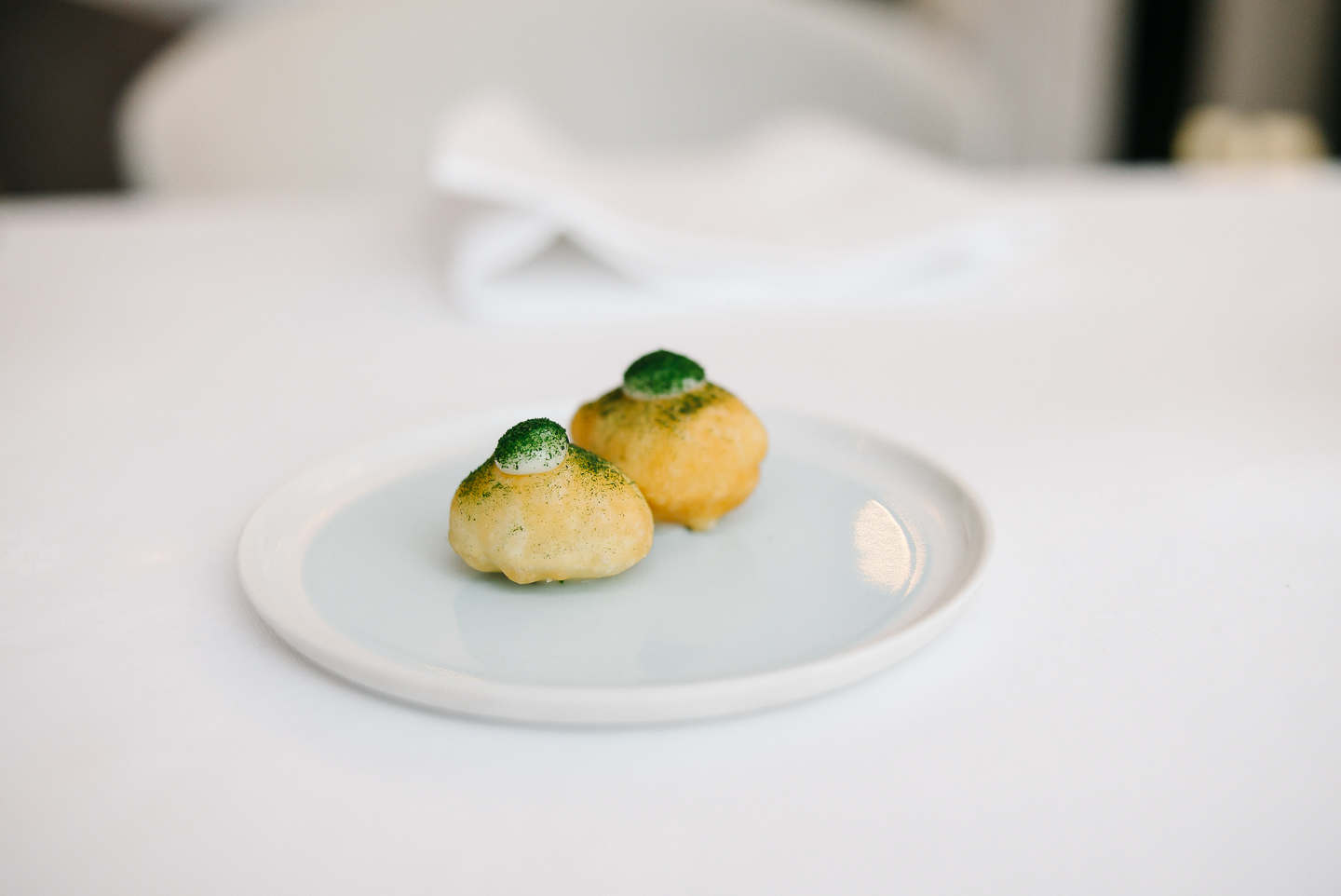 0.2 Amuse: Polenta crisp with beetroot cream, duck ham and a butternut squash foam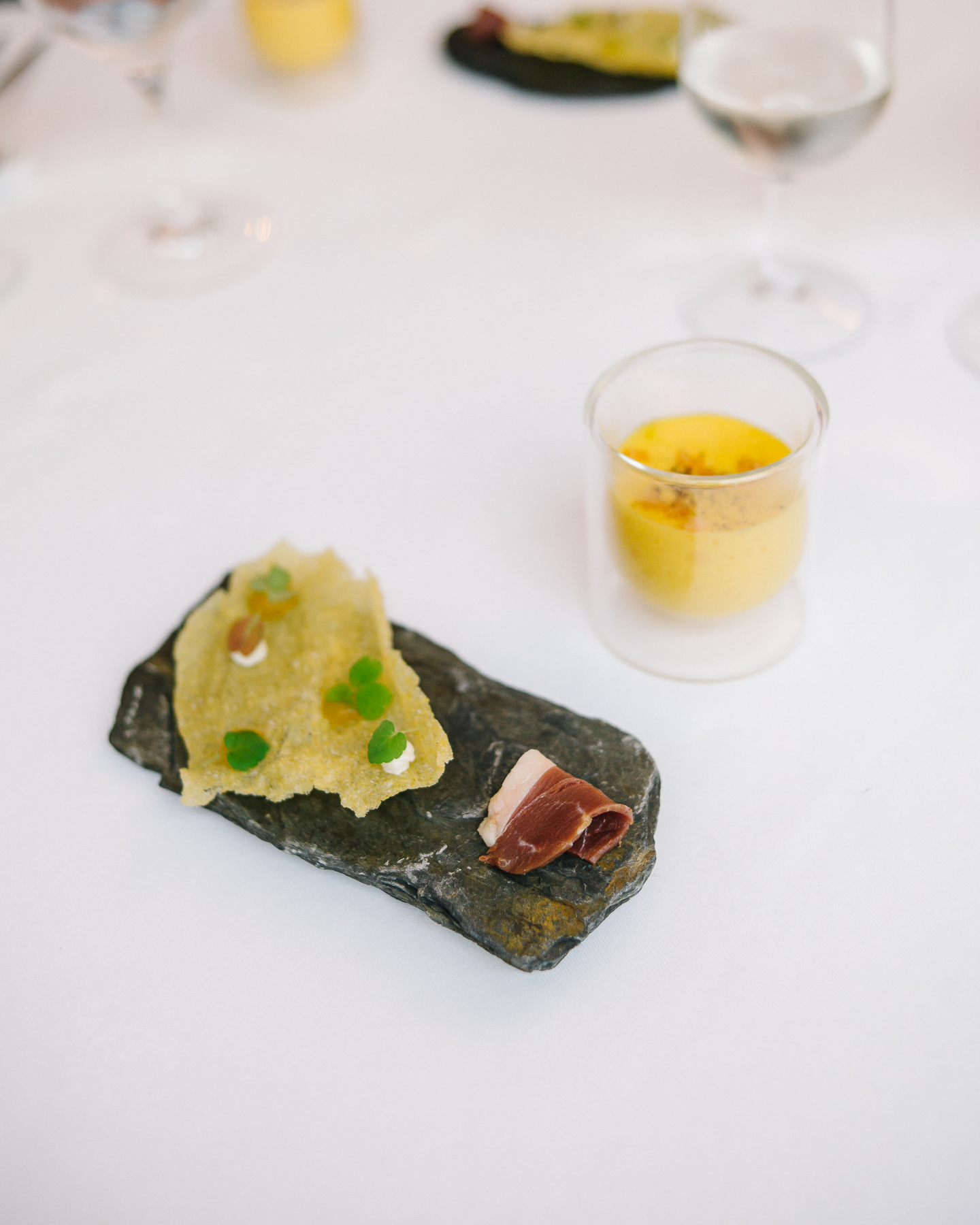 1. Tuna tartare, aubergine caviar and caviar Kristal (+20euro supplement)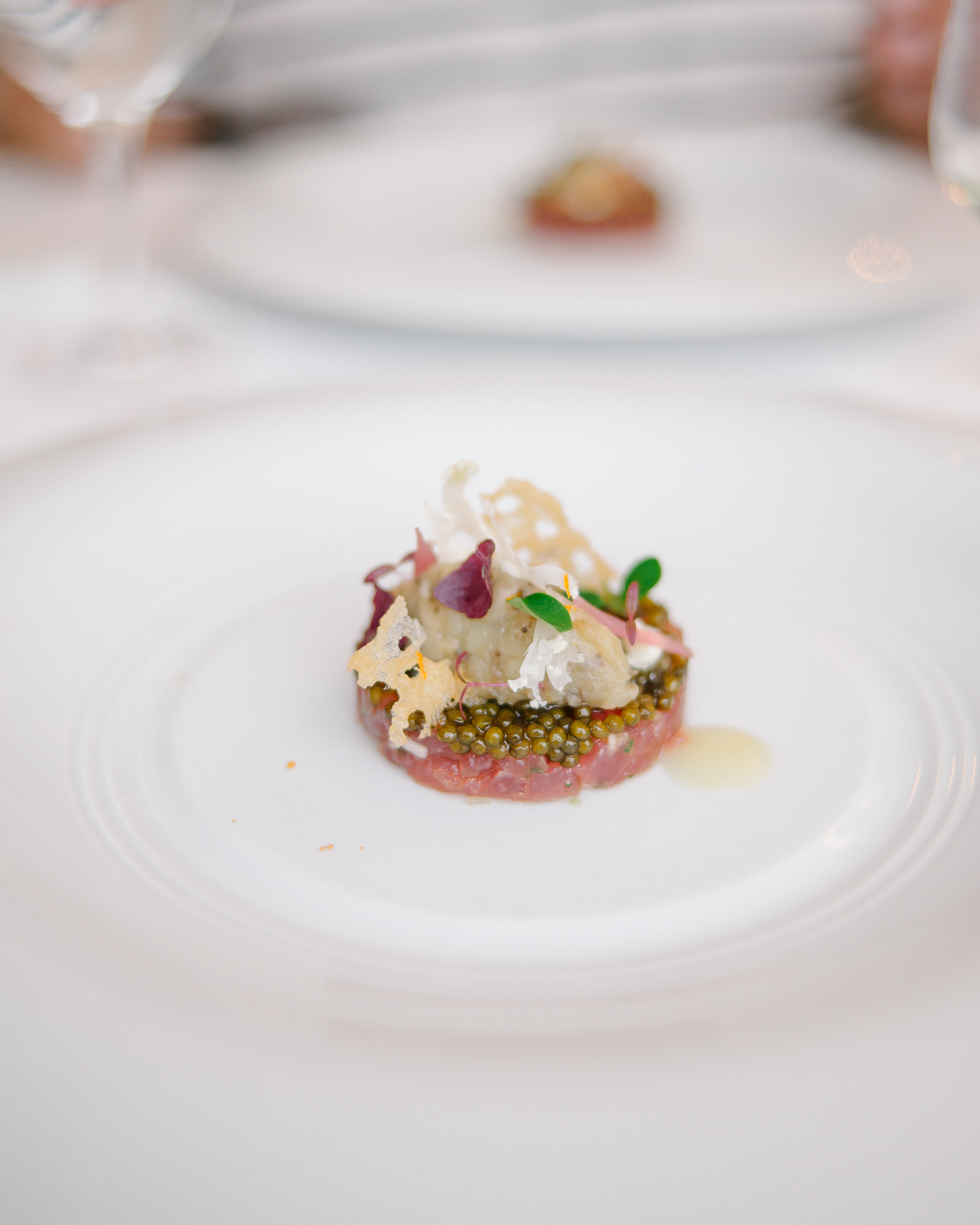 Noble product on noble product, what's not to like? This comes with an additional interplay of umami and freshness in the form of a cream of Iberico, against a vinaigrette made from a Japanese citrus called dai dai.
2. Roast Britanny scallop, chorizo paella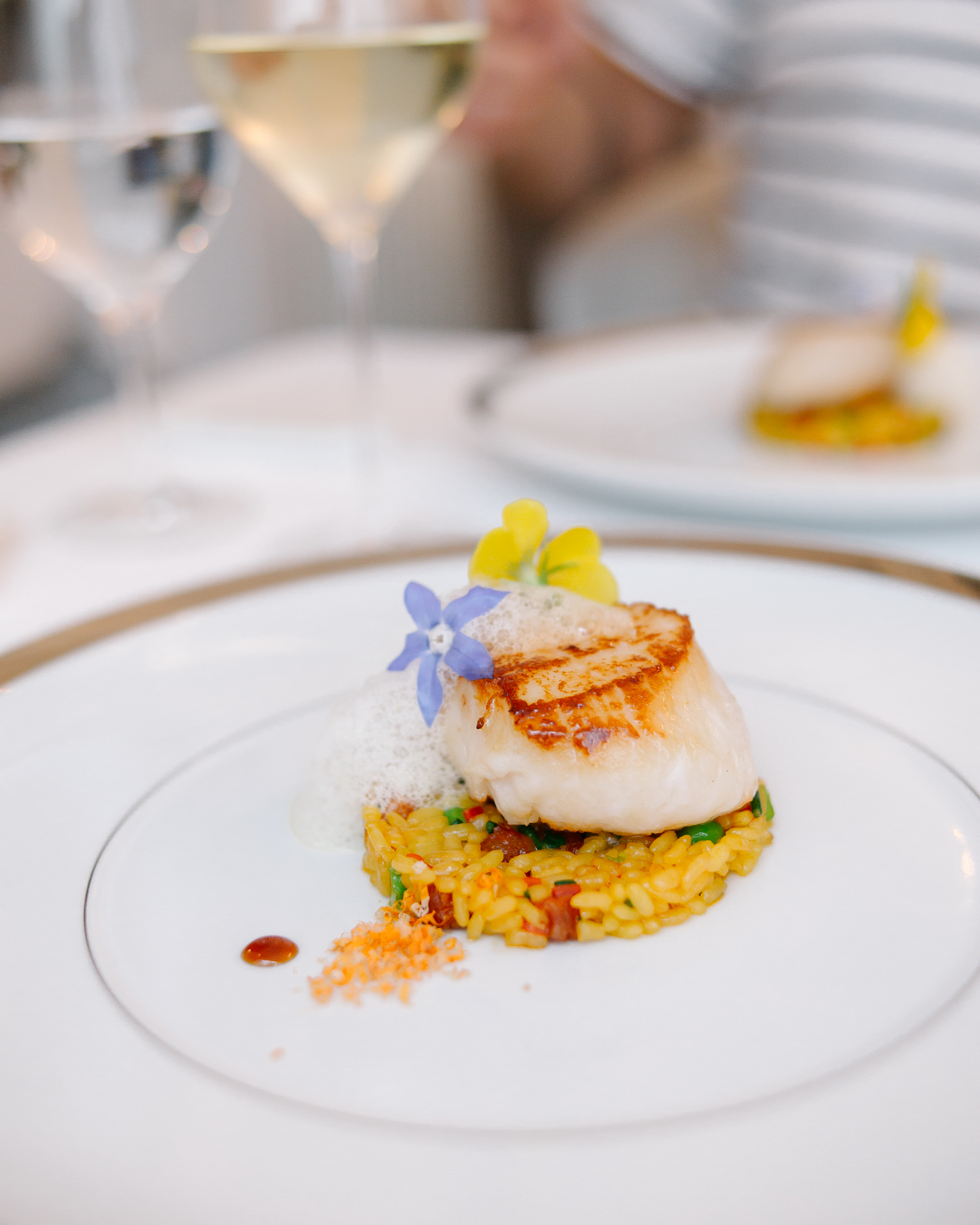 Superb XL sized hand dived scallop from Brittany, perfectly pan fried to a mi-cuit centre. Off the charts natural sweetness with a high affinity for the well seasoned chorizo paella. Maximum deliciousness.
3. Ray wing, seaweed butter sauce, Spanish baby (?) shrimp, roasted fennel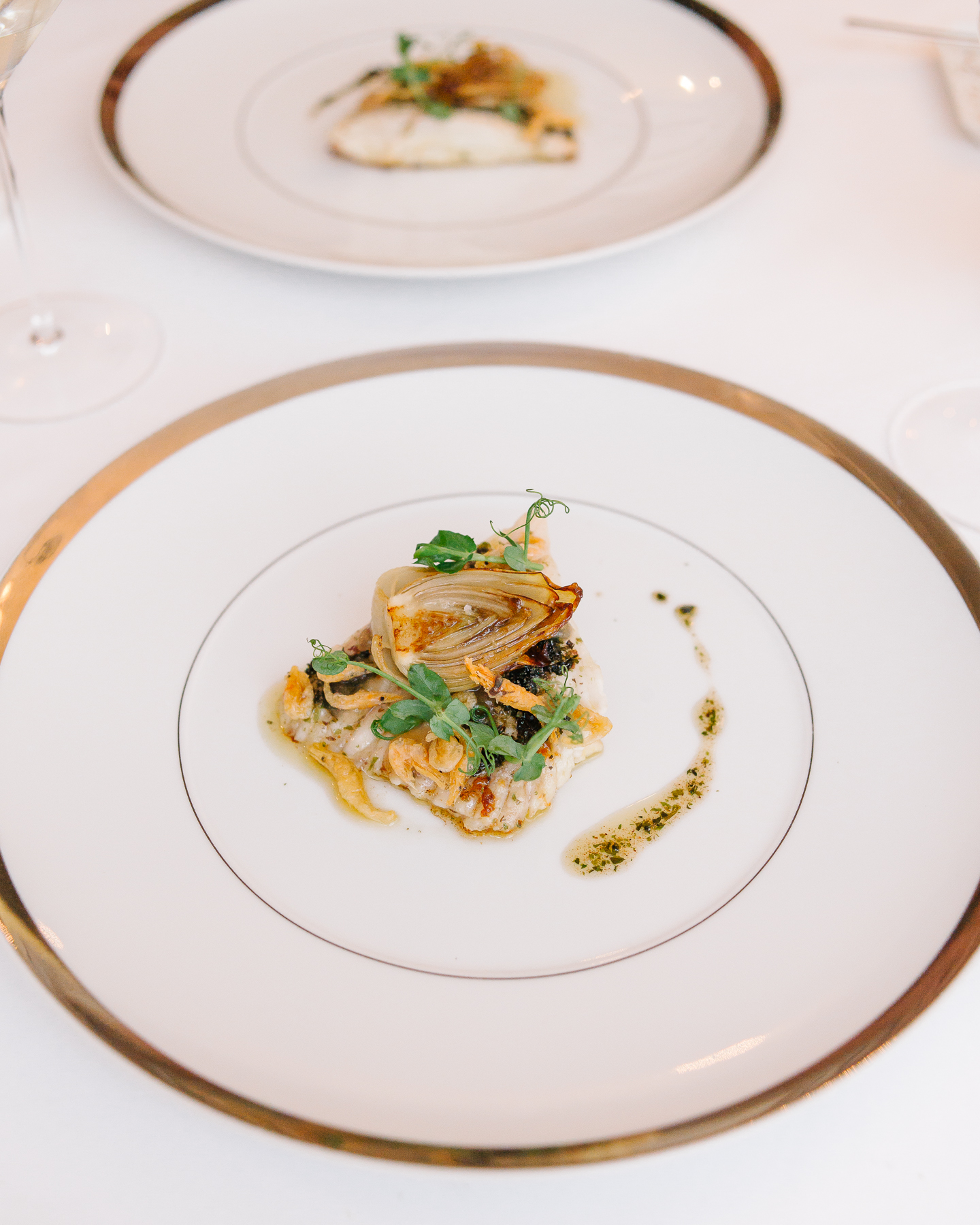 Sauce + fried shrimp, along with a little kick, perhaps a pickled chilli, that is redolent of a very mild belacan. An appetising umami concoction well-tuned for the fish and fennel. I would have preferred just a touch less cooking on the pan fried fish, otherwise a classy dish.
4. Guinea fowl from Loué, grilled over bincho tan, served with garlic purée, roasted roscoff onion, perigord truffle infused jus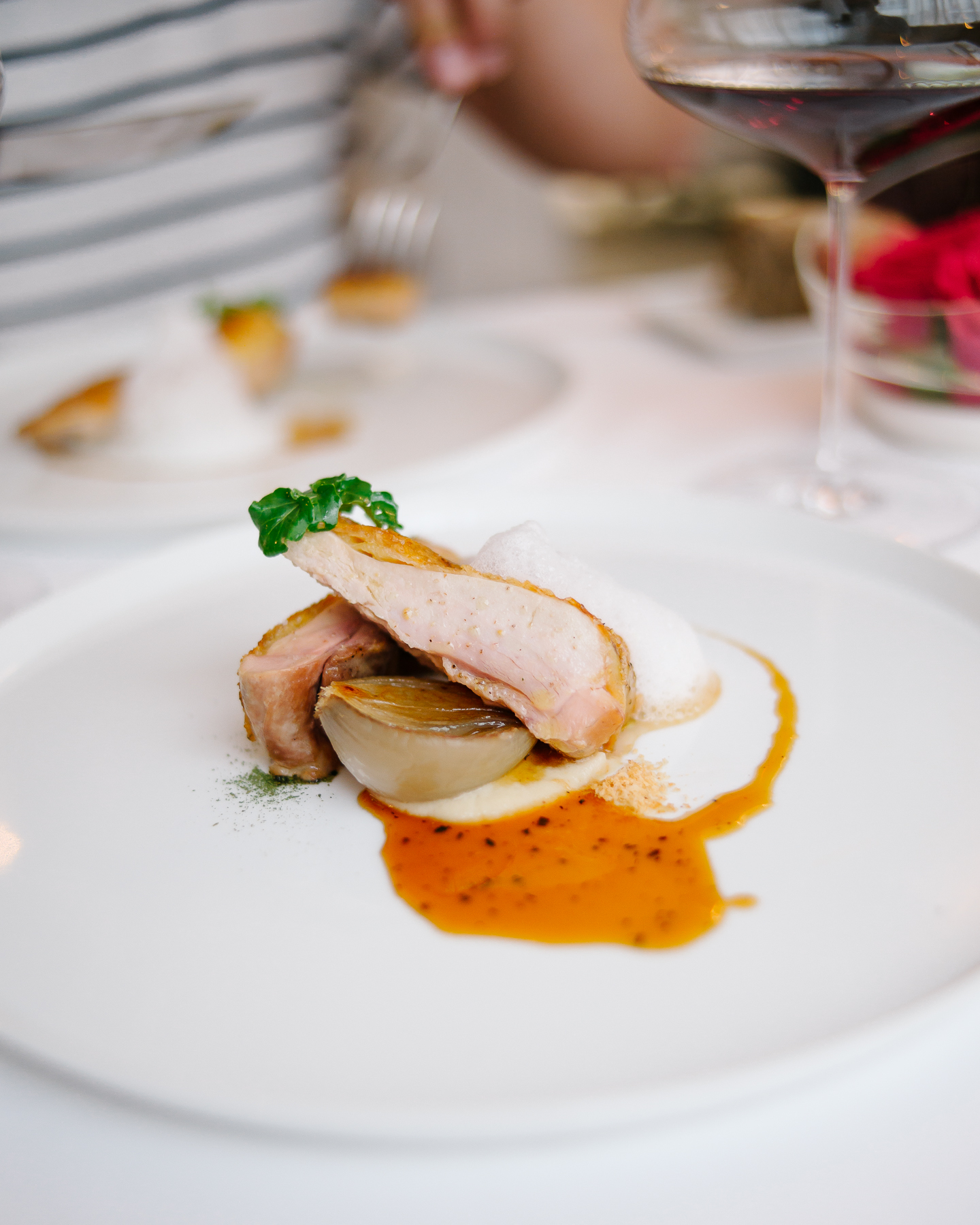 Incredible grilling, just perfect. Deboned leg and breast. There's some white pepper sprinkled over which goes very well with the flavours, not unlike say Cantonese crispy chicken.The bird was very moist and tender (brining I wonder) with a golden crispy skin and bags of flavour. Probably the best guinea fowl I've ever had.
5. Iberico pork rack, grilled over bincho tan. With white carrot purée, white beetroot, black salsify, confit citrus, jus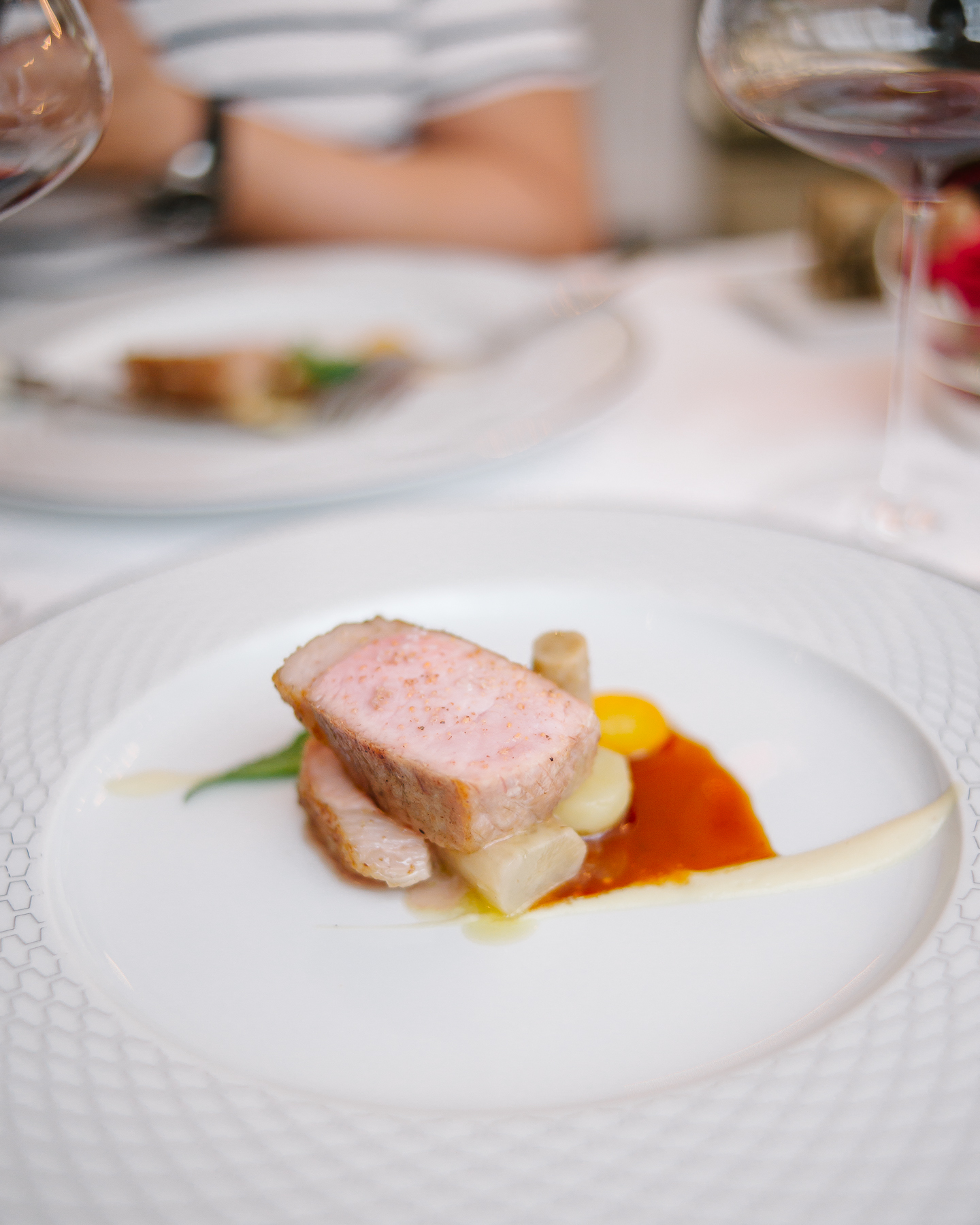 Pork heaven redux. The cooking of the meat is so spot-on, perfect temperature, comprehensively moist and juicy….oh man, I could have this again. Amazing work.
-cheese platter- (10euro supplement, one to share)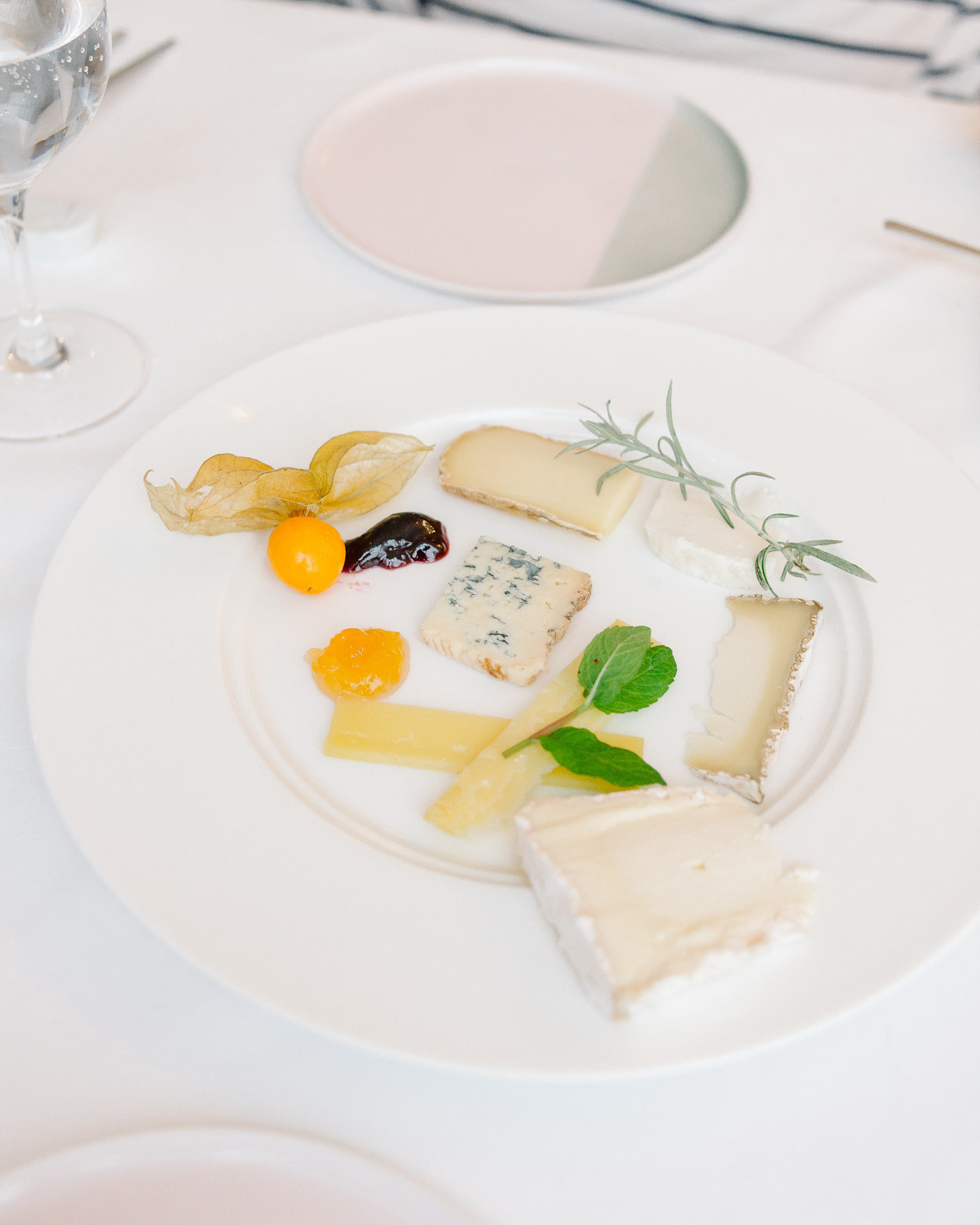 6. Pre-dessert of pink grapefruit granita, fromage blanc sorbet
Simple, refreshing and balanced.
7. Kabocha pumpkin crème brûlée with mandarin sorbet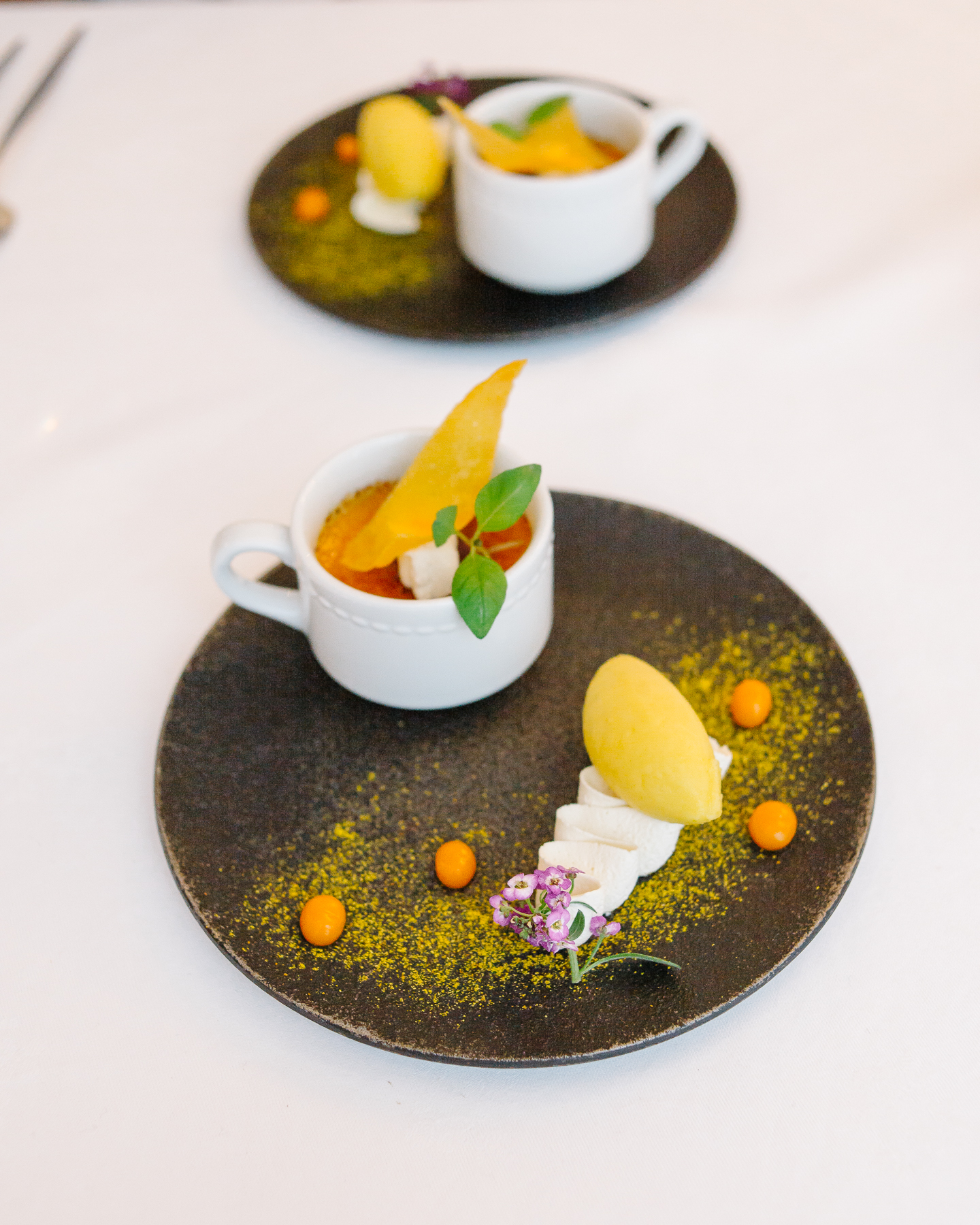 This was the only dish that fell flat. There is something of a early 2000s Nobu about this pudding, and mainly I thought the starchy texture of the custard – being a little lumpy and heavy due to the pumpkin – wasn't great.
Mignardises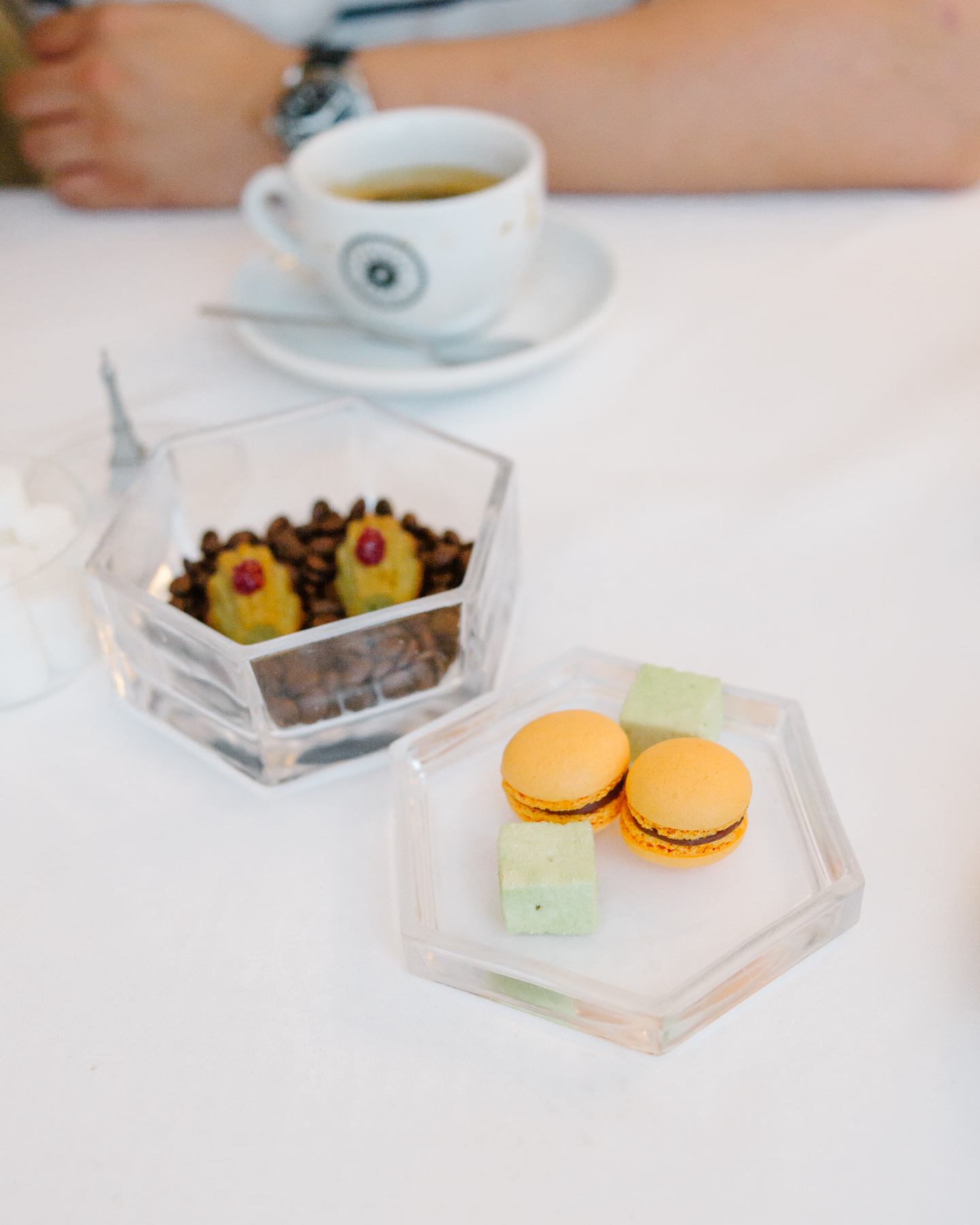 Form recovered with the detailed work on the petite fours. Macarons, madeleines and marshmallows, all well-made and as tasty as they look.
Details
Neige d'été
French
€45 Lunch + drinks
€90 Dinner + drinks
12, rue de l'Amiral Roussin Paris
Tel : +33 1 42 73 66 66