If you follow me on IG, then you'll know of my weekend exploits at the stoves at home as #scrambledkang. As you know I only really write about restaurants on this blog, so this will be a one-off post.
I have been toying with the idea of a scenario -as a trivial hobby more than anything- of stringing together a meal for people other than the better half or myself. What would I serve, what would it look like, how would I cook them, what sort of spirit would I adhere to, would people like it?
First and foremost, I would try to be generous, as I think it is essential to an enjoyable meal. And then I'd like to at least try to be seasonal and to pay respect to quality produce, at least the ones I can get my amateur hands on. And when the ingredients are good, with careful handling, requiring minimal intervention, it will likely deliver purity of flavour and be something delicious.
It would be less 'work' for me, as I am a very slow cook, my hands lack precision (and stillness) and I am horrible at multi-tasking, so I think I can never be a Chef. Nevertheless, I'd want to try to cook as much to order as possible, based on what's feasible with my limited ability. And also perhaps manage a couple of homages to the great Chefs whose work I admire.
I believe in pairing up with wines, so I have added a flight to go with my menu, mostly stuff I like drinking.
Anyway, I have been busy over the last few weekends gathering a mise en place and then cooking it all, meanwhile turning the kitchen into a war zone.
It is the Spring, and this is what I have mustered as a meal.
0. Theatrics. A little celebration of the season, with a glass of Egly-Ouriet, NV Extra-Brut Grand Cru V.P (note)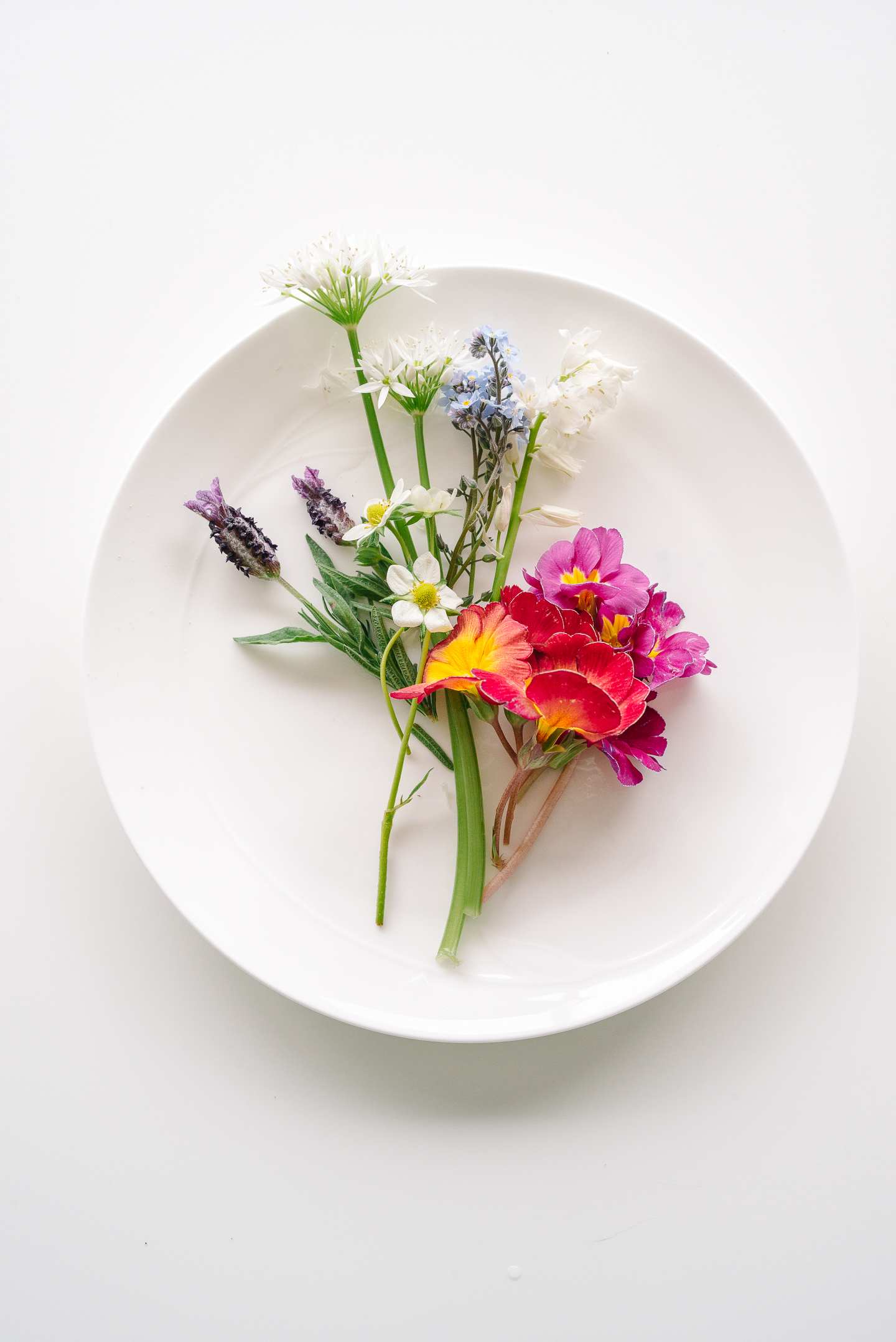 Spring flowers picked from our garden, and wild garlic bought from the market. Can you identify them? One is strawberry.
Not edible, just something to admire with the bubbly.
1. Fried egg, Turkish morels and a wild garlic veloute
with 2009 Clos Beru, Chateau de Beru (note)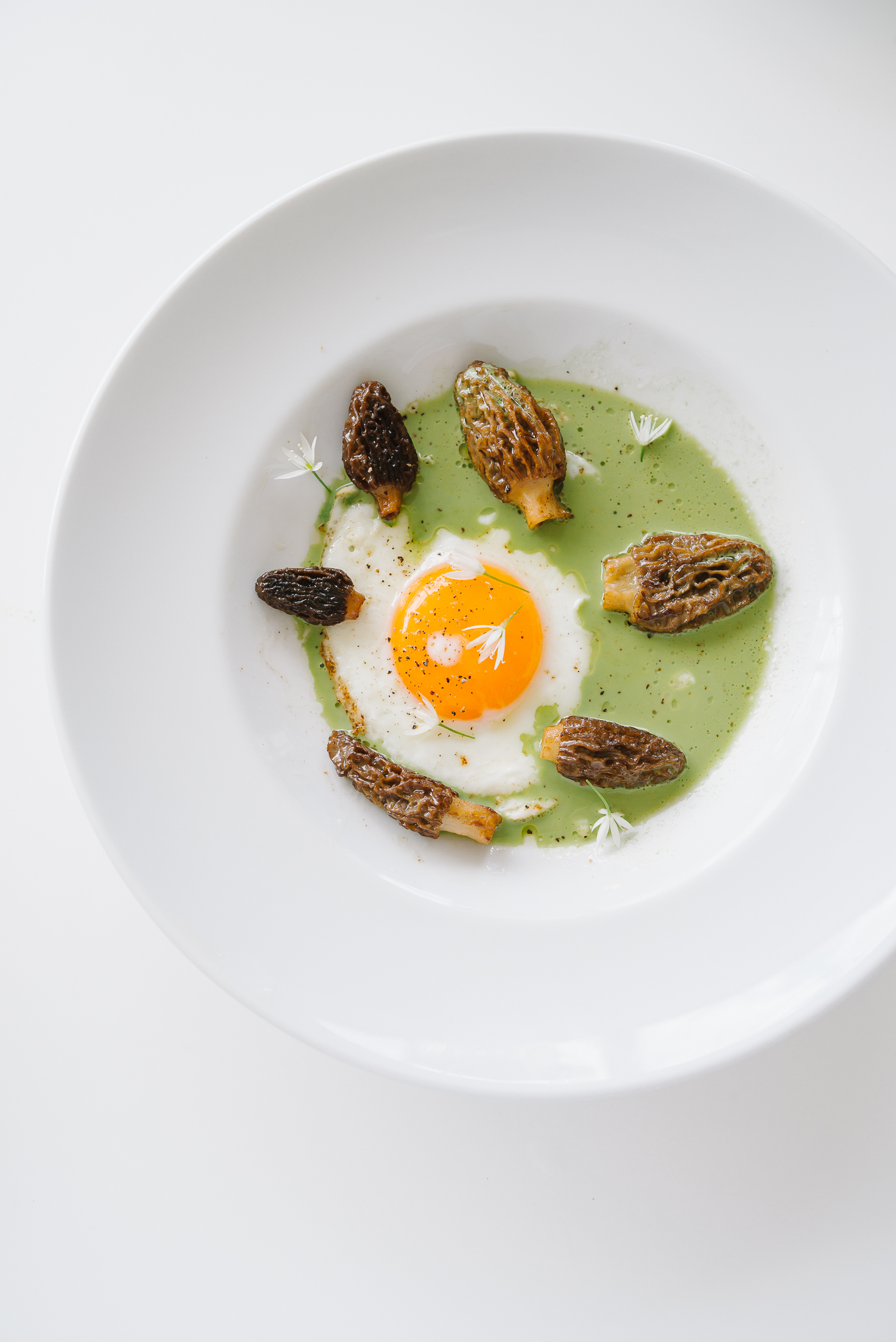 I get the morels going in a pan with clarified unpasturised Breton butter and very gently cook these prides of Spring.
Meanwhile, I start the veloute from a light vegetable stock which I have freshly prepped from a simple classic medley (fennel, onion, carrot etc), simmering from the morning. A touch of milk here, some butter there to emulsify, then stalks and leaves of wild garlic last minute, and then into the blitzer. Chlorophyll (and heat) retention, must serve it quick.
Fry the egg, assemble morels, pour veloute at table, et voila.
-bread- Hedone sourdough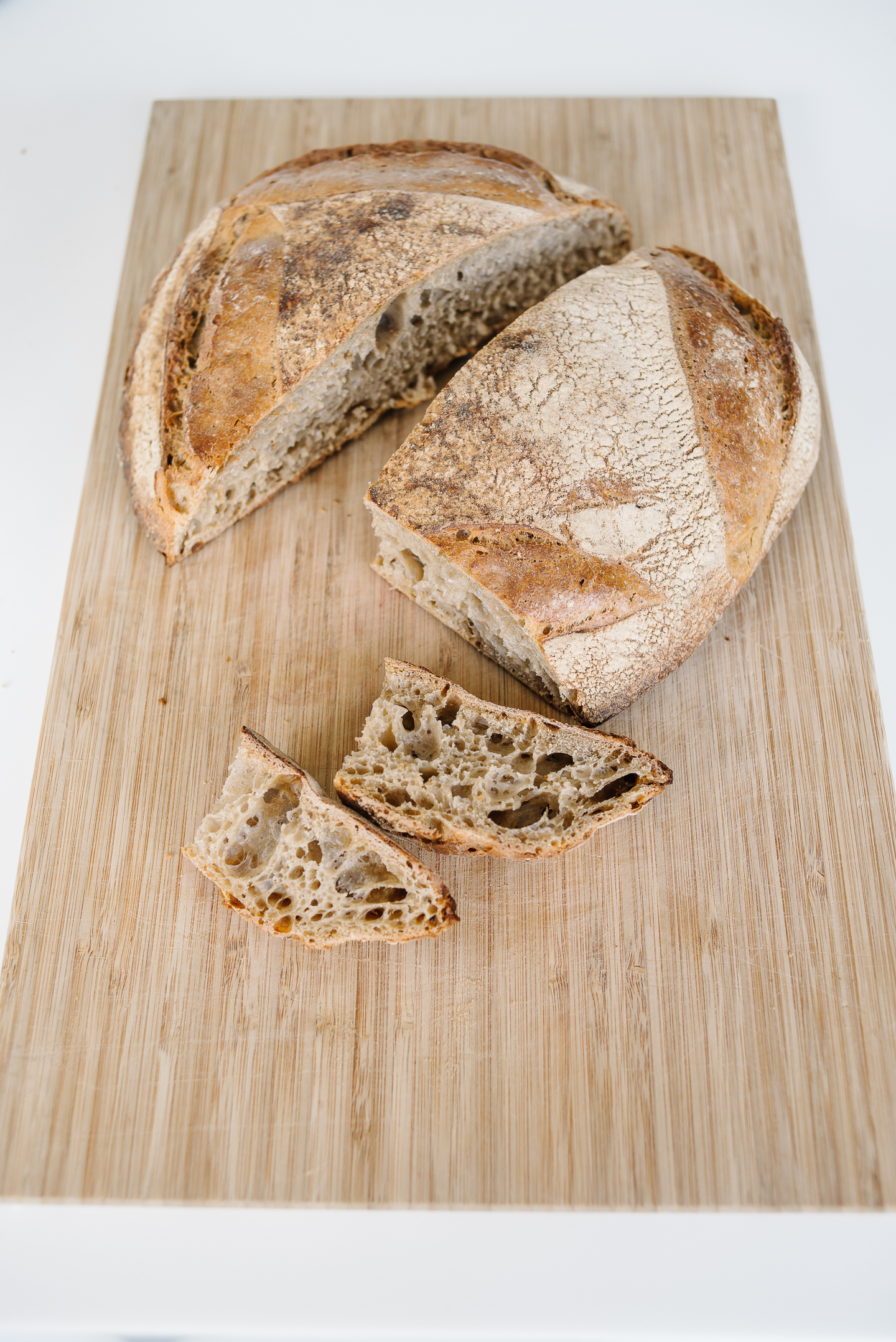 Only the best will do. A swift one from someone who stocks Mikael's beloved bread – Bayley and Sage or Dynamic VInes. I do my best to secure Bordier butter, the Petite Poissonnerie in Primrose Hill.
2. Cornish Native lobster linguine, coral sauce, samphire, paprika, cherry tomato
with 2008 Batard-Montrachet, Olivier Leflaive (note)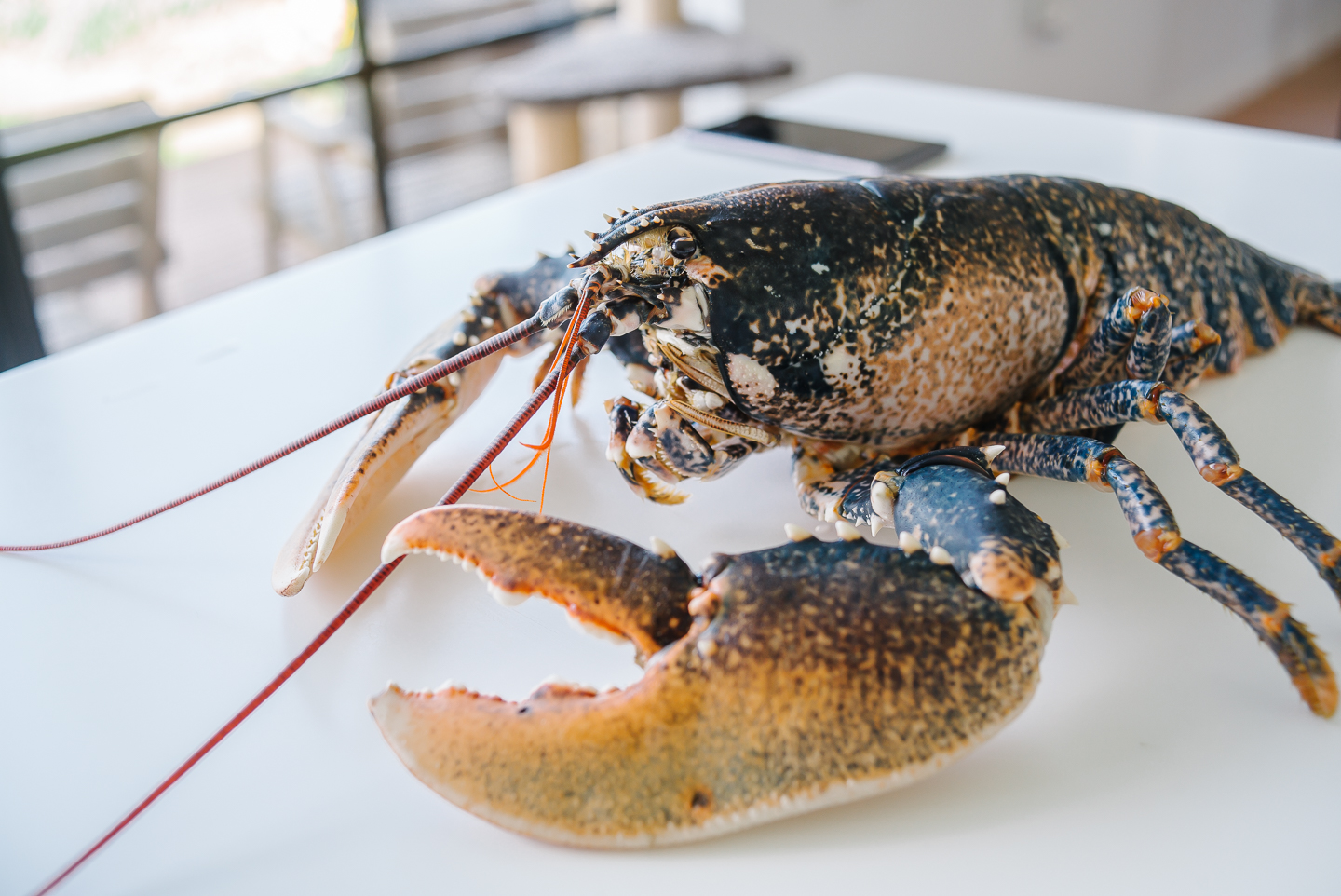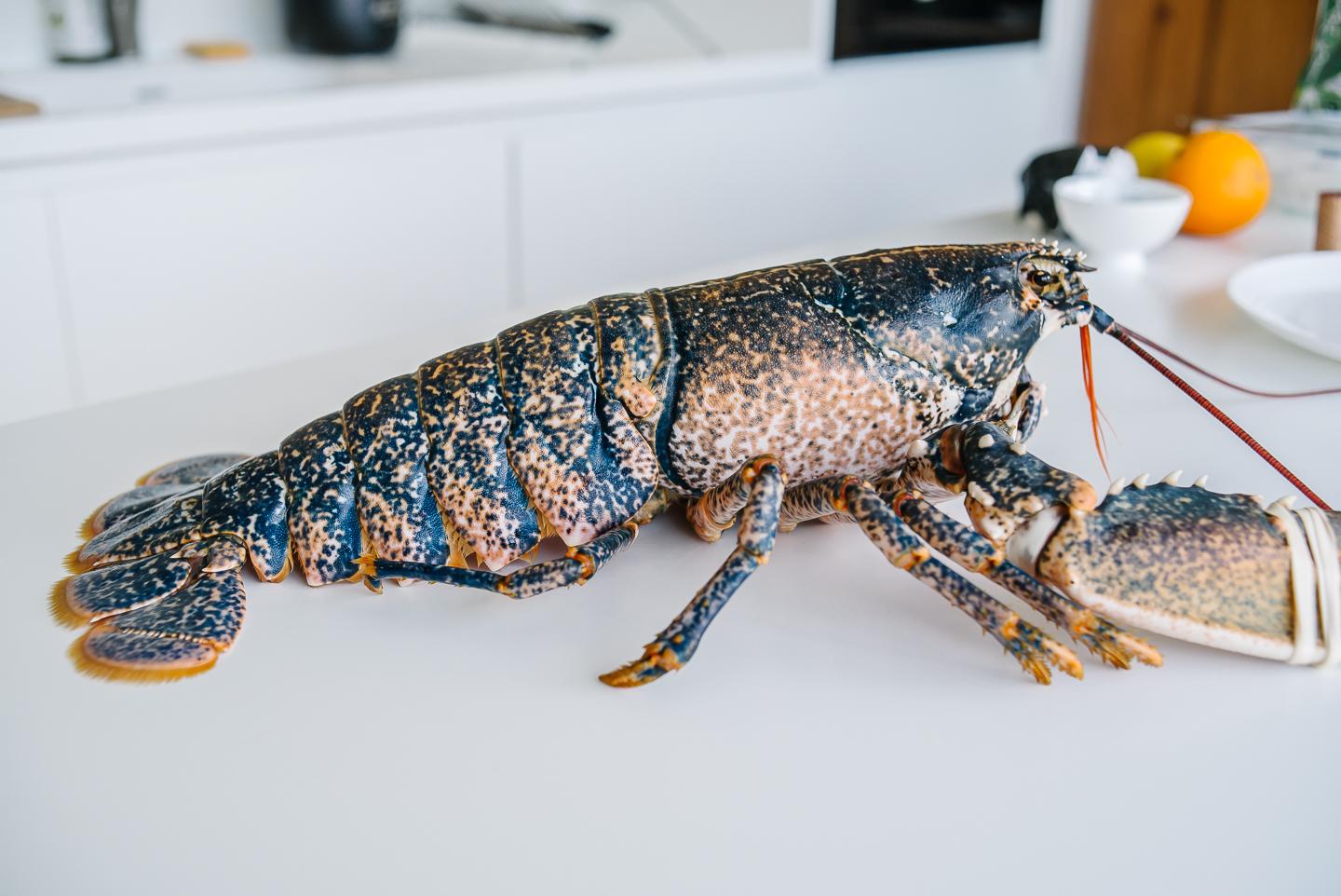 Ah the European (blue) lobster, a truly magnificent creature. There isn't much you should do to it, get one alive, preferably spent little time in tank and a female. You know from the long swimmerets as well as the wide tail-to-head ratio. You can freeze and shell, but I do the classic way. Knife down the X in the head, parboil, twist, coral out, coral into pan with light vegetable stock, touch of milk, splash of cognac, lobster butter (from below) and blitz.
After I shell the tail, claw, I return them to roast in clarified butter and then roasted shells go back into the vegetable stock to extract flavour. For another meal and another day.
As for the meal at hand….7 minute pasta, al dente. Quick blanched vegetables, chopped claw meat (they cook quicker), hot coral sauce on…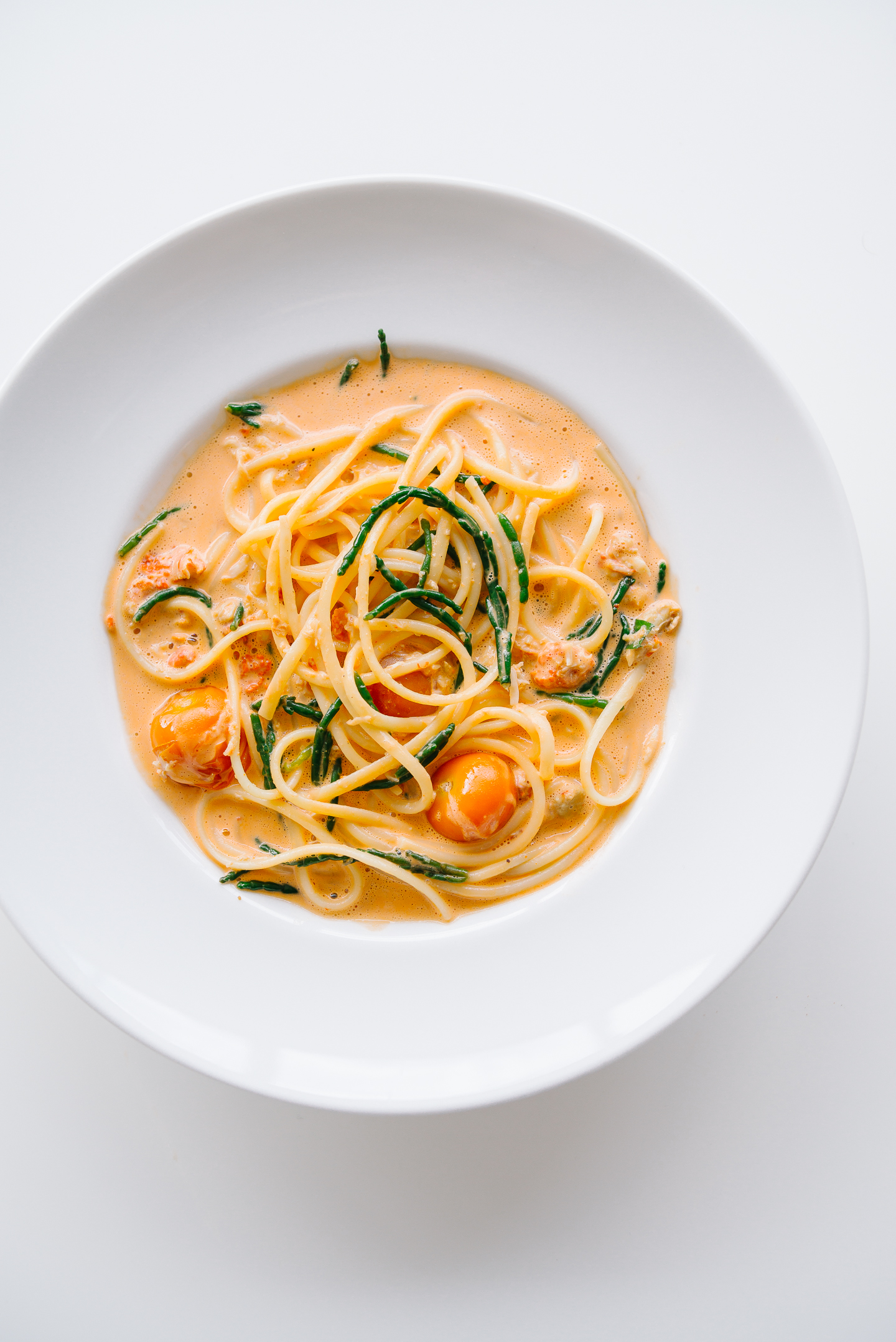 A simple dish, but one that delivers on the comfort front.
3. Miso glazed aubergine ala Pascal Barbot
with 2013 Pinot Noir, Kusuda (note)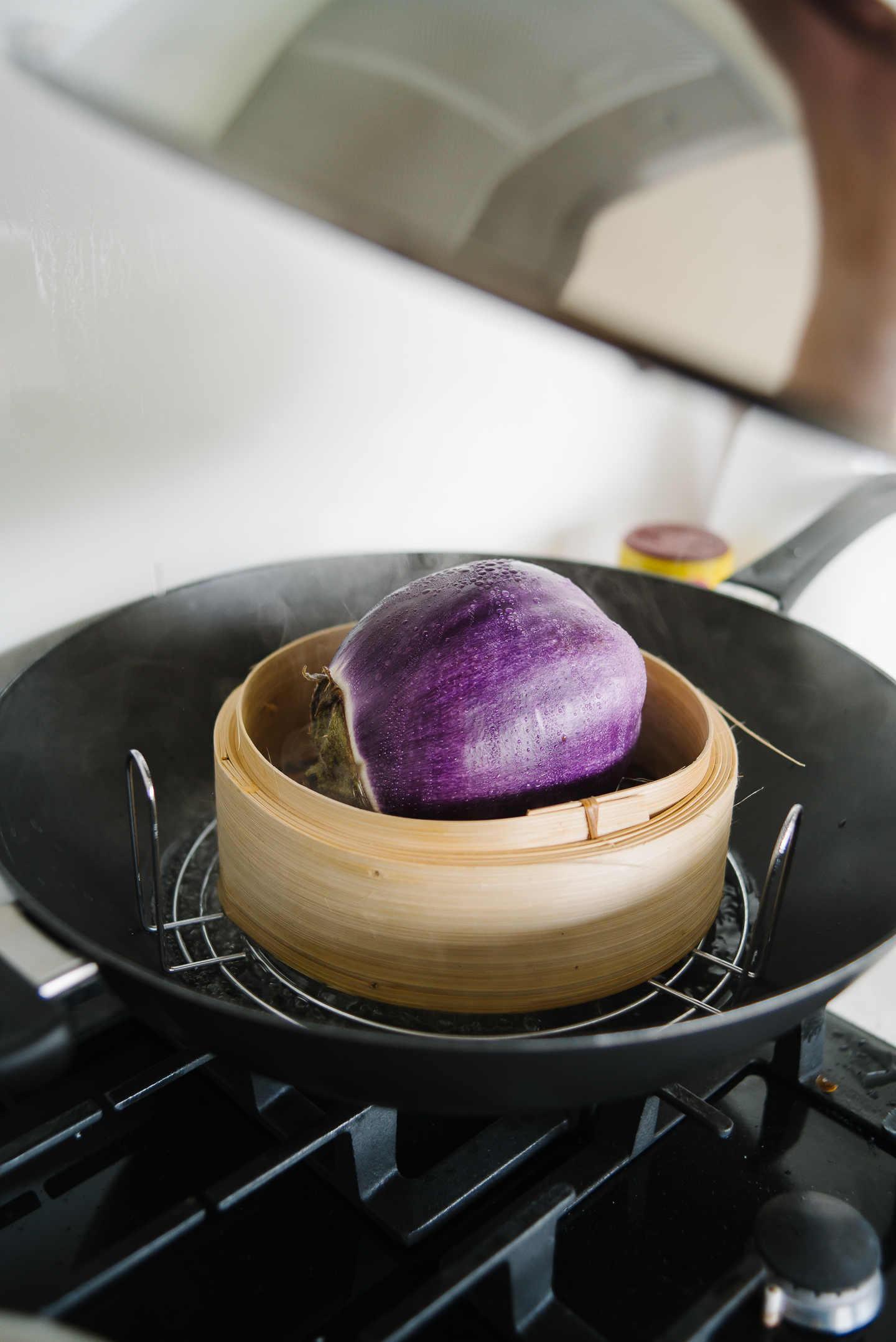 This takes a while, the steaming step and then the baking and resting, likely means this has to be prepared before the start of the meal.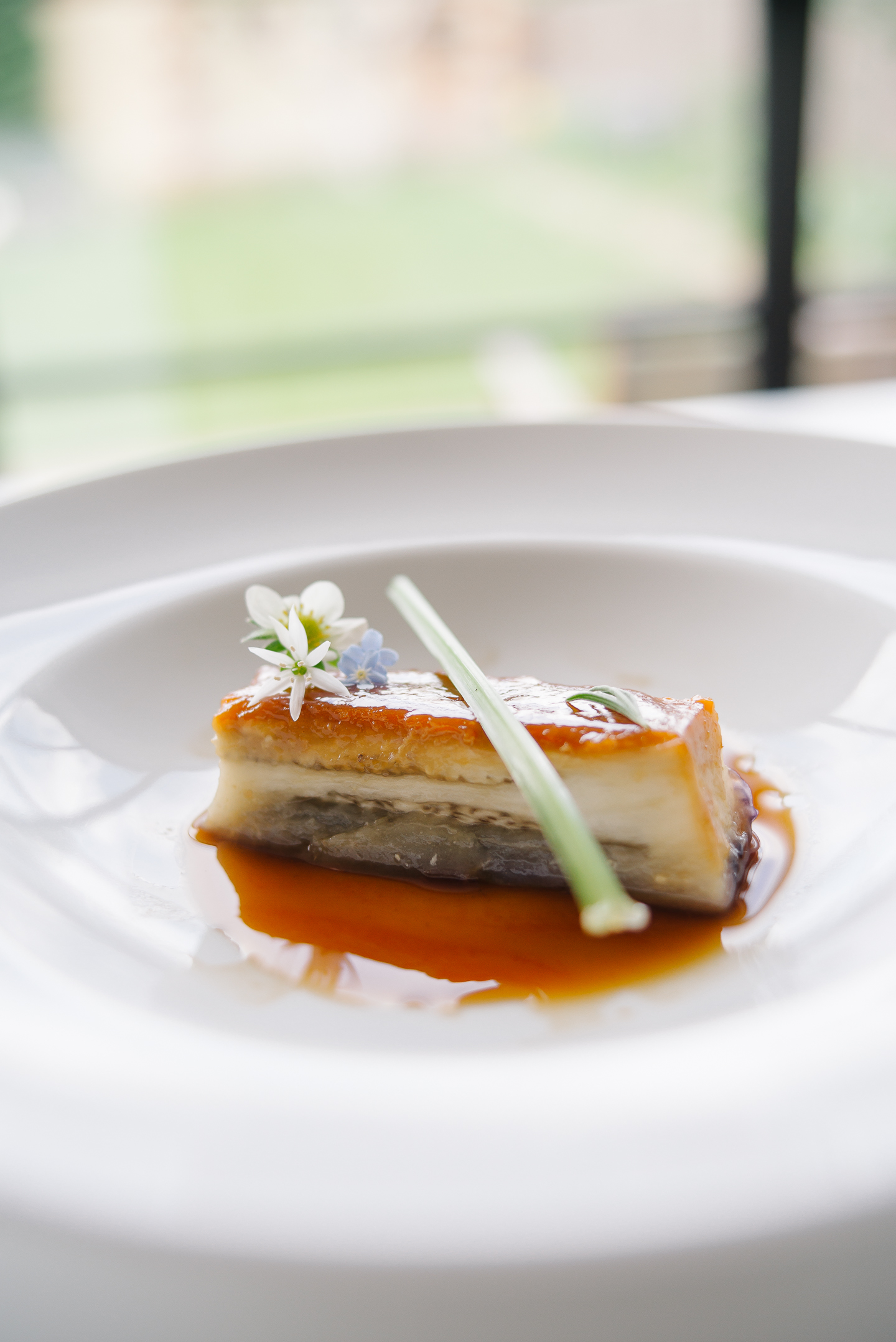 The shiny glaze. I like this steam and bake method from the genius Chef; depending on how long it is kept it in the steamer, it goes completely "custard" like, bursting with its own rich juices. Got to be very gentle slicing it.
Served simply with sieved roasting juices (from a bird roasting in parallel in the oven), and the Spring flowers make an appearance here.
4. Pot-roasted whole chicken (or Capon), miso aubergine a la PB, baby purple artichokes, roasting juices, lemon, thyme.
with 2013 McDougall Ranch, Kutch (note)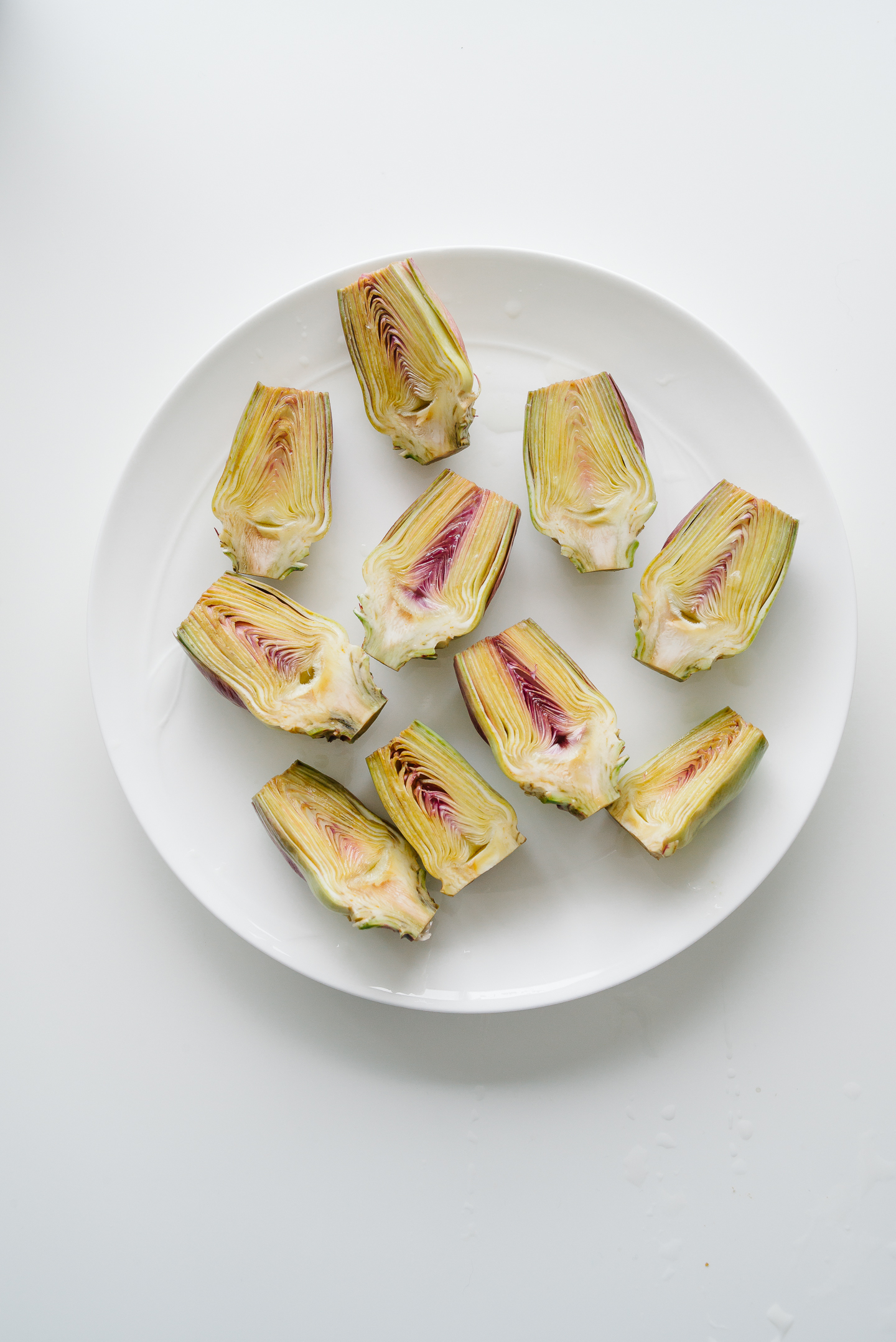 Purple artichokes. Prepped. They are such fleeting beauty, as they grey quickly in air. I refresh with a rub of lemon, and then immerse in lemon water.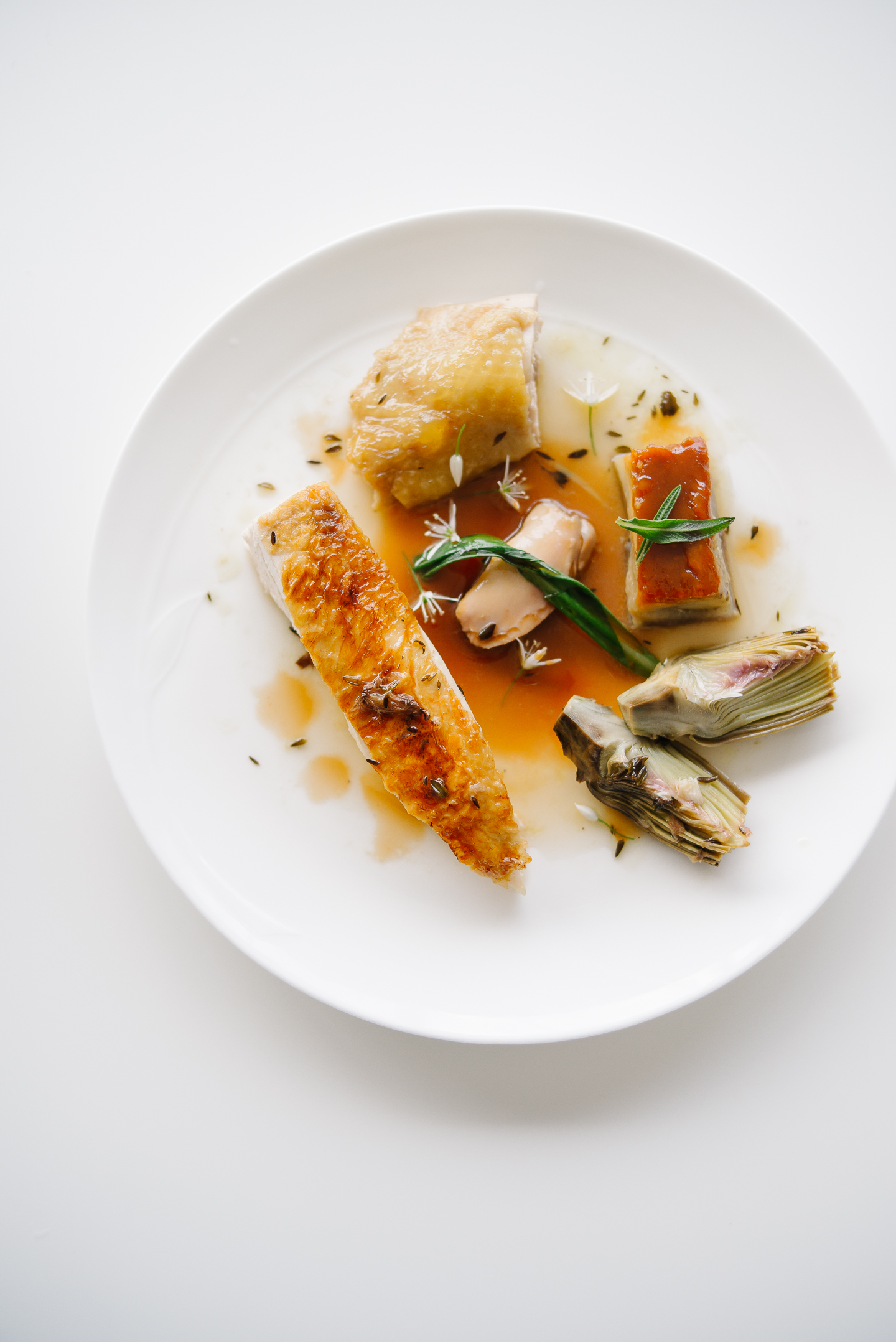 The breast would be obligatory, but I would also serve a portion of the leg (which I will debone) and also the prized chicken oyster, skin-off. It is the best nugget of meat on the carcass IMHO, and there are only 2 per bird. The chicken oyster takes pride of place, in the centre of the plate, to be liberally bathed in jus at the table.
5. Gyu-katsu of dry aged ribeye from 10 year Sussex, with gremolata, honey mustard and tamago-kake rice
with 1998 Vieux Chateau Certan (note)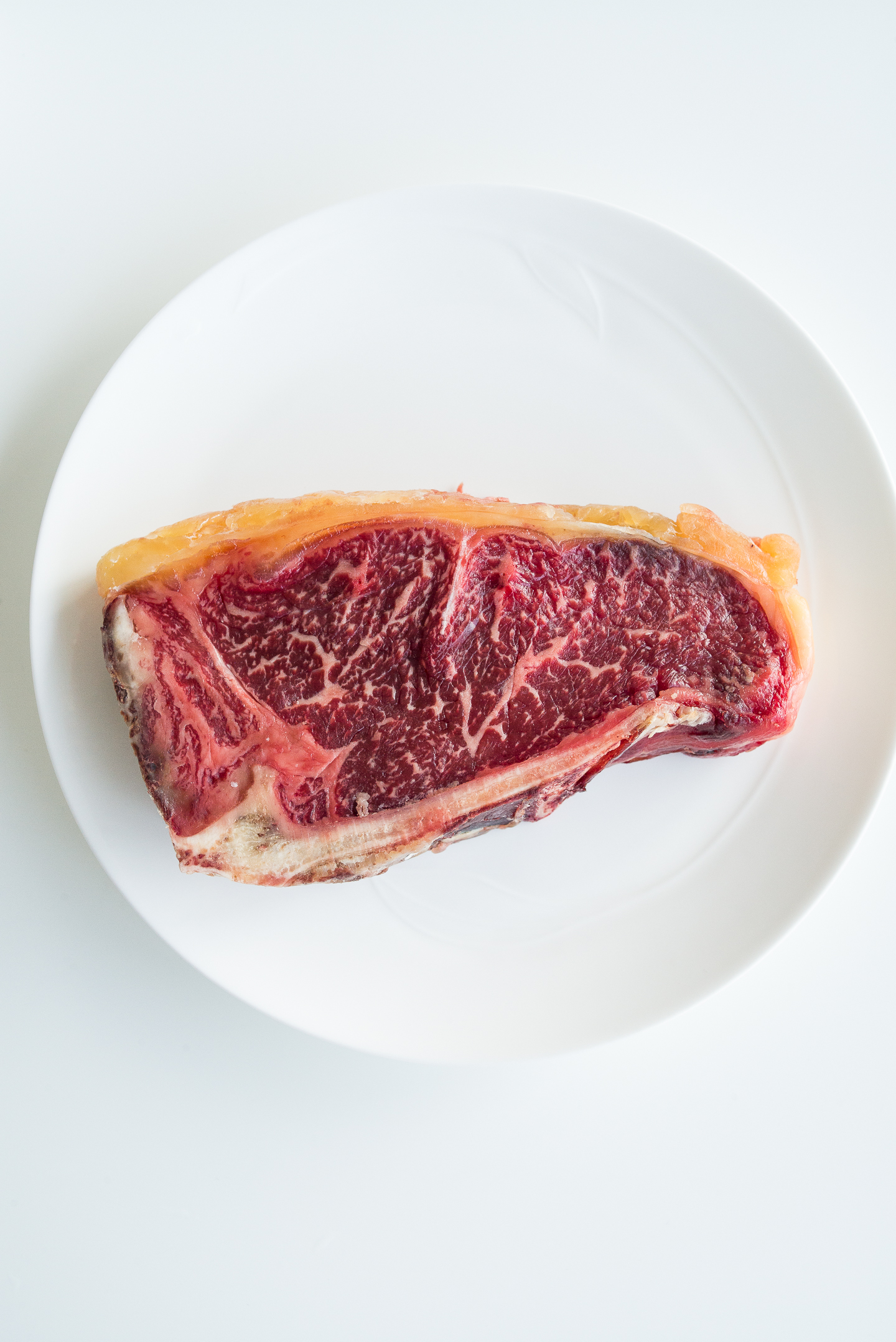 Beef is something I feel deeply for, and as a little twist on another comfort dish that is now establishing itself in Japan, I think a katsu of beef would be a nice way to finish.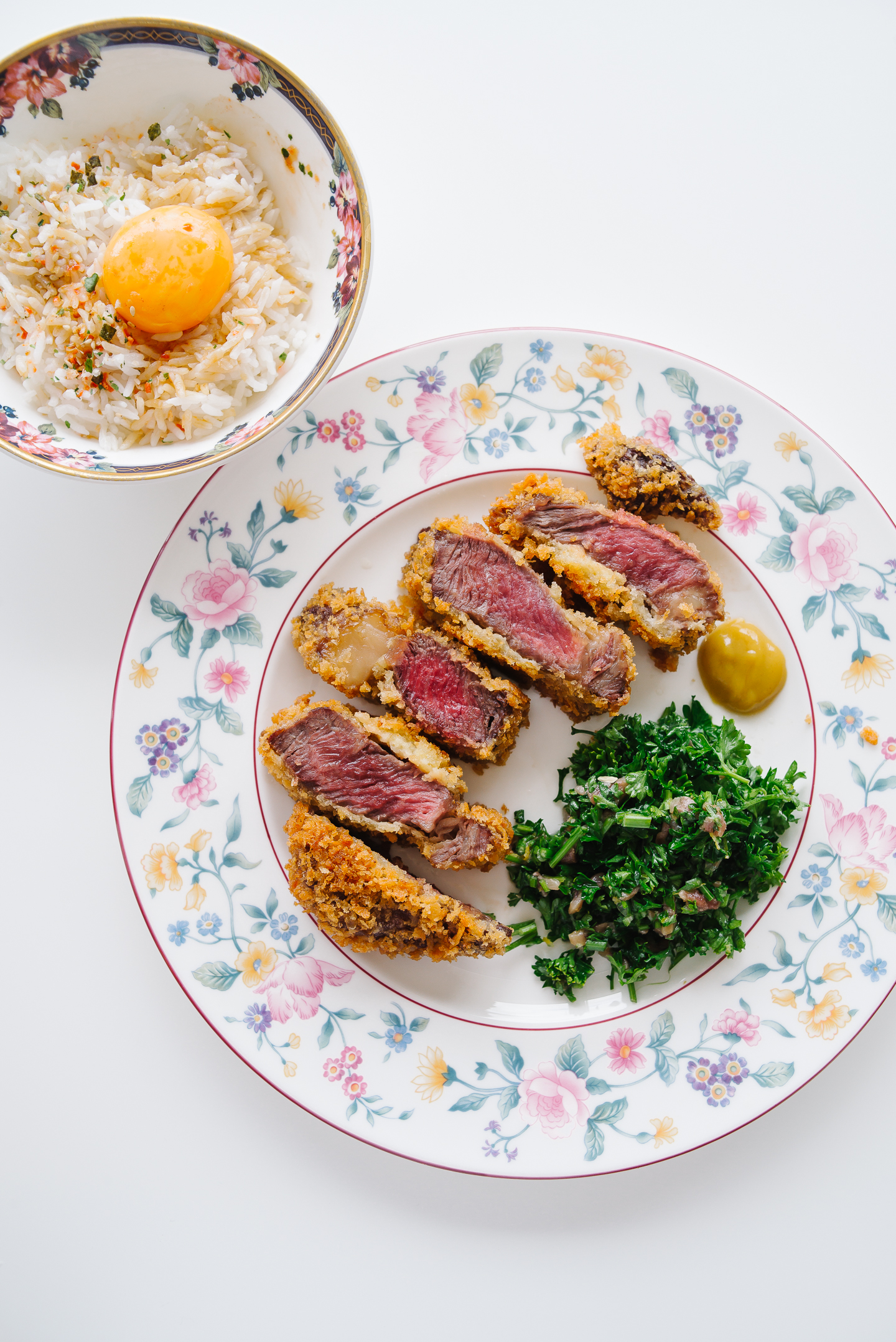 Perhaps the most important attribute for beef katsu is tenderness, and to my surprise this old cow (at slaughter) does the trick. Fantastic aging (60odd days I think), the fragrance rather intoxicating. A dry rub of kosher salt overnight, prior to cooking to order.
This will be deep-fried to order. Pat with flour, egg wash, panko, a few minutes in the fryer, rest, slice, boom.
The gremolata (anchovy, lemon zest, parsley) and honey mustard are non-traditional, and I think some much needed acidity as a foil to the katsu.
Only the best eggs will do here, Burford browns (although what is pictured is not), sprinkled with furikake, maybe some nori, soya sauce, haven't really thought too much about it. I grew up on rice and I feel it apt to finish on rice. Hmm. Maybe should finish with a light lobster broth too come to think of it.
6. Palate cleanser of gariguettes, crushed hard candy, lemon, olive oil, parsley, wild garlic and akkawi cheese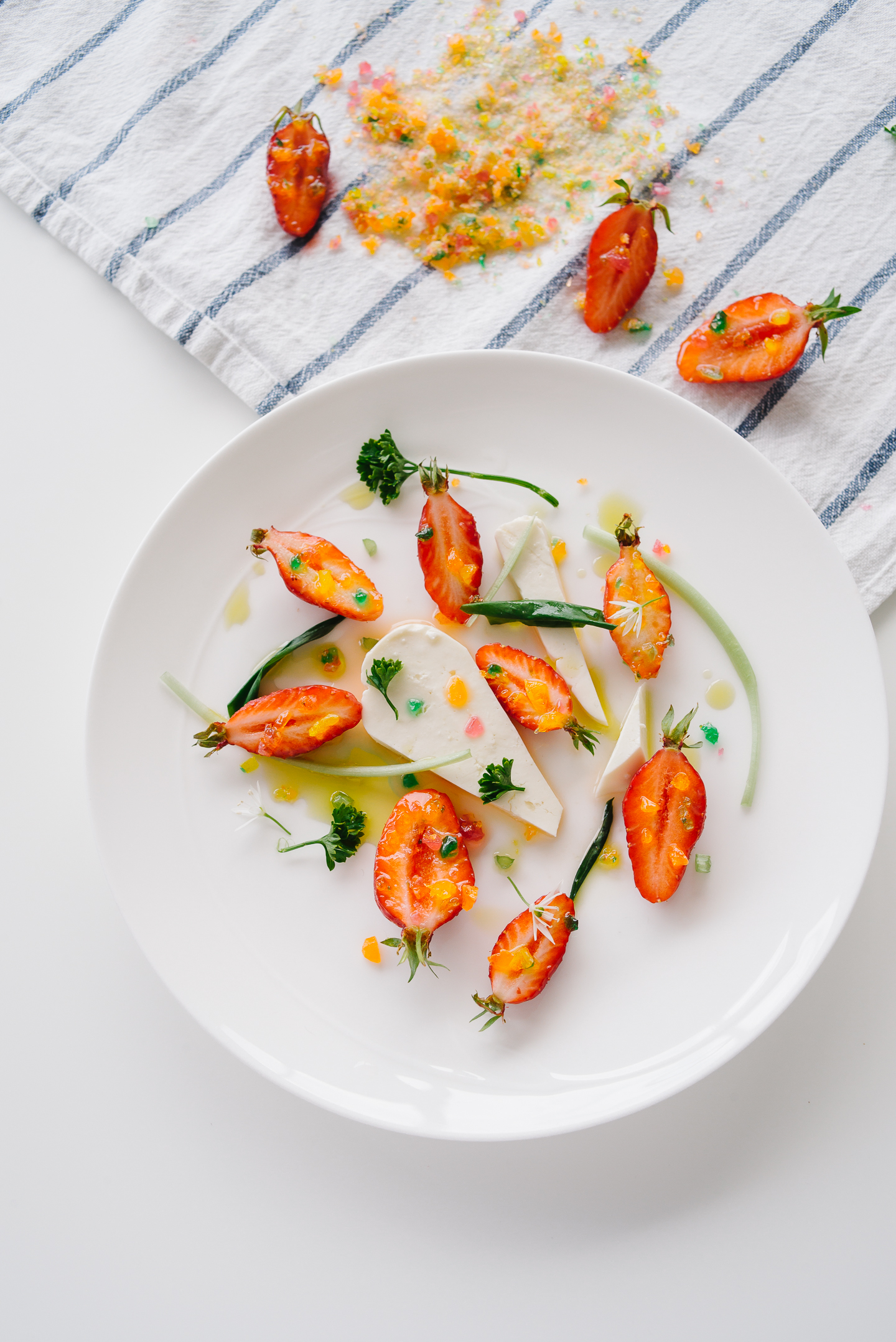 It is a play on caprese, a palate cleanser and a cheese course all at once. The cheese can be replaced by burrata or perhaps even a mascapone. Greens can be basil instead of the seasonal wild garlic.
If you are a keen student of Parisian temples, then perhaps you might recognise the homage to Alain Passard with his crushed berlingots recipe. French gariguettes are fantastic when they come into Season. Absolute gold.
-The Homestretch-
My grandfather was a Chef, and he loved making egg based puddings. Custards, creme caramels, you name it. Yolks were his business. So for puddings, my homage will be to Family.
A choice.
7.1 Matcha creme caramel
This is the better half's pudding, not mine. It's a stunning recipe, really it is.
OR
7.2. Matcha mille feuille with matcha creme diplomat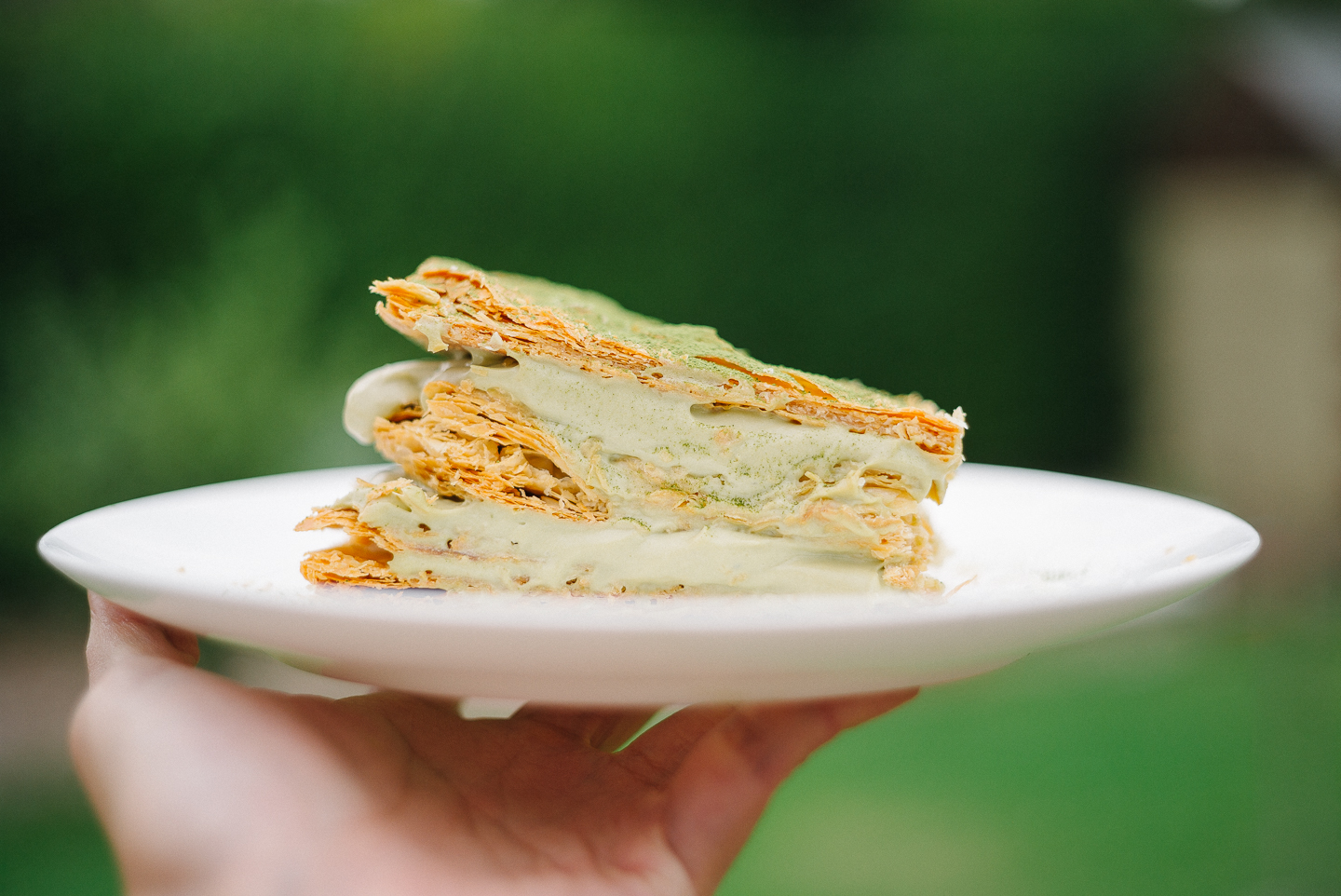 I would have to develop puff pastry, shown above is simply shop-bought stuff.
I am rather proud of my creme diplomat, essentially a classic creme pat with addition of whipped cream (or Chantilly).
OR
7.3 Mille feuille with bourbon vanilla creme patisserie, honey sherry vinegar sauce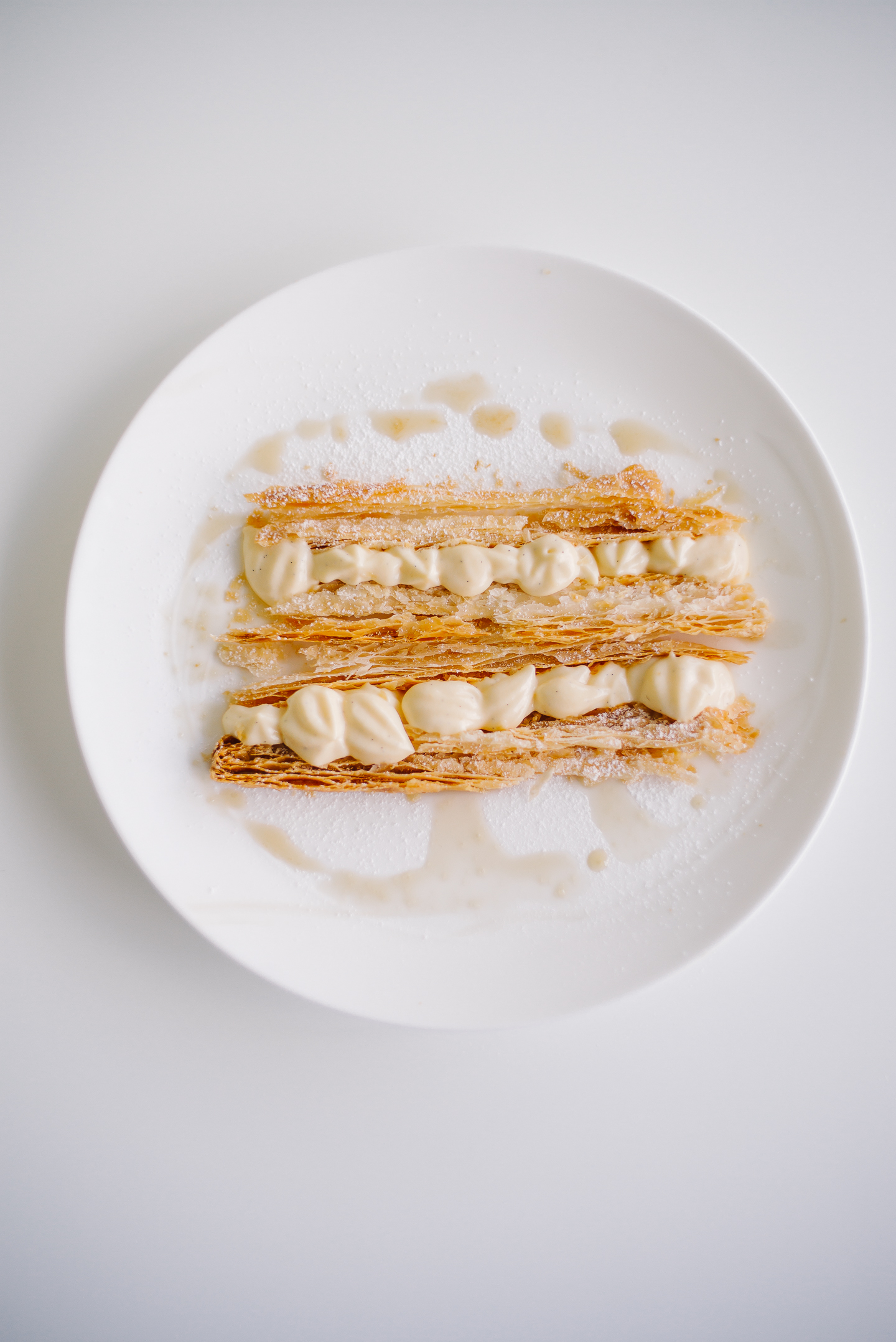 Something classic, balanced and simple.