Etxebarri is nothing more than a barbecue joint. Albeit a very good one, honing its repertoire over its 27 year history to become what some consider to be the best the World has ever seen. My own view is that this asador (or New house grill in full translation) symbolises the food culture in the Basque Country. And the Basques do know how to eat.
Victor Arguinzoniz is a god in some circles, a self-taught grill master whose lifetime love affair with wood has earned him much fandom, a michelin star, a high listing on that famous restaurant popularity contest, and is celebrated as one of Spain's finest chefs. This once forester has come so very far from his humble beginnings of chuleta nights where he cooked for mates after work hours, at his picturesque home town in the Atxondo valley.
No doubt you've read various pieces that extol his genius and his arsenal of customised kit. The famous moveable grills, sieved saucepans, selection of logs, amongst other inventions of his. This enables him to grill nearly everything he puts on a plate (caviar and milk inclusive), imbuing every aspect of his cuisine with a kiss of smoke. The results astonish and astound, the effect of smoke is gentle and never overwrought, which is the root of his talents. At the core of it all, is simply a cook who knows how to raise his products to its ripest form. Embers being his craft of choice.
He must keep codifications of his techniques with oak, vine wood and other bespoke infusions, though the restaurant forces none this weight on its diners. The evolution of his methods through the years has remained anti-cerebral, but what's on the plate lacks no genius. As it stands today, it is far from being one dimensional cooking, which some in the interwebs have suggested it is. If anything, the grilling methods he has devised thus far require more precision than say boiling protein in bags or neatly arranging of pickled twigs foraged from the nearest pavements.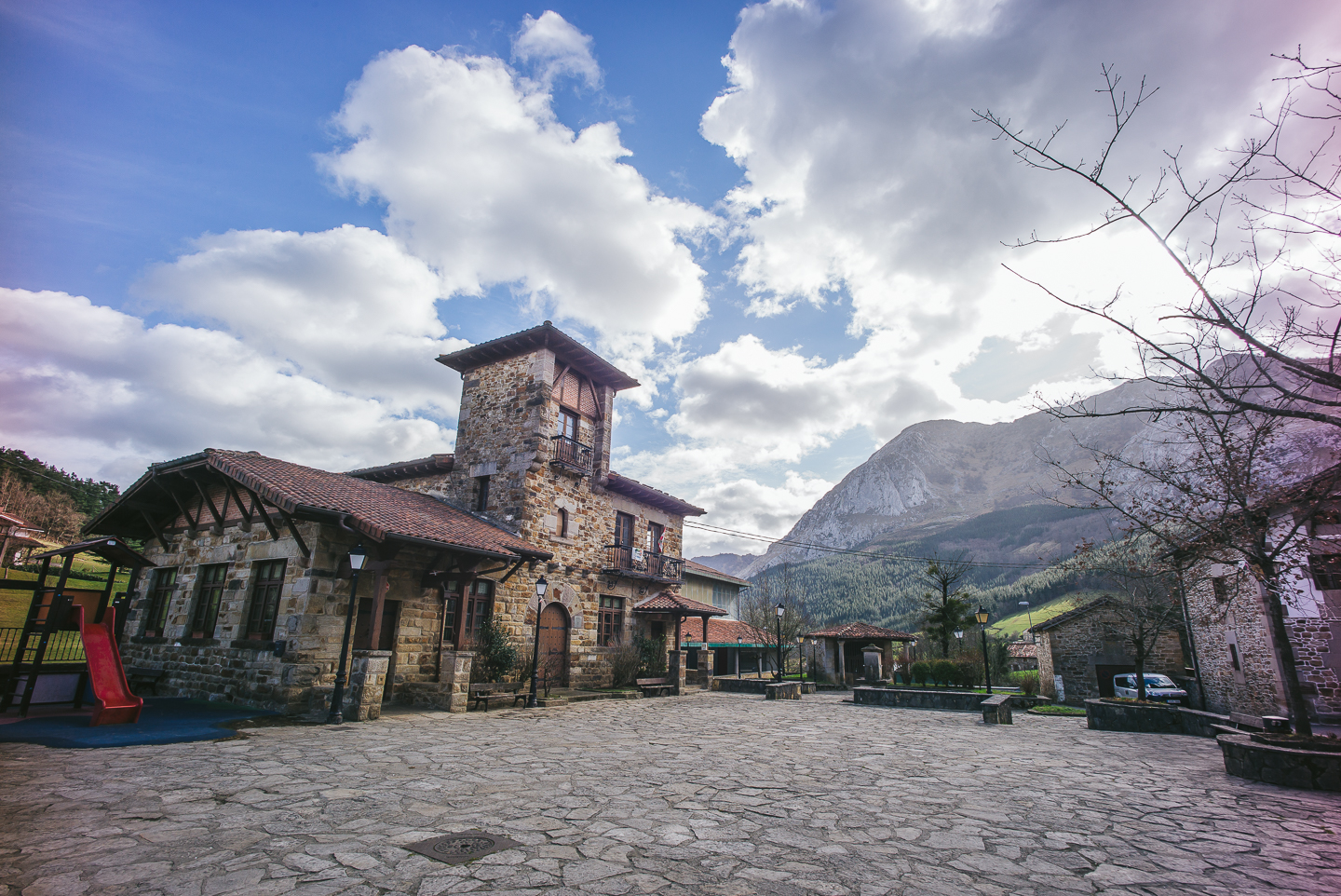 It's worth telling you how I got there, as the restaurant while remote, is actually doable by public transport. A 2 hour trip door to door, after landing in Bilbao airport. Firstly, a quick bus ride from the airport to bus terminal in the centre of Bilbao. And then, to find a bus (of which there are a couple) to Durango, which takes about 40 minutes. At Madelena Plaza in Durango, we changed to the final bus, the A3913, staying on as it pasted its last stop deep in the mountains with the sheep and donkeys, and turned back toward Durango. Six stops in, we emerge at the stop literally at the doorstep of Etxebarri in Axpe.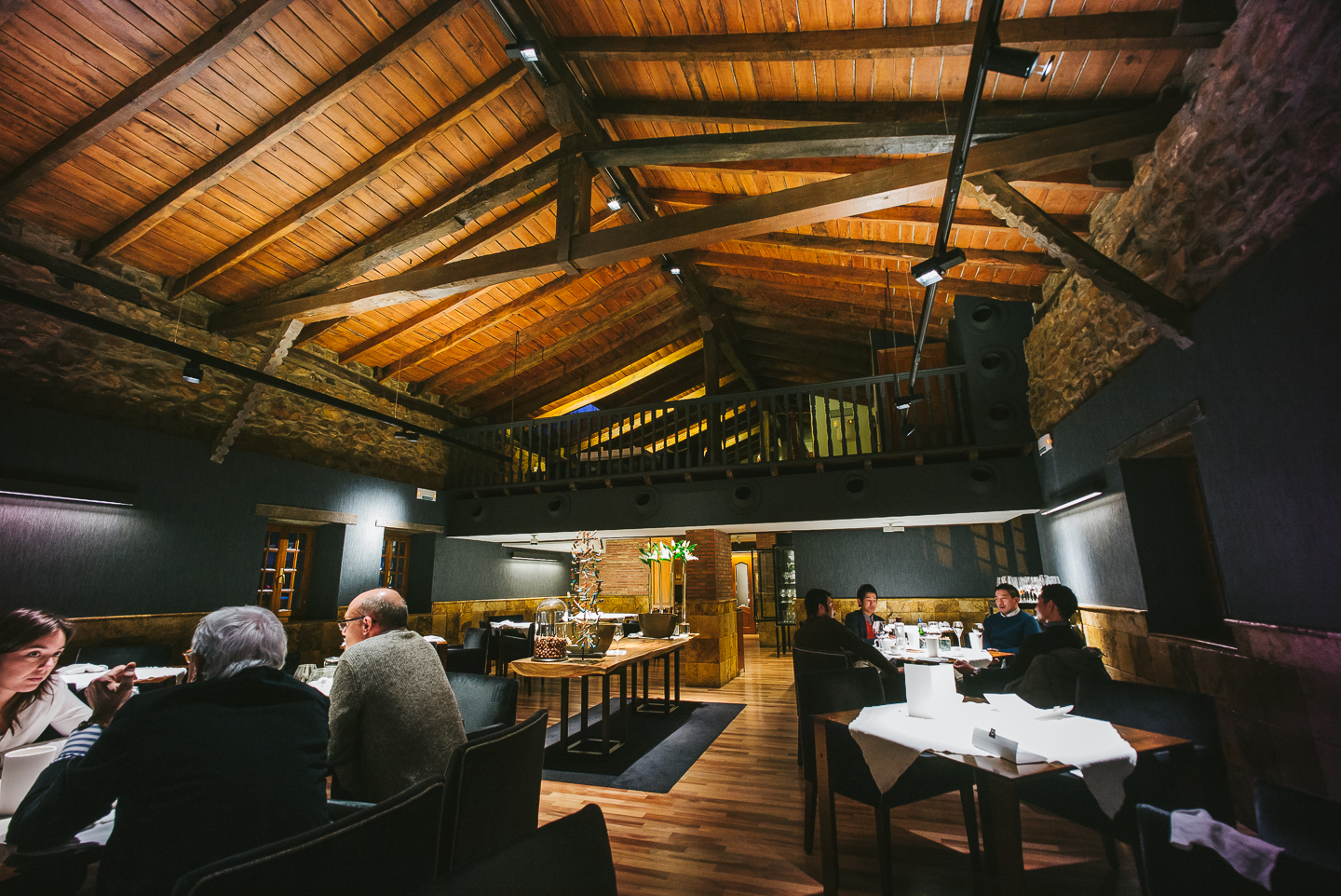 There is bar in the ground floor of this fairly large 200 year old stone building, ultra casual. Once upstairs, you'll skip a few breaths admiring the deliciously restored open-plan dining room. Large enough to also house a mezzanine level with roof skylights illuminating the tables up there.
We visited on a Friday afternoon and sat by the window, bathing in the cold winter sunshine, with a view of the glimmering limestone peak of Anboto mountain. The scenery, the ambiance, the sense of place, all of this is exactly as you want it to be.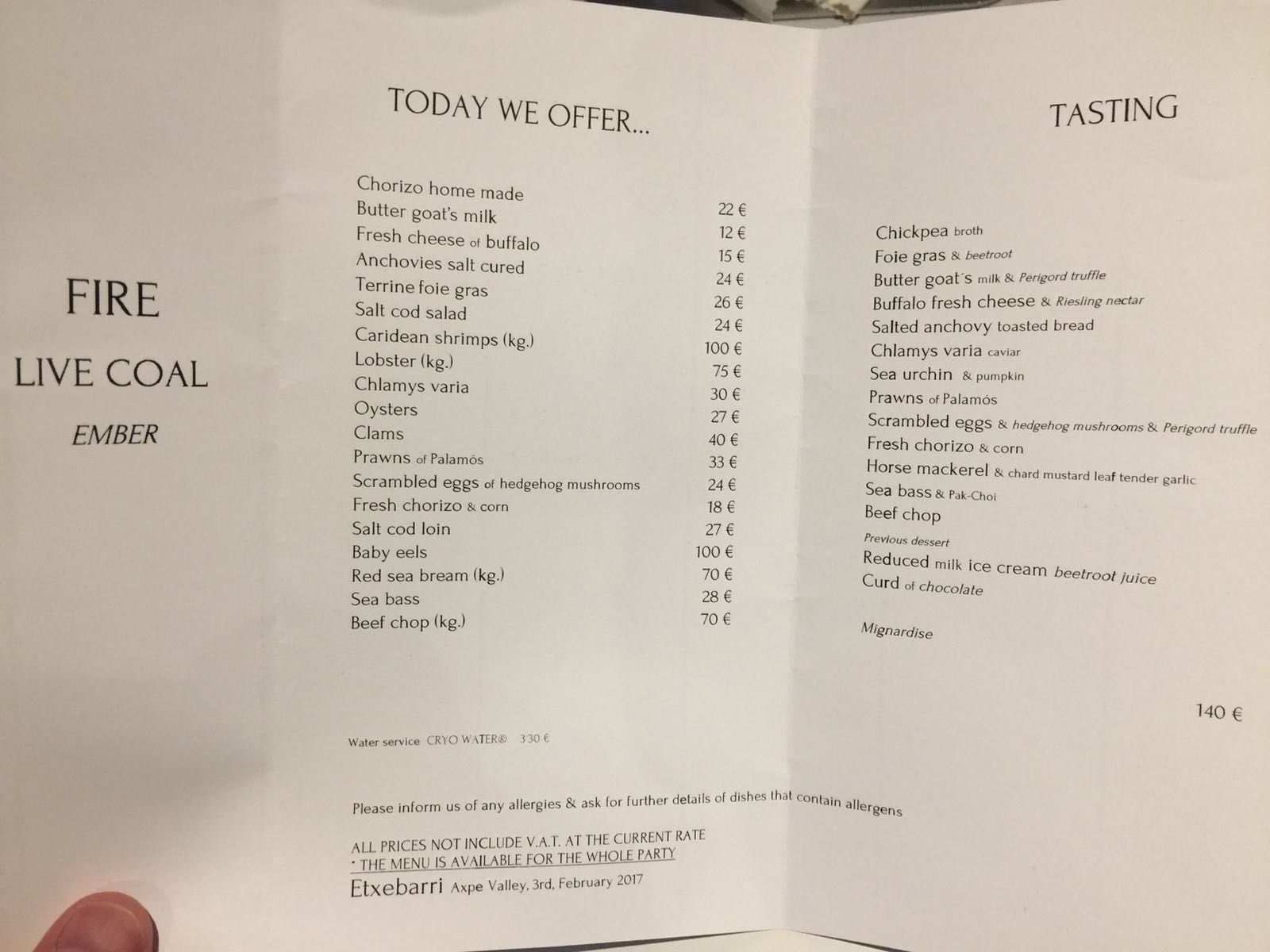 This being our first visit, we chose the the taster menu and noted the seasonal products offered. I feel a jot of regret not ordering baby eels, which are in season during the Winter.
Amuse and bread
—
1. Chickpea broth, foie gras and beetroot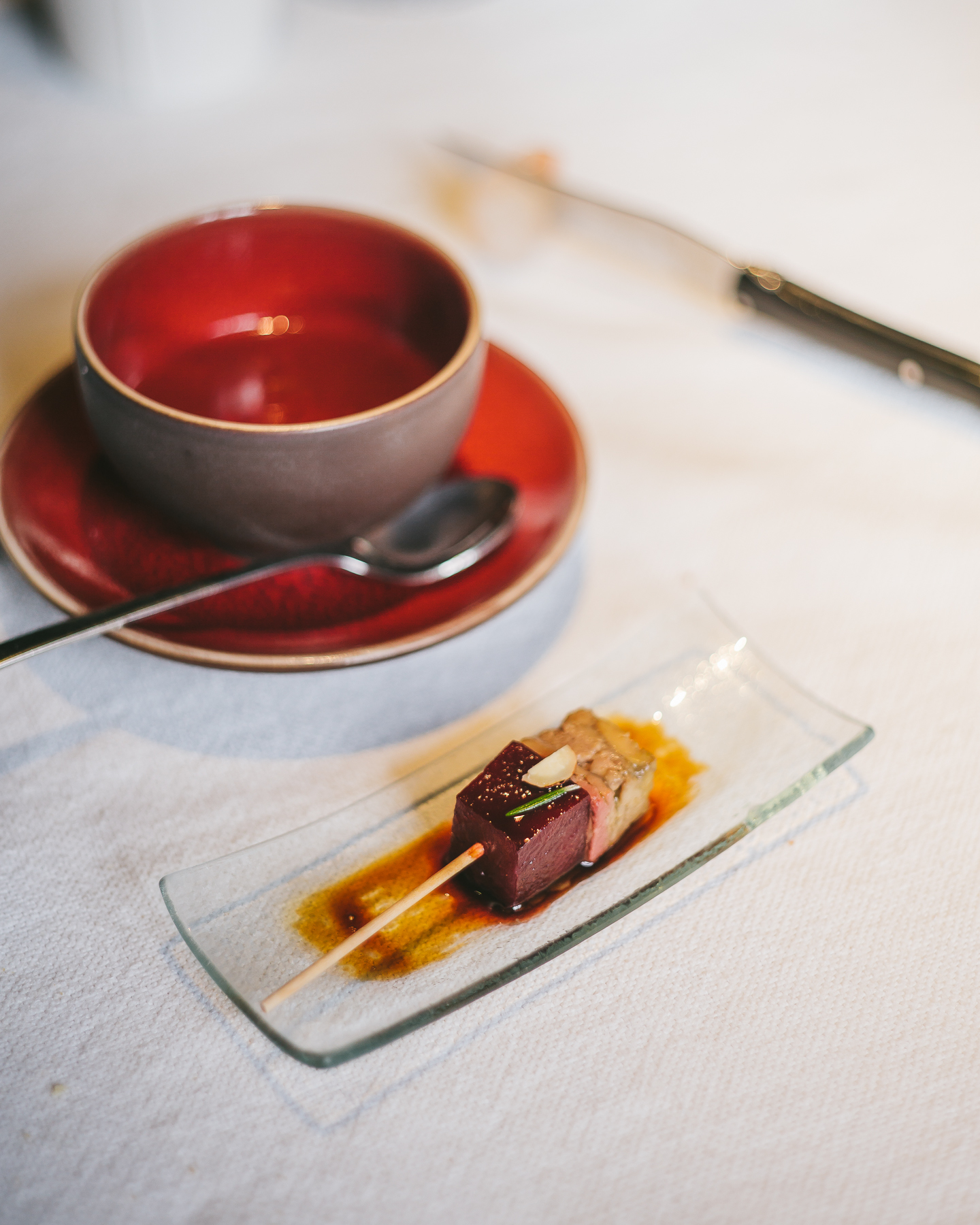 We start here with a consomme that runs as clear as the winter day. Laced with smoke, it had much flavour, a beefiness, a kin to beef tendon, not unlike that of Taiwanese beef noodle soup. Sweet foie gras steeped in molasses is also kissed by smoke, and as the opening bites, it drew gasps from all 3 of us. This is pretty delicious work.
2.1 Goats butter with Perigord truffle and Fresh Buffalo cheese with Riesling nectar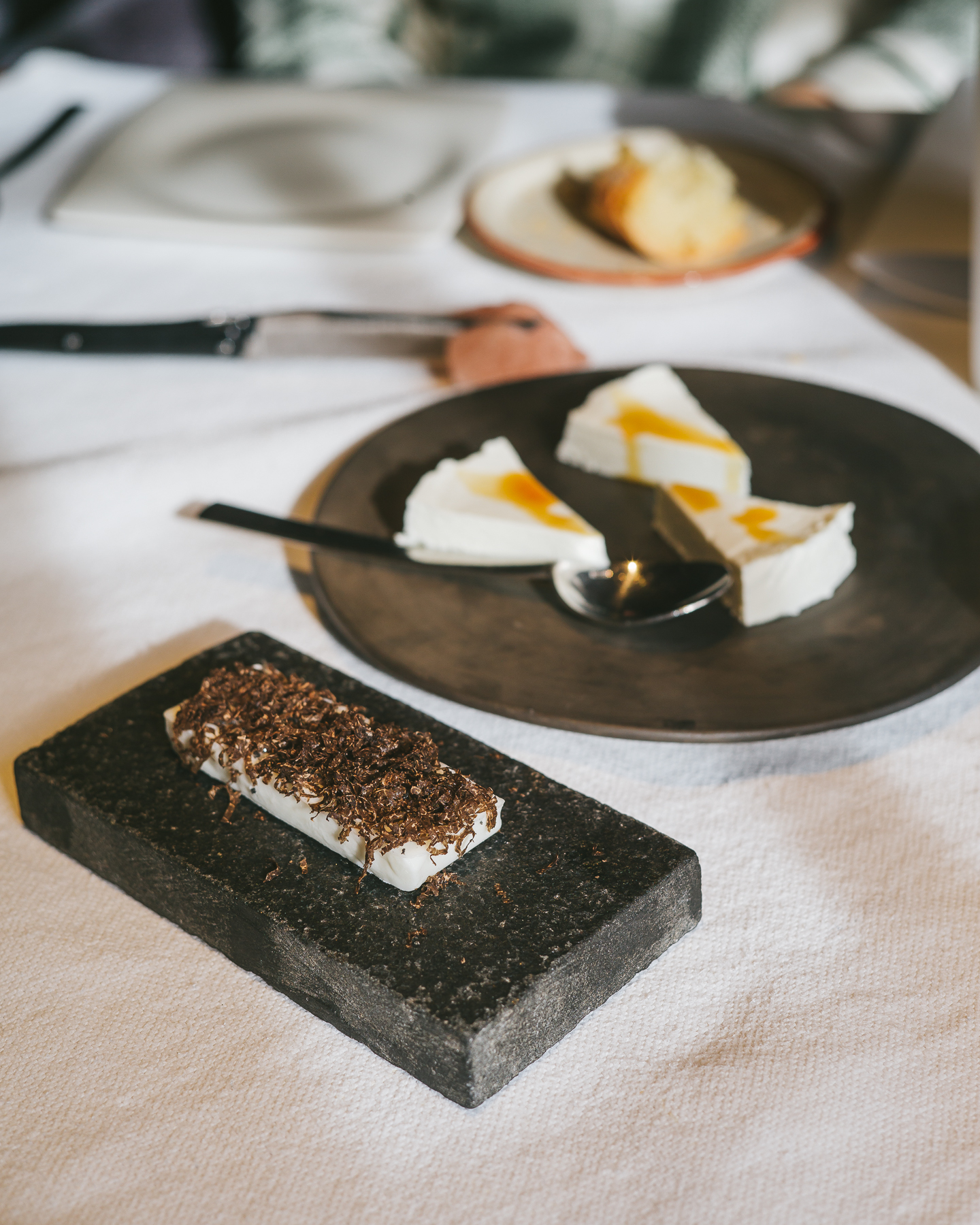 Offered with their selection of house-made sourdough, and a selection of country bread from bakeries in the village.
Fresh and souring cheese from Victor's own heard of buffaloes that can be seen grazing by the side of the hills next to the restaurant. Yes it is good, but the goat's butter was great. Mineral purity, freshness that is so clear it runs sweet like rainwater. Then you taste the pungency, fully in tune with the great (in-season) Melanosporum. This is better than Ledbury's goat's whey, and we eat more than we should.
One of us didn't do goat's milk, and so Extebarri's charisma magnet-cum-sommelier, Agustí Peris (ex-ElBulli) brought us a couple of alternative snacks, which were equally of note.
2.2 Potato tart and puree with Perigord truffle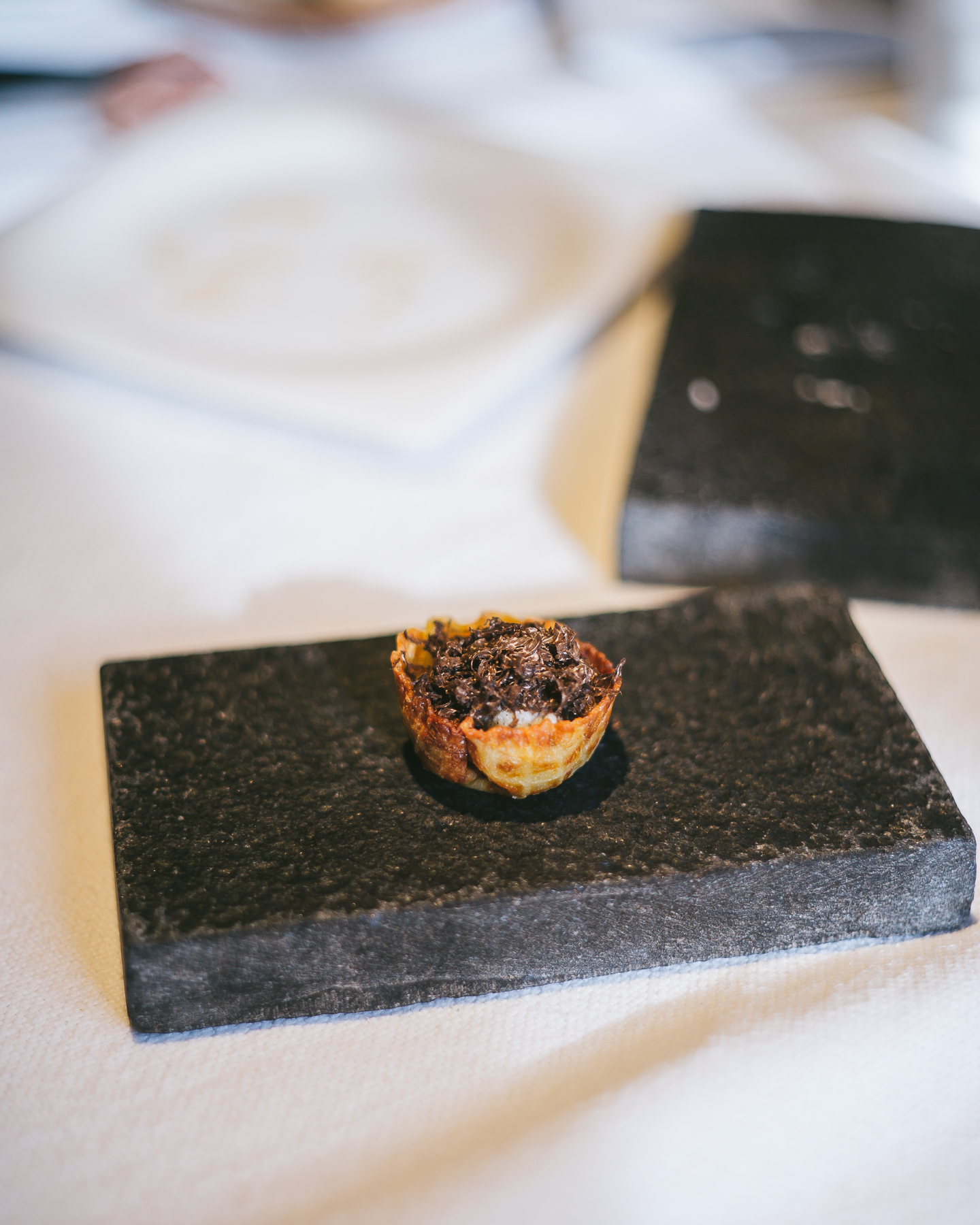 You too love simple things, and who doesn't love a little mash with generous shavings of black winter truffle.
2.3 Home-made chorizo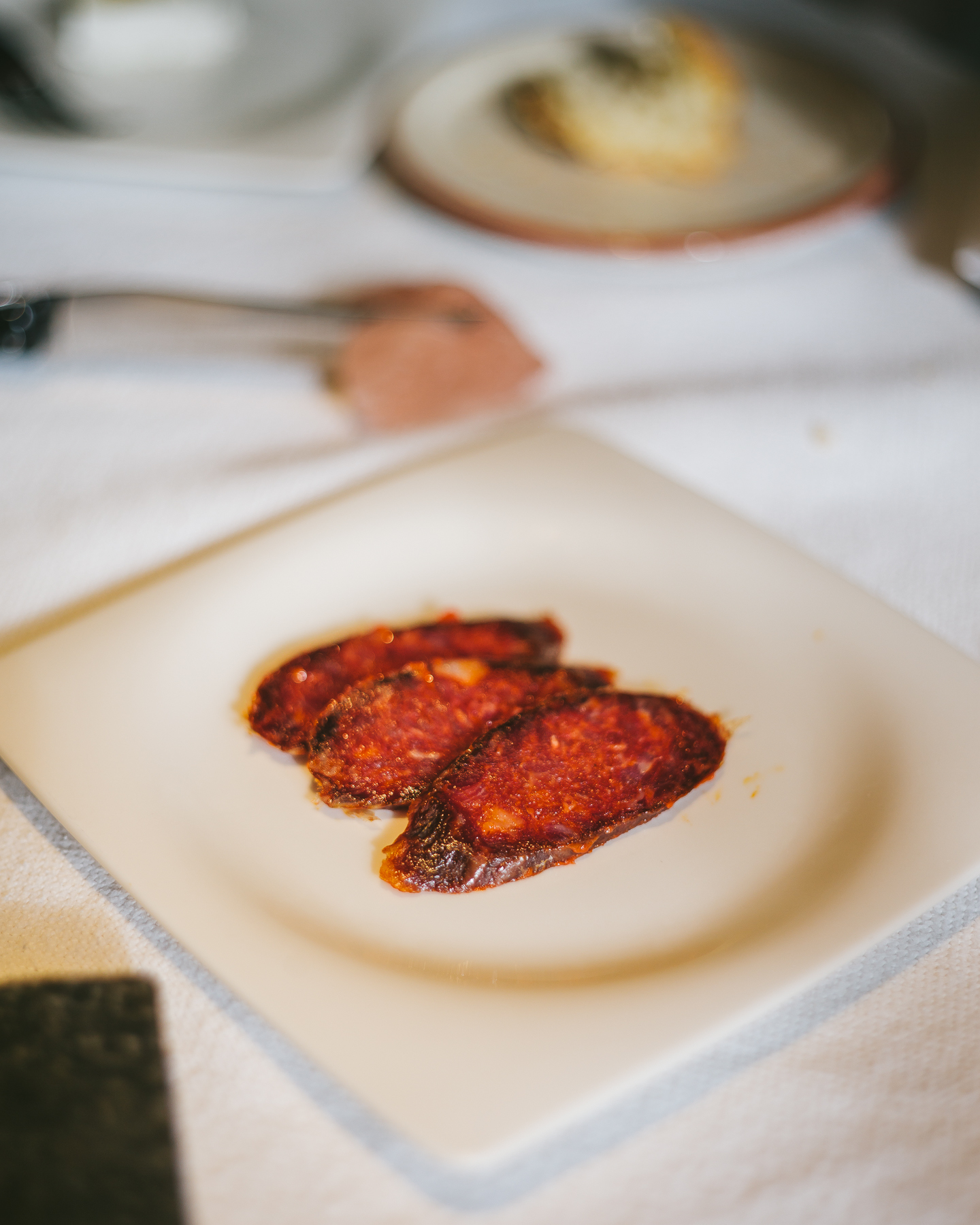 Then to their own chorizo, made in-house from acorn-fed pigs (I stop short of saying Iberico, because I can't be bothered to look it up). Yes very good, but only a preview of the immensity to come later in the meal.
-Wine-
2013 Alion, Vega Sicilia (73 euroes)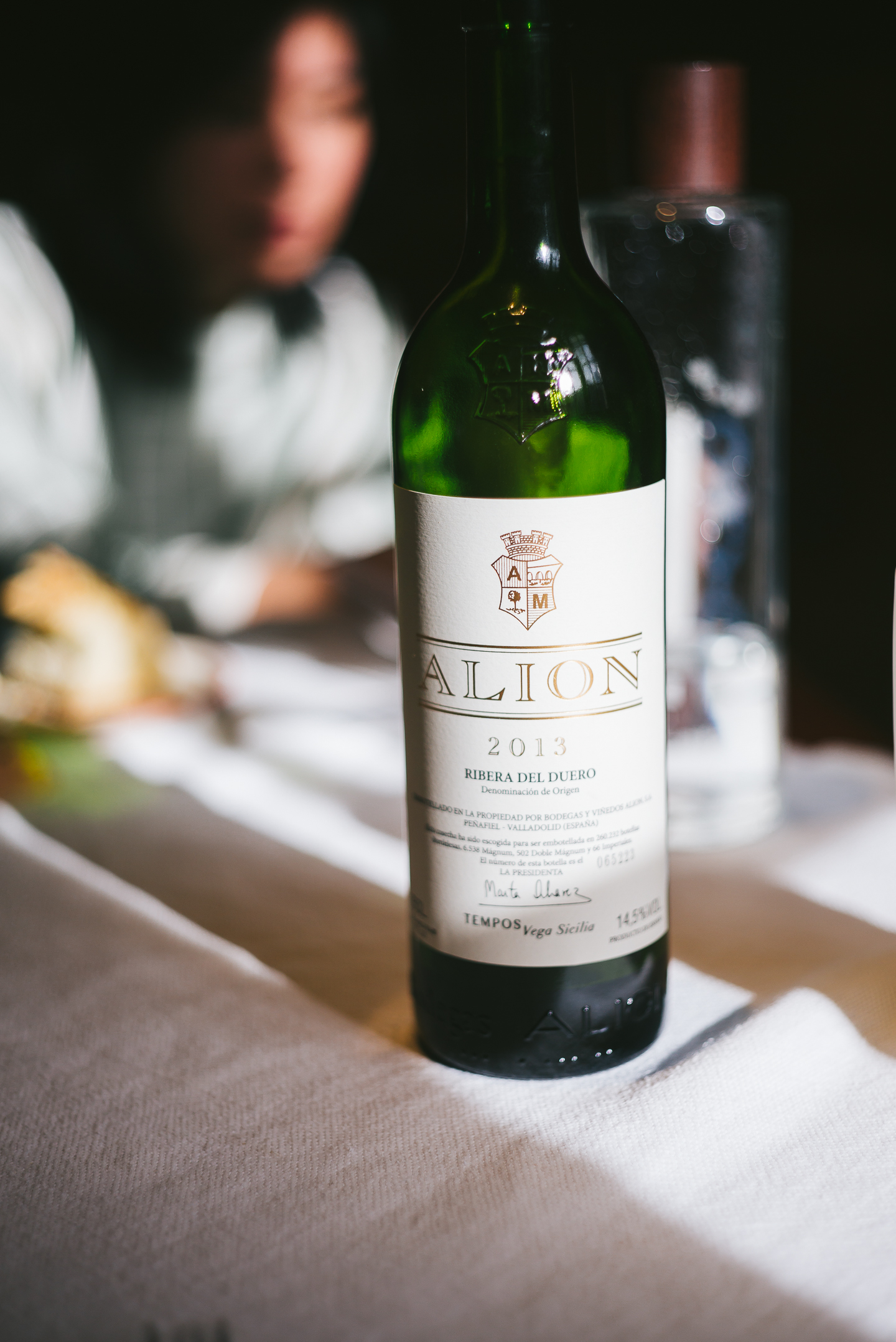 When in Spain, of course, we drank as much Vega Sicilia as we could get our hands on. The newly released vintage of Alion, at 73 euroes, only a 1.5x mark-up on retail. A good deal.
Very tight on pop and pour, but undeniable quality in this bottle. By the time we had the chuleta, 2.5hrs in to the meal, the wine was ready and fully open. Delicious French oak, imparting roses and cedar. The palate of high tone red fruit, sharp, is also bulked up by the oak, loosening to a very velvety drink with air. Good plonk. Better with the steak.
Entrees
—
3. Anchovies on toast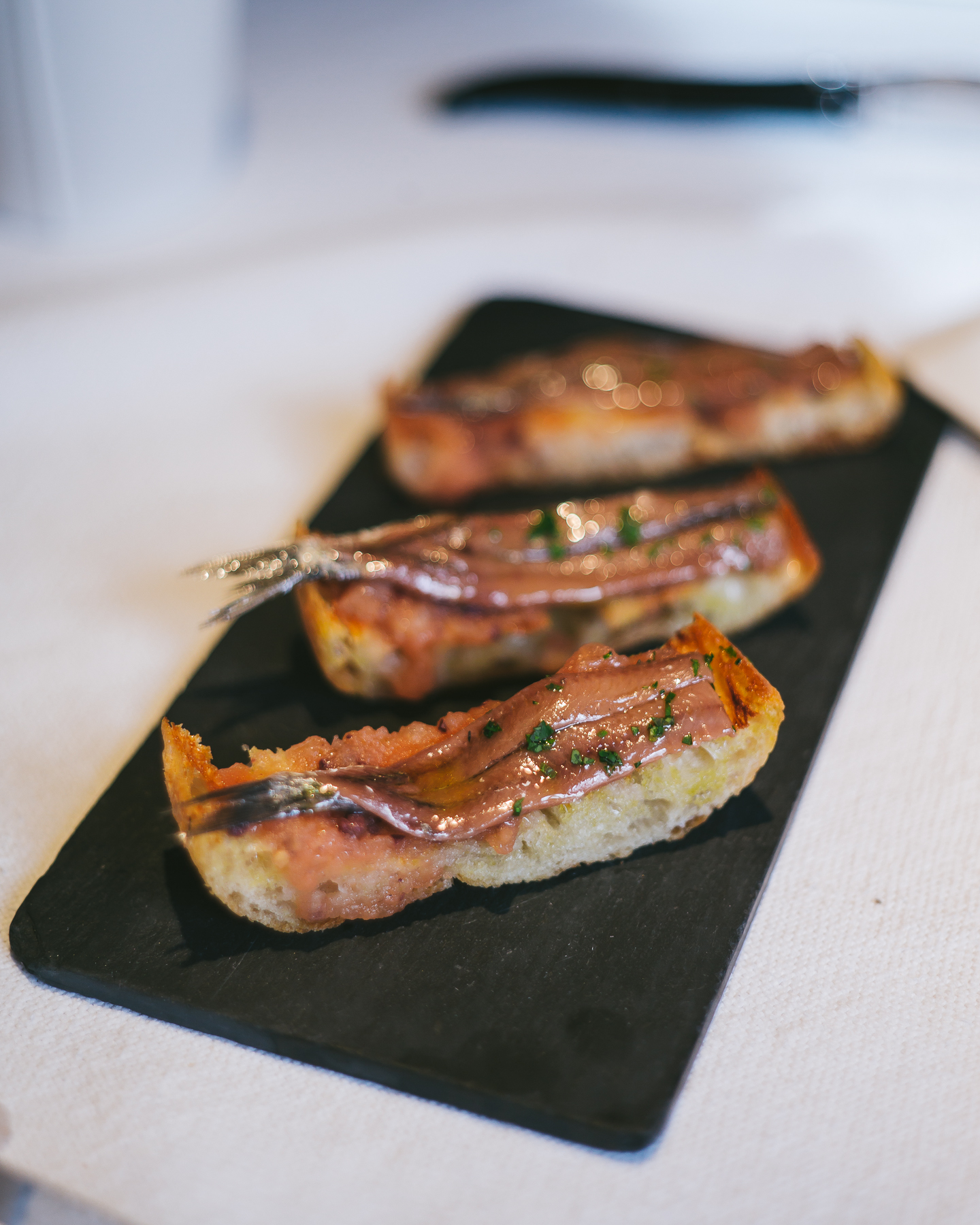 Salt cured (in house) anchovies, simple and sweet. With toasted bread so thin and crispy, i wondered if this is what you would call pan de cristal.
4. Scallops and caviar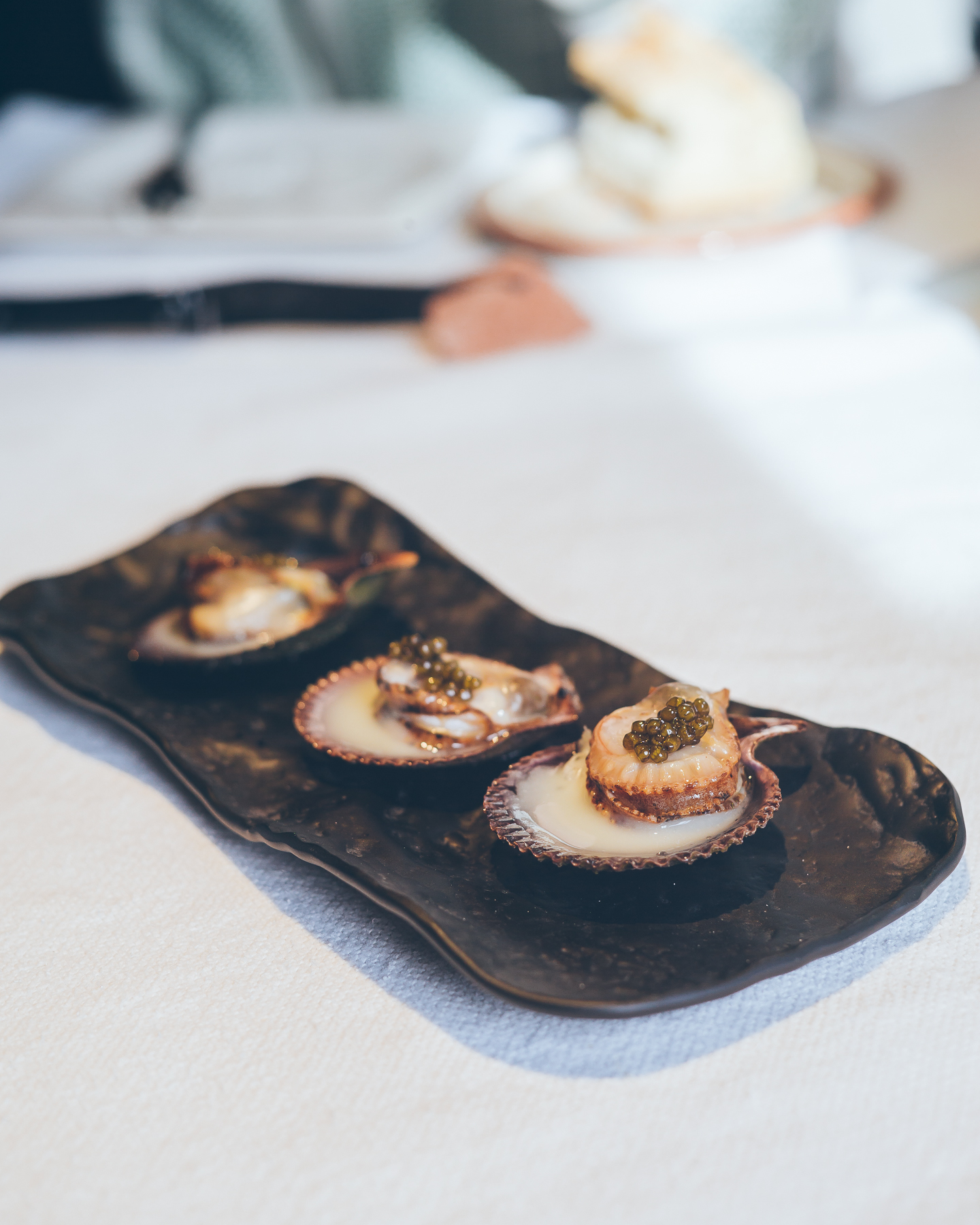 Small and very sweet little scallop, like everything else, gently smoky. The runny "cream" of cauliflower helps to accentuate and elevate the scallop's natural sweetness. Looks simple, but tasted absolutely superb.
A touch of bling and brine with the small measure of shimmering golden caviar. I didn't ask provenance (can you still get Iranian today?) but it both looked and tasted decent to me.
5. Pumpkin and sea urchin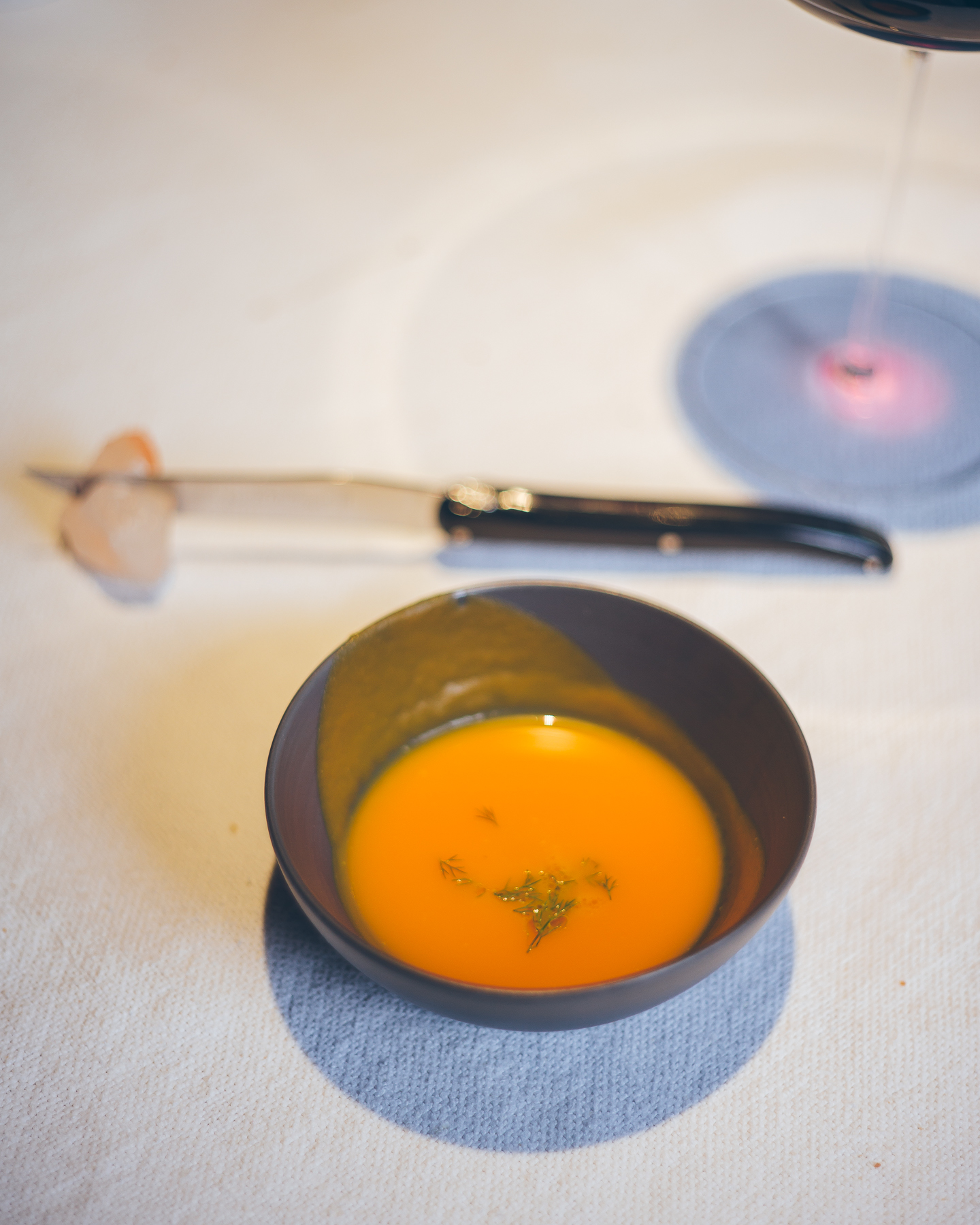 Tongues of smoked uni gonads hid under the smooth pumpkin soup, which while sweet, tasted un-seasoned to me, and could have done with some salt to bring out the umami. About the only thing that did not impress in this meal.
6. Prawns of Palamós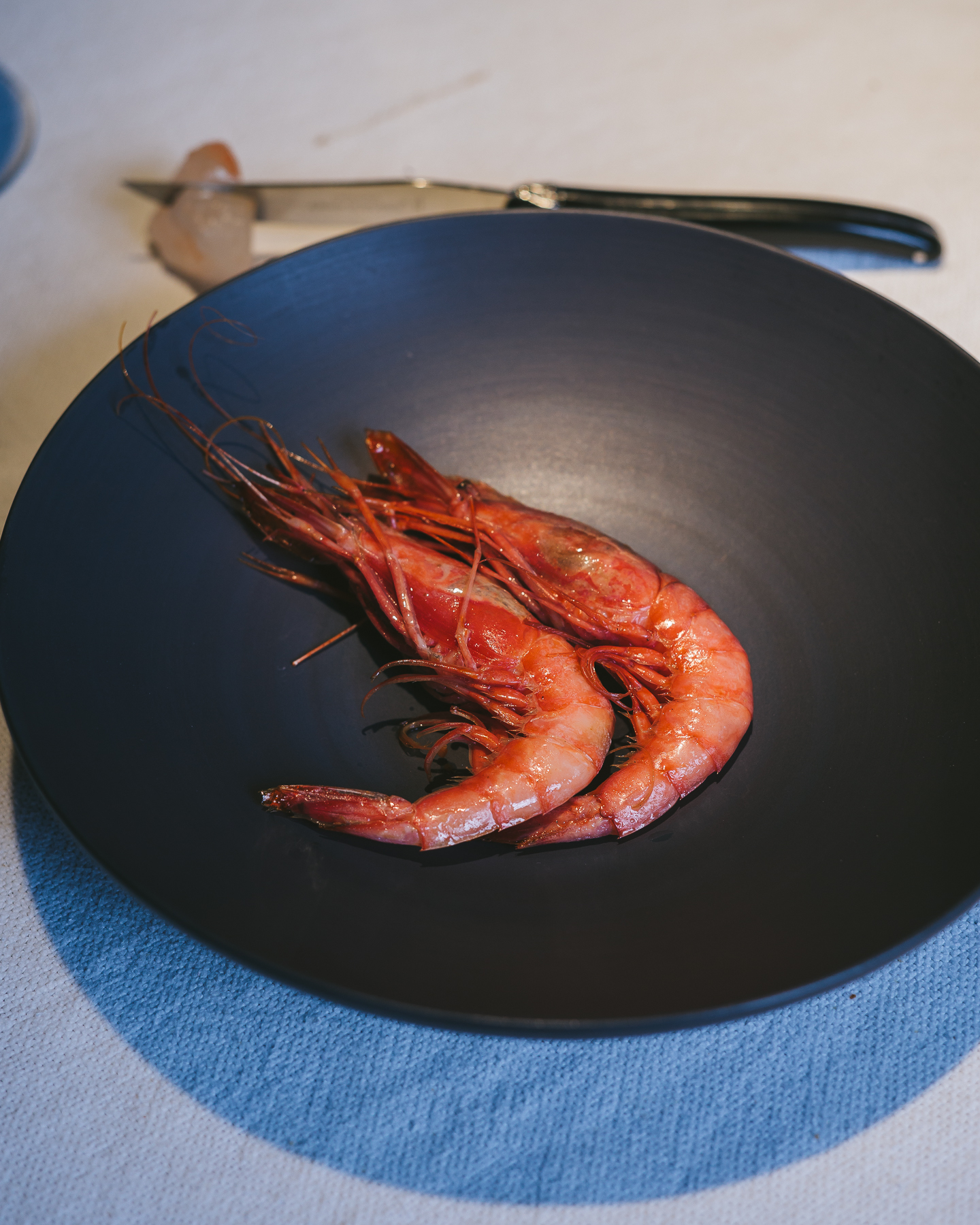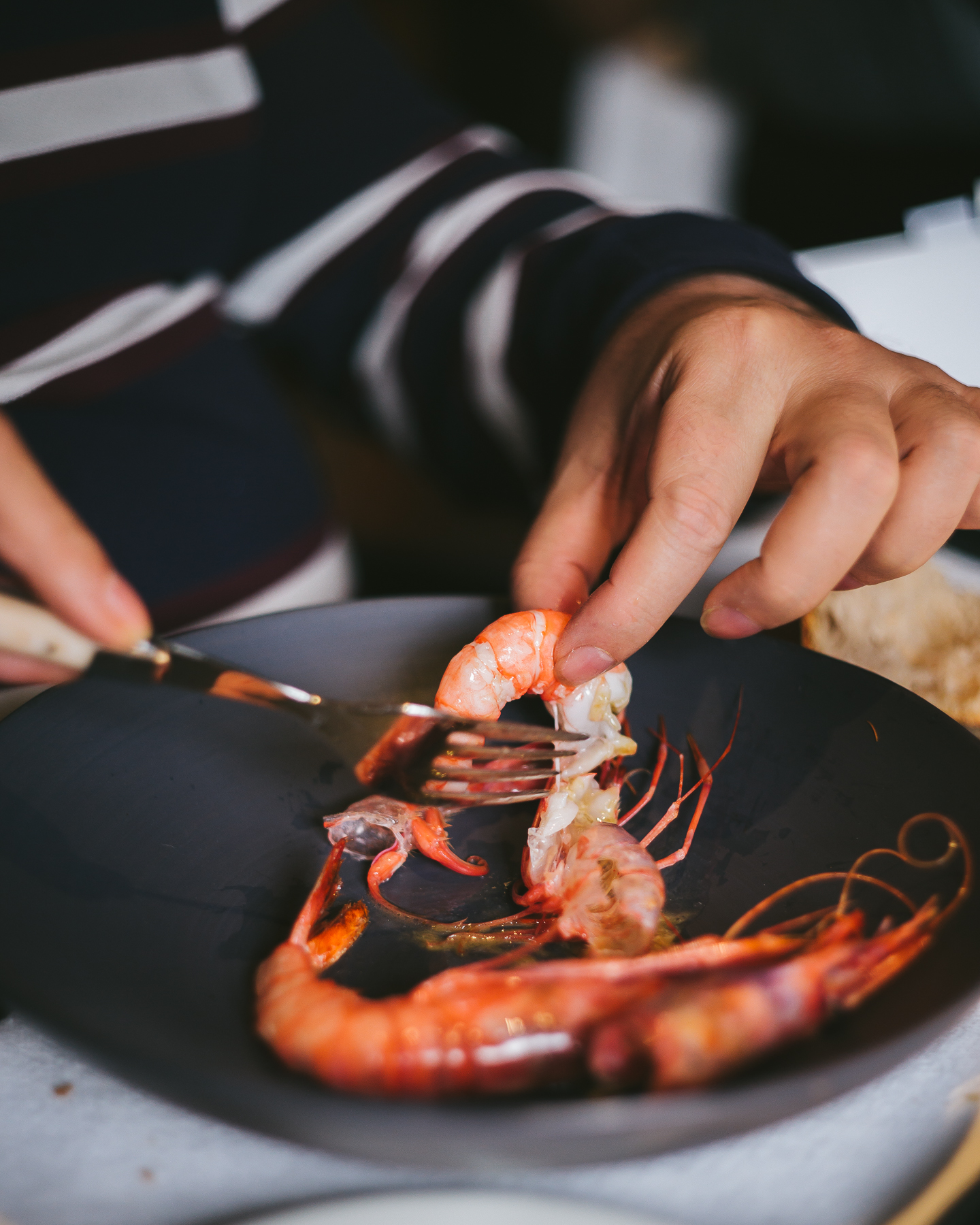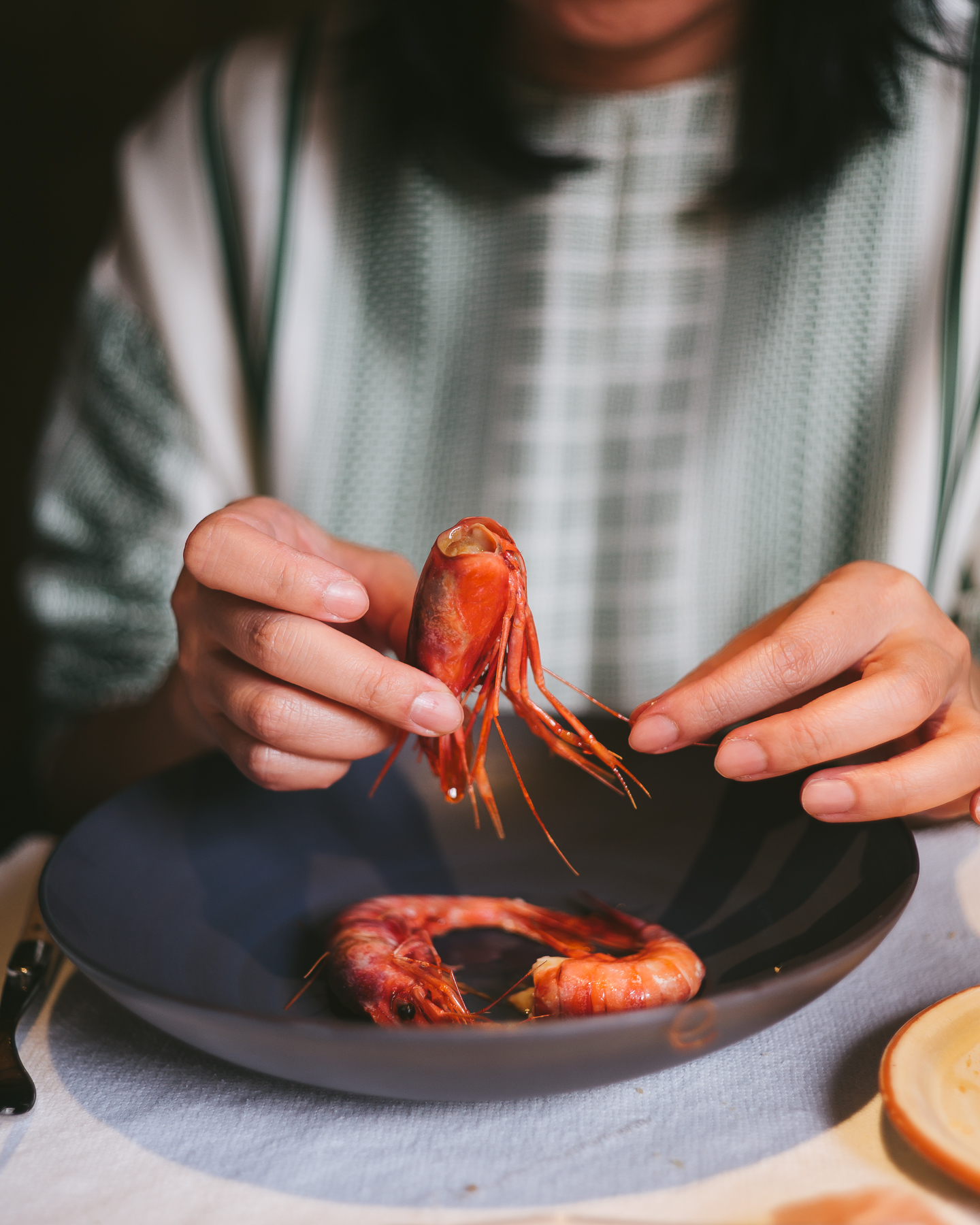 Ah yes, the famous prawns. Indeed this was top gear. The natural sweetness was off the charts, and it lived up to its billing. The best bits were indeed in the head, the beloved natural bisque of the prawn.
When you have objectively stunning products as this, you need nothing but careful cooking to ensure you do not overegg the sweet, moist perfection. This is nostalgic stuff, as it brings back memories of 白灼虾, or white-boiled prawns, the Cantonese way of respecting ultra-fresh, ultra-sweet prawns of note.
7. Scrambled eggs, hedgehog mushrooms, Perigord truffle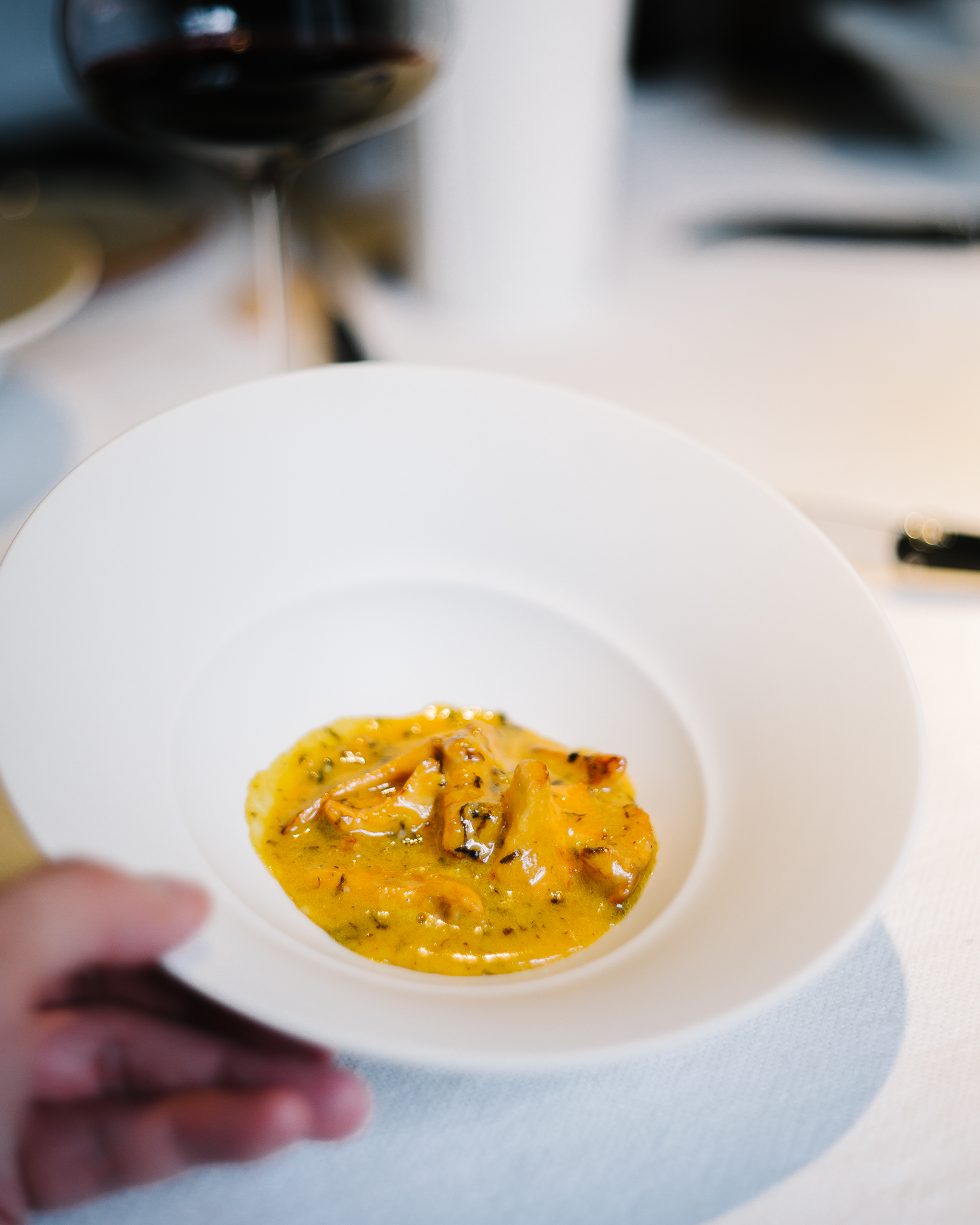 In reality, this was more like a barely cooked sabayon (that is to say yolks), and I think rather smart move to use this yolk sauce as a transport medium for all this smoke and umami.
I can't say I've ever come across hedgehog mushrooms, and so I assume they are now in season (in the winter?), they are to my palate like meatier versions of girolles. Love the strong flavour and texture.
And I love how the shavings of Perigords -in which this year, I identified as having the pungency of blue cheese- has supercharged the eggs. Jet fuel.
Classic pairings here, that is simply a joy to eat.
8. Fresh chorizo tartare, corn talo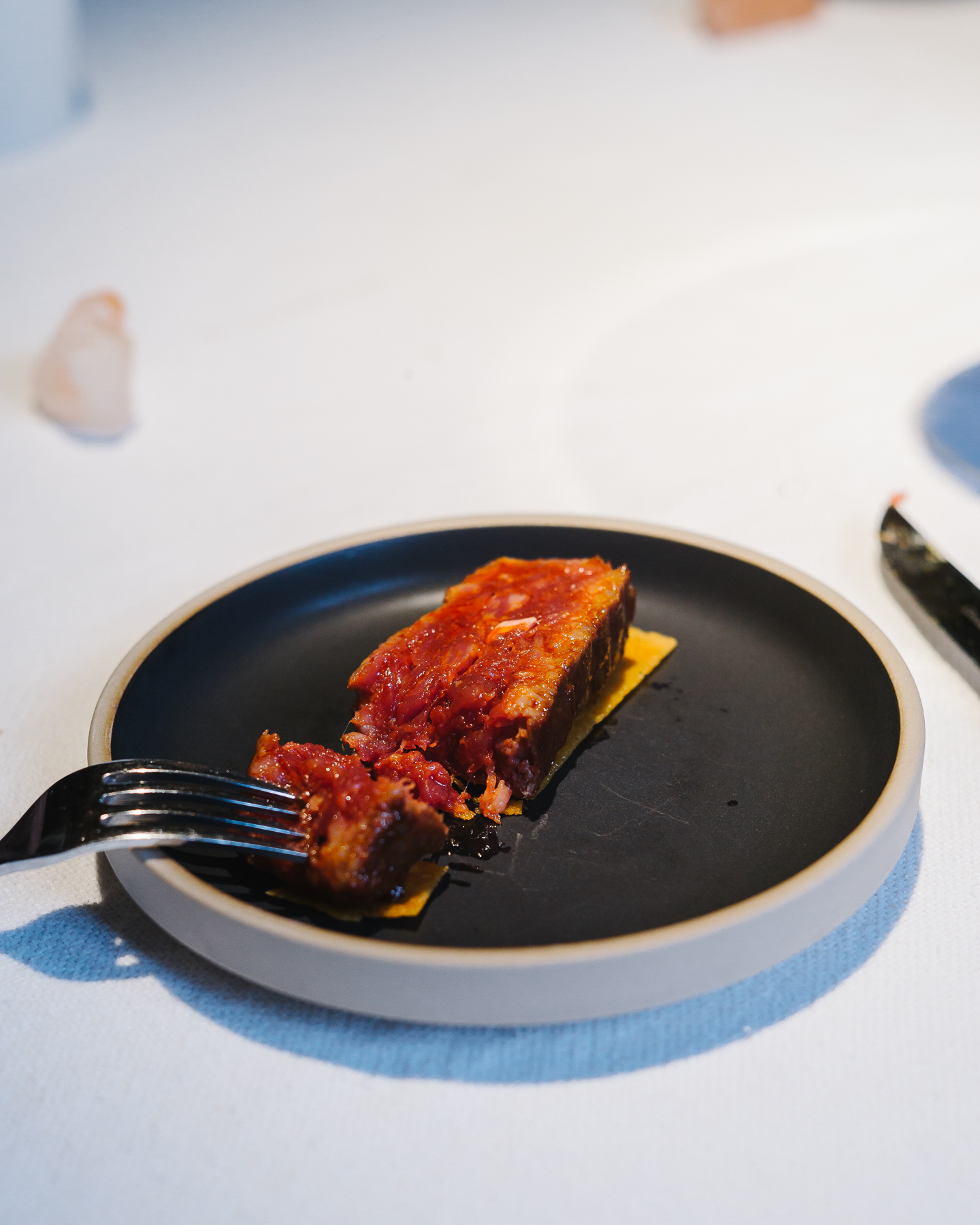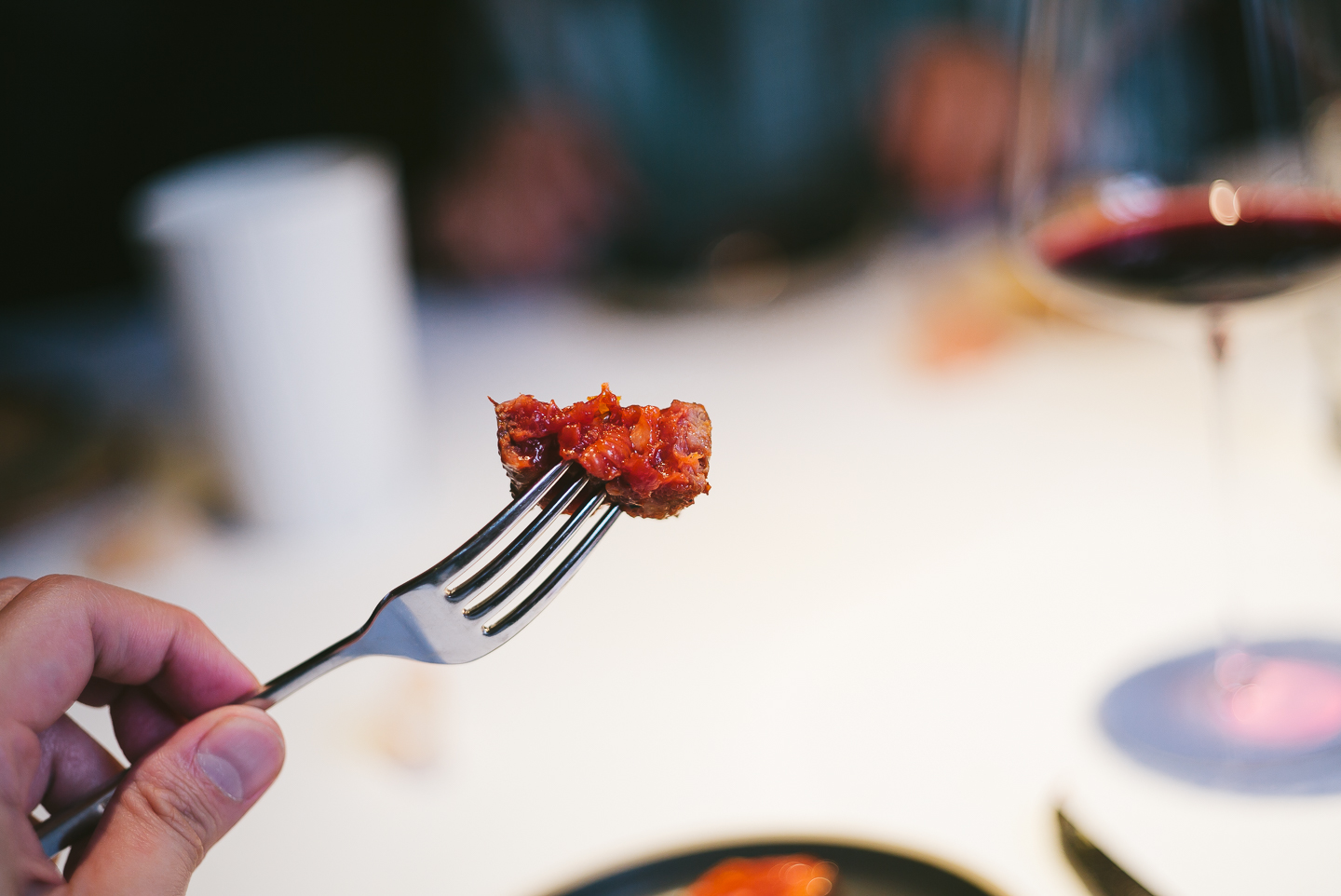 Terrifically simple and yet comprehensively delicious. A lightly seared luscious, smoky, moist, oily, fatty, intensely flavoured 'rare' tartare of chorizo.
Why does this taste so incredible here? Is it the quality of (acorn fed Iberico) pork? Victor's curing recipe? The bespoke smoke infusions? Maybe it is the affinity of this pork to the sweetness (and crispy) corn talo? The water?
For me, this was profound, probably my faovurite bite of the meal.
Fish
—
9. Horse mackerel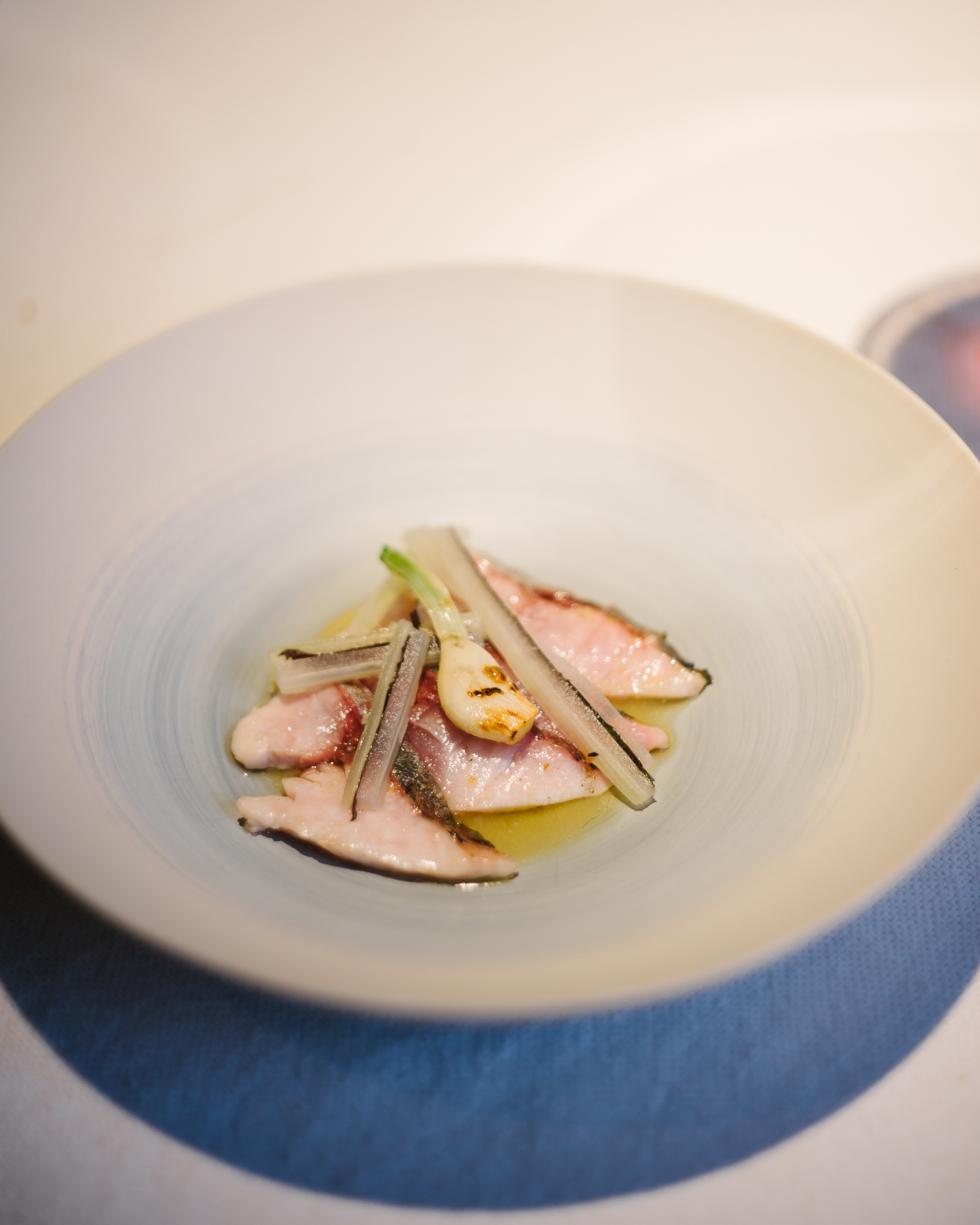 Everything in balance here. Stems of chard sandwiching mustard leaves, gentle grilling on the fish until a mi-cuit centre, with full and very pleasing smokiness, in which the garlic intensifies. Finally there is a sharp pil-pil sauce, with a lick of lemon to lift the dish.
Proper aburi. This would sit comfortably in most multi-starred sushi yas in Tokyo.
10. Seabass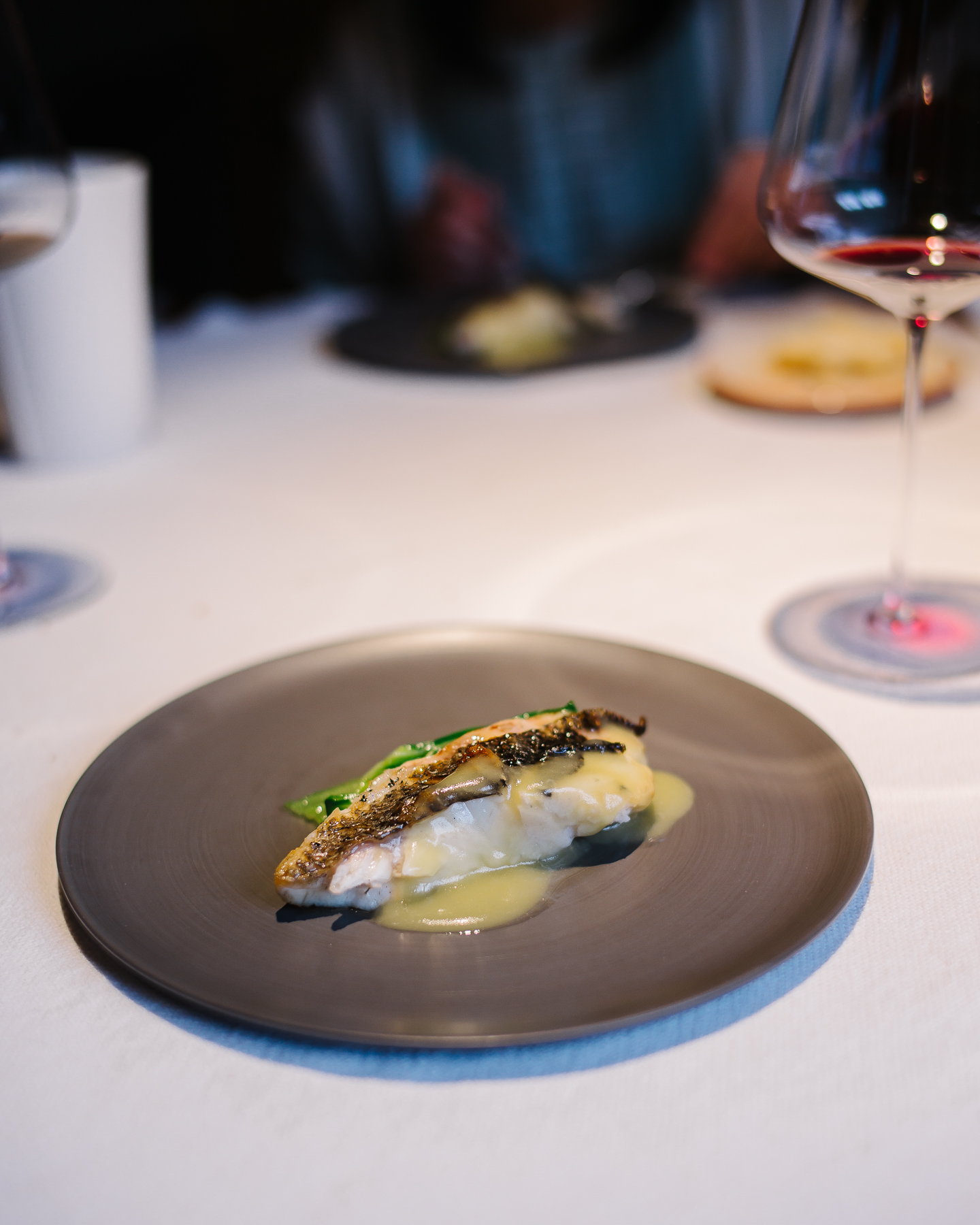 While his chuleta is amazing, I was most impressed with Victor's fish grilling. This is where Victor is showing off his total mastery of smoke.
This was 100% on point. Flaky, oily but most of all the moistness was off the charts, not unlike the precision of steamed fish. I hardly believe it was cooked on the grill! Unreal for seabass, which in my opinion tends to firm and dry out even when cooked by skilled chefs.
Note the crusted skin, like a sheet of glass. I wonder how he's done it – is it low temperature embers, or high heat and smoked in one of his pans with holes underneath it, prior to sealing the skin?
The pil-pil here is a thicker emulsion (compared to the horse mackerel dish), with a generous squeeze of lemon, to match the density of the fish. I cannot tell if this were made from bacalao juices or the natural gelatin from the seabass. Very tasty, serving to amplify natural flavours. Bai-chai for crunch, more water content and freshness.
Meat
—
11. Beef Chop, lettuce salad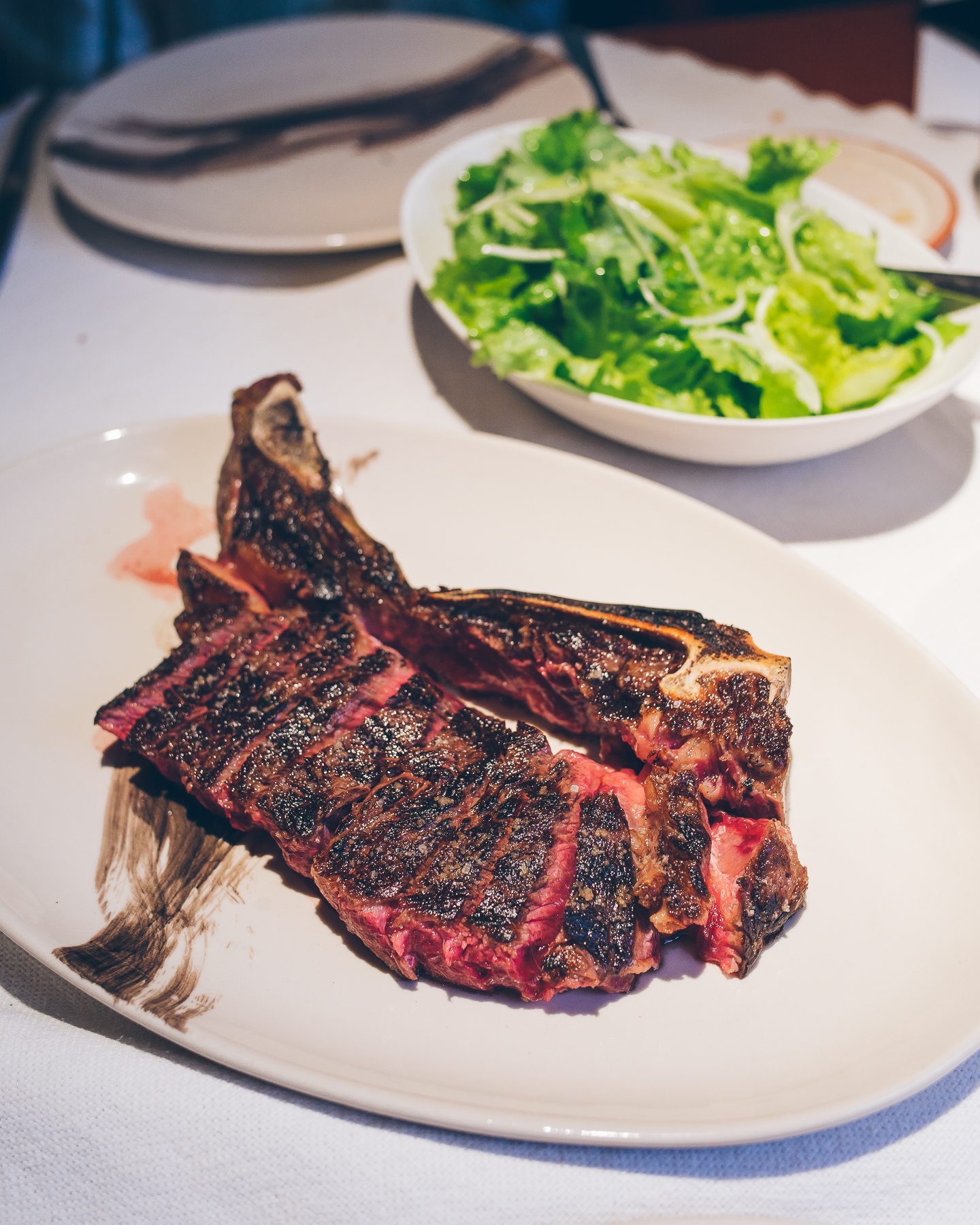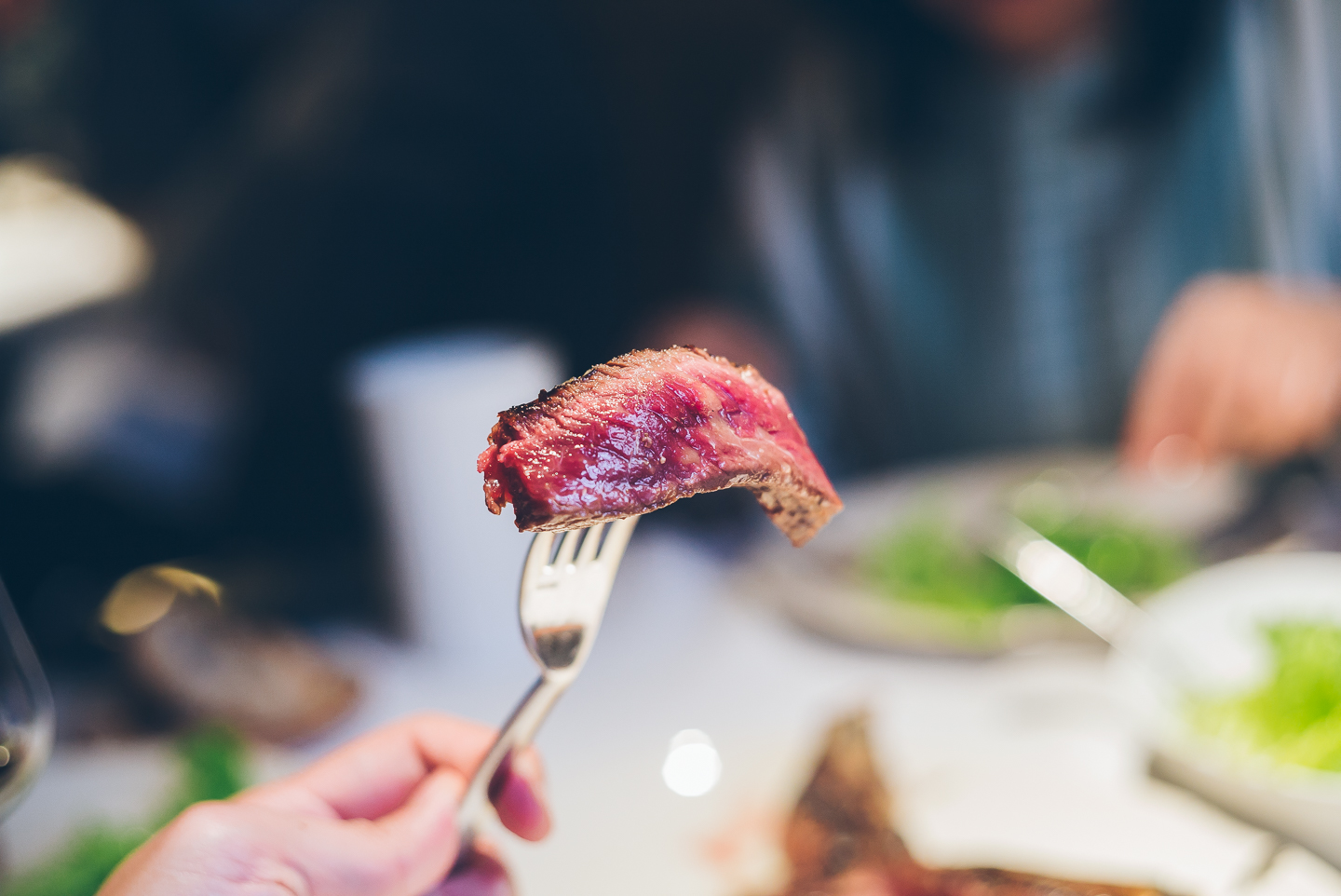 Puta madre, this is incredible! Amazingly Victor prefers to hang for 3 weeks and not more. Too mouldy for him. 12 year old Galician Blond (so I am told), the grilling is absolutely spot on, the crust!
Regardless of provenance, I still think old milking cows are a tough chew but I cannot deny the quality on this plate. These guys must get the best hides in Basque, in addition to grilling to the correct temp. That is to say, rare and crousti blu (to borrow a term) for this toughly textured beef equivalent of an old goat. It is the best Galician I've ever had. Even better than Nestor, and better than this marblellous beauty I procured last year.
With a sharp and crispy salad, a perfect foil to the protein.
Puddings
—
12. Pre-dessert of Apple granita and mousse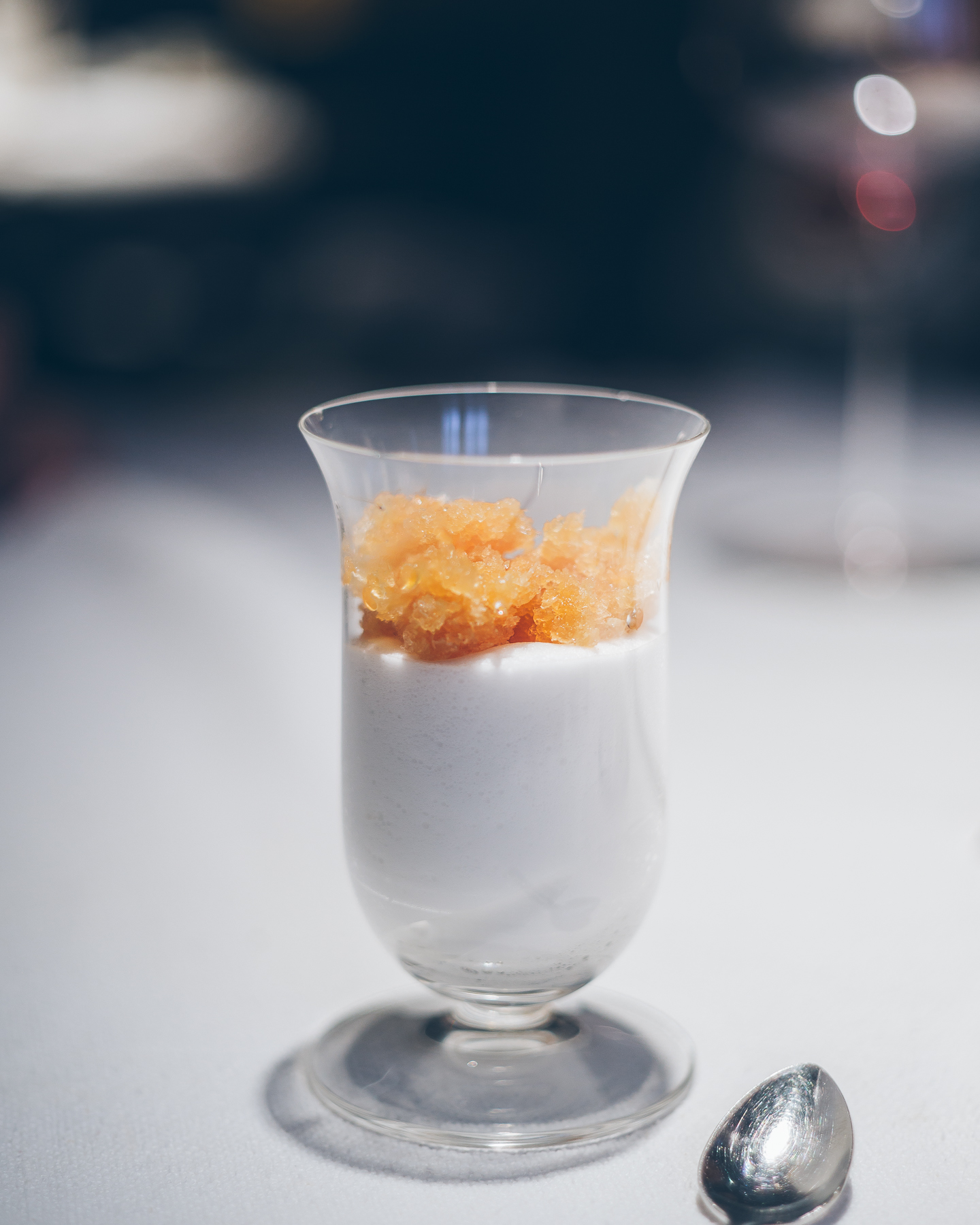 A sort of foamy, siphoned meringue. Apple flavours, refreshing. Good.
13. Reduced milk ice cream with beetroot juice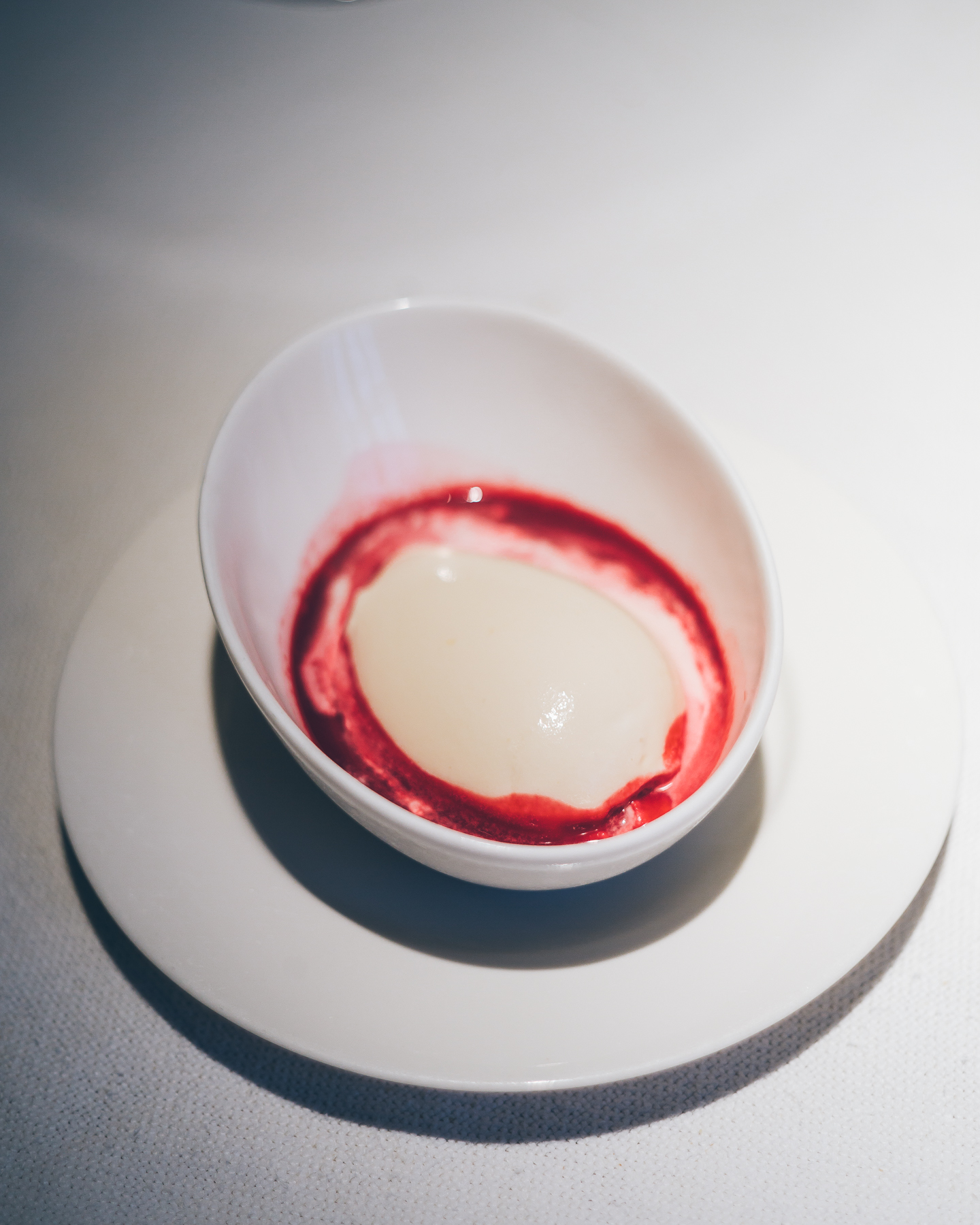 Smoked milk. I like this combo. It was redolent of melon with milk, except this came with the sting of beetroot.
14. Chocolate curd
Full jiggle, this thing held water like a balloon. I hazard this is a variation of tocino de cielo, Spain's version of the creme caramel. It is like that, but with much lighter and ultra silky textures. Good work.
15. Petit fours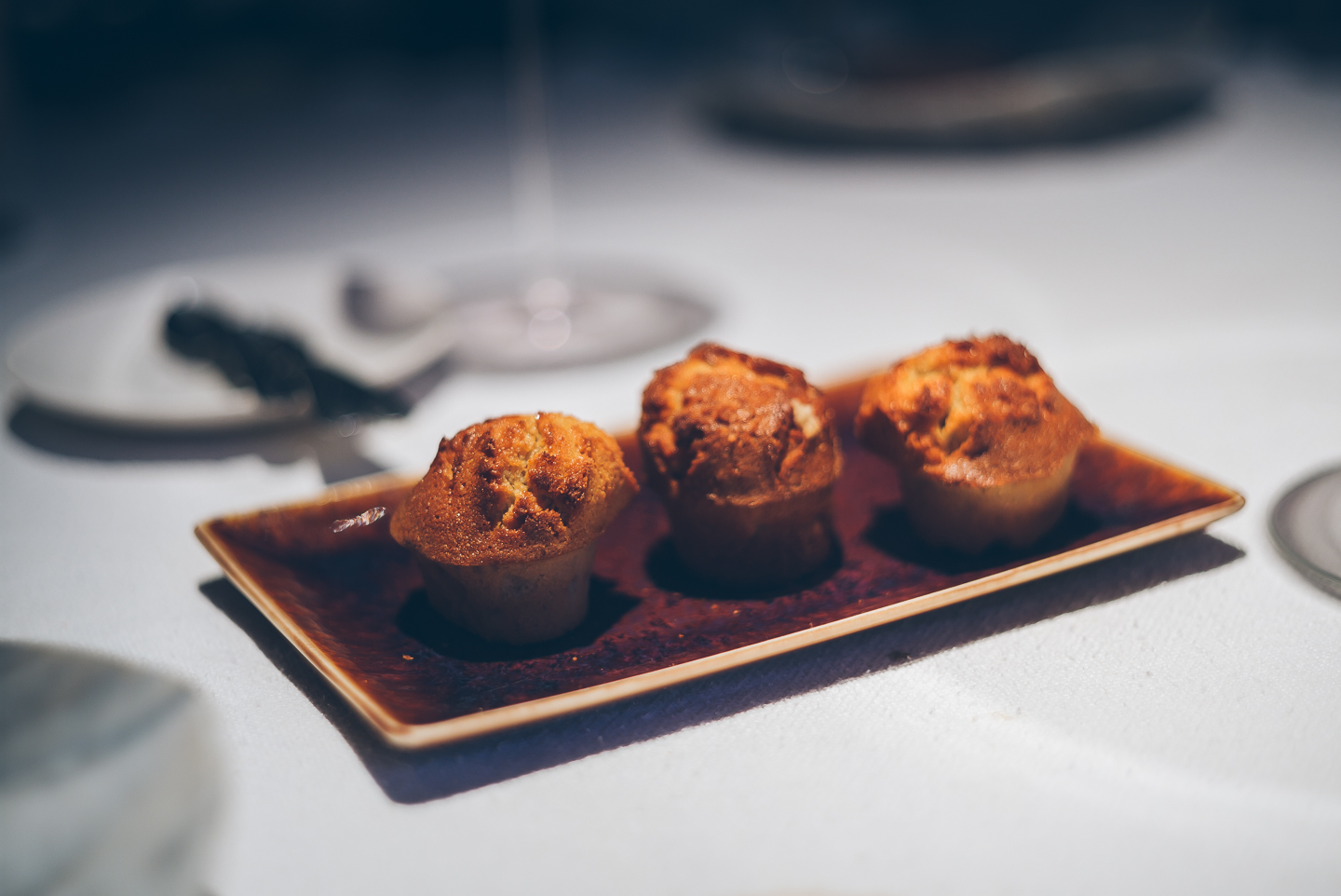 We paid 563.09 euroes for 3 people in total.
My first visit, but definitely not the last. In fact, I cannot believe I never bothered until now. There were so many examples of joyful yet careful cooking (over wood) in this long and hugely enjoyable meal. One of the best I've ever sat through. What a ride, what a restaurant.
Victor has obviously jazzed up his simple grill house and I think he has done enough to polish the tasting menu (i.e. small portions) to satisfy score-sheet wielding gastro-tourists.
I think that Victor stays true to his cooking and ultimately that is what Etxebarri is great at. That and the quality of ingredients justifies all the hype that surrounds this restaurant. For this much substance, I think it deserves more than a star, if it were left to me, I'd say at least 2. If this were in Japan, it would certainly qualify. Perhaps the reason it hasn't (yet) been elevated is due to the handful of peers in the locality who are still very much at the forefront of modernist cuisine.
On the other side of the globe, there are other ideas of a fine meal and one such is being able to pick your own live seafood and cooking method with the kitchen. 2kg spiny lobster? Grill the fella. 4 head green-lip abalone? Steam that. Live scallops? Broccoli and sauce please. In some ways, it is nice that this part of the world's taste-makers constant struggle with purity vs innovation is turning the spotlight back to 'ingredient-led cuisine', I for one am all for natural flavours and top-end ingredients. Don't get me wrong though, I still love my classical egg-white clarification as much as I do modernist ice filtration, but the point is not one of craft or genres, but one of careful execution. When you have great specimens of anything, it is always blooming great. I'll see about selecting my own juicy Galician blue lobster on my next visit to Axpe.
Details
Asador Etxebarri
Taster Menu 140euroes pp + drinks + service
Plaza de San Juan, 1
48291 Atxondo, Bizkaia
Tel : (+34) 946 58 30 42
Transport : Take a bus to Durango and then bus no. A3913 or taxi to Axpe