Happy new year! So how are we all finding 2013 so far? All good I hope, and I also hope you made the most to completely over do it over the holiday period. In the Leong household, we opted out of the usual cote de boeuf and decided on iberico pork pluma, bought from the new(ish) Scotch butcher at Selfridges. Sliced thickly and pan-fried to medium rare – Pizarro style – I finished off with a coating of Italian white truffle butter (turns out to be multi-purpose, as they work well for breakfast eggs the next morning too). This made the already rich, oozing and overwhelming fatty pork even more shockingly intense. But dammit, it was exactly the kind of over the top gluttony that I expected for Christmas. I thought this particular cut from the hallowed breed shared loads of similarities with Wagyu, but substantially cheaper than its bovine counterpart, Japanese or otherwise.
Which brings me to talk of Caravan's excellent New Zealand reared wagyu, supplied by Firstlight, which considering the pedigree, appears completely underpriced, and at current prices, an absolute steal given the quality of meat on offer. At present, it is only represented as a single rib-eye dish and it probably won't (yet) undo the Goodmans and Hawksmoors in London. But I do wonder if FL's produce might one day find itself on a Goodman chalkboard.
You already know about the fancy rejuvenation work that is being developed in the King's Cross area, and the Granary building which Caravan finds itself in, reflecting the general impressionable upgrades to the area. This blend of heritage and modernity, of classed up listed buildings, which I suppose is where the next generation of young and hip will come to inhabit in the near future.
It is a minor commute for me to travel east of Holborn for a meal, so I never bothered with the original Caravan when it opened a couple of years ago in Exmouth market. In that time, these folk have built a glowing reputation for serving up vibrant recipes and presumably have realized enough financial success to expand with this Kings Cross outpost. By now, every new restaurant is designed with post-hipsters in mind. This converted factory, exposed brick, tungsten lamp, unpolished wood and dusted up rusted steel look is present througout the decor. It may not be unique but it still looks impressive, especially with the tall, warehouse ceiling. In the end it creates a nice messhall-like ambiance. The menu is… global I suppose, a highlight reel of delectable sorts calibrated for London palates.
The photos in this post were taken from our first visit to Caravan, sometime in Mid November last year. We've made subsequent visits since and seen a few changes to the menu.
Let's do this in reverse order, and start with the very excellent wagyu ribeye steak.
Firstlight Wagyu rib eye, horseradish, parsnip, chard £15.50.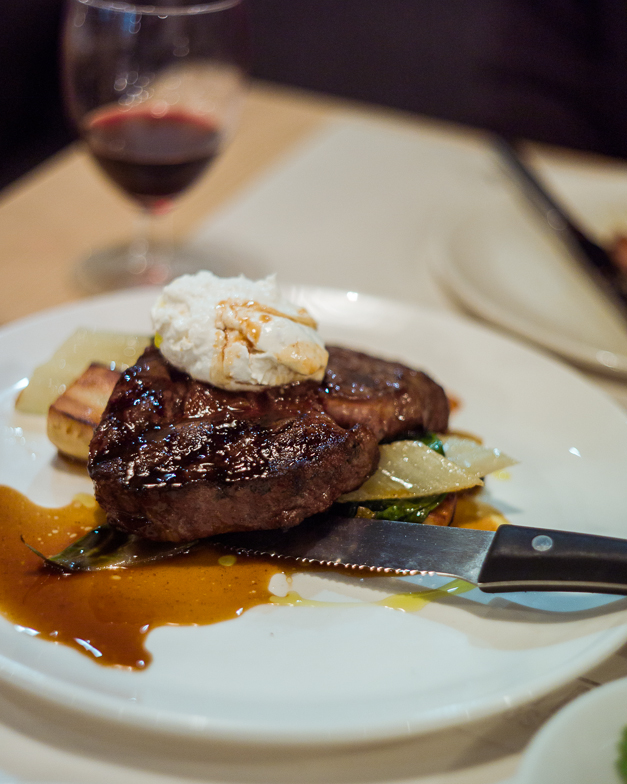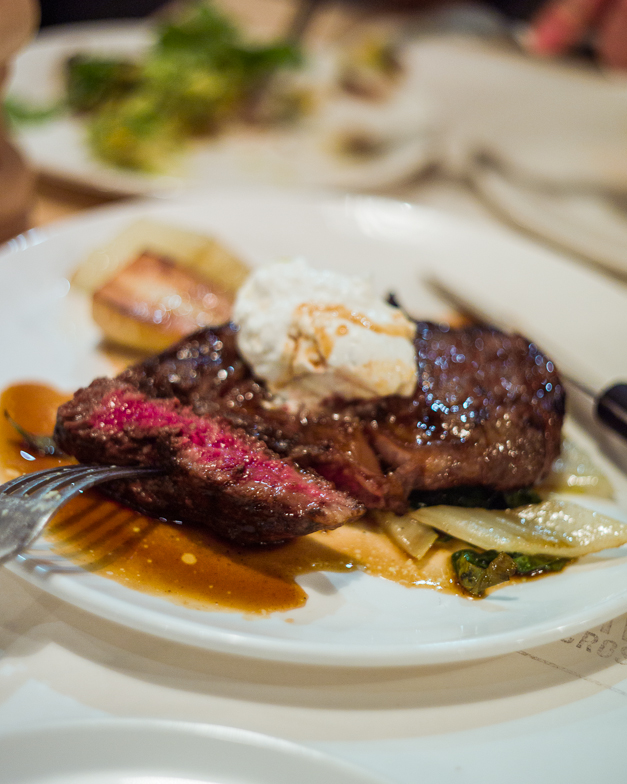 They must have a cracking deal going with Firstlight because I believe this is categorically the highest quality steak dinner I have come across for under twenty quid.
To my palate, the NZ reared wagyu has all those hallmarks which has made wagyu famous – buttery, oozing nutty tenderness, it reminded me of my trip to Kobe when I ate its A511 rated Japanese counterpart, but this was a tenth of that asking price. OK, it may not as soft or as ridiculously well-marbled as the Japanese stuff or even the imported Oz wagyu, but I doubt anyone is keeping score when this is only £15.50. How they manage sell such quality beef at that price is absolutely mind boggling. So I fully commend Caravan on this and will continue to exploit this dish as often as I can, while it still lasts.
We've been back four or five times now since November and I'm happy to report that the quality of the meat is holding. Recipes seem to be shifting with the seasons and when I visited last week, they had done away with the glob of horseradish cream with a smoke laden mash. However, as with many restaurants, as the business matures, the portions appear to be slowly shrinking with time. At least prices have held firm. For now.
Grits, girolles, pecorino, truffle oil, £6.00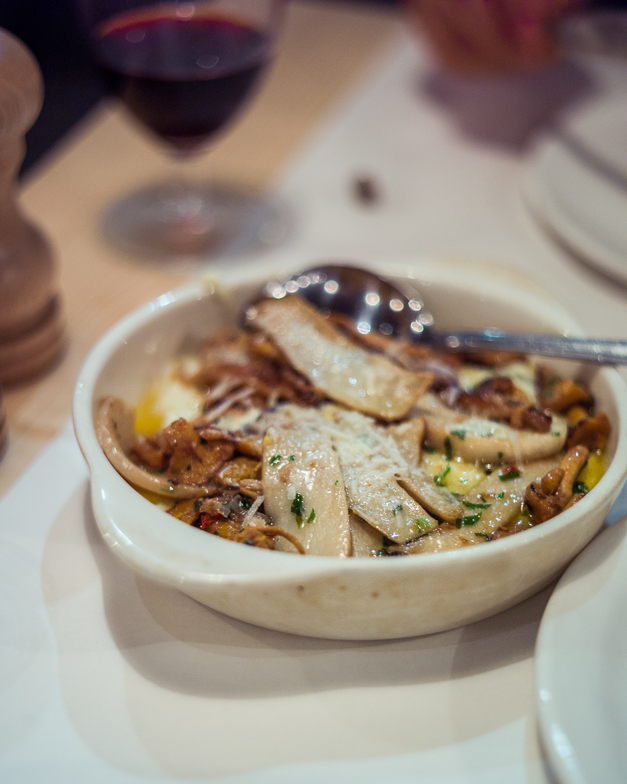 I really enjoyed this mushroom polenta porridge powered by cheese and truffle, ensuring every spoonful to be umami-filled.
On another visit, I thought the deep-fried duck egg, babaganoush, chorizo oil was excellent.
Jalapeno corn bread, chipotle butter £3.50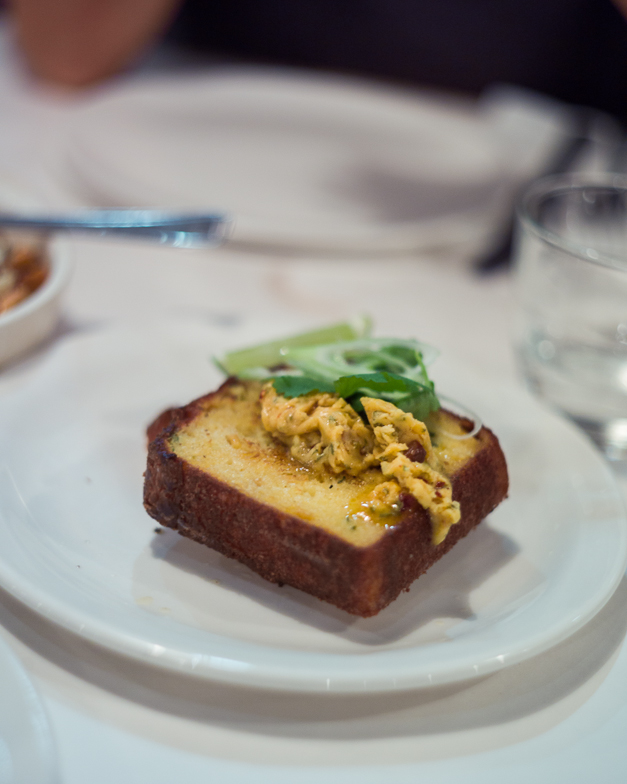 Of the small(er) plates, the warm corn bread with chunk of just melting spicy butter will fill you up quick, but it is absolutely delicious.
You've also got to get the cold, creamy burrata (£4.50) to start things off. Dressed with a few drops of basil oil, it is blissfully refreshing, simple as it may be, but I am partial to fresh cheese.
On balance, I think the food is great you know, though there were a couple which made me shrug my shoulders. The char-grilled lemongrass pork (£6.50) for instance was a bit of a let down.
Mackerel fillet, avocado, corn, coriander salsa, £6.50
Loved this mackerel dish on the first visit, when they served with avocado – all very flaky, juicy and nicely seasoned. But on subsequent visits, the recipe changed up and I feel its fallen behind.
We ordered a pizza on this visit and while decent, I think it is probably more worth to try the variety in the menu rather than to load up on the carbs. Most of the pizza ended up in a doggie bag after the meal. (I enjoyed it the next morning with lashings of truffle butter.)
The bill was £99.34 for two during the first visit. Subsequent visits were a little lower, averaging £40pp… so we probably over-ordered during the first meal.
Believe the hype. Caravan (Kings Cross) is brilliant. Based on a few visits there, I feel this is a solid restaurant with a diverse menu that offers something for everyone, and a 'non-occasion' place which you might find yourself revisiting when you tire of your routine weeknight cooking. Food quality, generally speaking is high, with fair portions that are well-priced, even considering the small plates. And I think it's absolutely the perfect venue for those of you seeking to rekindled previously deadened friendships at the start of the new year.
Details
Caravan King's Cross
Urban.. £40pp
1 Granary Square (Off Goods Way) N1C 4AA
TEL: 020 7101 7661
Tube: King's Cross
Did you enjoy reading this? You can subscribe to the Newsletter. Alternatively, you can subscribe to the RSS feed.