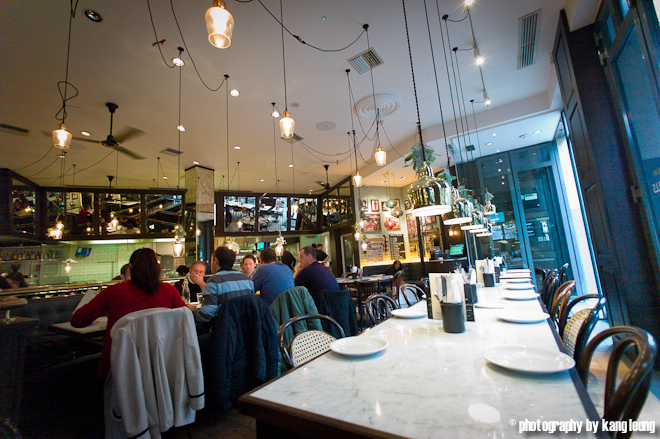 This restaurant opened to rave reviews by gluttons across London in summer, staking their claim as the very first all day diner in London to be modeled after Bombay cafes. I've never been to Bombay, but those who have tried the genuine article (like Guy Dimond) say that Dishoom has got the decor and design down to the letter.
Irani cafes are now dwindling in their numbers in India. They were the stuff of egalitarian dreams in the sixties, but today they are a breed of eatery that is slowly being superseeded by contemporary establishments. Though their story of inception is a rather fascinating one, so goes the story of rags to riches. 19th century Zoroastrian Iranians migrated (source : Wiki where else) to then Mumbai (where a Zoroastrian community was gathering) in search of work. Irani cafes were one the result of those travellers' stab at thriving in early 20th century Mumbai. They also brought with them Irani chai; milk tea supercharged with condensed milk.
I think Dishoom's galore should start with the marvelous decor.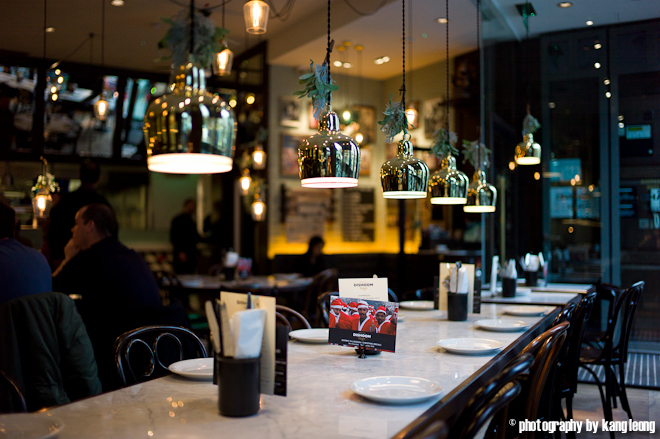 I especially loved the tall ceilings with well arranged dangly wires, hanging lamps and ceiling fans. The kitchen is fully exposed on one side, emanating the usual greenish kitchen glow, and the rest of the dining room feels big, polished, reflecting and marbly.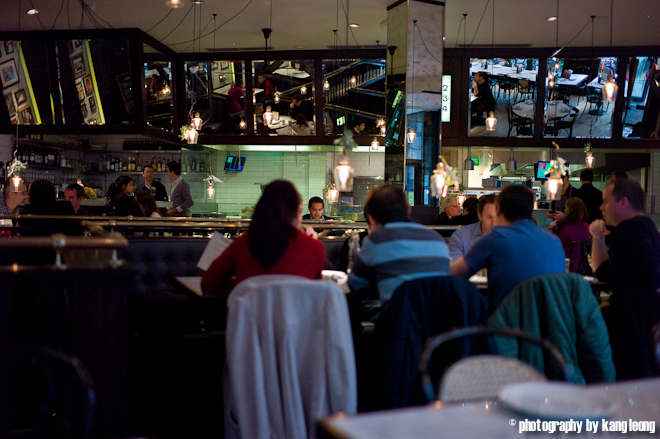 A tip of the hat to the interior designers whoever they may be. They have crafted a brilliant space, with the potential to tickle clientele, it is extremely comfortable sitting there, and would give a lot of Grand Cafe-types a run for its money.
I took the day off last Wednesday, and so it was one of the rare weekday mornings that I was free. So I decided to try Brunch at the all day menu at Dishoom, fully intending to snuggle into my seat for a couple of hours, and take the time to enjoy my new Garry Winogrand book.
Right then on to the food.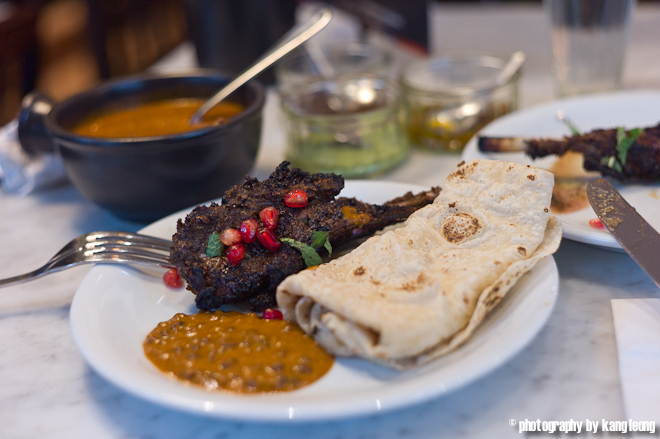 I ordered the spicy lamb chops (£9.20) , their signature black dhaal (£4.50) and Roomali Roti (£1.70). And drank freshly squeezed OJ (£2.90).
The lambchops were really great. The spiciness has been turned down a little, pomegranate seeds were a nice ornamental touch. The meat was charry and juicy, rich, vibrant flavours, and it paired well with the stretchy roti. I thought it could have done with just a tad more rubbing with oil, but otherwise it was deliciously floury, the bread did supremely well to absorb juices. I liked the dhaal, it wasn't a skimpy watered down gravy, it was properly smothery and chock full of healthy lentils. Also on the mild side.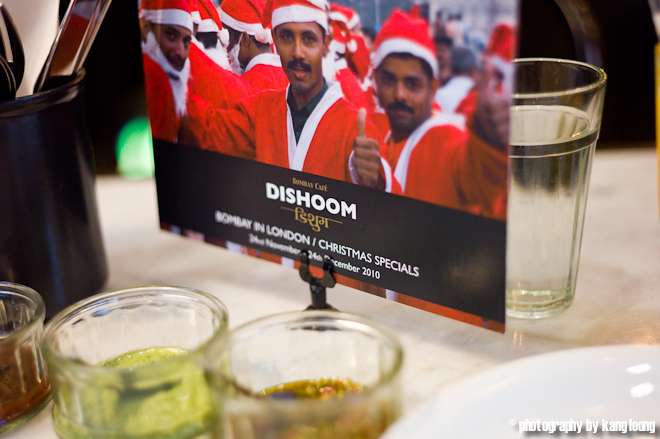 It's not really a cafe, as they were rather quick to shoosh me out the door – albeit ever so delicately and with a smile – even when I had plonked my large A3 sized Winogrand on the marbled top. I was very comfortable in my seat, already slid back into it, feet almost very nearly up and stupidly refused a coffee, since I hadn't yet finished the OJ, and I was still waiting for my Passionfruit and Ginger Gola Ice to melt. Moments later he put the bill on my table.
"Whenever you are ready." Hmm, but clearly I wasn't dude. Can you not see my unfinished dessert and drink, and my body language suggesting I love sitting in that seat so much, I wish to be glued there, at least for another 30 minutes? Check back skills fail. Leading me to conclude that perhaps it was clearly a misreading on my part; Dishoom was in fact an all day diner, and not a cafe. Table turning over Wednesday lunch hour was apparently important to their livelihood. I wasn't too happy about being gently kicked out of the restaurant, especially one which I enjoyed.
Aside from the apparent faux pas, however, service was mostly lovely, frequency of incessant check backs was a little high, forcing me to engage several bouts of smile-chewing. Not cheap for Indian food, but considering it was Covent Garden, as well as the swish interior, the £20.70 (exclusive of service) bill for the solo brunch, seemed fair. Yes, in case you wondered, I put down a 10% tip.
I think Dishoom largely deserves the great exposure it has received so far. It is a great addition to Covent Garden, and it is an alternative to all the excellent egalitarian options in the general area. I wouldn't hesitate taking big groups to the restaurant, food was adequately tasty, but ultimately, it was the decor that won me over.
The Gist.
Dishoom
Bombay Cafe £25pp
12 Upper St Martins Lane WC2H 9FB
Tel: 020 7420 9320
Tube: Covent Garden and Leicester Square
Kablewy! : Time Out London ; Hardens ; The Skinny Bib ; £31.75 ; R.W. ; Gourmet Chick ; Mr Foodie ; Kavey Eats ; Hungry in London
Did you enjoy reading this? You can subscribe to the Newsletter. Alternatively, you can subscribe to the RSS feed.