I left Berlin thinking how everything was physically larger. Perhaps the city architects mistook their metric scales for imperial ones. The repeated pattern which cover the major central train stations went on forever and they make St Pancras feel more like Covent Garden. The behemoth of trains which pass through were like one of those in an Elliot Erwitt photograph. Throbbing engines, brushed metal armoured hulls complete, smelly leather seats so large it made me feel like a midget. And that is after negotiated a gap large enough for me to fall through. As I made my way around the city, I couldn't help but remind myself of Berlin's history. It was a strange feeling, as if the city had absorbed the decades past into it's character, especially at Checkpoint Charlie. Once the border security which moderated human traffic in and out of East and West Berlin. Yet at the same time, the city felt young, in that the glass encrusted urban jungle of new Berlin was visibly building itself on top of the auld one.
We had left for Berlin on the weekend of the 20th anniversary of the fall of the Berlin Wall. Unfortunately, we just missed all the fireworks. I'm terrible with planning trips but luckily the better half had done most (if not all) of the hardwork and managed a nifty setup in Leonardo Hotel which was only into it's third month of operations at that time. Yes that's right, even the hotel rooms in Berlin were bigger than usual. It's a hotel I would recommend since there is a currywurst seller just opposite the restaurant and which seems apt to kick off my little report on Berlin food.
Currywurst – probably Germany's most popular 'streetfood'.There were currywursts vendors on most street corners and usually could be had for a euro or two. It is common practice to serve sausages diced and bun-free in Germany. With currywurst, the speciality is the sweet curry ketchup sauce smothered on the sausage with generous lashing of curry powder.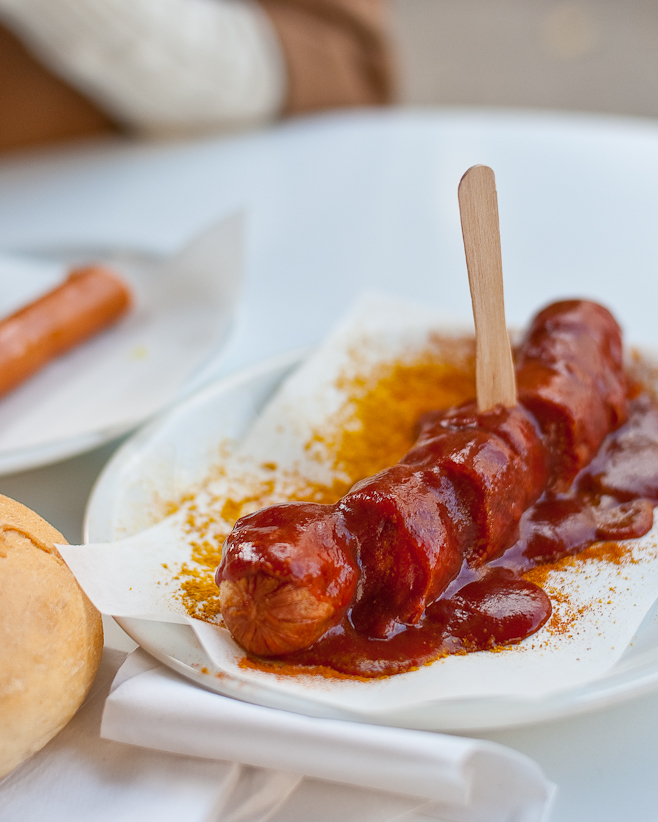 It's an efficient recipe, one that I really enjoy and just about as good as I remembered it when I was in Hamburg. The sweetness of the ketchup, the aroma of the curry powder and then the seasoned saltiness of the bouncy sausages. I think German sausages are great for their consistent texture and usually rich but pure flavour – of course I am generalising here, but I've never had a bad German Wurst, it is their national dish afterall. We ordered some bread rolls and chips as well – the latter of which was crunchy and nutty. Maybe it's got something to do with German potatoes, but I think German chips taste better than they do over here. We would return to Eckherts' Currywurst shop several times again throughout this trip to top-up, and that's not counting the sausages we devoured at the farmer's market near our hotel as well. Mmmm….. currywurst…
A bellyful of wurst later, what we really need then is a cup of coffee. Walking around the city, we noticed the distinct absence of that American franchise with the green logo. Instead we noted a boxy brown logo virtually at all the major U-bahn stations. It bore the name of one of the more famous Germans in history : Einstein Coffee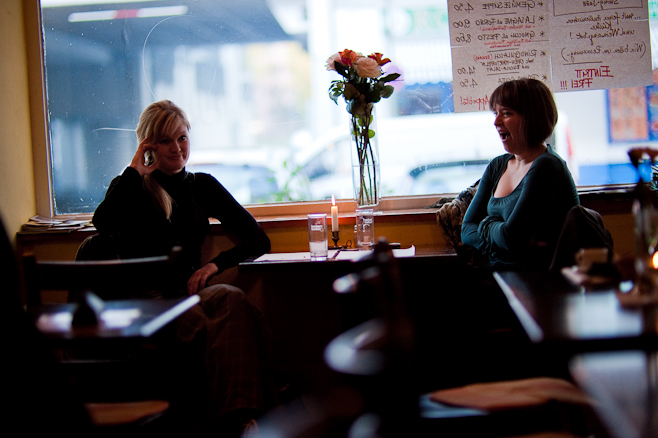 So we decided to give it a whirl, twice actually, and it certainly felt like a franchise. I wouldn't say it was the best coffee I had this side of Europe, but the much more euro-centric setting was alot more appealing than a tired Starbucks.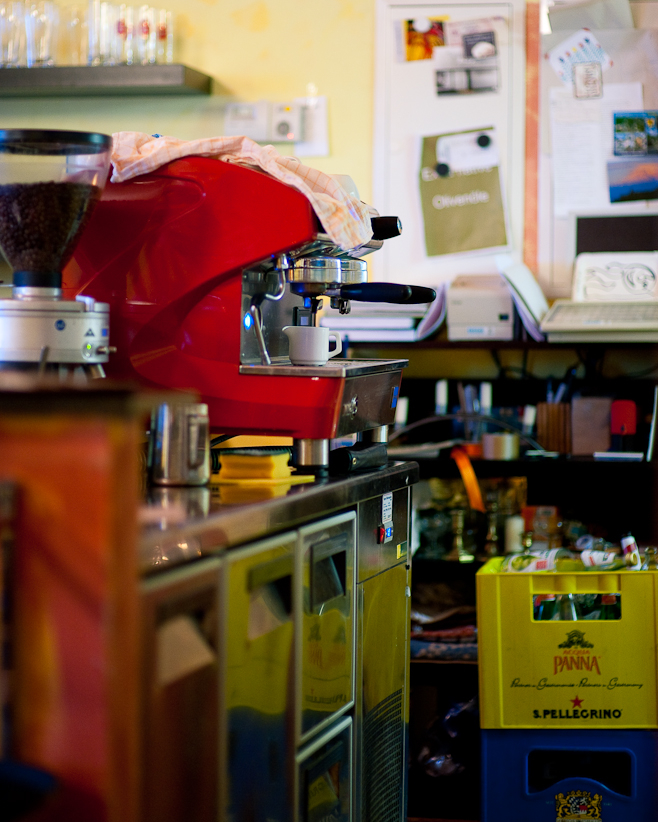 This photograph is a bit redundant because I'm not entirely sure what to say about it. Except that it's something which caught my eye while I was in the cafe, especially the red from the coffee machine, it's just so vibrant. It is a blog post at the end of the day I suppose, yes welcome to my brain.
As the day turned to night, the girls came out to play.
We hit town hoping to soak in abit of that famed German party animal spirit, only to find a relatively sober entertainment district. This is abit of an after fact, apparently we 'hit town' a tad too early, as the party doesn't really start till 3am in the morning. Anyway, I couldn't wait that long for dinner in any case.
One of the first culinary destinations was Cafe Noe.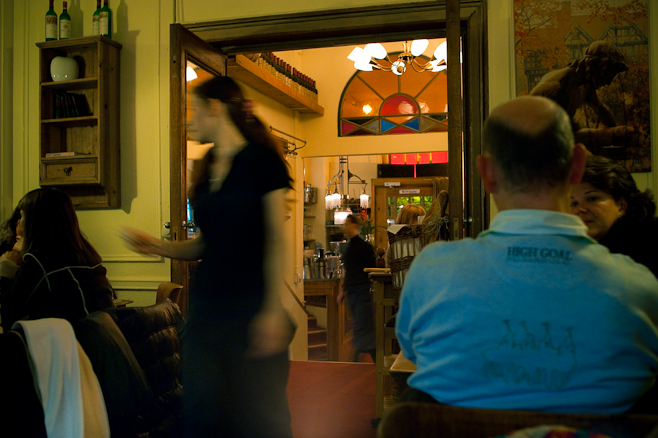 It was a cosy little wine bar – there was a wide variety of single glasses including personal favourites Spat Burgunder. Their bite-size only menu seemed more Alsatian than German, baguettes with sliced cheese and fig mustard, duck terrine and French snails. We opted for the most substantial items on the menu including a 'flammekueche' as well as 'blutwurstcanapes'.
This would be my first experience of the tarte flambée which is basically a razor thin pizza base – a recipe from Alsace. A swift trip to Wiki explains that the tarte flambee was created as a way to test wood-fired ovens as the peak temperature of the oven would bake the perfect tarte flambee – A crusty border just burnt by the flames of the fired oven. We ordered toppings of coppa di Parma, sour cream and rocket (9.50 euros). Now, I'm not really the pizza connoisseur as I've not actually been to Italy to try an 'authentic' pizza (or Alsace in this case), though I enjoyed the squidgy thin base as well as the very smokey charcoaled edges. Even better I thought, were the blutwurstcanape – German black pudding chopped and then made into a sort of bruschetta. It's more pleasant than a fry up I have to say, it's more fragrant and alot lighter in flavour.
We are back in Bismarckstraße again, and next door from the currywurst place is a sort of foodhall and supermarket called Rogacki.
Initially I was hesistant to eat here because I wanted to sit down for a meal. The only chairs I saw were for the tables outside the establishment. Inside, it was a green-tiled mess hall with standing tables, no chairs.
Needless to say, the place was packed out. Lots of Germans who didnt speak English. We chose a seafood bar which was seemingly the centrepiece of the hall. Initially we struggled with ordering and in the end resorted to pointing at random menu items when we became ravenous. How could one not feel one's stomach rumble with the fresh fish sizzling in front of us right?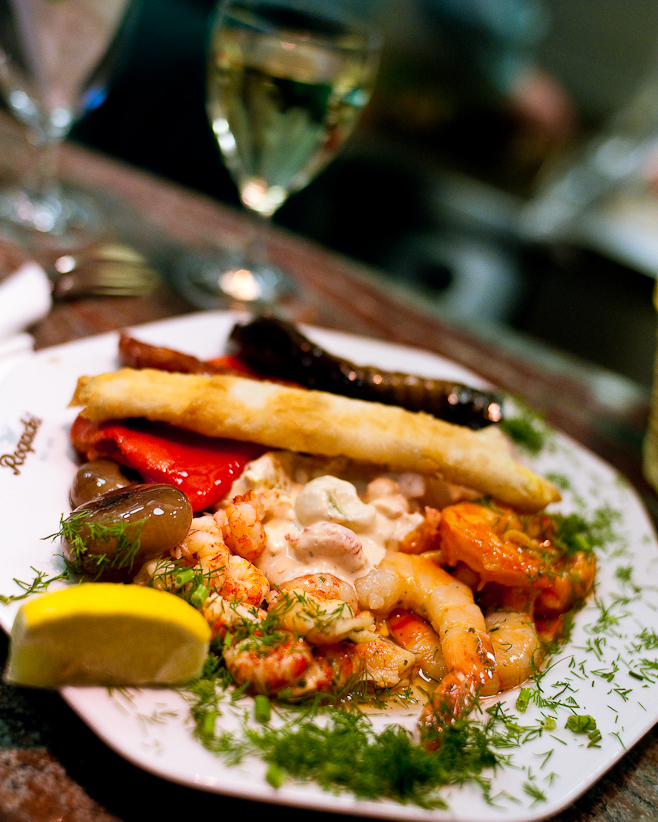 Here we go, a selection of shellfish, pickled vegetables and parsley for decoration. Sweet, succulent and fulfilling.
The missus opted for a warming fish soup – large chunks of seafood and a glass of zingy german house white.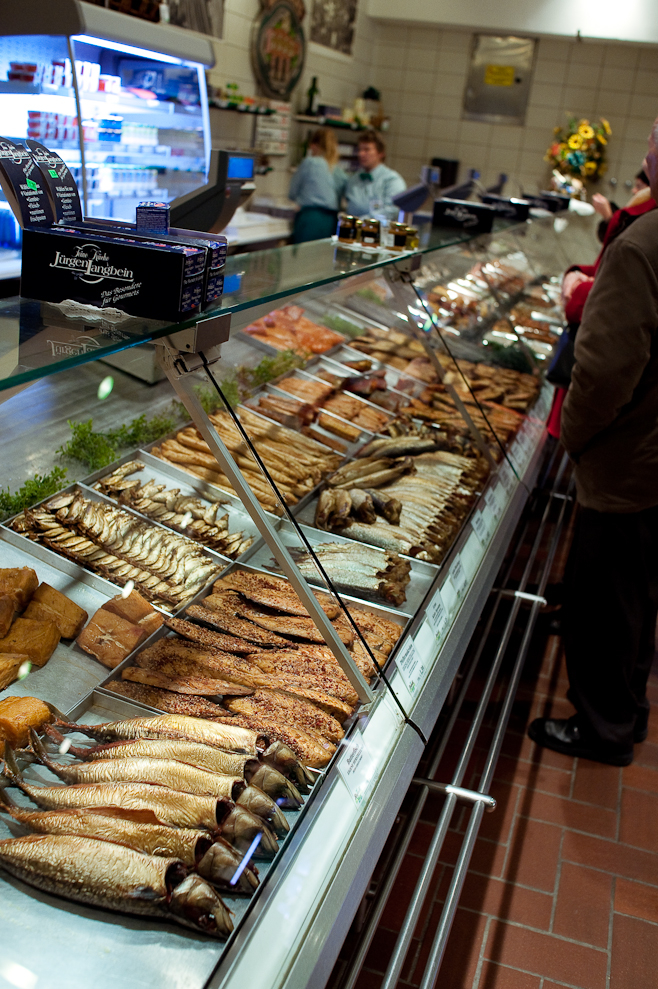 Touring the foodhall, I feel a little regretful that I didnt attempt to load my suitcase with a small sampling of the smoked fish on offer at Rogacki, ah well, guess I'll have to visit Berlin again in the near future.
Finally then, one of the last restaurants we hit was Restaurant Oderquelle. You'll forgive my shallow knowledge of Berlin's best, so we turned to the interwebs which led us to discover Oderquelle and its good reputation among it's online patrons.
They specialised in German-Euro Fusion, though honestly I wouldn't be able to tell. The menu was brief and I chose to order the most exotic items I saw. First up was a hand wash cheese.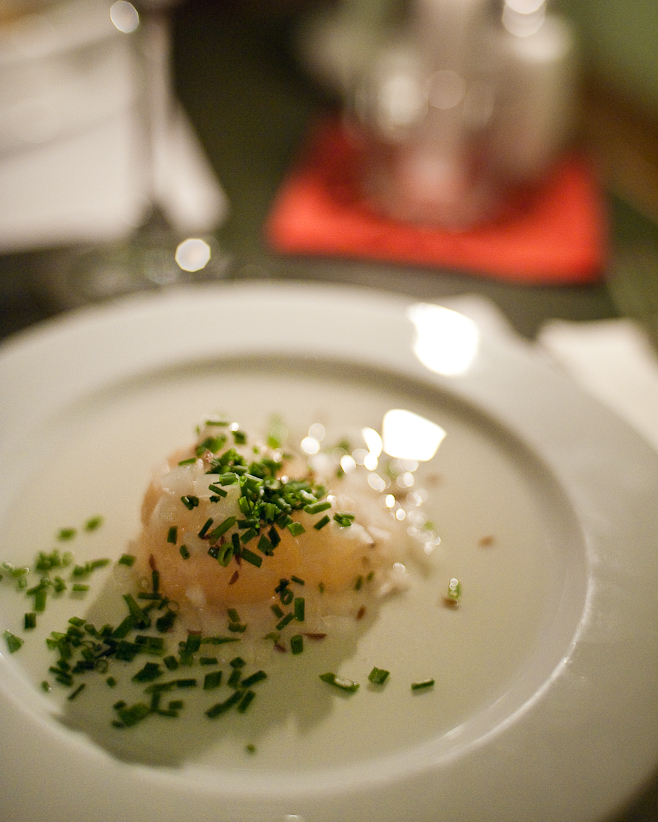 Very interesting stuff, the cheese was translucent in appearance and it looked more like a piece of fish than cheese. It didn't taste much like a dairy product either; It was smoked and seasoned, with a scallop-like flavour. Spring onion garnishings and doused with an weird watery and oily sauce that mixed, very fishy.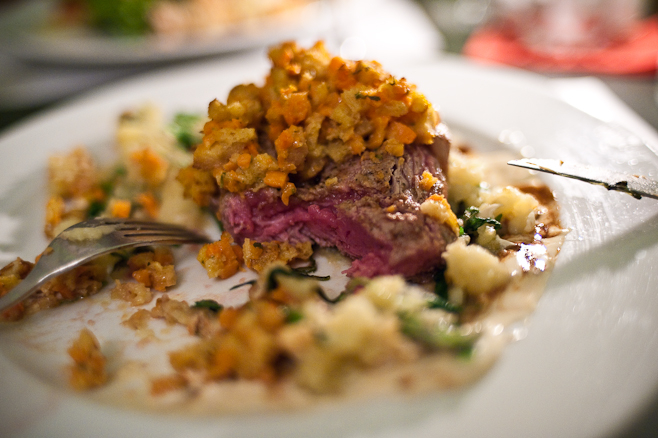 For my main, Rump steak with roasted pumpkins, rocket leaves and a cauliflower creamed potato salad. The steak was beautifully rare and needed to be since this was a chunky rump. Good beefy flavours though the real star of the dish was the garnishings – toasty pumpkin sweetness, peppery as it went down. Rustic.
Well, that's my brief account of my excursions to Europe to expand my culinary palate. I think I barely scratched the surface of gastronomy in Berlin, and Germany for that matter what with this weekend being more of a snapshot more than anything. It's an interesting destination which doesn't get the attention it deserves, and for the most part, the people in Berlin treat tourists with respect and we walked away with an impression that people are generally friendly. Wunderbar.
Did you enjoy reading this post? Why not subscribe to my feed updates for free. Alternatively, You can subscribe via email.