This will be the penultimate entry in my unofficial 2010 Chinese cuisine fortnightly special which is (unofficially) intended to celebrate the coming Lunar New Year (Tiger) which will fall on the 14th of Feb this year. I had always been fasnicated with the idea of Haozhan, being it is one of two restaurants (the other being Plum Valley) in Gerard Street to break from the mould of old world Chinese cuisine. It was obvious that these guys wanted to set Chinatown alight with a touch of elegance, both of which carry shades of Hakkasan. While Plum Valley is more disciplined in it's approach toward Chinese fine dining; Haozhan dares to venture to the realm of pan asia with a menu that marries the best of East and West, and isn't shy to get a little creative with their recipes. On paper at least, Haozhan seems an exciting prospect : Owned by Joe Kong who's family owns New Fook Lam (also in Gerard Street) and having secured a kitchen of ex Hakkasan and ex Kai talent: New blood poised to grab the torch away from their founding fathers.
The contemporary idea extends to the efficient décor – a long rectangular space free from clutter, black wooden walls lit by a rainbow of coloured lights, as if to punctuate the start of a new breed of Chinese restaurants : Sleeker, sexier, robust and ever more serious. They waste little time in shoving their bold concept in your face with their mission statement scrawled across the very first page of the menu. All the keywords are used "innovate", "creativity" , "our style" , "no crispy duck" to drill into you that the stereotype do not apply here, though chopsticks still do. I nod in appreciation when reading the menu, many dishes seem exciting such as the chilli quail, scallop kaitaifi, XO black cod and even marmite prawns. This clearly wasn't the average Chinese restaurant, in fact even the background music was avant garde, overlaying the Alan Yau style percussion heavy lift music, a sort of electronica sound-scape guided by a wailing female voice, haunting… and slightly annoying.
Now that I had completely bought into their marketing hurrah, I was really looking forward to fireworks. We started with their signature dish : Haozhan Tofu £10.50. It definitely looked the part, each egg tofu made into individual parcel which includes chopped spinach, a single scallop, coated with a thick gravy, and then garnished with fish roe. The gravy gave the custardy egg tofu a silky mouthfeel, but that's about the end of anything good. The tofu was mostly cold when I was expecting a sort of piping hotness; The crispy exterior was quickly eroding and gave way to the damp and soggy. Most disappointingly, the scallop was chewy. This recipe has great potential, but I felt it was woefully cooked. It felt tired, everything about it was off balance, as if the chef did not want to cook. It's heartbreaking tasting food which could be but isn't.
Also £10.50 are the wasabi prawns.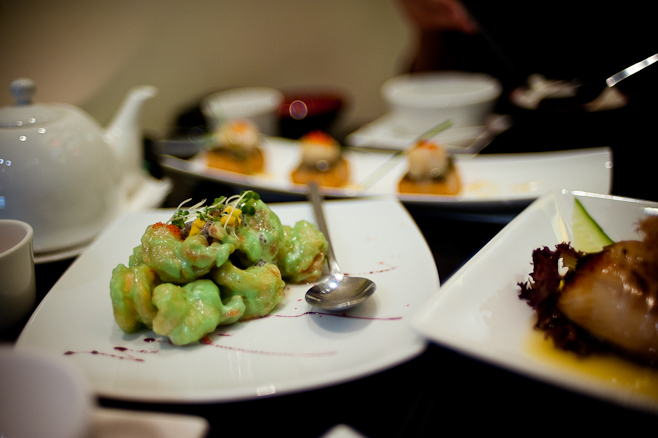 Any sort of battered shrimp coated with salad dressing, mayonnaise or tangy cream sauce is a favourite of mine. Wasabi prawns was no exception, and I view this as a relatively easy recipe to get right with sprinkles of wasabi to give the mayonnaise abit of kick and colour. Thankfully, this was well executed – standard fare but good. With the batter delivering a robust crunch and with a mayonnaise that went well with steamed rice, just the way I like it.
Champagne cod £19.50
The champagne black cod was a dish that jumped out at me – baked black cod, champagne, butter and honey – heavyweight ingredients. And then, disaster struck. I dipped my chopsticks into the sauce, and my heart sank. That sauce was horrendously wrong. Just like the wailing background noise, this was an off key symphony, so abstract, it was downright strange. I could clearly taste a kind of fruity fizz probably from the champagne, but the palette was ruined with a rich butter taste and then made worse when the fruitiness clashed with the pure sugary sweetness from the honey. At least the fish was cooked well enough, just under and exhibited the signature slithery qualities associated with black cod, though it was no where near Nobu standards. With the viscous sauce penetrating deep into the fish, the squishy oily texture was unappealing. I respect the chef for daring to be creative, but as far as I am concerned – butter and honey do not go well with fish. It was like mixing milk that had gone off with parsley regurgitated by a cat and the result was not very far off from ingesting play-doh. Shudder…
Deep fried ice cream £4.80….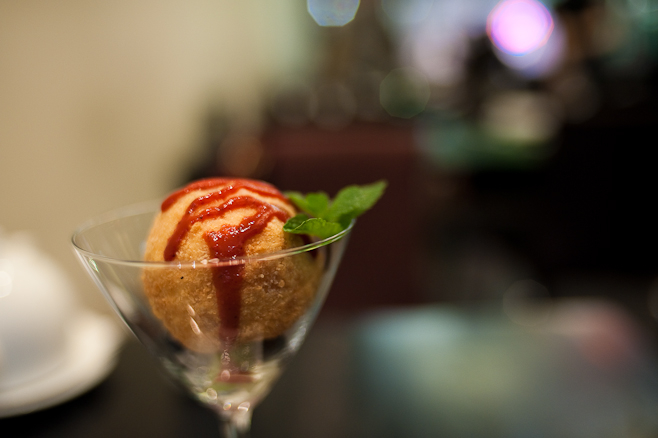 Just when I thought the woes ended with the fish, I was shocked with the quality of the pudding. The red sauce that was served with the deep fried ice cream was disgusting. It tasted like ketchup. As for the deep-fried ball of ice cream itslef, that was equally wrong. The crust wasn't even piping hot, nor did it taste fried, in fact it tasted as if crumbly outside was barely cooked. I've had deep-fried ice cream before, and the key attraction of this recipe is the utter paradoxical nature of it – being that the outside should be piping hot and the inside icy cold. This was neither. This was no different from sugared and uncooked frozen fish fingers garnished with bits of fruit. Monumental failure – one of the worst desserts I've ever had the displeasure of eating.
Our bill came to £59.50 for two, not cheap considering the location. Reflecting on the meal, I get the feeling that Haozhan must have once lived up to its vision, especially considering the rave reviews they received in the first few months, but that time seems well and truly behind them. I can't fault their boldness, but the kitchen now seems rudderless and it churned out food which felt lethargic; uninspired cooking, if this was an off-night, then this restaurant has dire consistency issues. I've seen this sort of downfall in Chinatown before and I'm referring to Royal Dragon just opposite Haozhan. The food was excellent with a chef who placed particular attention to balanced flavours, and it was one of the few restaurants in town where food was infused with the magical 'wok hei' – a sort of chargrilled smokiness – that separates merely good from the truly excellent. After it's refurbishment in 2005/06, it was never the same again. The front of house assured me it was the same chef in charge, but the differences in quality was too obvious, it was difficult to believe her. Nothing new then.
More photographs on my flickr account here.
The Gist of It
Haozhan official site £30pp
8 Gerrard Street
W1D 5PJ
Tel : +44 (0)20 7434 3838
Tube : Leicester Square
Did you enjoy reading this post? Why not subscribe to my feed updates for free. Alternatively, You can subscribe via email.