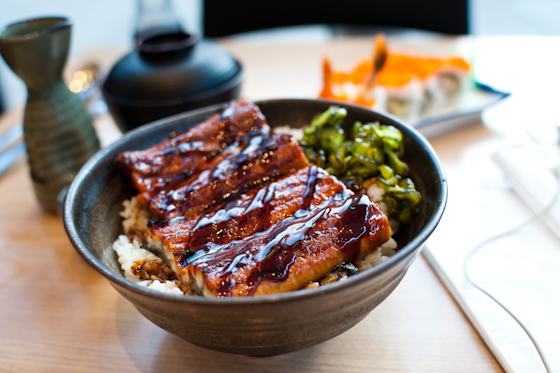 It happened during the summer after I graduated from university. I was attempting an eight week trip to cover five different countries, sampling unagi at all the destinations I touch down upon. By far, the most memorable experience was at Kura in Sydney – a modest space, a short sushi table, man was it good. So far, nothing in London comes close in terms of quality for the money, but at least we have restaurants such as Hare & Tortoise, which provide value for money.
Unagi is a delicacy in Japan, even though I think of it as an everyday dish. The slithery freshwater creature is so celebrated it even has special days dedicated to eating it – 'doyo no ushi no hi' – which coincides with the hottest days of summer in Japan. In 2009, there were two unagi days in July – 19th and the 31st.
The best Unagi supposedly reside in Lake Hamana in Hamamatsu city. The favorable geography of this lake makes it an idyllic home for marine life and it has established the region as a famed fishing town. A wide selection of unagi restaurants now surround the lake. Sounds like Unagi heaven to me, that's two locations – the other being Kobe for beef – I'd like to check out when I eventually make my maiden vogage to Japan.
Of course, Lake Hamana is a pipedream (for now) and I was a little closer to home – High Street Kensington to be exact – to satisfy the grilled eel cravings. This expanding chain of café style restaurants feature Japanese inspired bentos in addition to the odd flash of fusion, such as Malaysian chicken curry and char siew pork. The Una-don, in particular is great value at £8.50. Portions are just appropriate and it has all the hallmarks of the popular dish: Slithery texture that disintegrates in your mouth with a tarty thick terikiyaki holding things together. The Japanese style char siew don is equally well done, and even cheaper at £5.50, but if you do fancy a quick weeknight supper here, do try and avoid the overly dry sushi.
I also tucked away a small bottle of warm Junmai sake – also reasonably priced at £3.30 for a 180ml – the sweet aftertaste, akin to a blooming sakura, an excellent way to wash down the unagi.
I don't ever remember the staff here being quite so confrontational though. Two waitresses 'patrolling' the walkways like high school prefects drunk with the illusion of power. I had never feared for my life so much, as I could literally feel the waitress's bulging eyeballs peeling over my shoulder. Eyeballs so enlarged, I could hear the twitching irises following my every single tap on the iPhone as I compose a text message, that I began feeling like my private space had already eroded to the point where I was feeling a little violated. The monitoring continued as food arrived and as soon as I took out my camera, the two aforementioned, now morphed into citizen police officers. They rushed over to my side of the restaurant as if they had caught me stealing from the proverbial cookie jar. With every sound of the shutter firing, two heads bobbed from either side of my ears to censor my photography. I secretly cried out for V to bring down the system which was now quickly closing in on me. I had never felt so much duress in a restaurant before, I flinched several times as I looked up from the table – those fiery eyes staring at me – the only thing I could do was look down and wolf down. Luckily, the unagi fuelled endorphins were good enough to cancel out the fear.
For those of you wondering, I sometimes get worse treatment for carrying a camera into a restaurant, and it is times like this I wonder why I decided to review restaurants to begin with. It can be gruelling.
As I finished my meal (in record time), I wanted to take a picture of the restaurant, aiming it at the empty end of the room. The waitress was preoccupied with another table, so now was my chance to raise my head when she was not looking, alas my shutter was far too loud and she rushed over to my table and shouted at me 'I saw a picture of me, delete it now!'.
Actually it was a blur of her charging at me. In any case I was already fearing for my life, so I deleted the picture in front of her, showed her the camera LCD confirming that I'd done it and then hastily asked for the bill and left, relieved that I escaped the clutches of the evil Hare & Tortoise empire with all four limbs still intact and probably never to return to this restaurant ever again…
The Gist of It
Hare & Tortoise official site
373 High Street Kensington W14 8QZ
Tel: 020 7603 8887
Tube: High Street Kensington.
Like this blog? Why not subscribe to the email newsletter ; alternatively you can subcribe to the RSS feed.