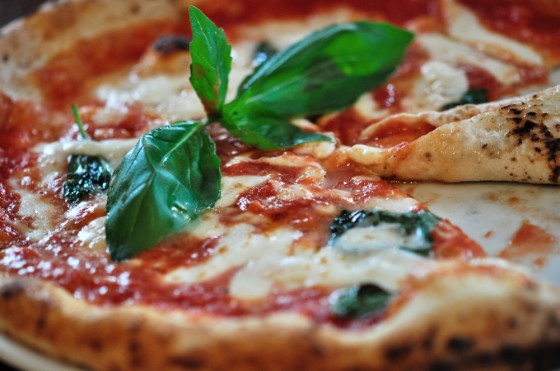 We start with the long bus journey from Waterloo station (bus 77, 35 minutes) past Battersea and into Lavender Hill in search of the supposedly hidden gem of an Italian restaurant. And I'll take this opportunity to address a topic that's been brewing among the twitterati of late.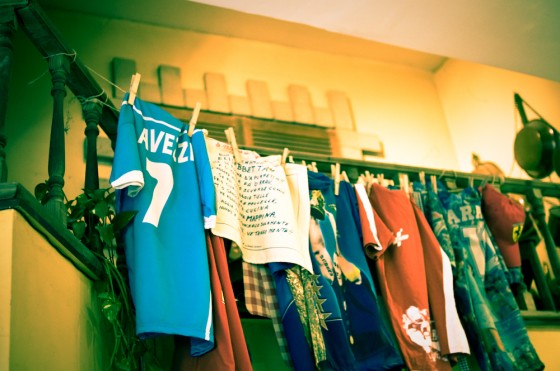 When I got my first invites I was ecstatic, I thought of it as a kind of recognition that restaurants would invite me to do reviews. When it came time to write them, yeah there's tremendous guilt and its difficult trying to come across as objectively as possible.
Bloggers are talking about it and its no secret that foodbloggers do get invitations from PR people to review their restaurants, with the restaurant covering the costs of the meal. I've covered this before in my past restaurant invites, and I make it known to everybody that I get invitations to write reviews. Is it awkward to write them? Yes of course it is. I do put down money for tips with every free invite, I know it won't replace the cost of the meal, but I do try.
I chose to fully disclose the background to everything I write. Hence the segregation between 'invites to review' (comped by the restaurant) and a 'review' (which I paid for myself). I haven't been afraid to pan invites which didn't fly (Nahm and High Timber) and I have gone to try places, and indeed paid for the meal myself (belgo lobsterfest) after reading up on other blogger's invited reviews.
I'm not a professional writer or critic and I have never claimed to be. I have never claimed to know everything about food, and I am simply someone who loves to eat and I am merely documenting my dinners. When I get invited to something, I go along to it and then I write about it. At the end of the day, its up to the reader to decide whether my stuff is useful or not.
As for the blogging bit itself, I try my utmost to review restaurants as objectively as I can; I spend about four hours on each write-up, and a further four hours on the pictures. As a result from this foodblog, I've taken an interest in photography and have since invested in camera gear. I do spend abit of time taking pictures of the food with every meal just to get a really good shot, all just for a blog post. I jot down notes of everything I eat, just so it's all properly recorded as it happened, and finally maintaining an attractive, up to date blog design. And yes, I still have to tend to my day job which actually pays the rent. Alot of work goes into one review, and every single review takes alot out of me. Yeah, it's become a little obsessive, I do put in alot of time and effort into this blog, and I spend alot of time with the blogposts because I want to write/photograph as best I can, partly because I want to create something entertaining for readers and partly because I am hoping that it will become useful to whoever picks it up.
The PR people behind Donna invited me to do a review, and I accepted it. Following the first visit, I returned to the same restaurant a week later for a meal I paid for personally, hence the wonky title. And so this will be abit of a combo review with dishes from two visits.
Actually, that's two return visits in two weeks, Donna as well as Sketch. With Sketch, they offered me a £50 gift voucher and that was something that was publicly available (and still is). And both times, I went back because I liked the restaurant, and gladly returned as a paying customer.
That's my position with these 'invites'. I know I can't please everybody and I can only do the best I can, so I will let my reviews speak for themselves. If you want to pass judgement over me, I welcome you to do so. Afterall, my reviews criticise the hardwork of restaurants, and I should be able to take criticism accordingly.
If my reputation is to be tested, then so be it.
I have always spoken plainly and openly. I don't hide behind my blog and I don't claim to be an expert. I am someone who enjoys eating. Inspired by, I look to emulate the illustrious foodbloggers who have come before me and I'm sharing my passion with anyone who cares to listen.
Donna in two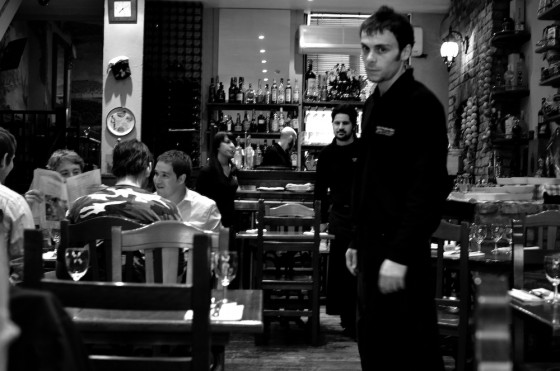 Phew, ok so that's the political bit, back to eating. And just when I was beginning to think that the restaurant was imaginary, I noticed a string of restaurants and spotted Donna. Standing by the entrance was the head waiter. A bearded Italian Stallion – stern looking fella' – whose frown quickly melted into a warm smile as he ushered us to our table. We arrived early at 6.30 on a friday, but the restaurant quickly filled up by 8pm.
The restaurant is richly adorned with all sorts of nostalgia-ware, football jerseys and B&W photographs; so much so, I regretted not taking more pictures of the décor. It screams local eatery and even has that musky smell of a restaurant that's been there for too long. The restaurant prides itself in serving Neapolitan food, which by their own account is a result of a criss-crossing of several cultures which has affected the cuisine and resulted in a style that's a halfway house between being refined and folk. Sounds good to me, I was just completely intrigued with their claim about the pizzas… but first, some appetisers.
Swimming
My family loves fresh seafood, especially the old man, he loves anything that's still 'Yau Siu' (swimming).
Hmm.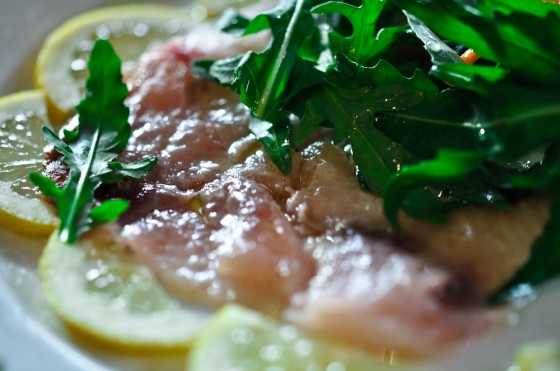 Swordfish Carpaccio, rocket salad. The fish was quite a tough texture, almost like a robust tuna, it was chewy as opposed to being a puffy marsmallow. I assumed it was raw (Salted? Raw? Unsure, help?), but it tasted as if it was medium rare. It did carry a silky juiciness with it. It was zestified from the lemon juice but overall, the bold flavours of the fish dominated, which was a good thing. I love raw fish, and can only appreciate a good Carpaccio. A rustic start, if rather uneventful.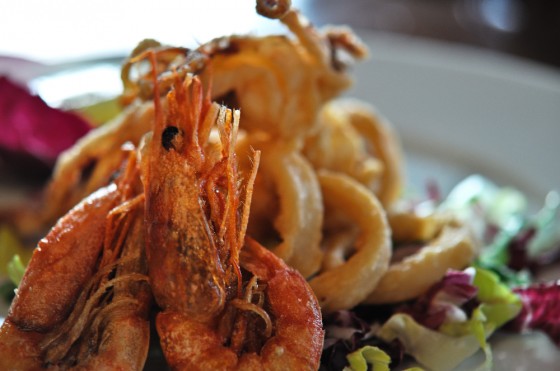 Next up: Deep fried calamari and sicilian prawns served on a bed of mix leaf salad.
The crusty exterior of the squid rings were extraordinary. I wasn't expecting much of anything, but these were great as they reminded me of my mum's recipe (she really knows best). Instead of a crunchy batter; this one was light, and almost powdery, interestingly enough, what made it tremendously delicious was an inherent eggyness that went really, really well with the squid. There was an openness about it, and the fresh approach made the deep fried calamaries a breeze to wolf down.
Similarly, the prawns were fried crisply and the natural seafood flavour was intensified with a sort of eggyness in the mix. The recipe somehow reminded me of Chinese prawn crackers, you know, a certain umaminess to the dish.
Best pizza in London?
Ok, I know what everybody is thinking: Franco Manca. That cannot be ignored, the benchmark for pizzas in the capital surely has to be measured against the Brixton Institution. So it won't come as a surprise that I would be comparing DM with FM.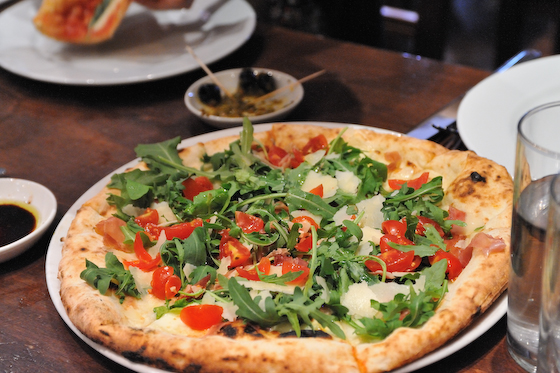 I was served the margherita (tomato & mozzarella & fresh basil ) on first visit (£5.90) and on my 2nd visit, I tried the Marinara (tomato, garlic and oregano £5.50) and the San daniele (parma ham, tomato, parmesan £7.95). Let's start with the all important dough.
Ok, FM has competition. The pizza base is thin, thinner than FM and it is softer and rather more delicate. I also noted that it was served warm, as opposed to piping hot at FM (not sure if it was rested first or if the FM ovens were warmer). The base is very appetising and there was a silky bounce and subtle consistency to it, as opposed to a sizzling bang and a terrific pillow like chew which the FM pizza exhibits. Its very difficult to call, both pizza bases are very good indeed, but I may just give it to FM for better flavour and more chewiness and bounce as well as an overall wow factor. Having said that, I actually appreciated DM's mellowness. As I said, a tough call.
Next: The tomato paste. I immediately noticed the freshness of the tomato paste, it was so fragrant that you could smell all the aromas. Eating it was a real pleasure, as I was tempted to just slurp the sweet juices off the pizza, it was fresh, bright and the highlight of the pizza. Very open flavour and the intensity was just right. Not too sweet, not too tangy, subtle and just the right balance of acidity. Coupled with the creamy mozzarella produced a fantastic body, with the rich tomatoes blending oh so well with the creamy cheese. I give this one to DM.
Thirdly: Toppings. Alright, I didnt sample everything on the DM menu. All three pizzas at DM were subtly flavoured and I thoroughly enjoyed them. The margherita was an instant classic but my favourite was the marinara as the garlic brought an understated punch to the juicy tomato base. I tried four of the FM pizzas and I have to give this one to Franco. The toppings are rich flavoured and one can really taste the intensity, I refer to the ricotta and artichokes; the anchovies and olives, as well as the brindisa chorizo which FM uses. Bursting flavours and sheer wow factor, I give this one to FM.
So is it the best in London? Erm, its pretty darn close. I think it's comparable to FM pizzas although it is of a different style. I've been scratching my head over how to describe them, and the difference is abit like comparing an able Australian Shiraz against a subtle Burgundy. FM's wow factor and big flavours, as well as the sizzling heat it is served with makes it akin to a classic Penfolds vintage, everybody will be in agreement that it's a great pizza. With DM, its silkier, its more subtle, its juicier, its more fragrant, its mellow, its abit more complex and like a great bottle of Nuits St Georges (erm, Im leaning toward David Duband), I could stick a straw in and drink in any day and any night.
I think it comes down to a matter of choice, which do you prefer? Big robust flavours, or something abit more subtle? Both are very good.
Am I by the Sea?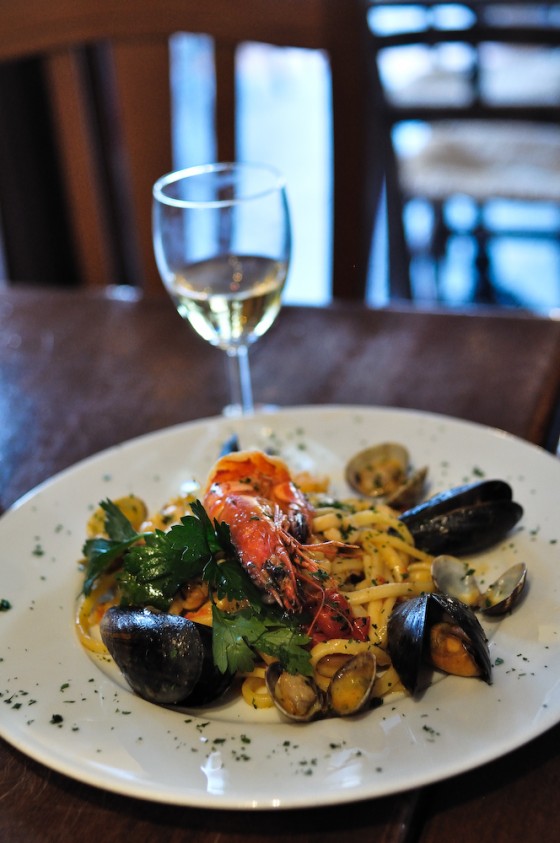 Right, 1400 words and we're only about half way through. Time for some pasta: O'paccher e`pusillipo, Paccheri pasta with prawns, mussels, porcini mushrooms, rocket, aubergine,Cherry tomatoes, basil and a touch of chilli.(£10)
The juices from the seafood has saturated the pasta, giving it a full flavoured fragrance, its very appetising, and its as if the entire ocean has been distilled into the dish, that is has become a sumptuous gravy. The dish is further coloured with the sweet cherry tomatoes and there is just a very faint hint of spice. Above all, the paccheri pasta was amazing. It was a dense noodle, very thick and rich in eggyness. The heaviness of the pasta soaked up a lot of the juices and every bite brought out bursting seafood flavours. I'm impressed with this one – it is very good indeed.
On my second visit, I had to try more seafood and I plonked for the A'grigliat ro' Fusaro , (Plate for two) which is a char grilled selection of fresh fish served on a bed of mix salad (£35)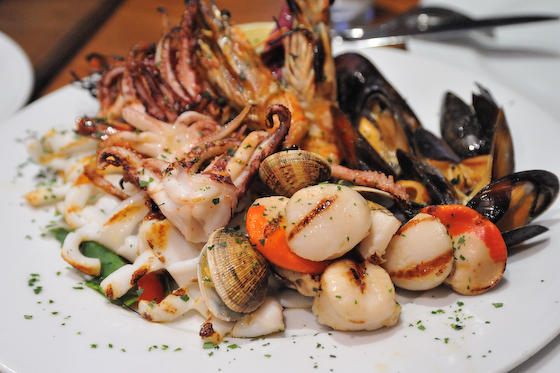 Normally its served with fresh whole seabass, squid, king prawns, mussels, clams and octopus, but they ran out of seabass on our visit. Everything is chargrilled to absolute perfection. The scallops and prawns were so sweet, my tummy was positively rumbling. The smoky grilled flavours were very evident, and there wasn't a single thing that wasn't delicious on this plate – I love every bit of it. At £35, the most expensive thing on the menu, and since we were there as a table of six, they spread the portions out over two plates.
Pudding? what?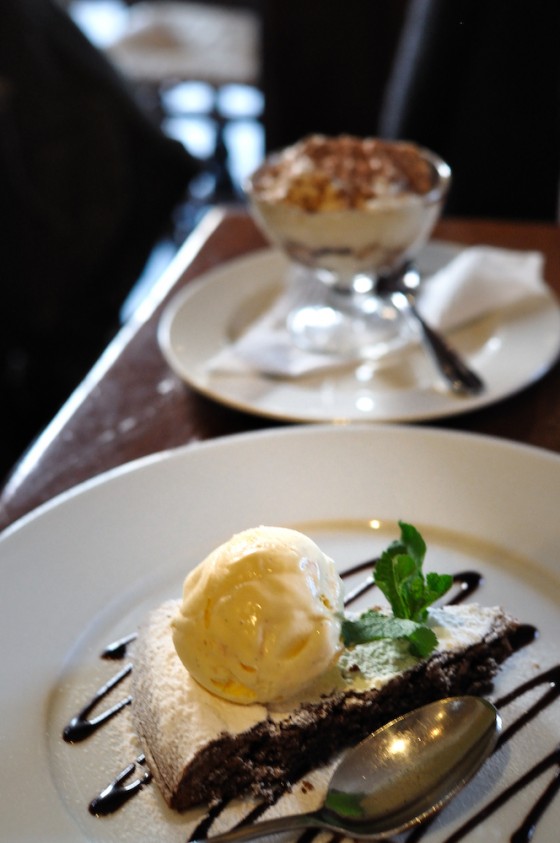 The lemon brulee was rather good, it was made with a lemon sorbet underneath the custard, but overall I thought the desserts were merely so so. The tiramisu was utterly forgettable, and the torte carprese – almond and chocolate – was merely ordinary.
This could well be one of the most comprehensive reviews I've written, and I can safely say that Donna Margherita is good. Its not going to win any big awards, and in a way, that's a good thing. The classical style is rustic and its just straightforward good Italian food. In particular, the pizzas are wonderful, almost as good as Franco Manca and the pastas as well as the seafood stand out. Its unbeatable when it comes to price, primis at £6 ; pastas at £11; pizza £8 ; meat/fish £13-£15 ; Dolce £4.
My only problem is that 35 minute bus ride. Otherwise, it's Napoli in London.
The Gist of it
Donna Margherita official site
183 Lavender Hill SW11 5
(020) 7228 2660
£20pp
Verdict:Great Pizzas, lovely seafood and heartwarming pastas. An excellent Italian restaurant in the City.
Like this blog? Why not subscribe to the email newsletter ; alternatively you can subcribe to the RSS feed.