Morgan M official site
489 Liverpool Rd N7 8 (020) 7609 3560
£39pp three course dinner
The Islington high street is superb. It is already home to that amazing wine shop – The Sampler – which allows one to try about 80 wines at a go. Abit further tucked away, is apparently Arsene Wenger's favourite eatery in North London. When the offer came knocking for a complimentary meal, I was more than a little excited.
The cool Frenchman
The restaurant's namesake is that of chef/patron Morgan Meunier, who is currently enjoying positive – if rather subdued – media attention from the critical gastro-public. I'm a little miffed as to why there's so little fanfare around this restaurant. The reviews which I have read about this place have been inspirational. Maybe it is because of the relative obscure location, or could it be that the patrons are keeping a tight lip in hope that it remains a true hidden gem in the city?
Morgan is bold in choosing his restaurant stripes, opting for a forest green theme and strong oak floors. The restaurant looks an unassuming pub from the outside; The interiors, on the other hand, convey an old fashion cool, not unlike the charming front room of a richly decorated house.
We started the evening with two glasses of peach infused champagne, and amuse bouche in the form of a chilled tomato soup, with a confit of tomato and sweet onion.
The chilled soup was so sharp and crisp, it hung on to my palette as the rawness, like a carrot juice, lingered on. Cherry sweetness from the tomato and onion was welcoming, and I noted a slight chilli hit in the backend too, fresh and light – a great start so far.
For a French restaurant and a rather upmarket outfit, the menu prices were surprisingly decent. The three course ala carte sneaks in at £39, while the six course taster can be had for £48 (veg option at £43). The menu largely feature dominant ingredients balanced against sweetish sauces on the side, picking up a few dishes, for starters, there is Pan-fried Foie Gras from 'Les Landes' on toasted Brioche, Apricot and Chervil Salad Orange and Olive Oil Sauce; and for mains, Roast Saddle of Rabbit, Farci of the Leg Braised with Sage, Israeli Couscous, Herb and Lemon Jus.
Indeed, the dishes make for an excellent read, and it's only made it that much harder for me to choose what to eat, a good sign I'm sure.
Entrees
We decided to go with the ala carte, the first dish: ravioli of snail, poached garlic, red wine jus.
Garlic aromas and a perfumery complexity, the dish looked ethereal and smelled like heaven. The pasta was al dente and the rubbery texture of the snails was fascinating. The flavours were excellent: a mellow and subtle broth, I tasted sweet shallots and carrots on my palette, with a jus that added body and depth. The result was a hearty and robust appetizer. To my amazement, the single clove of garlic tasted as if it was completely stripped of its flavours, soft and very much like it was boiled. A very good start and an instant classic in my book.
So far so good, the next starter sounds like it could be another winner: Scallop Tartare.
Served with a medley of greens – it appeared to be a salad of rocket leaves and chopped asparagus, with asparagus foam on the side. And what an excellent candidate to make into a tartare! The chopped scallops were fresh, zingy and melted in the mouth, the silky texture was a complete joy. I detected citrus fruit juices in the tartare, lemon and dare I say just a hint of what seems to taste like mango. The light frutiness was absolutely fantastic, coupled with the the airy asparagus foam, it was the quintessential spring entrée, an excellent dish.
Highlights
I had half a bottle of Rhone with this meal (didn't want to go overboard) , priced at £14, it wasn't a world shaking vintage, but it provided body and enough vanilla to prep me for the main course: Fillet of beef with Bone marrow, Beetroot, spinach and black truffle shavings.
Much like the ravioli, this dish also had an incredible fragrance to it – the sweetness and the mellow roastness was heady. My oh my, the beef is as soft as a hot knife to butter, the melting texture was almost cream-like and it chewed like a grade 7 wagyu. As it was a fillet, it did not impart great beefiness in flavour, but it did retain a ridiculous amount of moisture, the juices spewed out as the meat threaten to melt away in my mouth. Flavour was supplied by a sweet and dense beetroot cream, a circular razor thin strip of what looks like fried onion and a whole dollop of salted bone marrow; this more than complimented the gentleness of the beef. The only complaint I had was the amount of beetroot cream that was on the dish; there was just too much of it, as I struggled to mop it up when I had already devoured most of the bovine. The sweet intensity was good when paired with the beef, but on its own, it quickly became just a tad too sour. A minor niggle.
I quizzed the waiter, and then Morgan himself after the meal about the source and he informed me it was the back of the fillet – its softest bit – and it was surprisingly, from Northumberland. Morgan told me that the key to retaining the juice and getting that velvety softness, was to think of it like a cross section of a tree and its various layers. He proceeded to explain his methods of searing the sides then putting in back into the oven to roast at a varying degree of heat before resting and that convoluted process somehow manages to keep the juices locked in.
How he managed to turn English beef into an ethereal sensation is probably sheer magic (I'd like to believe that). Whatever methods he used, I can safely say that it worked wonders.
On the other end of the table was duck breast served with greenbeans and a confit of duck leg, and a garlic cream. Much like the beef, the duck also retained alot of moisture, cooked medium rare, I felt the flavours were a little muted and just a tad underseasoned. It had an interesting curry aftertaste, but the best part of it was the garlic cream, which really brought out the best of the meat. The leg meat confit on the side was a little unexciting, all in all, while it was a robust dish – it did not excite.
And we go sweet from here.
Wow, so I am suitably impressed with the meal Morgan laid out so far, everything is top drawer and classical flavours at work. Now I have to talk about this amuse dessert: vanilla ice with passionfruit sorbet and custard. The ice part is what seems to be an almost frozen rice pudding which melted away into a clotted cream-like pudding. The sharp passionfruit was an excellent choice for mopping up the palette. Kudos for pairing the purity of the rice pudding with the intensity of the passion fruit.
Going to the desserts, we chose a strawberry sorbet with white chocolate mousse on the side. Merely ok in my opinion, the dish left me feeling a little queasy as there was just too much cream and butter and not enough fruit on the plate. I love white chocolate, but the mousse was much too frothy, and far too buttery for my liking.
With dessert A abit of a failure, we go to dessert B: a much emulated Chocolate Moelleux, with a sorbet and a milkshake. There was a choice of going 45% Cocoa Barry milk chocolate or 70% Valrhona Guanaja, I went for milk chocolate option. The rich chocolate muffin did not disappoint, and the cakey exterior was warm and moist. The liquid centre was quite a wonder and the weighty chocolate used was overwhelming. It was a lovely dessert – albeit a little on the heavy side – I didn't quite enjoy the sorbet as much, I couldn't make out the flavours as it just tasted like soured water to me; to finish off, the milkshake was pretty much a shot of baileys with a good tipple of cream.
Conclusive proof
Morgan M is a wonderful restaurant. The Chef creates highly classical palettes and errs toward the subtle and sweet flavour pairings. He seemingly adheres to French conventions, yet, he is not afraid to colour his food with borrowed elements from other cuisines. Everything is silky and easy to eat. I cheekily asked if his scallop tartare was just a little bit Japanese inspired. I also noted the fragrance in every dish he churned out and one can indeed smell the heartiness in every dish – an aspect which is also crucial to a great meal. I really enjoyed the scallops, the ravioli and indeed, the beef. Yet even more mind boggling is how the elegant establishment has managed to keep prices down at under £40. It is simply peerless in its price class, and stands to rival some of the more expensive luminaries. I met Chef Morgan after the meal and I was amazed with his attitude toward providing value for money, and how he enjoys the fact that his restaurant reaches out to a large cross section of the general public with a varying degree of disposal income. We need more restaurants like this which provide true value for money.
Simply divine, classical French food for shallow pockets, Morgan M is just a little special, and it is a bona fide gem in our beloved city of smoke.
Oh just one last thing folks, If you are thinking of visiting anytime soon, the restaurant is currently running a summertime offer which will give pairs of diners the opportunity to enjoy two 6-course tasting menus, a bottle of wine for £100. It runs from June 16th – July 26th 09. Essentially, they are offering a free bottle of wine.
The Gist of It.
Morgan M official site
489 Liverpool Rd N7 8 (020) 7609 3560
£39pp three course dinner
Verdict: Elegant French food, the fillet steak was juicy and soft. Aggresively priced, you won't find a better French restaurant at these prices, we need more value gourmands like this. Superb.
Have you been to Morgan M? Do you agree with my assessment? What is your view on the £39 ala carte and do you think it is a fair price for dinner?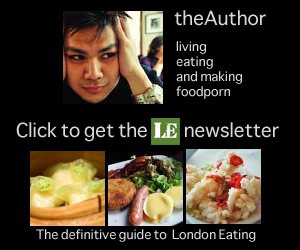 Did you enjoy reading this post? Why not subscribe to my feed updates for free. Alternatively, You can subscribe via email.